FAST CLASS: Legal Survival Guide
The Business Plan
Craig Heidemann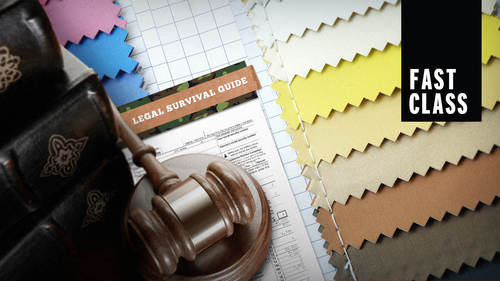 FAST CLASS: Legal Survival Guide
Craig Heidemann
Get access to this class +2000 more taught by the world's top experts
24/7 access via desktop, mobile, or TV

New classes added every month

Download lessons for offline viewing

Exclusive content for subscribers
Lesson Info
2. The Business Plan
Lesson Info
The Business Plan
So what is a business plan? A business plan is a written expression of your creative ideas, A written expression of your creative ideas. Uh, we have to write it down. So when we write it down, it's gonna help us know who we are, what we face, where we're going. So we're going to do an abbreviated one. Remember? It's a process, it doesn't just happen once it's an ongoing process. It's a process that never stops. It's a process that's going to continue from year to year. You're gonna find that your business is going to change the way that you do work is going to change. Your competition is going to change, Your need for cash is gonna change. So it's a process and it's a process where we write down all of the challenges, all of the weaknesses, all of the opportunities that we have. We're gonna write that all down and we're gonna use it to help forecast how we're gonna get to our goals. My business plan isn't worth much more than the paper it's printed on, right? So I have to be, you have ...
to be honest about where you are in your career. My strength is I'm a new photographer and I'm I'm hungry and uh, I don't have a lot of experience, but I'm willing to work really hard and I'm willing to do what it takes to get the work. And I'm I'm willing to deliver a quality product that might be a way to identify a strength. But then at the same time, there's some weaknesses that go along with that those weaknesses might include, I don't have a lot of experience or I I don't have a, um, secondary education in the area of graphic design or photography, but I'm really creative. So it's it's having a conversation with yourself that you're gonna write down and and and and ultimately you're gonna want to share it with your mentor. The business plan is going to organize you. So, myself being relatively disorganized. Um, my personality type is kind of working on the fly. That's, that's kind of my personality type. I need to become organized and it is my business plan helps keep me focused on what I do. I deliver fun, fresh, fabulous wedding photography in Southwest Missouri. That's what I do, because I've written it down. Um, so your, your basic components of your business plan are going to describe your business. So let's start, well, let's give it a name first, what you want to call it. Jim, you have any ideas? How about how about, Oh, blue steel, photography? Oh, I like that. All right, we're gonna ride it down. But no, e just blu Yeah, yeah, Here we are. We have a name. Yes. And we have a face. We have a name. So, back to the business plan. It needs to describe our product and service. So, what's our business photography describe it? Lorenzo, the businesses of photography, um, are you asking like this? The description is for what type of photography we're doing? You know, your business. Tell me describe it for me. You've got I'm an art buyer for um, supposed photography, sports photography. And I want to know whether I should hire you to do the team coverage for The Seattle Seahawks for the 2014 season. Yes, you should. Why? What, tell me about your business? Uh, my business itself, we take a cutting edge on going or getting sports photography different from any other team that's out there. We're going to actually make your players, uh, and staff look larger than life. That will give your team itself the confidence to go and uh, pushed forward towards the Super Bowl, uh, next year and the years to come. So just by asking you that general question, you told me that you are you create larger than life, cutting edge sports photography. Yes. In your business plan, if you're going to tell somebody about who you are and what you do, have we not just kind of summarize the core essence of your business just in a sentence or so? Yes, you can expand on that. We're not gonna drill down too far into how to do that, but we have to describe your product and service. So you're a service based business that creates a product. So maybe you're selling the prints or you just selling your time, but we know that larger than life, cutting edge sports photography. That may change over time, but it certainly gets you started, doesn't it? So what next we're going to do next? We have to describe our market now. Uh Lorenzo, where are you going to market your work? Initially I will market it, uh, two sports uh, teams that are in the greatest Seattle area. Um, and then after I can secure the Seahawks, then I'm going after uh yes, Mariners and then Seattle Storm and then the minor league hockey teams that they have here. And then I'll start branching out are other states describing the staffing needs? What are your staffing needs? So, if I'm a graphic design firm, am I going to do everything myself? I'm gonna be my CFO Ceo. Human Resource Manager, Marketing Director Lorenzo, you need some help. Yes, I am going to need some help. How you gonna get your work done? Um Initially, I will be probably the primary. Initially I will be the primary shooter. But I'm gonna need office personnel. Uh, probably gonna need a re toucher or to uh, someone that is, you know, doing any type of post editing for images that I'm sending in. Um, a lawyer such as yourself, I want to be that lawyer for you, uh, to accountant, etcetera. Maybe you need an agent because we're going to take such fantastic pictures of these celebrities. You're gonna need an agent to help you market them. So that's all great. Um, we have to describe our staffing needs. Let's see what else we can do. We have, uh, staffing needs very important. We're gonna, we're moving back into, oh, financing needs. So is it gonna cost us a little bit of money to get started when we describe our financing needs? Um, maybe we've got some cash that we're bringing to the table. Right, How much cash you got to start up your business, Lorenzo, uh, currently, right now I am $30 short of a quarter. So I have absolutely no money whatsoever. College students. So all right now, listen, this is important. Understand we're gonna talk about it later when we talk about borrowing money. It is difficult, if not impossible for creative business to borrow money unless you guarantee the loan personally. So you all have credit cards and you can take cash advance on your credit cards. That's the concept of you borrowing money. Your new business that we're gonna create can go borrow money. The bank will probably be happy to loan him money, but it's going to depend on your personal credit worthiness. So if you don't have the personal ability to borrow money, chances are your business is not going to be able to borrow a lot. In addition, if it does loan you money it's gonna want to see an investment by you Lorenzo to show that you got some skin in the game right? Listen, the business plan is a reality check. When we find out that something's going wrong and the train looks like it's coming off the tracks. We go back to our business plan and we see where we're at. It is a reality check. You have to have a business plan to borrow money and we'll talk a little bit more about how difficult it might be. But there's no bank that's going to loan you money without a business plan. Um And after you're in business it's a detailed plan for your success or your management for monitoring your growth and for setting your course for the future. So this is true across all creative endeavors but that's why it's super important. There's a couple of great business plan resources that everybody should write down. Um The U. S. Small Business administration is there from the government and I'm here to help you, they are here to help you succeed. Um They've got a lot of great online resources at S B. A dot Gov. And in addition a lot of retired executives give back through Score, which is the service corps of Retired executives score dot org. And if you can't find a photography mentor, you just want a business mentor. What would be great better than getting a retired executive from Microsoft, for instance, that participates in score that would meet with you once a month to kind of go over where you're at and and teach you how to have a successful business. So that's score dot org. There's a lot of business plan software out there that you can take advantage of. Um and it comes in many forms. Uh you've got business plan pro plan right, etcetera. I'll give you a minute to to look at that slide and and got some of those down biz plan is also a cloud based. So I'm taking away all your excuses. Jim There's no excuse for not doing a business plan. You can you can get this software, you can do it online. Um It'll help chart your course for your future success. Now again, this isn't a marketing seminar per se, but one of the sections of the business plan is a marketing analysis section and that's where we're gonna think about pricing. That's where we're going to think about who are likely customers are. We need to know our customers, right? If their brides, you better know what brides want. If there are sports buyers, you better know what that's like if you're doing editorial work, you better know what that's like. If it's fashion, you better know how to sell. You know who the fashion buyers are. Those are your customers? You have to know the specific market that you're going to target. Is it local? Regional? National? Where do you wanna be? I wanna be worldwide. Worldwide. So I know what you're markets. Are are they are they steady or they declining? What did we learn about photographers salaries nationally Bob at the beginning of the episode? What did we learn from 2010 to 2012? The decreasing their decreasing. So photographers salaries are decreasing. What does that say? That's that means we've got some challenges out there. I want my salary to go up. So if salaries are decreasing, what do I have to do to combat that we're gonna be better than the next guy? Is your market share growing steady or declining? Because remember the business plan grows with you over time, um how are you going to increase your market share? What are you gonna do to get more money in the door? How are you gonna do that? Remember? We're gonna have to plan to spend some time with our business. It's not always gonna be part time, Sometimes it's gonna be over time. Okay, We picked this. So I'm assuming that everybody that's tuned in today, whether you're a hobbyist, that's thinking about going pro, whether you're thinking about leaving your day job etcetera, you're ready to do this and you're serious about it. You're accepting the risks going in, you're going in with your eyes open and you want to do it right? And you want to be around for a long time, go world wide jim worldwide, we're gonna be there. Um Again, the papa is a great resource
Class Description
Ready to turn your creative side project into a thriving business? Join Craig Heidemann for an introduction to the business and accounting principles every creative professional needs to know. 
In this class, Craig will take you step-by-step through the process of setting up, running, and growing a small business. You'll learn how to use QuickBooks to manage your finances, including managing client contracts and invoices. Craig will also help you navigate the potentially confusing tax, legal, and copyright issues surrounding small businesses. You'll also learn how to contract and/or hire people to do the tasks you can't do yourself. 
Whether you're just starting out as a business owner or you're a longtime entrepreneur ready for a refresher course, this course will give you a roadmap to business success.