FAST CLASS: Start Late, Finish Rich
Create A Financial Protection Plan
David Bach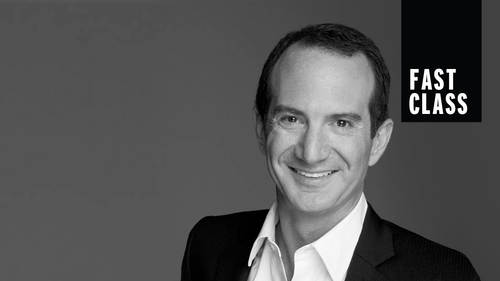 FAST CLASS: Start Late, Finish Rich
David Bach
Lesson Info
13. Create A Financial Protection Plan
Lesson Info
Create A Financial Protection Plan
I told you I would hit you guys with this. Remember when I did the file box? The lesson on the file box Finishers file Folder system. Remember that? So I said there would be a file on a lot of you of the empty. It was called your will. We're gonna go through the things you need to protect you. Your family number one. You need a money airbag. That's that emergency account that I showed you in the first lesson. You need to have a will or living trust. You need to make sure you're properly insured. So let's go. To build your emergency account, you need to have 3 to 24 months of expenses set aside for emergency purposes. It should be safe not attached to checking, not attached to an A t m. Not attached to a credit card. Where do you find these accounts? Go to bankrate dot com. There's an entire list of all the highest paying money market accounts. Look at them. In the beginning, when I wrote books, rates were 7%. I know while right home rule my dad was teaching those classes and money mark...
ets were 13% interest rates were a lot higher than two soldiers use. All. Um, here's another website. I think we have another website here. Where do you put it? So these are places to put it. Money market accounts, CDs, U. S. Savings bonds, Treasury direct savings bonds dot gov These are all great places to put emergency money. The whole key to emergency money again. It's for emergency purposes. Not going to touch it. You're not gonna use it. You're gonna leave it there for emergency purposes on treasury direct and savory. But savings bonds dot gov actually believed or not, the rates could be somewhat rather decent, like often are, like higher. Much higher than that. Once you get a bank, you can invest With his little $50 you could invest automatically. So go check those websites out. I want to give you a new website called Magnify Your money. Magnify money dot com. Ah, these air. The new player love. I was very, very impressive. His website. It's like with bank, right? You call the articles? Uh, this is a new web site specifically focused on comparing rates. So you go into a website like magnify your mind. You can look at all the different rates. How would I select a money market account? Um, it's not necessarily You have to have the hot first with the highest rates or 1% toe. 1.10 Right. So the difference between a bank account and the highest paying money market account is 100 times difference. It's 1% but you can go in here and you can run the numbers and they'll quickly show you, like if I have this much money and I'm getting this and I switch it over here, how much more is a year? You can see the difference. Okay, so then you need a will. Now you need a will. You need to have a health care directive. This is what goes into your wills. Financial power, attorney executor documents and final arrangements. Nobody likes to talk about wills. Um, everybody needs one, because all need wills. You just dio special of your marriage special. If you have kids, people say, Well, if I died, it's not really kind of if, like, I'm a positive guy Year. 75%. You know, They say glasses 75% full here. Uh, but It's not if right, it's just when so get a will. Dumb. Keep it updated in general. Do a living trust. But like I live in New York City and attorneys don't do living trust. I came from California. Had a living trust it up. The living trust is what's called an irrevocable living trust, by the way, really important thing when you do an irrevocable living trust. If you don't place your documents your investment accounts in the irrevocable living trust, then your investments are actually not in the Euro. Vocal living trust. So people go on. They spend a year getting an irrevocable living trust creative. Then they never bring the paperwork into their financial service company. And then none of the assets actually go on the air. Vocal Living trust The whole point of an irrevocable living trust is that you actually avoid probate. Your document. You don't end up having to go through the court system to deal with your her state issues, which is very valuable because they have a lot of money. And also it's not public hum proper beneficiaries. Obviously, that's keen. Family knows the location in Sierra hired an attorney to develop this, and the next thing we talk about his life insurance. So do you need life insurance? Yes or no? Pets if you are single and you don't have any dependence unless you're dying to leave money to somebody hot, get it dying to leave money. Somebody you don't need insurance. So I'm not a big believer That insurance typically is in investments is an investment. I think that, like 90% of time life insurance is a protection plan. You are buying life insurers to protect your family in case you die early. So the beauty is that if you have dependents, um, and you have deaths and you want a protection plan for your family, you can go out and buy term level life insurance, and you can buy sheep. It's never been less expensive to buy term life insurance. Term life insurance is you, by Paul Seek goes out 10 years or 20 years or 30 years. Typically, you want 20 years or more, usually buying it when you've had kids and you want to make sure if something happens to you and you die early, that your Children are protected, your wife or your husband or protected. Take care of the kids while you he passed away. Um, you can buy a term policy now, like up to a $1,000, for, like, 100 bucks a month, depending on your age.
Class Description
FAST CLASS:
Try a Fast Class – now available to all Creator Pass subscribers! Fast Classes are shortened "highlight" versions of our most popular classes that let you consume 10+ hours in about 60 minutes. We've edited straight to the most popular moments, actionable techniques, and profound insights into bite-sized chunks– so you can easily find and focus on what matters most to you. (And of course, you can always go back to the full class for a deep dive into your favorite parts.)
Full-length class: Start Late, Finish Rich with David Bach
SUBSCRIBE TO CREATOR PASS and cue up this class and other FAST CLASS classes anytime.
COURSE DESCRIPTION:
A proven, insanely simple plan to get out of debt, fix your financial life, and achieve your financial dreams— no matter where you are on the financial spectrum— "Start Late, Finish Rich'" is a one-day program that has helped millions and can help you achieve your best financial year ever.
Author of nine New York Times bestsellers, including #1 New York Times bestsellers Start Late, Finish Rich, and The Automatic Millionaire, David Bach will teach you why it's never too late to live and finish rich. He will also share the secrets to becoming an "Automatic Millionaire" and how ordinary people with average incomes can achieve extraordinary wealth.
You'll learn the basics of financial responsibility, and quick, specific actionable steps to help you increase your savings, improve your investment returns, and crush your debt. David will show you why you're already richer than you think.
In this class you will learn:
How to build financial security starting with as little as $5 a day
The #1 Millionaire Habit that changes everything
Why budgets don't work and almost guarantee failure
The secret to having a "retirement, dream and security" account
How to become rich faster, as a freelancer or small business owner
How to organize all your financial information, using the "Finish Rich" file folder system
How to create an "Automatic Millionaire Blueprint" system to automate your financial life forever
How to create a retirement plan that works "automatically"
Why you need a will and what needs to go in that will
How couples can work on their finances together and not fight about money
Why women must take charge of their financial future today, and what's the fastest way to own your financial power
Whether you are in debt, living paycheck to paycheck or simply feeling behind schedule on your savings and retirement dreams, David Bach has helped millions take charge of their financial life and he can help you, too.
The proof is in the numbers. With over seven million books in circulation around the world, over a million students, and over a hundred appearances on NBC's Today Show, David's teachings work. This one-day program takes a true deep-dive, change-your-life, comprehensive approach to fix, crush, and handle your financial life and financial worries once and for all. It's never too late to live your dreams.
WARNING: This is NOT a get-rich-quick program but rather a timeless, simple approach to money that anyone can act on in minutes. If you are looking for an "earn more money program, make money online, get rich in days not decades," this course is not for you. If you want to learn in a fast, fun, and non-judgmental environment, how to build financial security for life, then this is for you. David tells it like it is, and he empowers you to take action now.
Class Materials
Bonus Materials with Purchase
Automatic Millionaire Starter Kit
Finish Rich Quickstart System
Pay Yourself First Graphic
12 Steps to Live & Finish Rich Graphic
Visual Notes 1
Visual Notes 2
Visual Notes 3
Visual Notes 4
Ratings and Reviews
Student Work
Related Classes