Awareness Is The First Step
Cynthia Ackrill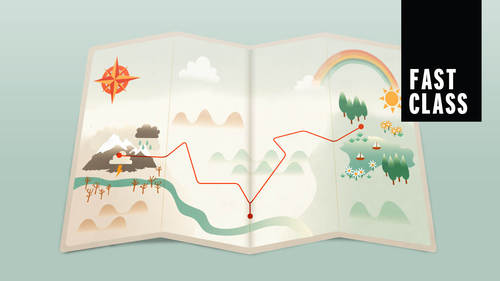 Awareness Is The First Step
Cynthia Ackrill
Lesson Info
5. Awareness Is The First Step
Lesson Info
Awareness Is The First Step
So we're going to increase the awareness of your stress level. Well that might sound painful but I promise this isn't about the pain, this is about figuring out how not to get in such pain, How not to wait until it's really a crisis or real problem to start to lower your stress level a little bit and open up your ability to deal with it. And once we are stressed we're going to talk about ways to cool that down and then we'll spend another whole session on ways to plan. So you have less stress in the future. So getting to the awareness, what do you really feel when you're stressed? Think back to the exercise we did on thinking of something that was stressful and what you noticed if you were running along in the workbook which I highly recommend were on the I know I'm stressed when page eight, how do you know that your stress levels up? What do you notice? And that's really different for different people. Sometimes it's different for you in different stages. I'm a headache person. So I s...
tart to notice the tightening and that's my my awareness is a little bit more focused there eric was mentioned a gut feeling that's true for some people but we all have our ways. I hear a lot of people mentioned, they feel like they're fuses shorter, they're more irritable and actually there was some research at Harvard that says that that's the number one thing other people notice about your stress. So that's the next question in the workbook because what we notice, people don't look at me and say wow, she looks like she has a headache, they look at me and think she doesn't look as happy. They may notice different things about me. They may notice different things about you if you were to be really brave and ask the significant people in your life, friends, family or uh co workers, what they noticed. Sometimes you get some very different answers than what you're aware of and that can be a lot of interesting information, but just jot down the things that you notice. Yeah, So we've talked about there's a curve that not all stress is bad and that as the challenge rises, our performance actually starts to go up until we get to this peak performance where we're inflow and things are working for us. Then, as the challenge continues to increase, our effectiveness starts to fall off and we're not necessarily aware of this area. And if we can become more aware of where we are on this curve, we have more power to get ourselves back to the peak. So that's really the point of this. So on page 10, there is this figure I want you to fill in from what we've done before about being in your state of flow when you're not stressed, fill in who you are when you're at the top of this peak, whether you're calm, you're focused, your centered, make your own words. I'm just suggesting giving you some choices. But who are you when you're really at the top of your peak? Because that's your goal. That's this space where you really feel good about where you are and it's an easier space. It takes less effort and isn't that wonderful. And then, you know, what triggers you? We all do? We all know the things that really get to us. There are those things that tend to raise our stress level, Go ahead and write them down, just call them out. And I'd love to hear from the online community. What are those few things that you just know, you know that it's about you? They tend to set you off for some people. It's a road rage kind of thing. I always, I often get the answer to this. Well idiots do. It's like, okay, that's a tad judgmental. What are those things that tend to trigger you and raise your stress level? And then what are the things that tend to lower your stress level and go ahead and fill in these blanks? Because what we're trying to do is create this map that you can kind you can kind of start to see yourself. It's like a dashboard to know where you are on this curve and there's an important point to this. This curve is a moving curve. So if you're particularly good at something, say you're an excellent cook. This curve would be shifted over. It would take a lot of challenge to make you feel uncomfortable if you're an excellent photographer and you're a lousy cook, your photography curve would be over here. It would take a lot of challenge and that the mere thought of cooking ramen noodles, it might be over here. So different things, depending on your perception of your ability to cope would shift that curve. And then they are the major things that always tend to shift us. So we know where we are at our best. We know it tends to shift us off of our best. We know what tends to shift us back to our best. And then I want you to identify where you are when you're at your worst. What are your worst symptoms? What are your for me? I've hit the migraine. I've shut down. I'm tearful. I know where I am at my worst and there's a second severe set of that and that's when I'm bored to death, I'm not happy when I'm bored and that I can this depression can occur on both ends of this curve over on this side if I'm not challenged at all, I'm not really happy, I'm less engaged in my life and that's not a healthy state of being so write down both of the severe because I find it's easier to identify when you're way off and then we're going to back up. So backing up from your worst state, where are you when you're just sort of moderately stressed? What do you feel? This isn't the end of the world, You're not burning out, you're not freaking out, you haven't gotten the headache thrown up etcetera, but you're feeling it, you're just you're aware that your stress load is up. What kinds of things do you feel when you're just moderately feeling it? And then from that we're going to back up to just a twinge. What's your first twinge that you're falling off the peak of that curve? Because there's your place to build your awareness, your first twinge.
Class Materials
Keys to Creating Strategies to Ease the Drain of Stress.pdf
Stress Is Optional Workbook Parts 1 and 2.pdf
Stress Is Optional Workbook Part 3.pdf
Ratings and Reviews
How do you write the video text and it function with the video at same pace, this is mooc, is mooc allowed outside coursera, this is so imp. for my courses. I want feedback.
Student Work