Balancing Your Energy: Delegate & Defer
Cynthia Ackrill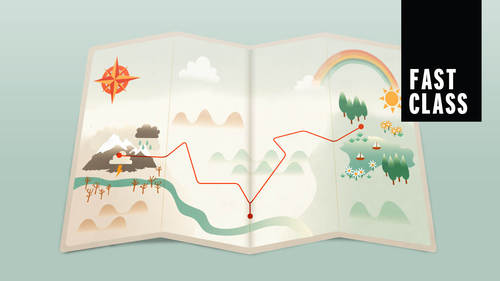 Balancing Your Energy: Delegate & Defer
Cynthia Ackrill
Lesson Info
13. Balancing Your Energy: Delegate & Defer
Lesson Info
Balancing Your Energy: Delegate & Defer
let's move on to delegation. Delegating is interesting. We also are delicate torrey phobic in this culture, it's because there's this weird story that's come around delegation that to delegate us to say you're not good at something or that you're not good enough to be doing it all. So we don't delegate. We also have a story because I deal with a lot of perfectionists. We also have this story that we could never get somebody else to do it as well as we would do it ourselves. Well guess what? Get over yourself because it's not true, you just need to be a better delegator, you need to learn to delegate so that that works. Um it's, it really makes sense to live your strengths and do the things in your business, in your life that you do well and if it's something you truly hate doing, find a way to delegate and there are creative ways to do that. I work with a lot of small business owners in a small town. Um a number, we would come up with some fun ways to do it, taking interns. Um you get ...
a different perspective, you give somebody an opportunity to learn something new and at first, yes, that's worked for you, isn't it? To teach somebody else to do something? But it's the old teach a man to fish story. It's if you teach somebody to do something, they may actually add to what you're doing. I cannot believe how I relieved I was when I finally hired somebody to do my quickbooks. Now I can do mouth. But every time I went to do quickbooks, it was like somebody was sucking the soul out of me. I love developing the content of my business. I love being one on one with my clients or in front of a group. It feeds me and I'm an introvert too, but that feeds me, but to sit there and do quickbooks, oh God, you know, and of course I had an expectation I was supposed to be able to do it perfectly because I used to be good at math, yada yada yada yada yada yada, I hired somebody to do it and then I realized, you know what, I could spend that same amount of work and generate income more than enough to pay her to do it. So I was so stuck in this silly thing until I hired her to do it and got to actually experience the lightness and their freedom that came from, I just don't have to do it. And now when I get an email from Quickbooks about something or rather than I just forward and and every time I do that I smart, it's like if I'm not doing that, you know, I'm totally not doing that and it works, it really works. And when, when you're first starting out in business, that's really scary because you don't have enough money and you think, well I can't delegate. And the question is, well, could you make more money by having this person start to do it, can you figure out some creative arrangement where you trade services at first or something, their creative ways to do this? But first get rid of the stuff you don't like to do because it does drain you, it drains out the fun part of you and that's the part that's going to be more creative and then do it again, delegates some more stuff. But when you delegate delegate well in the very beginning of this um first session we talked about some of the things that stress us as individuals and one is unclear expectations. So if you're going to delegate do it by not stressing the other person be really specific about your expectations include parameters, time, what you expect the product to be, the more structure you give to that the better. But you also want to give them some intrinsic motivation to do it. Don't you remember what intrinsic motivation is, autonomy, mastery and purpose? So give them a little willie way, let them own something about it, you know, think about what the main purposes. I need my quickbooks done. I actually really don't care how she does some of it. I really, you know, I need to know that it fits my financial perspective and we needed to, you know, to build that out. But when she does it, the the timing, I could care less. I give her some autonomy to be her own boss within doing that. And I'm hoping that that works and she knows she's the master. I don't I don't have to do that. I'm totally not. And I'm good with that. But so when you delegate, make sure you have clear expectations, you've given the time that you want it. So everybody knows, and there's not that play of, you know, I expected you to assume that I needed that by tomorrow or yesterday. Um, don't don't do any assuming when you delegate and make sure you give them some buy into the project. So that's deleting things off the plate, Delegating some things off the plate. Making some white space. We need white space to be creative. We need white space to be happy. We need white space to make room for the things that are thrust on our plate at the last minute by somebody or the crises of life that occurred and wipe some of the plate clean. We need white space. So the third way is to defer some of the things we have to be a little less greedy about everything we want to do. I want to learn spanish and I want to learn spanish well because you know, I can do that perfectionist thing. I don't have time for that right now. I mean I barely have time to do what I'm doing and still managed to do the things that our priority in my life of seeing friends and getting outside in nature to exercise the things that feed me. I don't have time to learn spanish right now. It needs to go on my someday maybe list and you need to update that list maybe here lee but have a place to put it because you know how much effort it takes to carry it around to carry it around in your mind. All the things that you know, I really want to do this project in the basement every time. You know when you do that to yourself and you don't put it on an actual list. Yes, I actually two slides for this. When you don't put in the actual someday maybe list, then you're carrying it around and that takes effort. And then we translate that. We do all this really subconsciously because most of what we do is subconscious. We translate that then to doing down to this space where we walk into the basement and our energy drops. And we don't even remember why is that? I mean, we're just we're weird the way we're wired to do this. We don't we don't realize why our energy is dropping. And it's because somewhere in our brain we talked this little space that we were gonna make this cleaned up creative workspace here and we haven't done it yet. So we skip all those steps and we get to the hug. So this is a way to just free up your plate a little bit, write it down. I'm going to do that basement project when I can get to it. I can't do that right now. I'm gonna own that. I can't do it right now. But I have this list that I'm going to keep with. My yearly list, my yearly meeting list of those things that I've thought of, that I kind of like to do and a year from now, I may look at it and say that's something I really don't want to do or a year later, I may look at it and say that's something I want to do this year. And now I'm going to bump it up to the real list. Does that make sense? So I think we all walk around with this this heavy list in our minds. So as we do this stuff, we want to take back our choice. We want to talk to our inner critic. We want to reduce the distractions that are on our list. We can go down a zillion rabbit holes. Just reduce the information overload, come down to what's essential. And as I said earlier, be really clear about your expectations and clear about your boundaries. Because when you don't have a good boundary, what's leaking out is your energy? It's just seeping seeping out. And when you when you state those boundaries, it feels really good. So by doing that, you're really taking back your choice. It's a lot. It sounds like a lot at first. So do this in baby steps. Just one tiny thing you can take off your plate. What's and when you do the weekly meeting? Where is one little thing I could cut out of my week? And what would I love to replace it with? White space? Downtime, sitting and thinking, listening to music, calling a friend, going outside. What would I love to replace it with? What's important to put me back on my calendar? And where do I make that space for me? So I'm either going to have to delete something, delegates something or defer something to get me back in my life. And that just really matters.
Class Materials
Keys to Creating Strategies to Ease the Drain of Stress.pdf
Stress Is Optional Workbook Parts 1 and 2.pdf
Stress Is Optional Workbook Part 3.pdf
Ratings and Reviews
How do you write the video text and it function with the video at same pace, this is mooc, is mooc allowed outside coursera, this is so imp. for my courses. I want feedback.
Student Work