Fine Tuning Habits Of Resilience
Cynthia Ackrill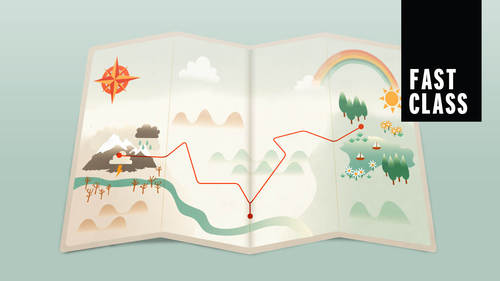 Fine Tuning Habits Of Resilience
Cynthia Ackrill
Lesson Info
29. Fine Tuning Habits Of Resilience
Lesson Info
Fine Tuning Habits Of Resilience
you've picked a goal, you've made it smart, you're motivated, you're confident, you've put up some environmental and social cues. What if you still fall off the bandwagon? What you're gonna do? You thought you had it? You thought you'd filled out, I filled out Cindy's sheets, I got it. I'm good, I could do this, I'm psyched, I've been a, you know, days of creative life class, there's nothing that's gonna stop me and something happens, something in your life or maybe it's just from within, something happens and you fall off. What are your choices? One of the most important parts of falling off the wagon is coming back to your mindset, shocking. She would say that curiosity put on your research hat, what happened? And in fact, this is the trans theoretical model of change from the pre contemplation of I won't, I can't to contemplation, I may two preparation, I'm putting things in order. Like I'm taking a class and creative live and I'm gonna do this to action when you're actually doing i...
t to you. Really, it's become a habit. You maintain it relapse is part of every stage of that. So the first thing to do is just accept it just plain except that you may fall off the wagon and that's not the end of the journey. It's part of the journey. I was doing really well. I was doing my one thing a day and then we wound up traveling and I came back from traveling. I'd catch up with a bunch of stuff and I stopped doing my one thing a day. It's not the end of your journey, it's just data to see what tripped you up and how you get back on. That's when you start back on the list. Start at the top of the list again, Xerox these off and have them available. Start at the top again. Was it the right goal? Are you really engaged with your, why is it a smart goal or was there room for error in there something that wasn't, wasn't really set up to win and then go ahead and do you know, am I motivated and my confident? Where's the data? Why did I fall off? Maybe something else is going on, you know? Um, but just take it as research and not as reason that your inner critic is right, this is just so normal and it's harder with some things. And we talked a little bit about stopping Abbots. You know, if you're trying to give up something like sugar or nicotine that you're actually addicted to, it's a whole lot harder. Relapse is part of it, but it's the getting back on and knowing what to do, knowing from the gecko when you started, you have a relapse plan. If I relapse, I'm going to spend some time going through the habit sheets. I'm going to spend a little time thinking about how I fell off and devise a plan to get back on. And that's all it is. I'm not going to start catastrophizing, which is one of our favorite things to do. Well, I can't do this. So therefore I'm a piece of, you know what and, and really my whole education has been wasted and I was born into the wrong family and I probably shouldn't have lived here. And are we not capable of going to amazing places from one little failure where we can take one little failure and blow it up into, we probably shouldn't have been born. And this is just something we do. And there's actually a physiologic reason or evolutionary reason. We do that because we, we need to be able to predict worst case scenario to keep ourselves safe. If this were to happen and this happens and this happens and this happens, we could be in danger. So our brains are trained to do that already and that's fine. Just recognize it for what it is. Call it out, wow, I'm taking this failure and I'm just catastrophizing. Just call it out and go back to the research mode. This is really a big part of succeeding is being allowed to fail. But making that failure, not the end, making it part of the system and usually people who succeed can tell you a million things they learn from their failures along the way, tons of stuff we learn. I've learned way too much. My brain might explode. Humans are fascinating, aren't we were very interesting. So another important part of making goal is building in accountability. How are you going to stay accountable to this goal? What's your system? one of the coolest parts of being human is that we have each other and we have the ability to communicate in probably more ways than most species. Although I'm not exactly sure about that. We have this ability to really take this entire list of feelings that's in here and communicate them to another person. This entire list of needs and use it and communication with another person. And we have our hearts to connect with other people. The majority of people I have ever met enjoy helping someone. Do you all enjoy helping somebody? Yeah, we all enjoy helping someone. So if you are not asking for help when you need it, you are denying somebody. The joy of helping you think on that for a minute. When you don't ask for help, When you need it, you are denying somebody else. The joy of helping you. Mm We get our jollies that way. We are not weak because we need help. We're human. And it's a really, really lovely thing mm And we don't need to stress over. Should we ask for help? Just go for it? Does that resonate? Mhm Yeah. It's really amazing to me when people sink into this a little bit. I was I was not autonomy as a driver, an intrinsic driver. We want to be able to do things ourselves. And I was not a person who asked for help. Well at all. I felt like I was letting somebody down, letting me down. I was imposing. I can come up with a billion reasons of why I can't ask for help. And when I finally let go and ask for help because I needed it. And I saw the joy in the other person's face and realized that that's what I like to feel. I got over myself
Class Materials
Keys to Creating Strategies to Ease the Drain of Stress.pdf
Stress Is Optional Workbook Parts 1 and 2.pdf
Stress Is Optional Workbook Part 3.pdf
Ratings and Reviews
How do you write the video text and it function with the video at same pace, this is mooc, is mooc allowed outside coursera, this is so imp. for my courses. I want feedback.
Student Work