S.M.A.R.T. Goals
Cynthia Ackrill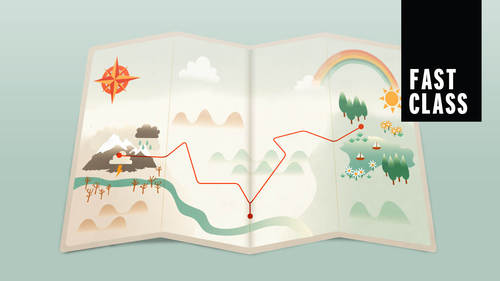 S.M.A.R.T. Goals
Cynthia Ackrill
Lesson Info
26. S.M.A.R.T. Goals
Lesson Info
S.M.A.R.T. Goals
is your goal specific? I'll just double specific. Is it clear is it a really clear goal? So look at your goals right now, and is it so tangible that you have no doubt understanding what you need to do to do it? And is it measurable? And we're going to practice with this a little bit. Is it really measurable? Do you have this concept of knowing when you made it? Like if you have a savings account it's very obvious to know if you've saved up $100, there's something you're measuring if you're changing a behavior, what are you measuring? How will you know if you're there, Is there something, is there a metric built into this? Now you started to mention Erica. one. One habit. Yeah. 1 1 item a day that you're going to check off a list. So right now I do one thing I'd like to put off when I get back to the house in the morning. So I opened the door, get back in the house and that's the first thing I do. Great. Okay, so you just met smart automatically. But let's go through the steps of that a...
nd we'll practice with a few girls. I love for the online community to send in. Uh huh. A goal that we can play with. Making it smart if they want some help with that. But it is it specific? You just made it very tangible. It's one thing you're gonna do is it measurable what you can check, check, not check that. You can put stars on the refrigerator. We are all four year olds. We like to put the check in the box who here has not put something on their to do list. They've already done. So they can check it off. It's so exciting to check stuff off. Well, let's build that in. Let's make it measurable. Something you can check and find a place to do that and we'll talk even a little bit more about that. Is it action based? It's a doing go. I want to be thinner. That doesn't, that's not a goal, that's a vision, but it's not a specific goal. I want to eat 500 Less calories every day. That's even still a little nebulous. I have to because who knew, you know, that could be 500 less of whatever number. Um, you have to make it so specific and measurable and it has to be a doing goal. It's got to be the action that's required to get you to the place you want to be. And way too many of us make goals that are being goals, not doing goals. I want to be more peaceful. Well, yes, I do. I truly do. But what do I have to do to get me there? So I hope that makes sense to people as they realize, you know, this is the success pattern. Let's set ourselves up for success and it has to be realistic. So this smart, this specific measurable action based, realistic and timely takes that big vision into a specific step where you can measure if you've made it or not, that you're doing something, you're not just being something, you're doing something. Even if that's, I'm going to be calm for five minutes, You're setting aside five minutes in which you do breathwork or whatever it is, you need to get calm. It's realistic. It's something that you don't look at and go. Your inner critic immediately has the power to say, no way you're not doing that. It's something that doesn't fire up your fear. That's what realistic is really about. You don't want to trigger your fear. There's a system called the kaizen steps, which is a japanese system of change where you pick such a tiny step that it can't evoke fear. They used it within a company such as Toyota, because to change a culture really brings up a lot of resistance. And what we're trying to do here is knocked down our resistance. So they came up with kaizen steps that he's taking these easy bitty little steps. What's your itty bitty step towards healthy eating? I'm gonna have one more fruit today. And if you add little steps every few months at the end of the year, you really made huge progress and reflect on that and making it timely, you're just gonna be so much, it's so much easier to make a time rule about it. I'm going to have an extra fruit at breakfast is so much easier than I'm gonna have an extra fruit today because like I was talking about with my exercise, you don't have the ability to debate it all day. I'm going to have an extra vegetable at dinner, that's not a debatable item. You just do it and you don't have to worry about it. I hope that's taking these big wants and dialing them down to something that just feels encouraging to do and play with it. I mean this, don't write them in stone, don't even write them in ink, you know, play with it and bring your spirit of play with it. What what do you want to do? Think of where you've been successful before and hopefully by the time we go through all these steps, you're gonna feel less of that resistance in general. But the smart go away is to make it something you really can do instead of something that's overwhelming you then you need to be motivated and you need to recognize that you have motivation for not doing this goal. We all do. There's always something to gain by not doing what we say we're going to do or we would just do everything we said we were going to do, there's some gain. There's a version of coaching as well where you you play around with what is what is the gain underneath? What is the story you're telling yourself? And we do this very well with Erica earlier, what is the story you're telling yourself that you're winning that story at the expense of the story you think you want, there's always some gain and it has usually has to do with some understory. So right now I want you to write down on your sheet what what is motivating you to do this? What values and purpose are supported by maintaining this goal? By reaching and maintaining this goal. So for healthy eating, I'd love to hear you write in and say, why do you want to? Why what's your why what value and purpose are you doing this for?
Class Materials
Keys to Creating Strategies to Ease the Drain of Stress.pdf
Stress Is Optional Workbook Parts 1 and 2.pdf
Stress Is Optional Workbook Part 3.pdf
Ratings and Reviews
How do you write the video text and it function with the video at same pace, this is mooc, is mooc allowed outside coursera, this is so imp. for my courses. I want feedback.
Student Work