Training For Resilience
Cynthia Ackrill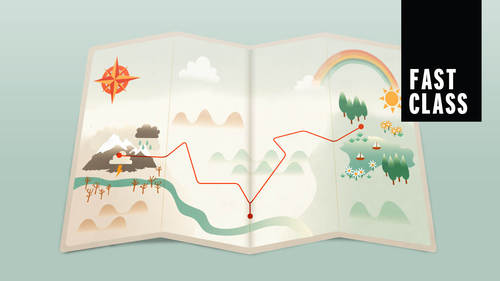 Training For Resilience
Cynthia Ackrill
Lesson Info
18. Training For Resilience
Lesson Info
Training For Resilience
So after you identify how you're doing with the basic human operating system, I want to talk about what you need to operate. I need time in the city. I need time outside. I need time people watching. I need to see art. I need the world to be pretty. These are the things I need that at the end of the month. I feel like I'm okay. I've touched base with my individual needs. I have to have time with my friends. I don't do well without it. Now need and my foodie addiction are probably, that's probably overkill, but I like it. So I like I need to enjoy my passions. So what are those for? You? Write down some things that, that are particular to you that you need, the things that help you thrive. They feed or nourish your thriving and they can be a wide variety of things. I've heard some people really are not happy unless they've been outdoors for part of the day. And then I've known people who seem to be allergic to outdoors, they would rather be in the basement somewhere. I need light. I def...
initely need to see light. I'm a seasonal effective disorder person, so I need to see light. That's always my first question is I hunt for somewhere to live. What's the light? That's so these are the things that when you actually state that you need them, it kind of validates them, doesn't it? It's okay to need this stuff. It's okay to need different things in your life in order to thrive. These are the things that when you look at them, you say, yeah, that's me. They may be playing out your values, they may be playing out your mission or they may just be playing out another part of you. I amused myself for hours walking around town, looking at the different architecture and I needed that space. I needed that downtime where I was just observing and noticing and it renewed me. So that's another way to look at it. What are the things that renew you that give you energy? Maybe they're already on the black of your plate. Maybe they need to be on the back of your plate. And then once you come up with some of these things that you need, you're gonna have to voice your need, here comes courageous again. You've got to speak them, you've got to speak your needs or nobody else knows. Okay. And I see this happen over and over again. We assume that somebody is reading our needs, especially if we're in relationship with them. We assume that they know us well enough to know that right now we need a hug. And then when they don't give it, we tell ourselves this whole big story about how they're uncaring. And if they just cared more and after all, we gave them a hug and we can we can take that story so far. It's hysterical. And all we needed in the beginning to do was say, you know what, I need a hug. Whatever you do, Do it with the 80 20 rule. And that means that If you do it 80 of the time you have one, you are golden whenever you switch to all or nothing. Yeah, you're stuck because you're not gonna make all and then you're gonna beat yourself up big time. But if you live with 80 20 and the gray zones, then you have this ability to find these ways where you say, you know what, I'm not going to get in my three hours of exercise this week or 100 and 50 minutes, the minimum for the healthy adult. I'm not gonna get it in, but I'm gonna get 80% of that in this week, you've scored rather than giving it up. And that's back to that perfectionism. Again, it's a place where we really get stuck. So as you pick these things out, learn to do them that way with some grace and some gray zone because you're gonna be far more successful. So we've gone through so many different things that you can do for yourself from changing your plate too. Re framing some things to finding the things of the needs that are gonna make you stronger. one way to look at these because it can be overwhelming. Like, you know God, in that section, I wanted to do this in this section, I wanted to do this and now it's now I'm overwhelmed. One way to come out of that is to just ask yourself what is your mind, body and spirit asking for right now, Because you can have a list of 25 things that you want to do that would make you this ultimate healthy. You pick a few that you are energized by, that are kind of pulling you forward that you look at and you say, yeah, I kind of want to do that, I kind of want to do art. I want to kind of want to get on the mat for 10 minutes and just start there. So, I'd love to do a guided visualization with you about this. A little bit of a okay, A little bit of a longer one, and then after that, I'd love to hear from the online community what they are asking for and thinking about at this point, So get yourselves in a comfortable position and start to slow your breath down. You can put a hand on your belly and start to slow it down. Bring your breath in those bellows of lungs from the nostrils all the way down to the diaphragm, the bottom, just soft belly breathing and just relax into feeling that for a moment cool nostrils follow it down to your belly. And if you are a normal human being, 10,000 thoughts are going to try to jump in the way of following your breath, that's totally normal. But just come back to your breath. Just keep coming back to it, even though the other thoughts are there, You don't have to engage them and trust me, there'll be more. It's and just keep noticing the coolest and the softness and picture yourself breathing to an area deep down inside of you that is your core, your deep inner core. This is the place of you that is unchanged by the busy world around you. It's the part of you that is unchanged by whoever is demanding something from you or trying to irritate you. It's the part of you that's inside and deepened. It's just you and picture breathing that to it for a moment. Nourish it with your breath, this deep inner core self of you. And remind yourself of the next few breaths what the values of your core are. What are the things that are near and dear to your core, Whether you feel like you're cores in your heart or a little below in your solar plexus, remind yourself of those values and breathe to it and feel the softness and start to let each breath spread that feeling. Maybe it's a growing warmth. Maybe you're breathing a little bit of the embers sort of glowing in this core. Each breath just lets them glow a little bit more fueled by your breath and let it spread a little bit as you exhale this deep calm space that's you. It's solidly you safe you and as you breathe again, let it start to spread. Maybe it needs to spread to an area of you that feels disconnected. Take your shoulders or your hips do they feel disconnected? Let them come into the warmth and keep breathing through that and start to have gratitude for that breath and for this inner core of yours. And know that whenever you want, you can bring your attention here and your breath here and feel this core inside of you that is strong and has your own values, your own existence and all you need to do is bring your breath to it and allow some of that strength to spread into your heart area. Your heart nourishing, pumping that oxygen around you, allow some of that strength to be brought into your mind. The calmness, that connection to your values, like all the different parts of you are starting to connect your inner wisdom, your inner values, your inner calm, your clarity, your courage, end your compassion, both for yourself and for those who love allow that to really sink in and send with your next couple of breaths some of that wonderful connected warm feeling out to someone else who needs it. Someone who may be feeling disconnected, stressed out anxious And then allow it to Sink one more time back into you. When you're ready, open your eyes and come back to your normal breathing.
Class Materials
Keys to Creating Strategies to Ease the Drain of Stress.pdf
Stress Is Optional Workbook Parts 1 and 2.pdf
Stress Is Optional Workbook Part 3.pdf
Ratings and Reviews
How do you write the video text and it function with the video at same pace, this is mooc, is mooc allowed outside coursera, this is so imp. for my courses. I want feedback.
Student Work