FAST CLASS: Working Successfully with Clients: A Class for Illustrators and Designers
Lisa Congdon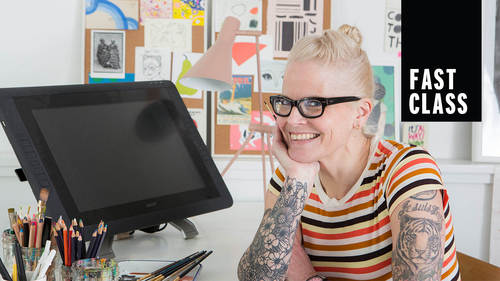 FAST CLASS: Working Successfully with Clients: A Class for Illustrators and Designers
Lisa Congdon
Class Description
FAST CLASS:
Try a Fast Class – now available to all CreativeLive subscribers! Fast Classes are shortened "highlight" versions of our most popular classes that let you consume 10+ hours in about 60 minutes. We've edited straight to the most popular moments, actionable techniques, and profound insights into bite-sized chunks– so you can easily find and focus on what matters most to you. (And of course, you can always go back to the full class for a deep dive into your favorite parts.)
Full-length class: Working Successfully with Clients: A Class for Illustrators and Designers with Lisa Congdon
SUBSCRIBE TO CREATIVELIVE and cue up this class and other FAST CLASS classes anytime.
Establishing yourself as a professional illustrator or designer requires a lot of dedication to building skill, brand and visibility. Equally important, yet often underestimated, is the development of client interaction skills. Working with clients takes practice! It's not easy and it's not always intuitive. Knowing how to communicate with clients clearly and effectively is a skill that will ultimately set you apart as a professional illustrator.
Fine artist, illustrator and author Lisa Congdon has worked with over 75 clients around the world, including MoMA, REI Co-op, Harvard University, Martha Stewart Living, Chronicle Books, and Random House Publishing, among many others. In this class she will share the knowledge she has acquired during her successful career, highlighting time-proven strategies for working effectively with clients. She will also discuss common mistakes to avoid when dealing with clients.
Lisa will teach you the skills you need to enter into client relationships with clarity and confidence.
In this class you will learn:
How to communicate effectively and professionally with potential clients.
What questions to ask when being approached by a potential client
What to look for in a creative brief
How to consider phases and deliverables of a project
How to consider fee negotiation.
How to read through a contract.
How to address change of project scope with a client.
And so much more...
Ratings and Reviews
Student Work