Growing Your Business With Startup Strategies
Tal Shmueliand & Eyal Yassky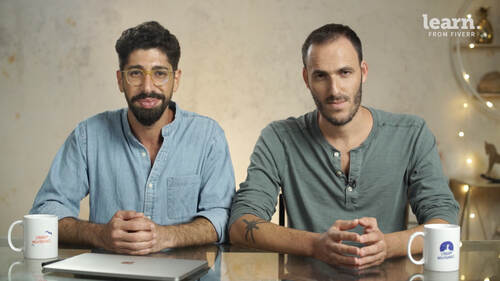 Growing Your Business With Startup Strategies
Tal Shmueliand & Eyal Yassky
Class Description
AFTER THIS CLASS YOU'LL BE ABLE TO:
Set your objectives and create the plan to achieve them.
Know where to find clients and how to approach them.
Start marketing your product or service and launch your first marketing campaign.
Start selling your product or service and acquire your first customers.
Manage your stakeholders while taking care of yourself.
Identify where the weaknesses of your process are, and gain the insight required to fix them.
How to be your own manager and balance the needs of your business with your existing commitments.
Make power moves for scaling & sustainability.
Have a high-level overview of the different growth strategies.
Simplify and expedite your sales process.
Build a portfolio to attract the right kind of customers.
ABOUT TAL & EYAL'S CLASS:
When it comes to launching, running and scaling a successful startup, passion and dedication is only the first step. You need to have a detailed action plan with proven strategies that you can implement and monitor as you grow.
This class will teach you everything you need to know to launch a successful startup from setting your objectives and choosing your 'why' to aligning your growth strategy with your goals & objectives. You'll learn how to acquire your first customers, transition from a 'marketing' mindset to a 'sales' mindset and run your first marketing campaign.
Enroll now to get your startup on the road to success.
WHAT YOU WILL LEARN:
How to create an actionable plan that will take you through the different growth stages of a business
How to align your growth strategy with your users' needs
How to gain the perspective required to help your users make the most out of your product or service
How marketing can benefit your venture and where are you most likely to win
How to build your initial marketing stack and uncover opportunities you didn't know of before
Where you can acquire your first customers and how to grow your client base
How to understand your areas of growth
How to focus your efforts in alignment with your strengths, goals & objectives
How to create a buyer persona and tailor your proposition to your target audience
WHO THIS CLASS IS FOR:
Entrepreneurs wanting to launch a successful business with proven strategies
Business owners wanting to enhance their business strategy and target new audiences
Freelancers wanting to add business strategy to their skillset
Marketing and brand managers looking for a firm grasp of startup marketing
Anyone wanting to start a professional career in business strategy
Digital nomads looking for work that they can do from anywhere in the world
All levels of experience
SOFTWARE USED:
Adobe Illustrator CC
ABOUT YOUR INSTRUCTORS:
Eyal Yassky-Weiss
A published documentary photographer & entrepreneur, Eyal has invaluable hands-on experience and insight into what it takes to grow your own business. He is a sought-after keynote speaker and consultant to startups, investors, NGOs and entrepreneurs.
Tal Shmueli
With a background in the corporate tech world, Tal has worked with a range of startups of various sizes to achieve success. He is a published author, renowned keynote speaker and founder and host of the Startup Nightmares podcast.
Ratings and Reviews
Student Work