What Information to Include on your Business Card
Lara McCormick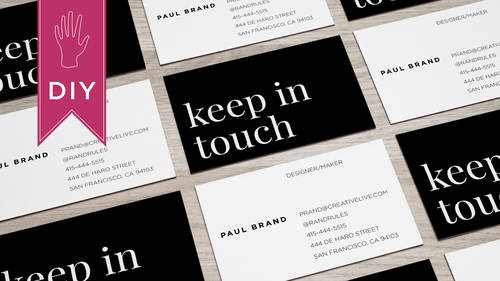 What Information to Include on your Business Card
Lara McCormick
Lesson Info
2. What Information to Include on your Business Card
Lesson Info
What Information to Include on your Business Card
So the first thing you want to think about is what information should I include on the card right? You want to choose widely you don't choose wisely you don't want your card to be packed full of so much text that nothing stands out and someone has to really read through it to figure out where is your phone number so the's air the things that can be found on cards obviously you want your name for the most part your title what you d'oh the company that you work for and maybe that is your company business card um physical address phone number fax number does anyone used faxes anymore? Email your website you earl and social links like twitter, facebook, instagram and anything else you might want to add even looking at the list of these things on a slide is already to cut cluttered so you want to be thoughtful about what you include on your card I love this card so this is my friend wendy and she does lettering and graphic design and the on ly information on the card is her you earl so she'...
s going to give you her card it's so beautiful and amazing you want to look at more of her work, you go to her, you earl and you can contact her through there so this is a very, um good example of a card that fits the need of the person distributing the card it shows off her lettering points to her website. So you could just have a you earl on your card. And that would be fine.
Class Materials
Business Card Design InDesign Template Horizontal.idml.zip
Business Card Design Presentation.pdf
Business Card Design Resources.pdf
Ratings and Reviews
Hey Lara! I just checked out your course on CL, How to Design Business Cards, and absolutely loved it! Everything about the course was awesome from content, information, presentation, and your personality. Would you please do more courses? You have a wealth on knowledge, I can tell, and with your easy-going presentation it is a great combo. I would love you to do a course on InDesign or simply on design with various projects from business cards, posters, brochures, etc. Anyway, thank you for that course. You rock! Thank you for your time.
I'm designing my first business card and Lara took it step by step so clearly that I've got something I can be proud of right out of the gate. She showed great strategies to make them professional and attractive and bonus ideas about how to get people to keep them around for reference. That's pure genius!
Great, little course. Inspiring.
Student Work