5 Things to do Everyday as a Boss
Justin Kerr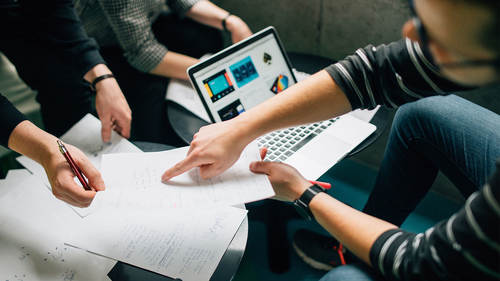 5 Things to do Everyday as a Boss
Justin Kerr
Lesson Info
8. 5 Things to do Everyday as a Boss
Lesson Info
5 Things to do Everyday as a Boss
Five things you need to do every day. Now I wanna be clear, every day means every day. Including Fridays, even when you're hungover or even when you don't feel like it, every single day you need to do these five things, okay. And here's the list. Walk the floor, say yes, be specific, repeat yourself, and get to work early. Now let's go through each one. Walk the floor. This is not about being a boss, but this is literally about walking the floor. I'm literally just gonna walk around the floor at least one time a day, maybe two, maybe three, this is about me walking around the floor and just saying hi. Asking about the picture on your desk. Asking, going hey, what are you working on? Hey, how are things going over here? It's about me showing up for you as a human being. I'm letting go of all my expectations, I'm letting go of all the priorities and I'm just saying hey, I'm here. And what you're doing is, you're making yourself available to your team. Without putting it on the calendar y...
ou're saying hey, I'm walking around here, if anyone needs anything from me, I'm not saying this, but I'm implying it. If anyone needs anything I'm standing here. I've got some time for you. You're a priority for me. So just making yourself available, get up off of your seat, stop checking your email, stop hiding in your office, and get out there and just walk around and say hi to people. The other thing to do is walk out there and be like, hey everyone, I'm going to get a coffee does anyone wanna walk? Whoa, I'm approachable? Hey, everyone knows I buy the coffee. So now I'm interested and I'm connecting with my team I'm keeping that tissue, that's what it's about. Every day do that. Show up for them. The second thing you gotta do every day is say yes, no matter what people ask you, say yes. Hey, do you have a minute? Yes. Hey, can you help me with this? Yes. Hey, can I have that vacation approved? Yes. The answer is always yes, even if you can't do it when they say, hey, do you have a minute, you go, yes, I have a minute. But can I give you that minute in 10 minutes? Hey, yes, I have a minute, but I gotta go to this meeting and I'll be back in an hour and I'll come find you. My answer is yes, and then I give the detail. Always yes. You've got to be a boss who says yes because your job is to be in service to your team. If you find yourself being someone who's like, no, I don't have the time, no you can't have vacation, no I can't reply that, that's a problem. Your job every day is to say yes to all the people around you. It's that simple, hold yourself to that standard. Every single day you need to be specific. You can't tell a team fill out this form by end of day Thursday, you've gotta tell them where to save it, is it end of day, is it six PM, is it five PM, is it four PM, is it the morning after? What format do you want it in. If you're not being specific you're wasting their time. So every day, every direction, be specific. Now a lot of bosses don't like this because being specific takes extra time. It's easy for me to say, hey, fill out that form by end of day, okay, see you later. And I walk away and I'm like, I gave them the direction. But that's not fair. Because I didn't tell 'em what I actually wanted. I didn't set that person up for success. So what happens is they send me another email, what did Justin want, what time does he want, what format, I don't even know. And now they can't get the work done and they're spinning and they're wasting time. So be specific. Yes, it takes extra time and effort from you, that's your job as a boss. You're there in service of other people. Be specific, it saves time for everyone and by the way, if you're just like, I don't have time to do extra work, first of all, give other people some of the stuff you're working on, second of all, that 30 seconds of saying hey, I need you to fill out this form just like that last one, I need it by five PM, can you do it in this format, that was like 20 seconds, that saved me 20 minutes later when the person hands me the form and I go, what's this? Why is it filled out like this? And now they gotta go race and redo the work. So be specific the first time every time. Repeat yourself. You're a boss, you say a lot of stuff. You say a lot of things, one of the important things is keep repeating yourself, I think in the Army they say 10% never gets the word. So you gotta keep saying things so the team goes Justin's consistent, I heard him say that thing before. Oh, okay, I guess he really means it 'cause he said it multiple times. Until it gets through. Repeating yourself is a very, very powerful tool. You probably watched during the presentation, I repeat certain phrases, I say the same thing three times. I'm doing that on purpose because I think you probably missed it the first time and I think you missed it the first and second time, so the third time I think we got it all. It's a tool that you can use. So take advantage of that, and then last, get to work early. There's no other way around it. Your day as a boss is filled up with meetings. There's just not enough time, the only solution is to get to work a little bit early. Because getting to work early allows you to get set up, answer emails, get the ball rolling, remember we talked about you're the train, you're moving the train forward, you've gotta give them a push at the beginning of the day. You can't walk in at 8:59 and be like, I'm on time, let me walk into a meeting. Because now your team is waiting for you to reply to all these emails and things have changed. You've got to get to work early. And I want you to think about, I'm not a morning person or I wanna hit the snooze button three times. Every time you hit the snooze you're saying, I don't respect my team. I like myself more than I like my team. I'm not willing to work hard for my team. That's what the snooze button says. So forget the snooze, even if it's 10 minutes early, keep doing it until you get on top of your work but every day show up early.
Ratings and Reviews
This class is awesome! I love that the insights are both digestible and actionable. I found that the tips are quite simple but have an enormous impact on both the leader and the contributor. I'd recommend this class to anyone who wants to be a better team player.
Justin Kerr's content was amazing. Super interesting and highly engaging.
Very interesting and detailed. Great tips easy to apply.
Student Work