How to Fire Someone
Justin Kerr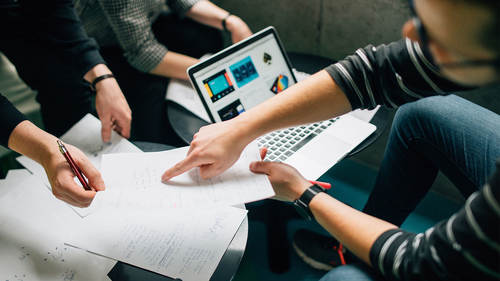 How to Fire Someone
Justin Kerr
Lesson Info
7. How to Fire Someone
Lesson Info
How to Fire Someone
Let's talk about how to fire someone. And my hint is you never get to say, "you're fired." Okay, that might be disappointing for people but you don't get to say that. And the thing about firing people is it's surprisingly difficult to fire someone for being bad at their job. And whether it's for fear of lawsuits, or a difficult conversation, or not knowing what to do, most bosses just avoid the situation. And they just accept mediocre to low performance on their team 'cause they're just like, "If they're not making any noise, I'll just leave 'em over there in the corner and make everyone else around them work way harder to make up for it, 'cause I'm not willing to have a conversation with them." That's usually what happens, right? And it's not fair to anyone involved. So for me, if you wanna be a good boss, if you wanna keep the good members on your team motivated you've got to address the situation and consider, is this a firing situation? And of course you want to consider, is it a c...
oaching situation? You wanna see the difference of that. But you've got to address it. I do not accept the idea that you just get to hide them in a corner, or to me, even worse, transfer them to a different division. That's not fair to the other person. That's not fair to the person you're sending. It's not fair to the team that's inheriting them. It's not fair for anybody. So let's talk about this treacherous game of, actually, you know what, strike that word. It's not a game, it's a serious situation. Well let's talk about firing someone. Most people only talk about firing think about the person we're firing. But I wanna put the emphasis on you. Because firing someone is really, really dangerous. Not for them, for you. Because think about this situation. When something reaches the point where you need to let them go, think of them as someone who's drowning in the sea, right. And what do they teach lifeguards? When someone's drowning, you don't swim right up on top of them to try and save them. You can't get that close because they're desperate, and their dangerous, and they don't know what they're doing, and they're trying to save their life. And to save their life, they can climb on top of you and push you under the water and you're gonna drown. So it's important to understand that. Keep your distance and understand this is a dangerous situation. This person may not be acting in their best self because they feel cornered or they feel like they're drowning. So it's important to understand that. So I want, when we talk about firing someone, the emphasis is on you and what you need to do in order to protect yourself. Every move matters. So when we go through this I want to be very specific. I want you to be very careful, take your time, don't rush any of this. It never goes from this person's bad, to you're fired, A to B. I can tell you it takes a lot longer than that, and it's a good thing, so take you're time. Okay, so in my book, "How to be a Boss", I prescribe 14 steps on how to fire someone. It's a lot. I know you're only supposed to do three of anything. But the truth is, I prescribe very meticulously 14 steps to make sure you never get caught by the drowning person and pushed under the water. Now for the purpose of this class, I've summarized it into three, right? The magic three. So my three are: write it down, talk to people, and be human. The first thing is write it down. Throughout this process you need to write it down. Before you move to fire someone, write down why you're going to fire this person. Organize your thoughts first. The first step is to think about what is going wrong, honestly assess the situation, assess you're own role it it, assess theirs, but write it down. You need things in writing throughout this process. After you have meetings, write it down. After you meet with someone, recap it and send it to them. You need to cover your ass by writing things down. I'm just gonna say it, okay? The second thing you need to do, is you need to talk to people. Now when I say that, it's different than gossip. So what I'm not saying is, walk around to every person in the office and be like, "I think I'm gonna fire Jim. Hey, what do you think, we're gonna fire Jim? He sucks, doesn't he?" It's not about that. That is dangerous, that is wrong. That's not respecting him as a human being. What I mean is you gotta go around and talk to the people that matter. You're first stop has to be HR. And you don't just show up to HR and be like, "I wanna fire someone." You gotta walk into HR and say, "Hey can I set up a meeting? I wanna talk about Jim." And when you show up to that meeting, send in advance a bullet point email that says, "Hey here's the situation and how I see it". Send it in advance. Notice I said that. You can't show up to the meeting and expect to explain all of the complications of why you wanna fire Jim and have them absorb it in the meeting. You've gotta give them time to digest. You sit down, "Hey I sent you the email. I wanted to talk through it. I wanted to get advice from you." This isn't about trying to be too anxious to do it. Get feedback from HR. Get their support. Without their full endorsement, you can't make a move. You need to sit there, listen to them, take their advice, slow down, do what they tell you. Even if you think it's wrong, do not proceed without HR support. It's critical. And I've made this mistake before. I've gotten very far out on a branch, turned around, and it turns out, I'm all by myself. And at that moment, you're thinking, "Yeah but this is all about the bad employee. They're bad. Everyone can see they're bad." But if I didn't do things the right way, I'm too far out on the branch by myself, and I almost got fired when I was trying to fire someone else. So move cautiously, okay? Talk to people. You talk to HR. You talk to your boss. You make sure they're aware of the situation. You talk to you know, anyone that's gonna be an influencer in that situation. Keep talking to people. The last thing is be human. Nobody wants to suck at their job. This person might have other things going on outside of work. It might just not be the right match. You don't know what it is. So be, have some empathy for them. Approach them in an honest way, be straight forward, don't try and hide it. If you know a decision's made, say it. Don't bide time and be like, "Well why don't you try for three more weeks and we'll see." If the decision's made, make the decision, okay? Treat this person how you would want to be treated. Remember when we talked about be honest? Even if it hurts a little bit, people will respect you. I've had to, actually, I've had to fire one of my close friends. And it was very difficult. And I fired him. And I can tell you we're still friends. And he says, "I really appreciate the way you handled that. 'Cause you told me what I needed to do. You gave me a chance to improve. I didn't improve and you told me I had to go. And that was it." It was very clean. It was written down. There was no confusion. And the reason you need to write things down is there's a lot going on at someone. If someone knows they're in the process of being fired, they're not really listening to you. They're sitting there going, "What am I gonna tell my wife?" "Oh my gosh, what am I gonna do for my kids?" "What do I do for health insurance?" "I can't believe I'm in this situation." "Can I attack Justin to try and get out of this?" "You know, he screwed up one time and yelled at me, maybe I'll go to HR and tell them about that." All these things are going through their head. And all you said was, "Hey I wanted to sit down and talk." There's totally different worlds going on here. So you've gotta write things down, you've gotta recap, you've gotta send emails after saying, "Hey Jim, nice to meet with you. This is what we agreed on. Here's the next steps. Here's what's going on." And then you gotta BCC or forward it to HR and your bosses. At all times, it's about protecting yourself, keeping distance, and doing things the right way. Does that make sense? So I just kinda wanna scare you a little bit and then I would just say go buy the book to get all 14 steps. So I don't mean to be cheeky, but it's worth it. Alright, process is easy. This is the mechanics of being a boss. This is the part you can be in charge of. You're in control of. The people stuff, it's messy. The process part, it's cool. We can get it down. I'm gonna tell you five things to do every single day, three things to do every single week, and that's it. There's no excuse for getting this part wrong.
Ratings and Reviews
This class is awesome! I love that the insights are both digestible and actionable. I found that the tips are quite simple but have an enormous impact on both the leader and the contributor. I'd recommend this class to anyone who wants to be a better team player.
Justin Kerr's content was amazing. Super interesting and highly engaging.
Very interesting and detailed. Great tips easy to apply.
Student Work