How to Motivate Your Team
Justin Kerr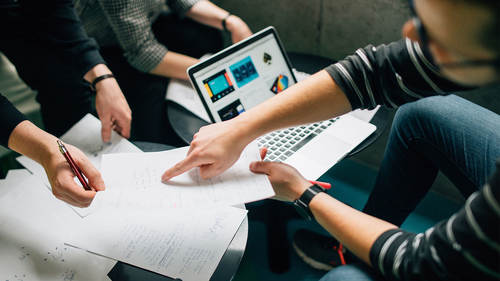 How to Motivate Your Team
Justin Kerr
Lesson Info
4. How to Motivate Your Team
Lesson Info
How to Motivate Your Team
We talk about how to lead people, we talk about how to give feedback, we talk about all these things, but no one ever talks about how do you motivate people, and what does it mean to motivate people. There's a really cheap and cheerful way to motivate people. I've got 'em on the slide here. There's things like cheerleading, giving 'em a compliment, giving 'em a raise. Feels good in the moment, usually lasts about three days before they're coming back to you for something else. They've forgotten about it. You'd throw a party, you could do all these things. Those are motivating, but they're just moments in time. What I wanna talk about is real, sustainable, long-term motivation. It's really important, and I've learned over my career that if you overlook motivation, you're in big trouble with the team because if you even have one person on your team who's lost motivation, it's like a bad apple in the barrel and it spreads around. So, I go into a team meeting, I ask everyone, hey, everyone...
, let's do this project. It's gonna be super exciting. Let's fill out these forms, let's do this thing, and then we're gonna get this. And people are like, okay, cool, let's go, and let's say this person is walking out, they're like okay, cool, I can't wait to do this project, and then one person behind them goes, he's probably not even gonna look at it. Why do we even bother? And then the person who was motivated is like, well, yeah, you know? Maybe I shouldn't try that hard 'cause maybe he isn't gonna look at it. So, it's just kinda spread around a little bit, and it's a little bit invisible so it's a little bit dangerous, okay? So, what I wanna talk about for long-term, sustainable motivation, I have two counter intuitive ideas. One is give people more work. To motivate people, give people more work. That's strange. The second one I call the jedi mind trick. So, we'll go through both of these, okay? So, giving people more work. I just stood in front of you and said I want to motivate you and my solution to that is I'm gonna give you more work. On the surface, it sounds strange, but let's dig a little bit deeper 'cause the truth is when people stop being challenged, they stop learning, and when they stop learning, they get bored, and when they bored, they lose motivation. Now, what was the beginning of that circle? When they stopped learning. So, one way to keep people engaged, keep them motivated, is give them new things to do and to learn. And I can tell you, in this audience, looking around, and everyone at home, I don't know anything about you, I don't know who you are, what you do, but I can promise there are things you're doing day to day as a boss that you could very easily hand over to someone else on your team. Whether it's just something that you keep because you love doing or you got promoted in a position and you just kept doing that thing, there's meetings that you go to that someone else could attend for you. There's forms that you fill out that someone else could fill out, and to you it's just a form that you're filling out, but to your employee, they're looking at you going wow, I guess when you're the boss you get to fill out that form. I can't wait to fill out that form 'cause it's exciting, right? Think about when you're growing up in an organization. There's always a meeting, a room, you can't get into. You watch your boss get up and go to that meeting down the hall and you sit there and go I can't wait 'til I get to go to that meeting. I bet they make great decisions in there. I bet that's where all the action happens. Now, eventually you get into that room and you realize there's always another room after that and another one, but the truth is, letting someone else attend that meeting that probably you're already sick of or you take for granted or nothing happens, you're getting in the way of letting someone else continue to learn and take on other responsibilities. Now, I will say for this, it's very important how you roll this out. This isn't just walking up to someone and being like, hey, I want you to fill out this form for me. That's not the way to motivate someone with more work. The way to motivate someone by giving them more work is at the team meeting, just say hey, everyone, I wanted to let you know Carly's been doing a great job. And in fact, I'm gonna... I've asked her to start attending this meeting for me, and she's gonna report back to us on what happens. So, Carly, good luck, let me know if you need anything, but super exciting. Now, how does Carly feel? I just praised her in public so all the rest of the team is like, whoa, Carly must be doing well, okay, oh, interesting. Carly's there gonna be like, oh, cool, my boss just gave me a compliment in front of everyone else. That one person thinks I don't do a good job, but now maybe they will. And by the way, I've asked Carly to go do extra work. She's like, cool, I'm in that room now. So, everybody's winning, and by the way, think about this. I don't have to go that stupid meeting anymore. How awesome is this? Less work for me, more work for Carly, and everyone is happy. So, embrace this, give out some of the things you're doing, let go of some of these things because I guarantee you, as a boss, you're sittin' there going, I have too much work to do, I can't answer emails, I can't get to everything, I'm in too many meetings. I know for a fact every one of you are thinking that, so why not let go of some of them? Nothing's gonna change if you don't make a change, and if you can do it by motivating someone else, it's a win win situation. So, motivating people, keep them learning, giving them new responsibilities, that's the first one. The second counter intuitive way that I like to motivate people I call the jedi mind trick, and I'll never ever forget this. I usually get chills when I tell this story. So, I had a new boss. His name was Arthur, and I walked into his office. We're getting ready to give a big presentation to the president the next day, and I walked into Arthur's office and I said hey, Arthur, here's the report I'm gonna present tomorrow to the president. Take a look at it, let me know any feedback, and I'll fix it up before tomorrow. And Arthur looked at me and he goes no, I don't need to see it, and I was like no, no, no, this is the report I'm gonna present to the president tomorrow, so I need your feedback. Let me know what you want me to do. And Arthur just looked at me and he said I trust you. I know you'll do a good job. I mean, I did just get... Can you get that? I got chills right there standing on the back of my neck. I mean, I still to this day... I've waited my whole life for someone to say I trust you. I've waited my whole life for my dad to tell my he trusts me and Arthur just did it. All he did was say I trust you, I know you'll do a good job. And, of course, you know what happens. I took that report, I ran back to my desk, and for three hours, I made sure that was the best report I've ever put together in my entire life. And the next day I went and did the presentation, it went well. I actually don't even remember if it went well or not, I have no idea, no one remembers, by the way. Little secret, no one remembers reports or forms that you filled out. I hate to burst your bubble, but it was the experience, right? I remember being like that went well, I did it all by myself. And, of course, what happened after that? I proceeded to spend the next 18 months working so, I'm not gonna say effing hard, so hard, for Arthur because he said he trusts me, and I happen to actually be pretty good at my job. So, he was getting an extra 30% from me because one time he goes I trust you. And what happens is a couple other people on the team are like that and we delivered amazing results. Every day I was excited because, finally, I felt empowered. I was motivated because it was my ass on the line, because think about what usually happens on a project. You work on it, you give it to your boss, they give you corrections, you take it back, you work on it, you give it back to your boss, they make corrections, you take it back, and then you do that one more time and they go okay, I think that's good enough, and then you take it back. Well, what happens? Eventually, you know your boss is gonna make a bunch of changes so you just get it 75% good. Then you hand it to your boss and they go oh, man, my team is not very good, I need to make all these changes. And some bosses think, wow, I'm so important, my team sucks and so I'm saving them, but the truth is you're pulling motivation away from them, and it's this dangerous cycle where the more you think you're helping me, the more you're stealing my motivation because every little correction that you make on my pad of paper is saying I don't trust you, I'm smarter than you, I'll be here to catch you. And so, I'm less invested in the work if I know there's a safety net, right? I'm a little bit less on edge if I'm like okay, there's a safety net there so if I fall, it's fine. Now, if you take away the safety net, I'm probably gonna be a little bit more careful about setting myself for success. So, think about how do you break that cycle. Stop asking for the report, stop doing that and just say go do it. I expect you to do a good job, I know you can. It changed my life. Now, it would be irresponsible of me to give you that example about the jedi mind trick without also attaching a warning to it 'cause the truth is you can't just give out a jedi mind trick to everybody. There are some people that are ready for it and some people that aren't, and I'll give you an example. We'll take Arthur. 18 months later, our business is on fire, he gets promoted, rightfully, for motivating his team, he gets put in a different division, he starts walking down the hall, he's throwing jedi mind tricks like candy. He's just giving them out to everybody on the new team. One year later, that business lost a billion dollars with a b, a billion dollars, because he gave jedi mind tricks to everybody. It worked on our team 'cause we happened to have a couple people that were ready to do it, but on that other team, people weren't ready. They didn't have the experience, they didn't have the confidence, and the truth is, at some point, your job as a boss is to get out of the way, and it's also sometimes to understand the situation and rush in and help and coach and be supportive and lead by example. So, I don't want you to take the jedi mind trick, walk into your office, and just give it out to everybody. You kind of gotta think about it, test the waters, try it out with people, but be careful where you use it. But don't be stingy, okay? It's an inexact science, it's okay, but it can change someone's life. And again, look at this scenario. Both of these scenarios mean less work for you as a boss and other people super motivated. That's a win win combination. So, spend some time investigating this and doing that, alright?
Ratings and Reviews
This class is awesome! I love that the insights are both digestible and actionable. I found that the tips are quite simple but have an enormous impact on both the leader and the contributor. I'd recommend this class to anyone who wants to be a better team player.
Justin Kerr's content was amazing. Super interesting and highly engaging.
Very interesting and detailed. Great tips easy to apply.
Student Work