How to Say Thank You
Justin Kerr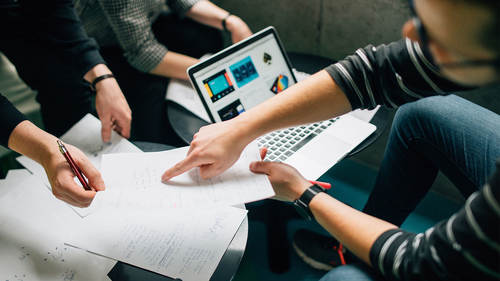 How to Say Thank You
Justin Kerr
Lesson Info
6. How to Say Thank You
Lesson Info
How to Say Thank You
People don't say thank you. It's just like, fill out this form. And it's like, okay, you give it to me, and I'm just like, okay, here I go. I never say thank you. So my point here is just say it. This is not overcomplicated. Like I said, I'm not a philosopher here. The point is say it out loud or write it down. Now, I have a little nuance in here that I like to talk about. I'm a little bit scared of the say it out loud. So what I'm gonna say is if you think it, just say it quickly. Don't overthink it. In the moment if you want to say thank you, say thank you. I love that. Just do it. Get in the habit of it. No matter who it is, just say thanks. It's that simple. I'm not over-prescribing this. But the thing about saying it out loud, if you've overthought something, we've all had that situation where you go to say thank you to someone and people don't know how to receive the thank you. And you get in this awkward moment where you make eye contact with the other person. And you're kinda l...
ooking at each other and like, what's this person gonna do to me? And you're like, why is this person looking at me weird? And you're like, all I wanted to say was thank you, and now this feel really awkward, and now this whole moment is like worse than if I had not said anything. So I, is that just me, or do other people? Okay, just sometimes. It happens to me all the time. So I get a little scared of the in-person for that reason. 'Cause it's just sometimes it's like intense. So I actually like to prescribe the write it down. And the write it down is really simple, which is shoot a quick email and say thanks. Don't worry if there's not a lot of stuff in your email. Just saying thanks is enough. Now, if you want bonus points be specific about something. Hey, I really loved this part of the presentation. Or I thought you nailed it on this point. 'Cause we all know if you go to your mother-in-law's for Thanksgiving you don't just say I love the food. You pick one thing on the table and you go I love the mashed potatoes. It makes that gratitude mean more than if you're just like I like the meal. So be specific for bonus points. Now, one of the things I like to do as a boss is using thank you reply all. Someone turned something in. There's a bunch of people in Cc. Hit reply all and say hi Nicole, thanks for sending this. I love the way you organized this. It makes it really easy to follow, Justin. That took me five seconds. But look what I did. One, I made Nicole feel good. I acknowledged her work. Number two, I sent out an invisible message to the rest of the team that said I like how this report is formatted. So now all of you, without sitting you down, and being like I'd like to lecture you about how I want forms filled out. Instead of doing that by pointing out something specific that I'm grateful for I'm giving a clue to everyone else on the team what they can do to make my life easy and to also get me to thank them. So does that make sense? Writing it down means a little bit more. Now, one of the pro tips I like to talk about when it comes to thank you's or the benefits of writing things down how many people here do birthday cards where it's someone's birthday and you give them a birthday card? And it's kinda like why do we even do this? But the truth is birthday cards have a secret power. Because if every birthday card, usually it's like once a month for your team, if every birthday card every person is writing their name down on that card, it's kinda like your grandma, right? Like, they buy these Hallmark cards, and then just say Justin at the top, and then there's a bad poem, and then they write grandma at the bottom. It's the ultimate, like, it's the thought that counts. And birthdays at work are the same thing. It's the thought that counts. But when you get every person on your team to sign that birthday card, what they're doing without realizing it is they're re-upping to being a part of that team. They're being like, once a month I'm signing this invisible contract that says oh, we're in it together. Oh my gosh. All of us are signed on this card. So don't dismiss these little gestures in the work day. They have a power of connecting us as human beings. Okay, now quickly I want to go to beware: end of year thank you's. There's a lot we could say about this. But my quick things are don't give gifts to anybody. It's gets really confusing. Gets like, hierarchical. Who do I give a gift to? Who do I not give a gift to? How do I do this? And then my other thing is make sure you right it down. I like postcards, 'cause you don't have to write that much. Kind of a trick. If you get a big notepad, you feel the pressure of like I gotta write an essay. If you do postcards it's like, cool, I can put this on one side. And if I really like you, I'll put an arrow, and it'll go the back and will say something. But the benefit of these cards are they last a long time. People can put them in their drawer. They can be merged. They're cleaning out. They're reaching for a stapler. They're cleaning out their drawers. The see that card that reminds them that their boss acknowledged their work. Now, a couple small things. Always use ink that's not black. Let's use a little color. Let's make it look like it didn't come off the photocopier. Okay, I also encourage you embrace the imperfections. If you misspell something or you want to say something different, cross it out, and keep writing, 'cause it says, hey, coworker, I'm a human being. I make mistakes too, but I just keep going, and this is fun, and we're just doing this together. So don't overthink it. Write it down. And then the last thing is timing. People go away on the holidays at all different times. Make sure you get it everyone before they leave for the holidays. If someone shows up on January 6th and there's an end-of-year card there, it means nothing. Remember, positive feedback expires. Same thing goes with end-of-year thank you's.
Ratings and Reviews
This class is awesome! I love that the insights are both digestible and actionable. I found that the tips are quite simple but have an enormous impact on both the leader and the contributor. I'd recommend this class to anyone who wants to be a better team player.
Justin Kerr's content was amazing. Super interesting and highly engaging.
Very interesting and detailed. Great tips easy to apply.
Student Work