The Action Plan
Dia Bondi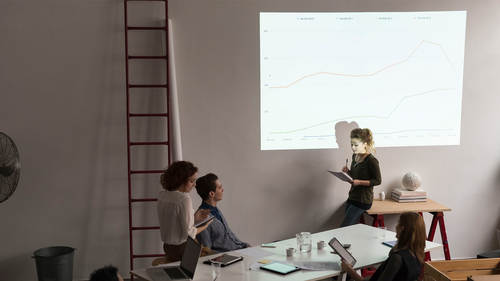 The Action Plan
Dia Bondi
Lesson Info
11. The Action Plan
Lesson Info
The Action Plan
What will you do on stage when it's time for you to go? We did this coaching. What will you actually do? I will take a sip of water before I start speaking, and take a deep breath, and slow myself down so I can commit to being slow, and thoughtful. What will you use from this today? I will use remembering that although it, although it feels awkward to me to be slow, it actually, it actually is better for my audience. What will you do now? I'm gonna go back and rewrite my script. (chuckles) What will you do now? I'm gonna rehearse it with, with one of my peers. Or what'll I do now? I'm gonna go revisit the content arc. Or what will you do now? I'm gonna rewrite how I set up every single interview to hit these three simple beats so that I'm primed for the best and most receptive kind of conversation. What will you do at the crucial communications moment? What will you use from what we just did together? And what will you do right now? What's the first thing you're gonna do about it right...
now? So my challenge to you all in the room, and for those of you watching, is to just simply ask this question, when you see an opportunity with a friend, a mentor, a mentee, somebody you work with in your organization, or in your life, maybe people that are actually, folks that you are ordained as their coach, or if you're building a coaching practice the clients that you work with. If you're an executive coach, you know ask if there's a communications moment that comes into the coaching, ask if they'd like coaching on that. And once you get the yes, you know you're free to do the things that you do best, which is to step into it, into the coaching stance we talked about. To establish the field and identify the desire of your client. To create an approach to frustrate or support, and then identify interventions that exaggerate or shrink an undesired behavior. And then unpack that with your client to help them notice what they got from that outside in approach. And then how they'll carry it forward. If this is useful to you, what I'm hoping is that it was useful to you in this way, that it gives you, it gives you an opportunity to ask the question, and coach courageously, and go really from valuable to invaluable with the people that your work with and touch everyday. And if you want, you can always find me. I mean I'll be here at CreativeLive, not just today, but on the interwebs at CreativeLive for a really long time. I'm hoping. An that you can also reach out to me and find me this way, at my website, my handle on social is @diabondia. And you can also get on my list by texting the word IMPACT to 66866 if you want to be on my list and stay in connection with me.
Ratings and Reviews
Dia is a MASTER at this stuff. If you work in communications, and it is your job to help others be better communicators you are going to want to get this course. I took one simple concept that Dia presented, and later that afternoon found myself using it with AMAZING results. Your clients will thank you.
I was absolutely blown away by this class! Initially I thought that the content might not apply to me because I'm not coaching others on speaking. But what I learned from Dia is that regardless of the type of coaching you do, it's all about loving the client first. By showing up from a place of love, putting my own agenda and ego aside, I enable them to step into their power in a much greater way.
Student Work