When You Find Yourself Forever in Work Clothes
Jennifer Baumgartner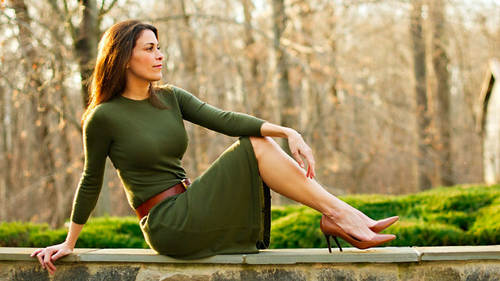 When You Find Yourself Forever in Work Clothes
Jennifer Baumgartner
Lesson Info
20. When You Find Yourself Forever in Work Clothes
Lesson Info
When You Find Yourself Forever in Work Clothes
The next one is working for it, when you find yourself forever in your work clothes. The reason why we do this is there's a 24-7 workday. I think a lot of it has to do with technological advances where there's this blurred line between working and home life, and I think that our wardrobe will reflect that. We're kind of on a treadmill, and we can't get off of it, even when we're at home. And we also can talk to anybody at any time from our home, so there's this blur. I'm not gonna go through all the questions in detail, but I will go through some of them. The biggest one is are you able to separate your work life from your home life? When you're at home, can you relax? When you're on vacation, are you actually on vacation or are you thinking about work? If you had to do something in your life, Evette, do you only have work clothes to wear? As similar to wearing a uniform at school. You skip breaks at lunch because you just wanna work through lunch. You only spend time with friends and ...
family at work. You haven't shopped for anything but work clothes. So, if you answered yes to this, you need to really create a life and a wardrobe to match. And here are some of the things I do with people that are stuck in work. Your work, when you're dressing for work, your work needs to actually enhance your ability to do your job, physically being able to move around, letting your client believe that you are that person to do the job, kinda capturing the brand and also convincing your coworkers that you actually can do the job. So, that's what work clothes should do for you. Now, you can create a capsule wardrobe, which is a few pieces that are multifunctional, if you don't wanna buy new clothes because just because you have work clothes doesn't mean you need to go out and shop for an entirely new wardrobe. Amy, we saw that with you, where there was, like, if there's this disconnect between your two clothing types, you don't have to go out and buy new clothes, you can just tweak them a little bit with accessories. You can create a capsule wardrobe. I can wear this for work, but I can also put a leather jacket and wear some funky flats or sandals and make this into something different, so creating a capsule dress that can go from work to play. Another one is reformulating the self. There are other things you wanna do aside from working. So, maybe you create a list of things you can do when you do have breaks to pursue those and get the outfits that speak to those, kind of regroup and reschedule. So, physically remove the clothes when you get home from work and put on different clothes, comfortable clothes, when you are at home. Maybe you kinda take a shower. A lotta people, I have people kinda go like this, it's like they literally remove the old job and they enter their home life. And they might do a little ritual like have 10 minutes of quiet in their car, something that says yes, brain, you were at work, and now you're at home, and now you can rest. Also, stealing moments, so, if you are at work, go to the bathroom for five minutes and just sit there and relax. Maybe you do a very brief meditation. Taking those times to just stop and kinda of take a break from work. And then support and surrender, ask for help. Ask people to help you dress for the life that you want. Ask people how they balance their life and work Those are different things that you can do.
Ratings and Reviews
Loved it! Incredible class, so interesting and filled with new concepts, I am a big fan of the author and I admire her for the way she suggests us to analyse things with curiosity and looking "bellow the water", rather than judgement. Thank you so much for this wonderful class Dr. Baumgartner.
It's about how you dress, but really, it's about how to use the way you dress as a lens to better understand yourself. Packed with useful information and tips, highly recommend! Thanks Jenny!
Student Work