How to Teach a Craft Class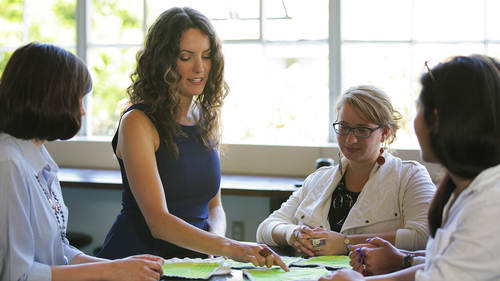 How to Teach a Craft Class
Class Description
Teaching opens you up to a whole new revenue stream and lets you connect with people who are passionate about what you do. Learn how you can use your existing skills at the front of a creative classroom in How to Teach a Craft Class with Ashley Nickels.

Ashley is a life-long quilter and multi-discipline creative educator. In this class, she'll show you how prepare to teach a craft class and offer plenty of insights on making it fun for everyone involved. You'll learn:

A variety of teaching styles for the full range of teacher personality types

How to plan lessons, set objectives, and manage student expectations 

Classroom prep tips that help you feel fully prepared 

Techniques for dealing with tricky situations 
Ashley will share insights from her years as an educator and help you feel confident before your first (or next) class. She'll reveal her favorite classroom management techniques and teach you how to deal with difficult personalities. You'll learn ways to engage and inspire everyone – from advanced learners to beginning students.

Teaching is not easy, but it can be incredibly rewarding both personally and financially. How to Teach a Craft Class will demystify the the magic behind a good craft class and help you make your dreams of educating and inspiring others a reality.
Reviews
This was a very good class, well prepared and packed with such useful information! I've been teaching various arts and craft classes for over 10 years now and did it sort of instinctively. Ashley gave me the tools I needed to refine my classes and prepare really good classes outlines and how to find venues to teach and pitch my classes. That was awesome and I plan to watch it again and again because there is so much in it! This was a first class presentation! Thank you Ashley! Claude Aimée Villeneuve, Visual artist and teacher