Intermediate Forging for Jewelry Making
Bonnie Heras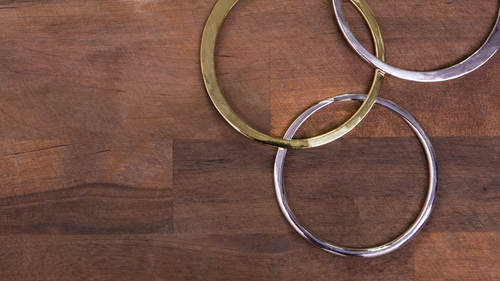 Intermediate Forging for Jewelry Making
Bonnie Heras
Class Description
Silver bangles are a stylish and timeless accessory. Learn how to make your own bangles in Intermediate Forging for Jewelry Making with Bonnie Heras.
Bonnie brings more than a decade of metal work to this intermediate jewelry making class. You'll learn how to create a perfect bangle, from start to finish, and get great ideas for modifying them. You'll learn:
How to forge and form a simple bangle bracelet
Expert sawing techniques, tailored to your metal of choice
How to anneal, polish, and finish the final design
Silver and brass bangles are jewelry staples – learn how to make your own in this fun and educational class.
Check the bonus materials below for a complete product list of the tools and supplies you need to finish this project.
Class Materials
Bonnie Heras - Intermediate Forging Supply List.pdf
Ratings and Reviews
Short and sweet. It is an intermediate class so it is assumed that there is a certain level of experience that the viewer has and doesn't rehash a lot of information. I appreciate that. I would add that there is a brass solder sold by Rio Grande. I have been using it for several years and it is a great color match.
I truly enjoy watching and learning. Step by step. Some of these so instructors , miss steps and never finish the projects, its unacceptable to pay for those types of learning classes.
Student Work