Applied i-Cord Edging
Vickie Howell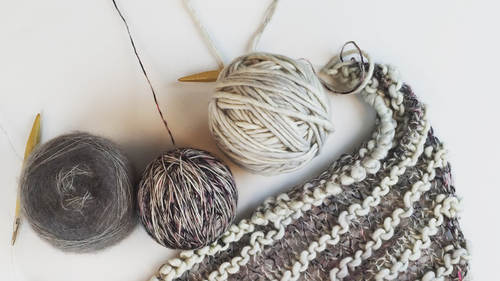 Applied i-Cord Edging
Vickie Howell
Lesson Info
11. Applied i-Cord Edging
Lesson Info
Applied i-Cord Edging
What you need is you need some form of a swatch. You need two double-pointed needles, and the corresponding yarn. So you gather that, and I'm gonna talk to you about this edging. This is an I-cord edging. It will be really cool for a pillow. It can be kinda sweet along a neckline. You can use it at the end of a blanket, or whatever. If you can tell right here, it's an I-cord, which means it's a cord, but you apply it to the piece after its done, and I'm gonna show you how to do that. You just need a double-pointed needle? Yeah, you need a double-pointed needle now. Your swatch can be off the needles. I'm gonna be joining yarn using double-pointed needles. So just do it on the other edge. Ignore that side, and do it on the other edge. I should also stop and take a moment and remind you that you've got these bonus materials. And, in it, I've explained the directions, and you all have this over there too. I explain the directions for this technique. All right, so the first thing that ...
we're gonna do, so I-cord is a method of knitting cord. And we're gonna start by casting on three stitches, method doesn't matter, just get 'em done. Then we're going to knit two of the stitches. We're gonna slip the next stitch, so the last stitch purl-wise. We're gonna yarn over, and we actually kind of, it's almost like a yarn over twice. It's like a one-and-a-half, because I need my yarn back over here. And then we're gonna pick up our stitch at along our edging. And when I say pick up, I mean we're gonna pick it up and knit it. You'll now have, you should have five loops. So, I've slipped a stitch, I'm yarning over. And you should have five loops on your, or five stitches on your needle at this point. So now, you need to pass the second and the third stitch, so the yarn over and the slip stitch, basically, off that stitch that you just picked up, and now you're attached. You're attached to your edge. But this is I-cord so, and this is the reason why you need a double-pointed needle. It would also work with a circular needle, 'cause now, we slide those stitches to the opposite end, and we're gonna repeat most of the process. So we bring our yarn back around, which is what creates the cord. We're gonna knit two stitches, slip the first one, or the next one purl-wise, yarn over, go to the next stitch, pick up that stitch and knit it, and now you have the five stitches again. And you wanna make sure that you then drop the second, and the third...stitch off. Let me move this so you can see it a little bit better. Sorry about that. Now, this is something that you're gonna have to practice with with gauge. This is sort of weird, 'cause I'm working the garter stitch, which is super stretchy. This piece is not stretchy. You're gonna wanna mess around with gauge, because really, what I would probably do is go every other bump for this one. But for the purpose of this tutorial, just worry about the actual attaching part. Okay, so I'm sliding the stitches, I'm knitting the first two, slipping the next one purl-wise, doing a yarn over, and kind of a yarn over-and-a-half. It's not really another yarn over, but the way that I'm picking up the stitch requires the yarn to be in the place of almost being a yarn over, but really, what I'm doing is I'm knitting kind of through the back loop almost. See how I'm bringing it up? And I have five stitches, and so I'm going to drop the second. Oops, I just dropped that one off. Let's do that again. And third stitch is off. And you can see that it's slowly forming. Now about this, let me ask you, if you were to, if you had a textile, and you went around to add the blanket stitch so that you could add something onto it, you could then do this onto the crocheted blanket stitch, right? You, 100%, could do that. And in my Crochet Maker Knits... What's the name of this course? (laughs) In my Crochet Maker Skills and Techniques course, we teach the blanket stitch for attaching, well, it's crochet wear, but you can do it with knit too, fabric. So you can refer to that tutorial if you'd like to do that. You can absolutely do that. What she's referring to is when you create a blanket stitch, which is embroidery, you're creating these bars of stitches across that actually act as loops. So instead of picking up the stitch, you could try that. The one thing I will say though, now that this is coming out of my mouth, I'm wondering if the yarn, you'd almost have to use the same yarn to embroider the blanket stitch as you're doing the I-cord. Because you're doing the picking up the stitch and dropping it over, it may be a little...ugly, for the lack of purpose, because- Otherwise it would show. Yeah, otherwise it would show. Although, it could also be super cool, like exposed to seaming, that we did before. So, I don't know. It's something to play with. If you do play with that, or if you play with any of these techniques, I would love if you would tag @vickiehowell on social media everywhere. I love seeing your stuff, your works in progress, and your finished stuff, and you working, on Instagram, and Twitter, and Pinterest, and Facebook. So please tag @vickiehowell or @CreativeLive for sure.
Class Materials
Dropped Stitch Cowl Pattern
Skills & Technique Practice
Ratings and Reviews
Thanks Vicki for teaching a great class. I consider myself to be an advanced knitter but I still learned some great tips and ideas from you. The cowl patterns look great and I plan to knit one soon.
This was an outstanding, intensive workshop by Vickie Howell. She covered a wide variety of techniques and I am amazed at how much I learned in just a few hours. I started practicing some of the new skills I learned and am happy to report that they are indeed now part of my knitting knowledge.
This was an amazing class. I've been a knitter for 40+ years but still picked up some new skills and refined some existing ones. Vickie is a wonderful teacher and her enthusiasm for her craft shines through in all she does. Please keep adding more classes with her.
Student Work