Trademarks and Branding
Christina Scalera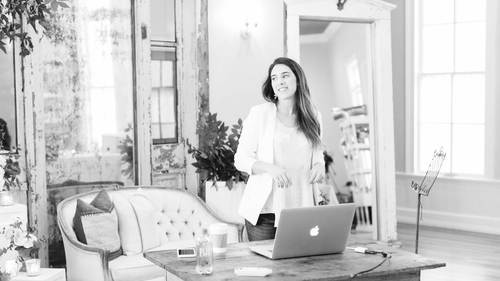 Trademarks and Branding
Christina Scalera
Lesson Info
9. Trademarks and Branding
Lesson Info
Trademarks and Branding
So a trademark is going to be there to help you quickly identify whether you enjoy this brand or not. And so that you can either choose to associate or buy from this brand or move on and go elsewhere looking for the same service or product. So here's an example of a trademark. You can see this is actually our trademark for The Contract Shop, it's our logo. We also have a word mark. So a trademark can be either a design, you can see this is kinda like a geometrical design and the shop looks like a little shop tag. So that's a design mark. We also have a registration for just The Contract Shop as words. And that's called a standard character mark. Now that's not super significant, it's just to remind you that you can have different kinds of trademarks. They can be more design based or they can just be a word or a phrase that people identify with. With your trademark, you're looking to make people feel a certain way. You want them to have good assocciatons with your brand. You want them t...
o be able to quickly see your Facebook ad or your post or your blog content, where they see that little trademark in the corner maybe of your image that your sharing on social or search engines, and they can quickly identify that it's something that they will look forward to reading or consuming and possibly purchasing whatever service or product you have at the back end of that. It helps you to create familiarity with them. So if you have any kind of logo or catch phrase or just a word that is associated with your brand, usually this is the design that's at the top of your website that identifies what it is that you're selling or who you are. You are using your trademark to become more and more familiar to the consuming audience. And the consuming audience is just a fancy way of saying the people that buy your stuff. So if they can identify you quickly in whatever realm of influence you have. Whether that's your mom and two cats or 500,000 followers on Instagram, then you are someone that they are familiar with and that they can look to for more continued resources like the one that they are currently consuming from you. Whether that's a product or a blog post or anything that you're offering to them that they can enjoy. So the best way the best way to show you this is by giving you lots of examples and I'm sorry, trademarks they just totally fire me up. Okay, so the best way to show you this are some examples. These are all owned by my company, this is my LLC and as you'll notice that's the only one that even bears a resemblance to my LLC. These are all different courses or offerings that I've had over the years. Some of them are now defunct, but they are all source identifiers of a product or service that I'm offering. So as you can see, only one of them is even mildly related to my LLC name and that's just by coincidence. So if I have a course, like the winning creative's way, that was the course that I did a couple years ago. The name of that course, whether it's in this beautiful little design format, or it's just written as a word, those are trademarks associated with that product that I'm offering to the public. Even though that's not the name of my LLC. So my LLC owns all these different names and design marks. Lets look at another example. HoneyBook. This is actually, this is public. You can go onto the United States patent trademark office and search for anybodies trademark on the trademark electronic search system, also called TESS. It's a cute little girl name. But what you can do is you can look and see what other trademarks are out there. And as we can see, this is actually what you will notice on their website and the one right above that, that very blocky style font, that's actually what's registered with the database. So even though it's more designed and stylistic they also can have a standard character mark which is the one up top. So in this instance, HoneyBook is the actual name of their corporation. But what we see here is that they also have other marks. This is kinda cut off but Tuesday's Together, Rising Tie, these are registrations that they own but it's not the name of the company. So your trademark could be the name of your company but it isn't necessarily.
Class Materials
How to Run Your Business Like a Boss
Ratings and Reviews
Every minute of this is filled with such valuable info! She covers every legal topic you could possibly need to know about as a creative small business owner and clarifies lots of confusing topics. I feel super confident about my small business ownership after watching this. Thank you Christina!
I loved this course! Covered so many topics I've been wondering about in an easy and understandable way!! Brilliant! Thank you!
Amazing! This stuff can be so hard to try and wrap your brain around but this is simple, easy to follow advice.
Student Work