Free Shipping is a Powerful Offer
Laura Behrens Wu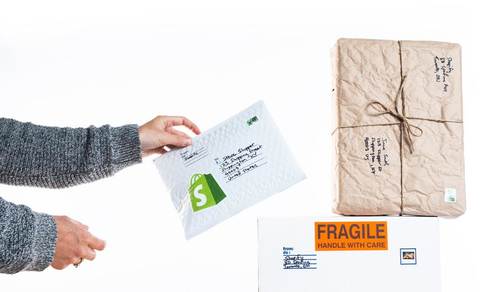 Free Shipping is a Powerful Offer
Laura Behrens Wu
Lesson Info
2. Free Shipping is a Powerful Offer
Lesson Info
Free Shipping is a Powerful Offer
Yeah, the customer expectations from your buyers are evolving quickly. Today. E commerce customers are expecting free and fast shipping, with tracking updates and even free returns programs like Amazon Prime are setting the bar high for shipping speed and shipping costs free and fast shipping are becoming more and more an expectation. And even a decision point during the checkout process. As an example of how consumer expectations have been changing in 2015, of buyers considered 3- day delivery to be expedited, while in 2016, only 42% considered the same amount of time to be an expedited shipment. Trying to keep up with amazon and trying to offer free and fast shipping can take a healthy bite out of your profit margins, but it doesn't necessarily have to. I'd like to take a few approaches and share some research to how to offer free shipping to your customers without cutting into your margins. Most of the cart abandonment happens when your customer sees an additional shipping costs at ...
checkout and they're taking by surprise. Typically the surprise of shipping costs makes the customer reconsider their purchase. Free shipping is a simple but yet powerful tool to make sure that customers don't drop out at the very last step. It removes the friction from the buying experience and it sets customer expectations. However, if you offer free shipping without any kind of restrictions, you might be over paying to get the same customers to make a purchase when offering free shipping, make it contingent on your customers actions before we get started. I'd like to highlight a few metrics so you can monitor the impact of the changes you're going to make and that you can keep track of what's working and what's not. First of all, conversion rate. Conversion rate means how many visitors are converting into buyers at checkout then average order value. That means what's the average order value per buyer margin per order? How much money do you make on a single order and last but not least return buyers. How many of your customers are actually coming back to buy more? What's the percentage of that? Make sure you know your baseline numbers? So you have something to compare against. If you don't already attract these metrics, you can pause the video now and start a spreadsheet with them. First off, you don't have to offer next day or two day shipping for free. You can also offer ground shipping, a slower method to offer free shipping. According to research, 83% of shoppers are willing to wait an additional day or two to qualify for free shipping 2nd. You don't have to offer free shipping for everything on your story. Use it to incentivize an action that can help you sell more second. You don't have to offer free shipping for everything on your store. Use it to incentivize an action that can help you grow your business. Shoppers will take an action to qualify for free shipping, and the most frequently take an action is adding additional items to a card to meet free shipping requirements. That means you can actually sell more if you offer the right free shipping threshold, here are some ways to use free shipping to incentivize a behavior change that you want. One way to increase the average order value for your store to offer free shipping is to set a minimum purchase value a shipping threshold. There are a number of ways to determine the best free shipping threshold, but the quickest one is to calculate your current average order value and to set the free shipping threshold just slightly above it. The goal is to get the customers to add at least one or more items to the card in order to qualify for free shipping. Just be careful not to set your threshold too high. If your average order values $20 for example, and you set free shipping at $200, you're not going to offer enough savings to counteract the increased spend by the customer. Additionally, you're going to have a hard time convincing the buyers to increase orders by that much. If your average order value is $35 though, $45, for example would be a good free minimum threshold. Then you can also use shipping to create a sense of urgency. You don't have to offer free shipping year round and you don't have to offer free shipping for all items. Having a limited time free shipping offer can force buyers to take action and complete the purchase that may that they have been thinking about for a while. For example, free shipping can be a welcome boost in sales. It can be a good boost in sales around holidays or even an arbitrary date that you said. A limited time span can provide customers with the incentive to buy. Now. Also offer free shipping for just a specific product or a specific brand. As I mentioned, you don't have to offer free shipping for every single product in your catalog. Another way to have free shipping is to offer it for a specific brand for a category or a limited set of items. That way you can use free shipping to promote a certain product, to promote a certain category or to clear out your inventory. You can offer free shipping for the entire order with the purchase of one of those items out of your inventory that you want to clear out. Once you settle on your free shipping offer, here are some tips and tricks and how to promote it. Because consumers often don't come to your site through the homepage, make sure that the free shipping message is incorporated throughout your website, not just on your homepage. Remember to mention it in your email promotions and on your social media postings as well. Don't waste a thank you page that appears after a customer has placed an order. You can use it to offer free shipping voucher on the customer's next order, or you can advertise another upcoming shipping promotion. This tactic is an easy way to influence repeat buyer behaviour and have the customer come back to use your free shipping voucher while we covered a number of ideas on how you can configure your offer for the customer. You still need to pay the carriers for shipping. One of the ways you can try to save money and keep your margins higher is to take a look into shipping these orders with a shipping consolidator. Because customers are willing to wait an extra day or two to qualify for free shipping. A male consolidators such as D. H. L. E. Commerce ups, mail, innovations or Fedex Smart post could be an option to lower the cost you're paying for shipping. These services will take your package from your warehouse and deliver it to the destination post office of the buyer and the USPS will deliver the last mile to the actual customer. These service levels average about seven business days for delivery. That's a lot slower than other offerings. But it's also consider considerably cheaper especially for lightweight packages. And remember you shouldn't offer free shipping walt White. Most sellers offer free shipping only to buyers in the U. S. Or their home country. Another key to properly setting your free shipping promotion is to promise a delivery date range without actually promising a specific carrier or a service level. This will give you the flexibility to choose the right carrier for each package. To minimize your costs. Besides using free shipping to make customers happy, there's another buyer expectation that you should know about. You need to communicate with the virus early and often Today 70% of the buyers expect that their purchase will ship within 24 hours after clicking the buy, make sure that you let the buyer know when the package is going to ship. Make sure that you provide the tracking number in the email but also that you make it accessible somewhere on your website. Typical E Commerce businesses report that 40% of their customers support inquiries are related to the packages that are in transit. Customers want to know where their packages are, and you can let them know proactively by sending them tracking updates. So remember, free shipping is a powerful offer and use it carefully in our next lesson. We will take a look at how to think about returns and how smart sellers can minimize the costs for themselves and the pain for their customers. Yeah.
Ratings and Reviews
Really excellent, I learned a lot and have changed some ways I ship to clients.
Student Work