Optimizing and The Ultimate KPI
Ari Meisel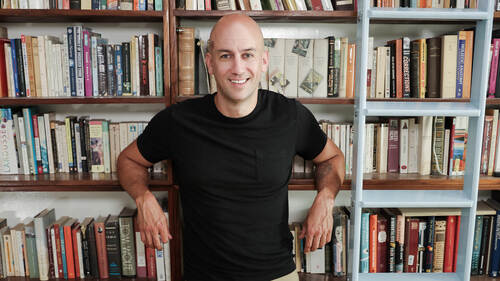 Optimizing and The Ultimate KPI
Ari Meisel
Lesson Info
4. Optimizing and The Ultimate KPI
Learn how to use data to track resources and develop a framework to outsource specific tasks.
Lesson Info
Optimizing and The Ultimate KPI
So over the years in applying the OAO methodology, the replaceable founder methodology to various companies I was always getting different results not mixed results, but just different kinds of results. Some companies would be in the boat where they'd experience a huge bump in revenue. Other companies would be able to reduce their workforce if necessary, maybe expand in other areas. And so it always became really difficult for me to identify for people what it is that I do. And I like to tell people and they ask me I'd say I make entrepreneurs more replaceable. Which is great because it sort of lends itself to a natural follow up question about like, what are you talking about? And I get that, but I needed some sort of a framework something that was really clear in terms of, how do we track this? How do we actually measure replaceability? And there, I came up with the ultimate KPI. So this is a really cool process that I wanna walk you through. And I'd like you to do this as an exercis...
e when we're done with this lesson, to truly understand how you can systematically in a measured way, become more replaceable. And this is not just for you this is for everybody in your business. So what we start with is making a list of 20 things that you do on a regular basis. And as an entrepreneur I recognize that the well it's not that I recognize, I believe that the work life balance concept is crazy. There is no such thing in my mind it's a work life integration and there's a very important difference. With a work life balance I think people take the idea that I'm gonna work in this place and this time, and then I'm not gonna work in this place in this time. Not keeping in mind that it's the same body, the same mind and especially for entrepreneurs, it's pretty hard to keep your brain focused on not business stuff. Plus the idea of balance is flighty anyway, balance is very momentary we're constantly shifting in and outta of balance trying to achieve it. So I like the idea of a work life integration more because that enables you to recognize that I'm gonna think of these ideas. And rather than say to myself, well I'm not gonna come up with new business ideas while I'm watching my kid's soccer game. What if you have a really effective idea capture mechanism in place, so that you can capture that idea in a few seconds or maybe a minute and then go back to what you were doing without really breaking focus. So think about those 20 things and the reason I bring up the work life balance, is because those 20 things could be in your business and in your personal life. The things not necessarily to take the most time but try to think about it in terms of the most energy, the things that you're doing on a regular basis. And you can kind of go as macro, as micro as you want. So maybe one of the items for you is podcasting, for somebody else maybe it's podcast interviews versus podcast interviewing. Whatever makes most sense for you. So write down 20 things that you do on a regular basis. And step two the next Column, is 16 of those things from that original list that in a year's time you will not be doing it all. Crazy concept I get it 80 20, all that jazz. These are 16 things that I don't want you to have to do ever again. And it may be that some of them are you're just not very good at, you don't like doing, maybe you do like doing them but you know you shouldn't be doing those things. So we come up with those 16 things. Now we identify what mindset those put us in whether it's cog, engine, engineer, or inventor. No judgment, If you have a whole bunch of cog stuff on there, okay? If you have some inventor stuff, great. If you're vacillating between two, you are the lower of the two. You can't sometimes be inventor and sometimes be cog. It just doesn't work that way. If you're ever cog, then you're always cog. 'Cause that means you're stuck. Now we want to have a replaceability plan and this is where OAO comes back in. We want to think about is this something we're gonna optimize? Meaning I'm gonna make it. So this is just an inefficiency that I can get rid of, I don't have to do this anymore. It's an old process, it doesn't even matter. Are we gonna automate it? So we're gonna put a system in place a new piece of software, an app, an automation that we might build by the tool or are we gonna outsource/delegate it? Is the answer to replacing myself in this, John or some other person that you haven't even hired yet. Some resource that you might need. This is very much in line with the Japanese concept of Kaizen continual change for the good. And with Kaizen, we're always looking at small little continuous improvements. How can we always make things better, more efficient, more effective. These are small incremental changes that will inevitably create a more efficient business because you may look at that list and be like, well, what does it matter if I stop cleaning my own house? And not necessarily but that's something that is on your list or that you need to do, but by removing the time required to do that. But more importantly by figuring out a plan for replacing yourself in that activity you will build that muscle of how to become more replaceable, which will then translate over to the business and things will get more effective. So you do this exercise and you refer back to it every few months, whatever that cadence makes sense for you and start to track your systematic approach towards becoming as replaceable as possible. Now you're gonna find there's all sorts of things on there that you just can't figure out how you could ever possibly become replaceable because the old mantras, right? I'm the only one that could do this. There's nobody else that could possibly run sales meetings. I can't tell you how many companies I've seen that are doing millions and millions of dollars in revenue. And the COO is booking travel for the CEO or even worse and also equally common, the CEO is still booking their own travel because it's not possible that somebody else could understand that you like aisle seats as opposed to window seats. We just don't take the time to look at what these processes actually look like. So you're gonna come across these blockers and you don't necessarily have to know what the plan is but you just need to know that this is the goal. And it is very possible that you get to the end of the year and there are four or five things on the list that you just couldn't get rid of. It's not likely but it's possible but that's okay because now you can start again and you can bring a new list of 20 things because keep in mind, if you do do it effectively and do it the right way and you get rid of 16 things. There are only four things on that list that you're now focused on from that original one and I bet, that those are some of the most important things that you could possibly bring to the business. They're not necessarily things that the business couldn't keep operating without if you weren't there, but they're the things where you add the most value, that area of genius and joy and impact. Meetings are one of the things that come up all the time on these ultimate KPIs. I'm spending a lot of time in sales meetings or in status update meetings, whatever it might be. Asynchronous communication is the way to optimize that. We have a whole other course on how to create asynchronous communication and communication SOPs in your business to communicate more effectively. But that is one of the ways that we can optimize it. If we stop having synchronous live meetings when we switch those over to asynchronous they're off the list, just like that. And then there's gonna be the things that you have to deal with sometimes. They only come up once in a while, but even those it's good to practice creating processes for because sure maybe you're gonna spend an hour to create a process of something that you only see once every few months. But learning how to create a better process is a transferable skill that you're ultimately gonna use with the rest of those tasks that you're trying to get off that list.
Class Materials
6 Levels of Delegation Worksheet
Ratings and Reviews
Excellent real world solutions to problems that entrepreneurs encounter. This will truly save time to be used in other areas of life and improve business processes.
Student Work