The Right Image & Text on Your Homepage
Andreea Ayers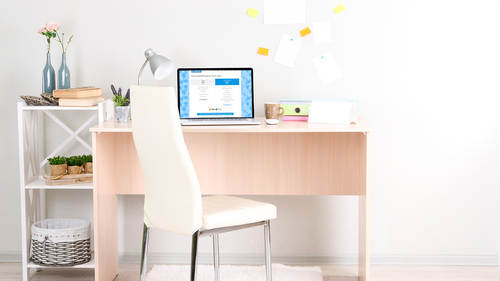 The Right Image & Text on Your Homepage
Andreea Ayers
Lesson Info
2. The Right Image & Text on Your Homepage
Lesson Info
The Right Image & Text on Your Homepage
So now let's talk about your home page again, this is where most of the people, the land and how do you grab them right away. So the first thing that your home page should do is should answer the question what's in it for them. So I want you to think about I know you all have different kinds of products, but I want you to just close your eyes for a second if you can't and think about your home page and does your home page answered the question, what in it for them? Why should they buy this product? Why are they here? And if not, we're going to talk about some ways where you can actually answer that question so they know exactly what's in it for them, right when they come to your web site. Secondly, it needs to reflect their lifestyle, and this is where I I think we could do a whole course on your customer and finding your target and your ideal customer. But we're not going to do that today. But I want you to really, if you don't know who your customer is to really think about who that ...
person is, and I know people who give him a name, they sometimes even take a picture, and the more specific you can get, the better it is on yes, there's going to be a lot of different people buying from your site, not just your ideal customer, but the more clear you are on who that ideal customer is, the more likely your website is going to speak to them right away. The other thing you're home page should do is tell them what to do next. And I know this is really obvious, but not many websites that I go to have a call to action, they don't really tell people what to do next, and I know it seems a little weird because you think, well, I have a shop link, I have a product link, I have this, I have that, but you want to make it as easy for them as possible, and you sort of want to guide them through your website. So if you want them to give you their newsletter, that should be the main thing that should be on your website or on your home page. If you want them. Tio, check all your products or if you're having a sale that's the main thing you should be communicating with your home page, and I'm going to give you some examples of that in just a second. But it's really important to tell them what it is you want them to do next and it doesn't have to be like please go, you know, to my shop and buy my product not that's, not what I mean but it's more like you know, shop now or check out our sale or things that dad we're just a couple of words makes it super easy and tells them what it is that you want them to do next. So the main important element of your web site should have is a headline a tag line and possibly a sub headline. So why don't I mean by that? I mean if because it's not going to be obvious immediately what it is that your product is so you want to make it really obvious if you make bridal jewelry have attack line that says your perfect wedding jewelry so that way someone when they come to your site they know immediately from the words and obviously they're going to get this from the images as well, but they know exactly what your product is and who it is for next it should have benefits and features and I know there's some confusion around benefits and features and we're going toe I'm going to give you some really specific examples about what I mean by that, but it should not only tell people what it is that you offer but also how is it going to benefit them? And this is more important than anything else because if a customer doesn't know the benefits of your products, you're making them work a lot harder because they have to think about oh, could I use this here or could I use this product for this purpose? So you want to make it really easy for them tio know exactly what it is that they are going to get out of using your products next you're going to need a primary and secondary call of action and we talked about this a little bit, but I know somewhat sites have a main thing for example, if they're having a sale I know mother's day is right around the corner some websites that I've been to will say shop are mothers, they sail and that's their primary call to action but you can also have a secondary one where it's do you want them to give your email address? Do you want them? Teo participate in a survey and maybe help you design your next collection, but you can have both of those now if you do any more than two, we might get a little bit overwhelming because people might not know oh, what shy differs there's too much stuff for me to do here, so keep in mind one or two is usually what I recommend your website or your home page should also have social proof, and this includes things like testimonials. If you've been mentioned in a magazine or an influential blogger, make sure to put that up on your home page so that way people can see it, and social proof helps to actually build trust and trust is what gets people to actually buy from you. Yes, with a quick question, please. Awesome, thank you so one of the things of the important elements that you just had was was the your headlines and you're made headlines. Do you work with your web designer to make sure that those air sort of tag properly for ceo? Yes, that should be a few design wedding jewelry, probably the words wedding jewelry should be in your tag line to make make it easier for people to find. So great question, absolutely, you should always keep a ceo in mind no matter what you do, but definitely not at the expense of your web visitors or their experience. So, yes, you great question, all right, the other thing that your home page should have is on offer, and this is again not a requirement, but if you're running a sale or if you have a special promotion or if you are wanting to offer free shipping, if anybody buys over two hundred dollars worth of stuff then make sure to highlight that on the home page because again lets people know they have something special that they could take action on right away in order to buy from you we talked about the opt in a lot and I cannot stress it enough this is so important and it should be not only on your home page but on every single page of your web site and I know it seems crazy to have a little opt in box everywhere but you really do want to have your opt in box everywhere and I really do mean everywhere but everywhere could mean maybe the top fold of your web site right near your logo or something like that it could also be in the footer so it doesn't necessarily have to be front and center on every page but as long as you are giving people an option to give you their email address and making it easier for them that's really what matters and even let's say someone's on your product page let's say they have you have a great product and they're thinking, oh, this would make a great gift for my sister or something like that but they're not ready to buy because maybe it's not their sister's birthday or whatever if they say the opt in boxes right on that page whether it's in the foot or or in your head or in your side bar they're more likely going to give you their email address rather than going back to your home page to give you their email address again it's about making it as easy for them as possible. Yes, it was about you had a question on a pop up on my on my still what do you think to pop ups? Yes, I we're going to talk about that in a second, but I love pop ups I know it's a huge oh no, not the pop up everyone hates it, but I have to tell you they really really work and if you set it up correctly so that so someone is cookies and they don't get it every single time they come to your site and make it less intrusive. I think it's great, but I love pop ups we're going to talk about them I think they're a great way to really build your list and to provide value as well. Yes, can you define cookies, please? Yes, so a cookie is a little piece of code that your website automatically adds on when someone comes to your web side. So for example, if you go there today and then you come back tomorrow, the website will know that you're visiting from the same exact browser it's the same person so it might not show you the pop up again if you've been there before so it's basically a way of keeping track of who's coming and sometimes customizing the experience based on whether you've been there before or not yes, tracy, did you have a for people who don't want to offer discounts because they're not a discount sort of brand like my brand? What would you recommend for an offer? Yeah, so we're definitely gonna have a lot of examples of offers, but I would recommend maybe a how to guide or a free gift or something like that that goes along or maybe a really nice gift packaging or something along those lines where I know not everyone wants to do offers in discounts and I don't recommend your that you always do offers and discounts I think that trains people to only buy from you when you have a sale and that's definitely not a good idea but yeah, great question there's aa lot of other useful information so if you think about I know you design a lot of jewelry for brides or a couples that just got engaged think about what might be something dad they need that would be really helpful for them that you can provide them with that it's somewhat related tio their jewelry so it could be how to choose the best hillary how tio clean your you know your engagement ring or something like that but I think a little guide on how tio make your products benefit them or how to use your product something that sort of ties into their lifestyle and their interests and related to jewelry because obviously as a jewelry designer you wouldn't want to be providing a guide on how to take great wedding photos or great wedding cakes or something like that right? So just keep your customer in mind and think about what other information which she like for me that would be helpful for her and you can provide that as a freebie yes so the other thing that your web site should have his intuitive navigation and I know some web sites have been on part of their branding is really cute sort of names for the different menu items but if it's not easy for your customer to understand where do I go to shop? Where do I go to contact you? Where do I go to read your blogged and if that's not obvious to them then they might get frustrated and leave your side right away so make it super simple if you have your shop ages name it shop or by or something like that and not something else I know some people name it gallery but that's not really obvious that that's where they can go to shop so just make it super easy for them yes, I was just wondering in the actual navigation bar do you recommend having products or shop or both it really depends I would recommend having shop unless you have different product categories if it's not too money for example, if you have earrings, rings and necklaces or something like that, then I think you couldn't put those as its own category but anything more than that I think it's it gets overwhelming so for example if you have a home decor business and you sell pillows and throws and chairs and carpets and couch is I don't know like all of the stuff, you definitely don't want all of those categories to go up there so keep it up to two or three if it makes sense otherwise just put everything under shop yes, so under what is your magic number about navigation links at the top? Yeah, I would say five or six I think we have five or six anything else can get really overwhelming if you have a lot of different things because all of those buttons are sort of like a call to action. So again, if you're asking people tio read your block and read your f q page and read about your shipping policies and shop and all you know, watch her videos all of those things again and my get really overwhelming but I think for me I think about what are my main goals with my website right now and again that can change and we're going to talk about that too but I know for me one of the huge things is that I wanted to get more wholesale accounts so part of my navigation bar was a link to my wholesale page. Now if that wasn't as important for me, I might have put that at the bottom but again it was a priority for me at the time so it was in the top navigation all right? So the last thing that's really, really important here and I put it last but it really should kind of be first this is credibility, so if people don't believe you if they do I trust you if they don't really feel like they couldn't connect with you in a credible way, they're probably going to go away and leave and never come back. So we're going to talk about different ways you can build credibility and some of the other segments today. But I keep that in mind as you are designing your side or as you're reviewing your website and really think about what information my providing that really builds credibility and that could be testimonials it could be a facebook like box that has all of your tens of you know of faith over thousands of facebook fans if you have that so anything along those lines it really helps to build credibility without you actually saying please trust me incredible, you know you can buy from me so I'm going to give you some examples of credibility in just a second but this is really really important so now I wanted to break things up a little bit and just walking through a website so this is a website from fawcett face dot com and I was doing a little bit of research for really great home pages and I came across their website and I really love it because as soon as you go there first of all it's really visually appealing but that first paragraph right there it engages them right away and you will see that it talks directly to them it uses the word you and this is something like they were the kind of conversation they would have if they walked in a physical store so it's not overwhelming but you read that and you know exactly what they are about it also reflects their lifestyle because this is obviously they're not everyone is going to be buying these water bottles but if you know you're the type of person that would really love those you know that right away there's no second guessing there's no always this ramirez that's not for me you see it and you know if it's for you or not it also builds trust and builds credibility so you'll see there there's an eight hundred number and this is huge I know it might seem really trivial but this is such a great way to build trust on your web site because people see that most of them will never call you budges by saying that alone, they'll automatically know they can trust you because if they have a problem or if there's an issue, they know exactly where to go. So really, really important to have you upset. I know I was working with declined one time and she was sent selling jewelry, and I told her I said just tried and see what happens if you put your phone number up there and she put it, and that day she had more sales than any other day she had to simply just from putting her phone number up there, and she even got a wholesale order just from people calling that same day. And lastly, the website tells them what to do. Now. I know this is sort of in small letters, but this is a really great call to action because they're saying, you know, you can learn more here, learn more there and they had other elements on their home page that have more call to actions by this, which is the first half of the home page. But you can see your this website is guiding the customers when they come to the home page what it is that you want them to do next now let's, look at another website on this is a clothing website and you can customize everything so as soon as you get here right there, there is no second guessing you know exactly what they're selling, you know that it's tough to customize, but it really also does a great job of engaging them because you'll see up there on the menu it's as customize everything at your personal touch so again, it's having that two way conversation that you can on lee really usually have in a physical store by you're doing that through your website it also makes them on offer. I know we talked about offers on this is a great way to both your email list and we're going to talk about that a little later as well, but this is a great place where you could make your customers and offer and let them know exactly what it is that they could get extra from your website it also removes risk and it tells them what to do so by having that one hundred days to change your mind right? If you were a customer and you came to this website, some of the things you might be worried about might be oh well, I'm not really sure what if I custom I something and it doesn't fit me? Can I return it or do I lose my money so as soon as you see one hundred days to change your mind immediately you know you're safe to buy there because you can exchange it if you don't like it and if you're feeling secure in your decision before you've even made your decision that's a great way to get people to convert into buyers and one other web site that I wanted to share with you is this great web site she's actually one of my clients and she these designs this really awesome workout clothes, but again you look at the home page you know exactly who these work, how close are four right there's no guessing always this for me? Is this not for me? You know, from her images if this is for you or not and again I know some of you might be thinking, well, I don't want to turn people away or what if someone doesn't buy, but the thing is you want to turn people away that are not the right fit for you because they're going to return stuff if they don't like it, if you portray your company in a different way than what the actual what their experiences, they're going to return it and they're going to be upset and they're never going to come back and tell their friends about it too that they just had a really bad experience so you want to reflect their lifestyle right away this great web site also builds credibility so you'll see there her workout gear has been featured and top magazines right automatically. You know it's, something you can trust. It also reflects their lifestyle, mentioned that it also makes them an offer. So here in her web site, she's saying, get ten percent off your first order if you click on that link, a little sign up box comes up, she grows her email list, and then she gives her customers a little gift of thanks bites, saving ten percent off and another really great thing that I loved about this is that tells them what to do. So I know she has all of those shop, you know, tops, bottoms, jewelry and so on up there. But why not tell your website that visitors what it is you want them to do next? And this website that's such a great job of that? Because there's no guessing. You know, if you want to shop, there's the button and it's super easy for you to do so.
Ratings and Reviews
This class is perfect! A great overview and explanation of what you need. I really like the simplicity and after watching it for free I bought it so I could pause it and implement the ideas as I went through the course. I love my page website now and highly suggest this class!
This class is packed with useful information presented in a clear and coherent way. Andreea Ayers has a track record of success in e-commerce and offers ideas and tips that come from experience. Whether you're just starting a website or looking to improve an existing one, this class will help you get your mind working and your creative juices flowing. Highly recommend!
Wow! I bought this class on a whim and didn't expect to get as much out of it as I did. It is to the point, filled with really good information and presented really well. I am so glad I got it. We are about to redo our website and I feel a lot more confident about doing it right now.
Student Work