Paper Crafting: Skills and Technique
Robert Mahar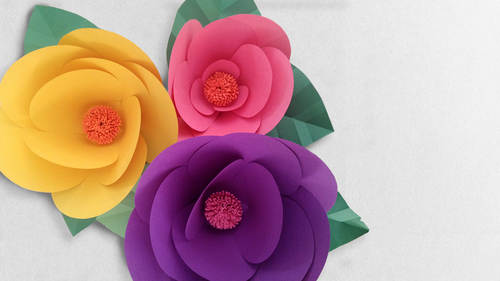 Paper Crafting: Skills and Technique
Robert Mahar
Class Description
From making your own paper to marbling and stamping to sculpting hand-crafted objects, paper crafting is an incredible way to express yourself. Join Robert Mahar to explore everything this simple, sophisticated art form has to offer.
You'll embrace your inner recycler as you learn to create paper pulp and form it into sheets of handmade paper. You'll also explore the Japanese art of suminagashi and use this centuries-old technique to create gorgeous, marbled paper. You'll learn basic stamping and patterning techniques that add extra flair to any project. You'll dive into creating three-dimensional paper crafts as well, from hand-crafted flowers to papier-mache projects to other decorative and functional objects.
Whether you're looking to create handmade gifts to share with friends or to add new paper craft goods to your Etsy® store, you'll leave this course equipped and inspired to create dozens of new projects.
Class Materials
Robert Mahar - Paper Flower Directions.pdf
Robert Mahar - Paper Garland Directions.pdf
Robert Mahar - Paper Marbling Directions.pdf
Robert Mahar - Course Supplies List.pdf
Robert Mahar - Syllabus.pdf
Robert Mahar - Letters Sample.PDF
Ratings and Reviews
This class if filled with new and fun ways to use the paper that we have in stock. In addition, the paper technique that utilizes Suminagashi Ink is mind blowing! Anyone who loves to create beautiful things will enjoy this class. Robert is one who is an exceptional instructor, in that when he is demonstrating a new technique, he has an ability to use clear concise language. I have enjoyed the class, and plan to use the gorgeous floral pieces in my studio and home, along with creating a lovely party. Thank you!
Really enjoyed watching this two day Paper Crafting course with Robert Mahar. It was full great paper techniques and inspiration. Roberts has such a calm and positive teaching style. Watching him work through step by step of each project you really pick up lots of wonderful tips and tricks of the trade. Highly recommend it.
Robert Mahar is an excellent teacher with many great examples on paper crafting. Robert has encouraged me to continue working on my sculpted watercolor paper flowers—now I have a bunch of new tips and tricks to try. This class is well worth the price
Student Work