In Focus: The New World of Photography
The New World of Photography
Joshua Kissi, Karen Okonkwo, TONL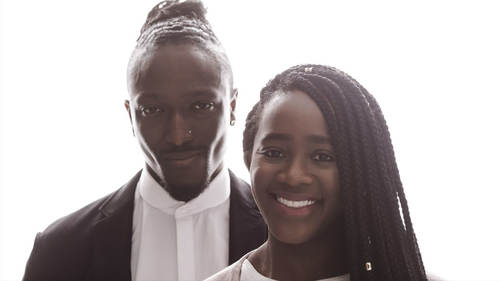 In Focus: The New World of Photography
Joshua Kissi, Karen Okonkwo, TONL
Get access to this class +2000 more taught by the world's top experts
24/7 access via desktop, mobile, or TV

New classes added every month

Download lessons for offline viewing

Exclusive content for subscribers
Lesson Info
1. The New World of Photography
Lesson Info
The New World of Photography
Alright, so let's start off by just introducing each of you. Yes. And you have both been teaching here during Photo Week-- as part of. Yeah. CreativeLive. Yes. So amazing. But you. Are both the co-founders of TONL. So Karen we'll start with you. Okay. Just tell us a little bit about who you are and your history as well. Yeah, so my name is Karen Okonkwo and like Kenna mentioned I'm the co-founder of TONL. By day I work in corporate America, and by night I am a serial entrepreneur. And I really just became really fond of imagery and solving the issue of the lack of diversity, because I started a blog with my sorority sisters, I'd say about five years now. And, you know, and seeing how wonderful Josh was with imagery, he's like a savant, I say when it comes to images. Oh thank you. (Joshua laughs) I just thought what a better person to team up with to try to solve this issue. So really, when people ask, what do you do with TONL? It's really just on the marketing...
and business development side of things. So we joke and say that I'm the left brain and he's the right brain. (Joshua laughs) So that's a little bit about me. And I'm Joshua Kissi, co-founder of TONL, photographer, Creative Director as well, and yeah, me and Karen pretty much came into this trying to solve a big issue in stock photography. And I've had maybe eight to nine years of photograph experience. So it was a nice challenge to take on and we're really looking forward to seeing the future of it. Well let's take a step back and talk about Josh, your history, because you came up, you're Street Etiquette-- Yes, yeah. Fashion. Yeah, fashion lifestyle. Lifestyle, branding. Branding. Now an agency. Yeah. So you've had a long history of being very aware of imagery. Yes. In your life, personally. You've been in the spotlight. Yeah. So. Yeah. Talk to me about Street Etiquette and just the-- power of imagery there. Well. Absolutely. Well, Street Etiquette started in 2008. It started by myself and Travis Gumbs. We were in school. We bonded over just like fashion styles, street wear. And we started somethin' that we didn't know would become this like big internet phenomenon when it comes to street-style fashion and editorial. So basically, we styled, we shot. We did everything. We also partnered up with a lot of our friends in New York to just create these great editorials. And at that time, it wasn't common to see African American men, Latino, just everybody in the communities creating from that vein. Yeah. 'Cause we didn't see ourselves in the GQs and the Esquires and all that other stuff, so we were like, hey let's create our own. And eventually we got in GQ and we got in Esquire. So it was like we stayed true to what we believed in, and it ultimately all came to fruition. So how did you get into GQ, like what was that moment where you were creating content, creating content, creating content-- Yeah. And then somebody noticed. It's interesting, yeah. I just banged on the door. I was like guys, you gotta feature me in here (laughs). No, but literally it was a email referral from somebody else that was a fan of Street Etiquette, on to Andy Comer, who's actually a really, really good friend and mentor of mine, who lives in Seattle. It's funny how the world just turns around. But pretty much, he saw it and he was like, "Hey, I wanna have you guys come to the office." We came to the office. We were just thinkin' we're gonna do an online feature and Jim Moore, who was then Editor-in-Chief, he was like, "Hey, I would love to bring you guys on, "and put in the magazine." So we weren't supposed to be weren't supposed to be in them magazine. It was supposedly just be an online feature, and we ended up bein' in, like havin' a four-page spread, and that was cool. We were still in school. So it was just like so surreal for us, to be in the pages of GQ, and that's when you could kind of tell your parents you made it. Okay, leave me alone. (audience laughs) Yeah! I'm in GQ magazine. That's not enough for African parents. That's definitely, especially for-- That's not enough. No, it's not. Yeah, for African parents its-- Still need the doctorate. (all laughing together) You need the degree next to the magazine, like both! GQ. Yeah, GQ And the degree. The doctorate degree. As well. And the PhD. PhD, yeah. Yeah. But yeah. (all laughing together) That's pretty much how it happened, and from there it was a snowball effect and we pretty much started to develop into a agency because of the services we were asked to provide. Yeah. Which was styling, creative direction, photography. So we pretty much turned into a agency based on the industry ask, yeah. Yeah. And then so how did that, how many years has that been and how has that-- evolved? Wow, yeah. We'll it's been 10 yours. Yeah. So ever since I was there, like 18, 17, 18. Wow. We didn't even know we were like starting a company. We just looked up, like how do you start? It's like LLC, okay cool. Got it. Like let's do that (laughs). (audience laughs) Went to Legal Zoom, just like figure somethin' out. I think Karen taught a class on that. (Karen laughs) Yeah, Photo Week. No but like we're still in school. Like, literally in high, like senior year of high school, tryin' to figure out LLCs (laughs). But now we know that was a really, really good thing to do in advance as we like look into our business. But it evolved from just doin' that to havin' clients, like Starbucks, like US Open. We worked with everybody pretty much. Adidas, Nike, pretty much to create content for, and campaign and consult with. So it's really evolved from us being in front of the camera-- to us being. Right. Behind the camera. Yeah. And doing more direction. Right. But the way we've kind of garnered support was us being in front of the camera. So people kind of aspired to the lifestyle and imagery and aesthetic. Right. So, let's fast forward, 'cause I don't think we've actually laid the groundwork of how you two-- Yeah. How the idea or the need and the idea of TONL, and then how you two, the moment where you two decided to partner. Yeah. 'Cause you're not a photographer and you are. Nope not everybody thinks I'm from New York, that I'm a photographer, none of that. So basically. Wow. The story starts with actually a sorority that I was a part of when I went to Arizona State University. And I had two sorority sisters that I felt would be great to line up with this idea that I had to start a blog sharing best kept secrets of sorority women. Just because I knew that whether you loved sorority women or hated them, they were really influential on campus. And so I was like why don't we create a sisterhood and line for all women that they can just get secrets from fashion to beauty to, you know, health and wellness, and everything in between. So we were a part of like the boom of the blogging world. So we got a lot of attention very quickly. We were doing a lot of partnerships with big brands. We were growing in our followers. And things were great, until a friend of mine who actually lives here, pulled me aside and he said, "Out of curiosity how come you don't "showcase any black people on your site?" And at first I was combative. I was like it's such a lie, of course, we do. (Joshua laughs) And then I pulled out my phone to prove it to him, and I'm scrolling and I'm like I don't see any black people. I go to our Instagram, the same thing. I was mortified. I mean clearly I'm African American, and typically, you would think that I would have that lens. But when you grow up in a society where, you know, magazines and movies and TV shows are very racially one-sided, you are now just actually subconsciously subscribing to that. And so I'm just one of those people where when somebody brings a problem to me, I don't wallow in it. I'm not like, oh there's a problem. I'm just like, alright quick. What's the solution? Well the solution is to showcase, not only just more African American women and sororities, but just all types of women. So, I went online to try and find imagery and I couldn't find it, at all. I took hours searching the internet, trying to find aesthetically pleasing images of women of color in different sororities, and it was just nonexistent, or it just wasn't looking, you know, up to par. And that haunted me for a really long time. Even as we stepped away from the Sorority Secrets. So fast forward, and I actually started a meetup group to find other African American women here in Seattle, and through that I became really good friends with a women named, Mekdes Mersha, who is now Josh's fiance. (audience laughs) You gotta throw that in there. I know. Cool. Shout out to Mekdes-- 'cause she. Shout out to her. Is the reason why we know each other. Yes, it's amazing. I didn't know about Street Etiquette. I didn't know any of that. And so when she told me she was dating someone, I was like, okay, who is this guy that you're dating that is so famous and then I look and I'm like, oh, okay (clears throat). I know why he's famous now. He's certified, he's certified. (audience laughs) I like saw all the collaborations and just the beauty of his images and I remembered how sad I was that I couldn't find diverse imagery years ago. So, I was like, okay. Maybe he would wanna do stock photography. And I'll let him take this story from there. (Joshua laughs) So pretty much when she told me, are you interested in starting this company around stock photography, diversity, I was like absolutely not. (audience laughs) He was like, "Oh no." No, no, I'm good. I'm dying with my... (Joshua laughs) I was like, no, it's not a, it's crazy 'cause I was always contacted by stock photography companies. But I never wanted to shoot for them, never aspired to, ignored most of their emails, maybe all of them. Never responded to them (laughs). But a year, I mean not a year later, but years later, now. Why? Why? Why? I just, it's just, I mean number one, it wasn't lucrative. I was like, okay so you're gonna give me a cut of something I'm capturing and creating, like, it didn't make sense in that way, so the whole photographer versus the agency and the licensing model, just didn't make sense, and I was just like well, if I'm already trading my time for money it might as well be-- like worth it. Right. And in that way, I definitely didn't wanna do it. The second thing was like artistically, it wasn't aspirational in any way. Even though they were like, hey we love what you capture, we want you to just capture that, but I was just like, oh no. It's gotta be for a higher price. There's (laughs) no way, I'mma recapture something I love and sellin' it for so low. And that was like really the main two reasons why I didn't wanna do it. So that's pretty much the logic into that. Then when Karen approached me with this, initially I said no, then like maybe a year later, I was like well I'll do it if you do it with me. And I was trying to like clear space from like Street Etiquette agency stuff. I had a lot of client work and I couldn't even think about starting another company. So I think it happened for a reason, whereas like in that moment, it was like no, we're not gonna do it cool. A year later it's the summer of 2017? 16. 16, wow. It's flyin' by. I know it's scary. (all laughing together) Summer of 2016, you had unfortunate killings, community killings, police and we all know the stories of Philando Castile, Alton Sterling, all these type of unfortunate narratives, and I was with Karen and I was just like, hey, like we gotta do somethin'. Like we gotta figure out how do we bring out the right types of narratives into the world. And that's where TONL was kind of born. It was born from a traumatic and unfortunate circumstance, but we found a positivity within it. Tell me more about how like with those particular events, people were being portrayed in the media or other, that you said. No I just think it was, yeah absolutely, like you saw these people who were fathers, you know, sons to people, and what you saw in the media was just all the negative sides of it. So I was like this is not a accurate portrayal-- of this person. Right. You just see one negative side and that's being perpetuated over and over, so how do you help that, or how do you assist that? Is like provide imagery that's a wide array of somebody or a people, a group of people who are a under-represented type of people. So that was what really inspired us. 'Cause you saw the articles and the accusations. It was just so much and we were just like wow. How can we, I think we're both like problem-solving people. It's like how can we work together and make this-- turn this around. Yes. Into a positive, yeah. So let's fast forward to now. You've been in business with TONL for-- a little over a year. A year. Two months. (Karen speaks off mic) Okay. And you've already been named for Ink Magazine's 30 Under 30. So congratulations-- on that. Thank you. That's huge. Thank you. Thank you. And I think that everybody I talk to that especially when I first heard what the concept was behind what you're doing, like how is this possible that this doesn't already exist? Yeah. Yeah. But that's where we are. That's where we live. That's the reality of this world today-- the frightening reality of it. Yeah. Yeah. Tell me what you have heard from people in the last year that has either surprised you or moved you about the impact that TONL is having so far? Yeah, so I think when we first launched, a lot of people don't know that we are just very humble so even though we launched there wasn't like this big like, yay we've launched, we're so cool! It was just like alright, we've gotta get, we were just-- very diligent. Yeah. We didn't really look up to really revel in what we had done, and so I think it took a few months before I had someone physically come up to me and before they could even get words out, they were already crying. And I was like, what are you crying about? And they're like, "Thank you. "Thank you so much for having this "because for years I've never seen myself online." And they weren't even a model. They were just somebody who was desperately trying to find imagery of themselves and it just never existed. You know, we also just get emails from people saying, "Thank you so much. "I now actually have imagery that I can use in work." And then they're really cool. They're like and you can even go this angle. You know you can add this tag. You can add this ethnic group that has not been met. And so we've pretty much been like this spokesperson for so many different ethnic groups and we're really, and not even just ethnic groups, people of different abilities as well-- and sexual preferences. Yeah. I mean. Yes. It's really exciting to be that access for them. So let's dive then further into, 'cause you use this word, narrative, around-- the narratives. Yes. That are being told out there in the world. Yeah. Tell us about how you've embraced that word, narrative, and you are showing all these different things via TONL. Yeah. Sure. So what narratives we pretty much developed the site of our section, that's called TONL Narratives, and it's a way for stock images to come to life. So instead of just like this vapid stock photo, no story, bland, any brand could use it, what we do is encourage a select group of people to tell their story on the platform. So who they are, what they do, what they've experiences have been, and it's just been super-impactful. That's the thing that a lot of people's been inspired by. 'Cause they're like, "Okay, this is not just "a image of a random person, "now I have a context to what they do, what they stand for, "and I could further help my demographic insights "or cultural insights-- "into agency wise." Yeah. It really just makes it feel more real. So we go with this whole aspect of story over stock. We're like let's focus on the story, first. You know, the stock image will be sold and licensed and all that other good business stuff, but for the most part we want the images to feel like life-- in a lot of ways. Yeah. And that's been like a longtime comin' for stock photography. Yeah. For sure. I think that stories, storytelling, visual storytelling-- Yeah. Yes. This is something that the world right now, brands are trying to do-- and use. Yes. Yes. So I think there's a lot of misconceptions out there, what people use stock imagery for. Yeah. So can you talk about some examples of how brands are looking to use the imagery and the narratives that you're providing out there, and whether that's big brands, small brands, brands, what are people-- how are people using that? Yeah. And what reaction are they getting? Yeah, so it's really cool. Pop Sugar was one of the first clients that we have, and they basically are like a beauty and entertainment, fashion. You know, they just kind of have the whole spectrum of things they speak on, and they were very diligent in using our imagery and I remember one of their editors, they tweeted and they were like, "Oh my God. "Thank you so much Pop Sugar, "I finally have diverse images "for the things I'm writing about." Like she was ecstatic. She was like everybody follow TONL. And it was just so cool to see that, you know, on the top level, of course, Pop Sugar as a company made that decision and seeing how it trickled down to people who are, you know, contracted or employed by them. So that was really cool to see. And then there's other brands where they really just wanna make sure that they are in alignment with us. Not necessarily that they're trying to copy us. So, for example, we partnered up with Google. And they have Chromebook as their section of products, and they were like, we're not trying to sell our products at all. We really just want to make sure that people understand that we're in alignment with you guys. So here is a bunch of the products, please find people of different ethnic backgrounds and let them use and have these products, because we understand that imagery when it comes to technology is also very racially one-sided, so we wanna help solve that problem, and know that we're an ally with you guys. So those are just some examples of how people who have used our products have had good positive reactions toward it. Yeah. Can you talk, Josh maybe-- a little bit about. Yes. Community and how community has driven what the site that you've created-- the imagery. Yes. The empowerment of photography. What has community meant to you? In general or in TONL's case or both or-- Start with TONL's case. Yeah, I mean with TONL's case, it's very much community-based because there are people that just volunteer that wanna be a part of it. So a lot of our subjects are friends of friends or people that just raised their hand, or contact us, email us, tweet us, anyway they can, they just be like, hey I wanna be a part of this. And I think that's a really special opportunity for us to build with them. 'Cause they're sort of like their own ambassador to TONL, without asking them to be up there talking about it in a positive light. They love the experience and they also wanna be a part of it. That's the biggest thing. People wanna be a part of it anyway. So if Google's just like hey, let's work on this. A normal everyday person's like, "Hey, how can I be shot?" Or maybe I know a family that should be shot. Yeah. So people are just super, super-helpful and I never really seen that in a company (laughs). Like a lot of times, company's have this wall up were you don't really feel like you could contact them, or play a part in the success, but I think people really believe in the idea of diversity. That's why they're like I wanna be a part of that. And I think that's the most powerful part, because yeah, there's not a lot of projects I've been a part of where people had that connection with the company's straight up. Yeah. So who definitely connection, community-- all these things. Yes. Imagery, allows us to connect the story behind the images, again allows us to connect at a different level. Let's talk a little bit about responsibility. Okay. Of this movement-- of getting. Yeah. Diverse, inclusive imagery out there in the world. We've talked a little bit about brands, about photographers-- Yes. For you what does it come down to? Who's responsible to make change? I think everyone is. I mean, everyone is responsible in their respective field. Sometimes we put it off to bigger corporations. You know, we get really upset with different brands-- but they can misstep. Yeah. And I think that it is definitely their responsibility to hire diversity, to really have a clearance before things go out, but I feel like it starts in the household. It starts with getting your children around people of different ethnic backgrounds and abilities. It's opening up those conversations, because that is, whatever you take in your household, you go out there and you show it to the world. And so I think it really is a responsibility in our own households to make sure that even if we have a certain belief that we hold true to, that we still allow ourselves to be open and accepting of others in spite of the difference. Because that's what I think is wrong with the world. I think that is what is wrong with the world right now, is that because somebody has a different view or opinion, that means, that they're just like the worst person in the world, and it's like, no, let's try to find a common ground and understanding and put ourselves in those people's shoes for education purposes. And maybe you walk away and you both disagree, but there still has to be a level of love and respect. And I think that, that's what's missing. Thank you. Yeah, I mean it's, everybody is responsible, and it starts in the households. It starts in the household. And makes its way to brands, brand leaders-- leaders of the industry. Yeah. Yep. Have you seen the industry of photography, filmmaking, changing at all in the past year? Oh yes. Yeah. We definitely have. In a way that TONL's been impactful in that in a lot of ways. Not a lot of ways, in a few ways, but I guess on the larger scale, it's just like there's a need for diversity. Everybody knows there's a need for the truth right now, and people are fighting for that, whether they're a writer, whether they're a painter, whatever it is, like everybody kind of using their tools to like find out the truth. And imagery just happen to be one of the biggest indicators of that, 'cause it's how you see yourself. It's how you see the world. It's how you document. It's historical. There's so much there that I feel like plays into how you see the rest of the world. So it's been like a big truth-telling within the whole industry. And TONL's been that in a small part, and we're really lookin' forward to like the next steps of that. We've gone into, I don't know, other stock footage photography sites and seen mimic imagery that we would shoot, and it just let's us know that we're doin' a good job at the same time. When people are copying you-- it's a good. Yeah. I didn't wanna say that but... (audience laughs) No I mean, that's a measure. I try to be PC about it. That's a measure of success. Right. Yes. And I will say. To that, we are starting to see a change when it comes to diversity because of money. You know, I think it's sometimes a factor that it hurts us to understand that most change does happen when money is involved and what I mean by that is it's costing brands a lot of money when they make a misstep or if they're not addressing diversity. So we're starting to see a shift because it's impacting people's pockets. And so it's a good thing that the diversity is happening, but in knowing that there's a financial loss, if you're not aligning yourself, we also have to be keen on who is being really authentic. It's not just about throwing one Asian girl in the campaign and then alright good, we've got diversity. It's goes beyond just throwing an Asian person in a picture. It's have you actually hired them, you know, in your particular, excuse me, production company? Are you having cultural events that are happening at work that will inspire people to get to know others beyond just hey, you've been sitting in the cubicle next to me and I still have no idea how to say your last name? So, I just think that-- even though. Wow. The change is great, we still have to hold people accountable to really being authentic, as to why diversity does matter. And so how have you integrated? I mean we talked about the narratives, but are there other ways that you've integrated authenticity into your photography, into the TONL website, and how do you recommend people out there seek authenticity in their own work? Yeah. That's a great question. I mean, for the most part, from a photographer's point of view, I try to just equal out the playing field. Just have a really good conversation with people, get to know them. So it's not like, let me just shoot you for this website and I'm like gone. But be able to build like a personal connection as well. Understand them, be open as well as interact and I think a lot of people once they see the photos, and they see like the best version of themselves, that's when you know you're doin' a good job. 'Cause it's representing their truth in a sense, if it makes this kind of zest and a happiness when they look at the photos, and I think there's a way to do that where you're just capturing because you have to do a job or you have to fulfill diversity quotas. It just shows when it's not authentic and when it's not truthful to people. And it's hard for bigger brands to be personable. But I mean, to me and Karen's benefit is that we're people and we go around and we speak about it. We're vocal, also vocal in our communities. We're also vocal in the cities we're from. So I think that helps. But it's really hard for like other companies to do the same, because there's a stuff of thousands of people and it's all a bur, bur, bur, sorry burcroc, messin' up-- Bureaucratical. Bureaucratical. That, yes. Bureaucratical. Like decisions that goes into it. So it's just like, it's very different from me and Karen, that's havin' a small team, and be like, let's then make the decision to change this tomorrow. Like that's very different from like, oh we're gonna need 90 days plus like a year in advance of like preppin' out this. By the time that's done, the industry's already changed in a different way. So it's the benefit of bein' small but also bein' very personable to the people we're shooting. And I think it helps to that we have been really diligent about the type of photographers that we have. I know we have Sam Wu, who is joined us in the audience, and he's a local Seattle photographer, and he is Taiwanese, hope I said it right, Taiwanese. And, you know, it shows that he is able to capture people from his culture in a better light, because he is educated in his own culture. And so sometimes I think that how you solve this is you actually align yourself with people who have that perfect lens and then that taps into that audience better. So, that's just some of the ways that we have been able to create diversity is through the photographers that we use. So how do you get beyond, I am not a Nigerian or a Ghanaian photographer-- or individual? Yeah. Yeah we could see, yeah. (audience laughs) No, no, no. I can see. I can see. (audience laughs) So how in this vein of authenticity or like would you, how would you go and photograph a Taiwanese family or scenario differently than, I'm sorry, totally blanked on your name? Sam! Sam. Than Sam would. Like me personally? Yeah, you personally. Or what are the nuances that you have to get past or get through-- Yeah. To feel like you can create authentic work. I feel like once I feel like I'm not the author of the story, like it's up to whoever is there to write it, but I'm just there to help guide and listen to. So as long as your open in that way. I don't wanna offend people because I'm used to a certain cultural norm. We go into the house, takin' off your shoes, like all the things you think you would happen, but as well as having somebody that's close on the ground to advise with, okay I have this shoot, what should I know? What should I be educated on? What should I be aware of and goin' about it that way, rather than assuming, because a lot of assumptions turn into stereotypes and stereotypes turn into racism. And it just keeps goin'-- Yes. So a lot of the industry, I don't feel like it's, it's not malicious, but it's a structural function of the industry in general, it's not that people are wakin' up every morning like I'm gonna exclude every person of color. People are not wakin' in the morning with that motive, but it's the way the companies are built and the way of the structure of the country and most of the world is that. So it's about changing that path. And I think more and more people would be comin' open to it, once they find out it's a issue. But if you don't think it's an issue, you won't push for the things that make sense-- to bring solutions. Exactly. Yeah. You said something earlier that struck me that was about seeing your best true-- Yeah, best version of yourself. The best version of yourself. Yeah. I just, I wanna explore that a little bit further in terms of the world of photography at large, and giving people a sense of whether it's their own best self, themselves or how they see imagery out there that actually reflects their own best self, even though it's not them. I don't know if I'm making sense. No it makes sense. Maybe that's what. Like the narratives is doing. Yes. So do you have another story that you can share of kind of a win in that scenario of what you've heard from people. I think we have two stories. Maybe you wanna, do you wanna share one with-- Twitter? Oh Nodumo. Oh yeah Nodumo. Yeah, so we had somebody that reached out to us, who's featured in the TONL catalog. Her name is Nodumo. She is a student at Yale, and she is albino as well. So she reached out to us over Twitter, and just like, "Hey, I would love to be the first "albino person to be on TONL." And during our inception we were like, oh yeah, absolutely. So we met up, we shot. We talked through albinism. We talked through skin tone. We talked through all these different things that I had no idea about when it comes to albinos and what they like go through day-to-day, and people's perception of them. So I was really, really interested in the capture that, and she was like, "Hey I'm one of millions of people." 'Cause even in certain parts people are murdered for being albino, and their parts are used for all types of, this like African stuff. It's next level. Yeah. But it's like people who are albino are murdered and they're parts are used for like some wizardry and whatever, but basically she was just highlighting, like, hey there are a whole bunch of people just like me, that need to feel like the world sees them and a lot of times I walk around and I feel like the world don't see me. So even as I was taking her photos in public places, she was like I'm a little bit shy, but she did a amazing job. She was really vibrant and she continued to do more and more shoots where people would consider her a model as well-- So it goes to show. Right. You never know what you could discover once you like break out of that, and I'm glad she tweeted at us, 'cause we were able to have this whole opportunity with her-- so it's amazing. Yeah. It's life changing. It is, and I think that then telling one person's story in a way allows all these other people to see themselves in that, in that best-- light of themselves. Yeah. Yeah, yeah. I'm curious about working down even further into the nuances of this a cultural representation and are you guys play a lot off of the fact that the Nigerian, Ghana thing, right? (all laughing together) Yeah, It's a competition but, it's between ourselves, yeah. It's this whole like who's better? I won't get into it. 'Cause we'll derail from this whole... (audience laughs) But the point being, I think we talked about this when we did a podcast episode-- for we are photographers. Yes. New CreativeLive podcast here. But this concept of just there's a stock image of an Asian family-- you know, say. Oh yeah. And but or a black family, but they're not, there's South Korean-- there's Thai. Yeah, yeah. There's Cambodian, and so, have you been able to like narrow things down so that you are-- bringing more. Yeah. Differences and ethnicities-- and things to light. Yeah. So actually what's funny is that when we first started TONL, we just assumed that people would go to our site and they would just find diverse imagery. That was enough. We didn't need to title anyone, and then someone wrote us a really long message and they were like, you know, it would be really helpful if you would just tagged these as Latino, so then I can find them easier. And I was like well I mean, it's just diverse images. And then we really reflected on it, and we're like well maybe that's where the education you know, starts, is perhaps when you see a Latino, you're gonna see a whole variation of different types of Latino people, and so we just went back into all of our pictures. It took a really long time, but we recategorized it, down to ethnic background, race. You know, we always had people's different abilities and things like that, but we were able to do that, and do now if you wanna go and you wanna see everyone who is Eritrean, you can do that. If you wanna see who's Nigerian, you can do that. There's just different ethnic backgrounds and races again that people can now file and search through on our site. And so that really helps in the education surrounding those people. Absolutely. You were laughing there. Was that another-- Ghana. Yeah that's. Where's Ghana in that? (audience laughs) No, I was like if you wanna see Nigerian people, I don't know. (audience laughs) Sorry. I'm just smirking. To myself, I'm sorry. He thinks I'm Ghanaian too. No, no. We're all the same. No, but I think the Latino tag is really important. 'Cause there's Afro-Latino. There's so many variations into it. And when you look at those tags, you get to see, this lady, yeah, she might appear black, but she's Dominican or Ecuadorian or Honduran-- or there's so much. Yes. Stories there, Colombian. Yes. There's so many different types and I think that's the important part. And that's, I mean, you've just barely started to scratch the surface. Yeah. Yeah, right. So if you think about like going from-- The word diverse-- Yeah. To then like all these down. Yes. It's all the nuances. So what is your hope and what are the next steps to grow what you're doing? Has it taken on a life of itself? Yeah. Where does it need to go next to go even further? Yeah, well I think that in knowing that we've been this vehicle for so many different ethnic backgrounds, really where we see this going is becoming the one-stop shop premiere diverse stock photo agency, if you call it. And so that really is our hope is to be funnel that people go through to get those sort of images. And we're always expanding. We understand that we wanna evolve with the trends, so video footage is something that we know is really popular now. Very popular. You know, they say that over 80 percent of the way that people will absorb content will be through video, here in the coming years. And so we really are wanting to adapt in that sense and I think like from a personal goal, I wanna see a TONL image on a billboard, in the subway, in the airport. I visualize it, every single day. She talks about it a lot. Yeah, I always talk about, like we're gonna be in the airport soon. So if anyone knows how we can get in the airports, call me. Plug. Plug, yeah. That's great. Yeah. To be honest it's sort of the same. I just would love for there to be the resource where people go and just feel themselves, like visually, but that translates into how we live our lives. And just get more and more nuance. Yeah, there should be a narrative about a Chinese family that lives in Egypt though. Oh whatever, like it just needs to be as truthful as possible. I feel like the more and more, you get those type of stories, the more and more people feel welcome and a part of the world, 'cause when it's one-sided, this is what you have, you know, this outcries and canceling and like all of that, because people don't feel heard. Yep. That's literally. People don't feel seen, they don't feel heard. They don't feel like they exist. And that's like on all sides. Yeah. Hopefully. TONL plays a small part within opening the solutions of that. I think that what you just said is so important in terms of people wanna feel heard, and they wanna feel seen, and so photography, film, all of that-- is this way. Yes. Is a way to give voice and voices power. Yeah. Do you feel empowered? Absolutely. In what you're doin'. Absolutely, I feel like this is our legacy. You know, people sometimes they go through life and they don't understand what their purpose is. Yeah. And I feel like we are living in our purpose. And you know you kind of like revel in it, 'cause it's like I started off with a sorority blog, didn't know Josh at all. And then our worlds collided. It's just interesting how the story has unfolded. But I can truly say that we believe that this is our legacy. Absolutely, I think it's, yeah. It's really a luxury and privilege to wake everyday and know that you're waking up furthering the idea of diversity and the idea of existing and like all these different things, representation. It's really, really a pleasure to do that and to be able to shoot it, there's still so much more to go. Like that's the thing. It's still like a very, very small percentage of what we see-- Yeah. And that's what makes me even more excited. I'm like oh man, I can't wait to keep traveling and keep seeing people, keep meeting people. Yeah. And be able to impact TONL that way. Amazing. Amazing, well I think that we have studio audience here. We have folks that are watching-- online when we're live. Yes. I would love to open it up to some questions, questions, answers here. And we'll start in the studio. Got a mike you can grab. Oh you don't have to turn it on, it's on. If you wanna stand up, that'd be great. Oh hi, my daughter came home and she said that she was Mexipino, when she was in high school and we're going is that a category that she had (laughs? But more seriously, I'd love to see you in an airport, and so I think that's really cool-- and when I get off. Thank you. A flight one day. You guys are doing amazing work. Thank you so much. And certainly I'll follow. I had no idea what I was coming to today. (Karen and Joshua laughing) And this is like the best gift ever. (talking over each other) That's awesome. I thought you were gonna be like I work for Delta and I'm gonna get... (audience laughs) Let's go! I was like... Someone out there. I do know someone who's works at United. So see, exactly. And they're diversity. So, yes. Yeah, awesome. We're gonna happen. (audience laughs) Affirmation. Any more questions? Hey, I just wanted to know if there was a process or like a way that you go through and decide people that you maybe don't want work with. Like is there a process to like there are people that you're like, sorry, you kind of gate-keep the images? Is that something that happens? Are you talking about models or-- Brands. Photography. Like businesses that are using your images. Got you, oh. People that we don't wanna work with. We haven't had that issue. Who's mission is not aligned with the way that you-- Yeah. No I had to repeat it back 'cause I was like gosh. I don't think there's been anyone that we didn't wanna, oh, oh, wait (mumbles). (audience laughs) There is some people who've wanted to align with us. I'll just put it that way, and they don't align with our moves so, we have politely ignored their emails or have just kept saying we'll have a meeting and then this meeting just doesn't happen. It's dancing. It's dancing. Just kidding we haven't a situation where an actual brand, that isn't outside of stock photography, has reached out to us and we haven't wanted to work with them. We always try to find a way to work with everyone, because if you come to us and you say you want diversity, why would we shut you down? So there's people who've come to us where they're like "Hey we need to see "more people of color in nature." And so we try to find a way to link up. And then, of course, we have Nodumo who said, "Hey, I'd like to see more people who are albino." And so if it's within our scope of work, we are based in Seattle and New York and Dallas. You know, we try to make sure that we make those come to life. Yeah. Yeah there hasn't been anyone that we've said, like no to. Yeah no, we haven't, not yet at least. Yeah. Anyone. Yes back row. Given your background and just in general kind of how you came into stock photography, beyond just the people within the photos, do you guys think about how you wanted to compensate your contributors or just that kind of how you want 'em to look at them to make sure you were spreading your whole message and imagery as well as who you work with? Yeah good question. That's a great question. We did so, if you guys follow the timeline then you know that said that we started to work or made the decision in 2016 to go full throttle with TONL, but we actually didn't launch for another year. So we spent that entire time doing market research. And one of the things that we wanted to uncover is how these models were compensated, and we found that most of them were not. And so we thought, okay, well what's the way that we can still be of value to them and give them that opportunity to use their images, themselves, so we give all the images to the models that we use. When we're doing a more high profile projects, they're definitely compensated, and when we launch our new site we have a referral program now. So everybody can now get a piece of the pie, because we feel like the community is what created us, and so we wanna give back in that sense. So those are all the ways, that we've been able to compensate people who contribute to TONL. Yeah And I'm curious, just to build off Chelsea's question is you talked about in the beginning, you wanted nothing to do with-- stock photography. Yeah, yeah. Because as a photographer, you weren't gonna be compensated in that way. Is it kind of a cross the board, that you are looking to incentivize people to be a part of something totally different? Yeah, I mean. Photographers. That you're working with. The good thing for us, is it's more of a qualitative measure. So we're not like those type of companies that look in the mass, mass, mass, so they can only pay you, you know, $20.00 for your image, if that, because they're tryin' to get as much images as possible. With us, we know, like okay, if people are already looking for diverse imagery, you gotta make sure it's curated, it's qualitative as well and it looks great, and I think that has us cut a lot of fat that would happen if we were chasing just the amount of images. Yes. But it's the right images. So for photographers who do work with us on certain projects, they do just get like a flat rate, on top of it for editing, for all these different things, there's like a rate sheet for it. So at least they know they're getting compensated as well. And for each image there's like a price to it as well. So we contract them out. Month to month we pay them. And if there's any additional projects we pay them for that too, like the normal photograph rate, which is pretty good for them. It's good incentive to keep shooting, keep being involved and keep growin' it that way. But $20.00 per image type of thing, it just doesn't work and it's not guaranteed the other way. So especially the micro-stock stuff. All that stuff, is just like nah. That's what I was thinking about too. Is having that full transparency versus what a lot of the way that the stock photography industry in certain areas has gone. Yeah. I see that I might taken some questions from online, my producer's feeding me. So Kathy. Both questions, one from Richard Marino and Carl. "Do you screen or vet your photographers to align with your vision, an then what is the process to contribute to TONL?" So tell us right now. I think you have a limited amount of photographers that you're working with, but what is your vision perhaps and how can people get involved? I mean as Karen mentioned earlier, I think it's important for photographers that we do have on TONL to have a unique vision. 'Cause if everybody's shooting the same, it would make no sense. If everybody shot like me, it would be kind of problematic. So I think it's important to be like hey, we love what you do. We want you to do that at the best level, and use that for TONL. So all you have to do is align with these different storylines or creative groups in that way. Rather than like we're all shooting the same. So we vet them. We look at their work, see if it has a TONL touch to it, feel, which is like all these different elements of like friendly but commercial, but still moody, but various moods. 'Cause a lot of stock photography is just people smiling. But like how many images you could really represent a story with that touches on different emotions. So it's like really, really important to do that. But the way we vet them is we just look at it. Either say if we like it or not. Maybe pending, maybe we revisit it. But we're like in a relationship with a lot of photographers, who are constantly emailing us, about having their work featured on TONL, which is open-source. Like you could totally submit your portfolio and we could take a look at it. And when we're ready to expand or we're like, hey we have a runoff project, we'll revisit the best portfolio we feel fits that project. I'd love to go a little bit further into, we talked about this in the podcast. I'm checkin' to see if we have anymore questions coming in from folks at home. But the aesthetic. We talked about how in the world of stock photography you would never have somebody tagging Getty images. Say for example, as like here I'm using an image and it's a Getty images, but you seem to because of the connection of community that people feel around TONL images having a very distinct look and feel, that people are actually tagging images that-- Yeah. Talk to me about-- Yeah. How you think that, that, what that means to you, and what you think that means sort of as the future for-- I'll take the first part of it. But I think it's, as a photographer to see other photographers, they'll take a photo and post it and tag TONL, because they feel like it could be in line with what we're capturing. It's good to have that aspiration as a limit to it. Whereas people are like shooting in mind knowing that we could possibly feature them or have them part of a routine. And I think that's when you know you've created a unique footprint, where people could like emulate what they think your company's doing and do that at the best level and tag you. So it's a good issue to have if any else. It shows more of the community we have. Yeah, and I also think that because we're newer to market some of the questions that people ask is you know,, you're gonna have to get to like millions of photos to really be up with the competitors, and I'm thinking to myself, not really. They're actually starting from square one too, because those images, you don't see them used in a viral sense, unless they're meme and you're making fun of the stocks, which we've seen that trending. Other than that it's like they've gotta start over to be more in alignment with what users are doing right now. And that's they're on Instagram. They're one Twitter. They're on Facebook. They care about the aesthetic. And so they've gotta start over with their library to get more modern looking images. Because people just don't care about corny stale images anymore, again, unless they're using them in a meme. And I think people now are way more open to spending or investing in company that has a community at it's benefit and stuff like that. So it's not like-- Yeah. You're just spending just because but like what does this company stand for? What are their values. People question that more than ever. I remember growin' up like nobody asked that. But just like if it works, it works. But now it's like where is this made? How is it made. Yeah. Is it ethical? So you have way more smart buyers and smart supporters of companies now and I full that companies that aren't doin' enough in the community are gonna fall to that. Yeah. Well I wanna make sure everybody knows where to find you both. Absolutely. How to get to TONL. Yes. And just how to really spread the word. It's really amazing what you are doing. Thank you. Thank you. Thank you for your comment in the studio. How can everybody find you and follow you? (Joshua laughs) I'm just at @JoshuaKissi, Twitter, Instagram, all the fun stuff, so it's just my last name is K-I-S-S-I, yeah, and I'll let you go. And then personally @KarenOkonkwo and then for TONL, it's at T-O-N-L, and then our website is TONL.co, so it's not .com, it's .co. And it's not TONAL, T-O-N-A-L. No, it's T-O-N-L.co Right, and you'll be able to recognize the look and feel. Yes, so go follow us. As well. Final words of wisdom to folks out there who are photographers who are receivers of imagery, about the power of photography. I would just say get to know your subject. If it means reaching out to them, maybe two days before to have coffee with them, to really ask them what ways that they can be captured well, and learn more about their culture. It think it'll lend itself, to the authenticity of the photo shoot, and just really get to know your neighbor, honestly. That's all it comes down to. I think from a photographer's standpoint, I would say just realize you're a truth teller and as well as what you create could be visual medicine for somebody else, so just remember that.
Class Description
Can photographers help make the world a better place? Can a simple photograph help rid society of unfair prejudices and dangerous stereotypes? Karen Okonkwo and Joshua Kissi think photographers can play a major role in changing how people think, act, and live their lives. They established the stock photography agency TONL to create and distribute images of diverse people around the world and tell their stories. Join CreativeLive for a conversation with Karen and Joshua and take part in this timely and important discussion.