Students Present What They Have Learned
Bill Hoogterp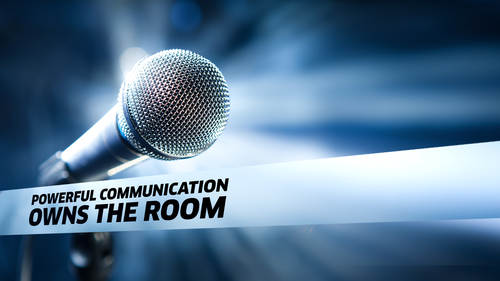 Students Present What They Have Learned
Bill Hoogterp
Lesson Info
21. Students Present What They Have Learned
Lesson Info
Students Present What They Have Learned
Don't you guys help us recap what we learn the first couple of days let's do a quick recap understand how the brain filters think in pictures and emotions get out wheat language not just our basically but anything that doesn't add value you strong language that paints pictures and evokes emotions so that people will remember modulate your voice get loud whisper use your diaphragm once in a while go very fast slow down on always remember the greatest value a speaker has pass involve the audience with involve the audience with around the room or pera used body polls give jobs poor use process imagine openings that always work use your words it's to create a scene you can lower filters by maintaining eye contact and never forget your studio audience and your camera audience name's also help lower the filters here we have our hosts rust andy's as in the mountain john kennedy o'connor as in our former president everyone likes a good story create powerful characters use conflict and connect ...
with the audience powerful communication all right, have a seat. Have a seat roberto let's keep that up to playback in a second I would like to point out that this was something that we gave them the assignment to do at about eight o'clock this morning while they were eating breakfast and how long did it take you guys to pull it together ten fifteen minutes so this is a great exercise you could do is a team builder so if you have a team your staff to say we want to get anybody going given assignment to make a commercial and a small period of time and let them come up with any props they want and they were in the video is you can do all these creative stuff online doesn't have to take a lot of time or a lot of money so we're gonna play it back and I want you to all write down, get a piece of paper online same thing and let's focus on the positives as always what worked and why did it work? There was so many positives just grab a couple of they're going and then we'll all look for things as a group if we would do it again what we might do differently let's show wait recap understand how brain filters thinking pictures and emotions get out wait language not just for basically anything that doesn't have strong language that he eats pictures and he bows emotions so that people remember modulate your voice get allowed, use your diaphragm once in a while go very fast, slow and always remember the greatest value a speaker half way involve the eyes with around the room or pera used body polls give jaws for use props openings that always were use your words to create a scene you can lower filters by maintaining eye contact and never forget your studio audience. Andrew cameron's names also help lower filters. Here we have our host, russ handy's is in the mountain. John kennedy o'connor, as in our former president, everyone likes to this story create powerful characters, use conflict and connect with the audience powerful communication. Wow, very impressive. All write what you know is overall online community general would what do you remember if I was in the street next week? So what do you remember from that commercial? Those guys made what would stand out start with all the positives, anybody? There was no weak language. There was no weakling which wanted to go to the park. Well, I got edited out as you thought about what you're gonna say. Who else do you remember all that in yourself? What do you remember the most giant scissors, giant scissors. Why? Great prophet. Match of the sentence would have been better with the little sisters or big scissors a big one. And why it's more dramatic it's dramatic it's different outside the norm is more memorable. Extreme examples are extremely effective, so oversized props they're so silly they work even better. Who will see? Remember besides yourself deena's emotion very good there's a couple of you really got very strong emotions and that powerfully grabs us and as you get to know each other you see that is our real emotions there are many facets to the diamond that is you and you let mohr mohr of them out in different appropriate settings and someone actually come into that exactly mona said they were themselves which was fantastic we had jesse l who liked the integration and flow among the speakers it was very natural it felt right uh question is saying that they love the energy and the passion they want to go in the room and it's obvious to the audience this absolutely is you what could have made it better I always get better there's no perfect we're all there's no upper limit for any of this stuff also just one more really quick on the positive positive see attitudes said I noticed the guy that used to rock around good well done caged tiger we're goingto wells could be better you think we could have stepped forward when we're speaking and then stepped back and even notice which cameras on right so how do you know what cameras on life and of course the camera crews always a step ahead of us and they're moving around but as much as you can if you focus in on the camera has a whole different effect for the online community what else? Oh gary did something brilliant what did he do especially thinking that speak he did think to speak so lost his place for a second I get this question all the time I got my freedom I'll lose my place I'll lose my place great speakers never listen uh we knew our place all the time we just don't care because we just pause everybody thinks we're being intelligent wise he just paused no weak language composed himself, pulled the audience and even mohr and deliver the line fantastically well done uh dream floor and bull moon both said there were a couple people who are a little quiet s o that could have been nice bring it up a little bit um and projecting a couple of years we know how mason your personality is kind of you're like a ferrari driving with the brake on, so let that personality out even more what's the secret to getting over being nervous I love that one get over here you don't matter when you're the speaker your presenter everything's about the audience you're content in your idea interesting note from charity, she said actually remembered what gary said because of the way that he recovered did you plan it that way the whole time? Yeah, and b y yes, joanie would have been more effective to look into the camera when you're telling us to look into the camera and connect
Class Materials
Powerful Communication Owns the Room - Levels
Tips For Successful Communication
Powerful Communication Owns the Room - Exercises
Ratings and Reviews
I am just of the 8th module and cant seem to have enough...i wish there were more hours in a day...it almost feels like binge watching...its gotten me so hooked!!!!! Love it, great course Bill!!! Would recommend it 200%. So practical and really such great techniques!!!!!!!!!!!
This is the best online training program I've ever purchased! At such a low price, you get a 3 day training from a master teacher in his field. I find Bill's sessions to be lively, engaging, and lots of fun. I've learned enough from just Day 1 to lessen some of my fear of public speaking and agreed to a new speaking engagement. I highly recommend this program, and will look into Creativelive trainings in the future. Thank you so much!
Wow. This was a brilliant dissection of the art and science and communication. Highly recommended!
Student Work