Define Your Key Message
Brigitte Lyons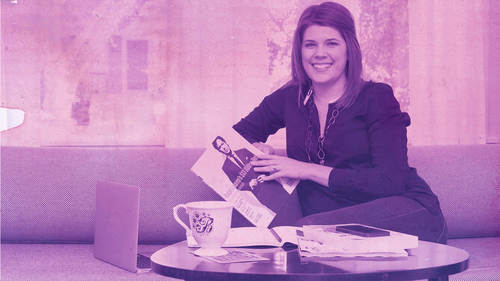 Define Your Key Message
Brigitte Lyons
Lesson Info
4. Define Your Key Message
Lesson Info
Define Your Key Message
So before we go and build your media list it's nice to get grounded and what it is out there that you're going to be promoting specifically what you want to be known for so that when you're searching for the media you're searching for the media that is the right fit for your messages so where we want to look at right now is what is it specifically that you're out there promoting so it's uncommon kind of categories that you could think about ways to group and organize your thinking around this is you could be promoting a system our methodology so your specific approach to doing work key insight so is there a key insight that you have on your industry on your area that you want to be getting out there jessica that sounds a lot like what you're doing kind of a little bit of both um are you out there doing a cause so we even talked too much yet about cause market a but that's actually what my original background and public relations wass I did public affairs and issue advocacy and I was ou...
t there actually helping to influence legislation by communicating issues to people through the media so if you're an organization that's caused base if you're a non profit or if you're starting up a social enterprise and what you really want to do is raise awareness for something that's important or actually support you know some legislative efforts. Pierre is a great way to do that and it's a really powerful driver and like that's where I got my start and I have a lot of passion for that part of the business you can also of course promote your product or a product line so and public relations you know we have another program in the catalog that's called simple pr for your product and it's all about taking thes approaches and honing in on specific strategies to promote your product but here you're going to have the tools to do that in a large way because you could take these approaches to find you know if you are designing coasters if you're deciding if you're taking photographs right how is it that you get those products out there and find those opportunities will be talking about that too your services so public relations is great for people who are coaches, consultants, experts, personal chefs anybody in a service industry because you can get your thoughts and your knowledge out there and it's a great way to try people back to taking our services and then an event so if you have a launch coming up if you have a local event happening or even an online event you can use pr to organize efforts and drive press around that event and get some excitement about about it posted a question they're actually a wordsmith they actually write blocks that's their services except I'll be going to be covering how pr helps them in this particular course yes so if you are a wordsmith that is a great question what I would recommend to you is that you can focus in a couple of different ways so I'm assuming you're looking to get more clients to their public relations that that would be your goal so some things you could do is give people tips on on what they want to be doing with her um with their messaging or with their promotions and then you can promote yourself our pitch yourself program that's in the chorus got alive we talked a lot about contribution and guess post opportunities and that is something that I would really recommend for you doing online contributions on online magazines or on websites where your customers might be going to get some ideas and then you can write that and then you're the author and they can link back to your site if you also have insights on communications specifically that's another way to do it so absolutely this completely applies tio anybody with you know an idea or a product to get out there we can we can find something for you give that question so we're gonna start is what message do you want to be putting out there? What is the message that you want to be putting out into the world and we're gonna be doing a little bit of hot seating and workshopping on this so before we do that before I put you on the stuff out and ask you specifically your messages I want to give you a couple of examples so this is mega nam and this is her home page and meghan ahman has big bold jeweler effect you can see I'm wearing her hearing straight now and whatever rings a mega norman's message is make a statement every day megan is about having jewelry that makes a statement that elevates how you've feel on a daily basis that makes you feel very confident so meghan is a jewelry designer but her her message is about making that statement that's what she wants to put out there whenever she does public relations she wants it to be big she wants it to be bold she also wants it to be high quality so those are all kinds of things that should be looking for him tear it in silly who are going to be hearing from she has a statement to her messages there's a better way to run the business your way so she's out there there's a bunch of coaches and consultants talking about how to run your business better how to make more money and terry gentilly is coming out there and saying unlike most people who are going to give you a road map I'm going to show you how to create your own I'm going to show you how to follow your own map and this is the message that terra organizes her public relations and all of her outreach and all of her interviewing around so that she can get this message out there in the world that's what she wants to be known for here's my message so this is ahh shot of the home page for my agency web site b r what you're all is b think forward dot com and I really want to be known for having innovation and public relations so pr is an industry that typically has you know, a lot of hoarding of information there's a lot of gate keepers who are trying to say you know, keep to themselves like you need to have contacts that's one thing people say you need to have our contacts so you can't do pier on yourself because you don't know how to reach out to that is not true I mean I am not going to see it up here and tell you that if you know the right person to call and you've talked to them you pick up the phone that that doesn't make things easier but at the end of the day it's about your story it's about the story that you're giving them because the media journalists a reporter, a blogger and editor a producer they have a job to do and that job is to create content so if you're gonna help them do that and you're gonna be giving them content it doesn't matter about the context you have so for me it's about having innovation in public relations it's about democratizing the information which is what we're here right now doing a creative live getting that out there so that's one if I do any kind of pr outreach that's what I want to be known for so how do you sussed that out because it couldn't can be a little tough so I wanted to give you a few prompts on defining your message on figuring your message out so you can either put this in your workbook it should be in a page in your work but for this lesson seven awesome thank you so you can follow along in your workbook and to find your key messages there or just put it into a notebook you know you don't have to have the workbook we have all the questions here so the questions are first what are your favorite customers looking for when they first come across your business and let's pause for each question? So what are your favorite customers looking for when they come across your business? Who wants to volunteer an answer on that one on nash I have a lot of people that are coming to look for a great gift idea awesome that is such a good one because gift guides are such a great public relations opportunity in terms of organizing your efforts so you can then decide ok am I gonna organize my peer activities around holidays and I gotta organize it like what kind of gifts you know is it christmas is it mother's day you know where is that so that's a great one so definitely it's a good place to go there any other ideas on what customers looking for my customers are looking to live a more feli creative life perfect perfect so you know what they're looking for and you can kind of get into their heads a little bit there okay great what are the main reasons people buy from you so people come to you they're looking for something they're looking for a gift they're looking for a way to do a creative life so what is it then that makes them leak make the leap and pick you my clients say that it's because of my personality it's a fun experience I make it very quick so husbands aren't bored and wanting to get back to the football game on dh they get really beautiful images grace you've got to there I think you've got that they're buying from you because you're quick and that you know they're not having to take too much time other busy lives because you're focusing on family he's like family photography they have a lot of priorities so that's definitely something you can put into your messaging and then of course that you're capturing that moment you know that's very important to people my customers buy for me because they resonate with my message in my personality, and they can identify with me. They see that I could identify with them. Okay, have you less have you less? What would they identify as unique about what you offer? So people a lot of the time tell me like we chose you like to go with you go with your company for your ideas because I think I think big from the beginning and because of the way I work like I can offer like the most solutions and they see that you know that I'm not thinking now reminded that I'm so I hear that a lot like you had the best ideas that's what this with people in saying that's fantastic because you're showing a unique positioning like you have this really great understanding of what's happening in the market around you and where you're a little bit different and that's such a great place to approach your messaging right it's like where what what are people coming across and what's that point of differentiation that you have you know we talk about positioning or what's your unique value proposition and things like that it feels so complicated right? This isn't easy questions are exactly bringing you to those kinds of responses but instead of thinking about it from your perspective it's really important to put in your customer's shoes because like we've heard everybody wants to reach more customers and sell more products that's so important to get into into their heads wait till you have your hand I just sold some some illustrations on products for valentine's day that's um agent scott for their special ladies because it was personally meaningful to them so I've heard that wonderful so the illustrations it's something that's a kind of customized vallon your tea of the gift angle there too which is a big one that's a great one yeah one of our later lessons we're going to be massaging these a little bit making them a little bit you know, sexier and spicier but it's so important to ground yourself right now and what it is that people are looking from from you what your unique position in the market iss the last question is my favorite question which is is there any conventional wisdom out there that you're seeing that you'd like to riff you? So what are those things that you know when when you're reading reading a block or if you see it on the cover of magazine or some segment happens on the today show and you catch it while you're getting ready in the morning that just there in your area and they make you so like you get so annoyed ten you're like I'm ready had that digital images last forever you know some people upload their pictures all year long for the last you know, three four years of their family and if facebook closed their doors or something happened to their servers, all your photos will be lost so I very much believe in printing images and even, you know, hard drives fail and us bees failed and I have several backups because of that and people just don't think about that they save it in their phone but then they'll never see it or their grandchildren will never see it that is that is great like because there's something that you see is such a trend right all of all the articles on you know how you can you take all the photos in your iphone in heaven forever and use my photo on instagram and all that and you can come out there and say hold up wait a minute like there's a reason here for printing these off it's not just to put him in an album but you know then you're gonna have it forever that's fantastic what else who also wants to refute conventional wisdom yeah um uh coasters are boring I don't think anybody's blogging about that but uh I think the closer is gonna be really exciting especially when they're custom because you could put moments that are really important to you and then you have them around and in your space every day so it's like you could have a photo of your child on your desk at work or a picture of your puppy it makes you smile so there are all kinds of exciting things that we can do with them even though they're like there's these kind of fairly basic and functional objects. Yeah, you know something about that that I was thinking that might be worked really well with the media is that there's this idea of like you know, you put your glass in a coaster. It gets all muckety muck to write. It just doesn't feel like, um, something with a lot of value, because you know that maybe it could get damaged, a ruined or the cat could swipe it off the table. I have two cats. That's the one that I feel a lot so looking at that too and thinking about how our people relating with your product and usually and how can you change that that's another great way anybody I loved to hear these things that people want to you know break apart these conventional kris with a k has been very forceful they're saying I am all over refuting conventional wisdom this is where my whole message comes from because I hate the people women in particular feel like their voice isn't important or valid but they should write a cz though they are someone else and it makes them mad and what I can't read that word but they say they tried to rifugio keep it nice in the come on but it's a powerful statement it's right? It is such a powerful statement and when you have those passion moments that's where you know that you know this is something that you are moved to be out there saying and you know, sometimes we hear from people saying well, you know I'm not the only one out here saying this right like I'm not the only one out here saying that women should have other voices cheryl sandberg is talking about leans in and all these other people you know are coming at it from these unique angles but what you have is you have your passion and you have your own unique way of bringing it about there and there is enough room in the media for all of our voices. There's enough space in the media for all of us especially now that there's so much online media I mean sure, a magazine you there's only so many pages and there's only so many issues in in the year but when you look at how many tv segments that they need to fill nationally locally when you look at how many newspapers they need to put together and how much how hungry they are for online content there is space for all of these messages to be out there and when you lend your voice was something that you're passionate about in this way you were just helping your brothers and sisters in the movement, right? You're lending your voice and uh this is actually why I got into this business of training people was to help get more diversity of voices out there in the media because, you know, traditionally you've had a lot of people going into the media who are big corporations, powerful people, big budgets in hiring publicists and feeling like they get to have their voice and the rest of us feel really stifled and it doesn't have to be that way I mean, you can go out there, you can put these messages out there and we're going to show you exactly how to do that. I'm going to give you the tips and techniques for it, but I really want to encourage you, but if there's a voice in your head when you're writing these down that you know it happens it happens to me you know I see it up here am I really going to give something of value today right? We all have that voice and you can just you just do it anyway you know you set it aside and you say no this is important this is what I'm really passionate about or you can go back to his first promise this is what people are coming to me for they're coming to me for because there is a desperate need a desperate need for this okay I'm pretty passionate about that feeling pretty emotional I'm really excited to hear all the messages that you have out there and I want to say because we've been talking a lot about people who have these admission based messages but we heard from tash you know we've heard from people also have products and that's important too and I think that there's something that could be over thought and overwrought when you think about what is my product you know what is my customer coming to me for its okay if your customer is coming to you for something beautiful that has value teoh right it's ok they're coming to you for something beautiful it's ok if they're coming to you for something totally functional utilitarian that makes their day a little bit easier, you know? So um definitely like all of those the message of what your customers coming for you for and what you want to be known for they're all valid and they all have value and we're going to get get you there were going to show you how to get those out there so if there's anyone who wanted to do a little bit more work on picking bridget you want to come up and we can work on what some of your messages might be awesome that'd be great because this is such you know such an important topic I know we've been talking about it a little bit but this will be the foundation of your program so I just love to kind of work with you I know you've been writing as we've been going here on you know what some of those messages might have been and and what it is you want to be out there and known for him we can workshop them a little bit so tell us again you're a personal shaft just really quickly for people who are just tuning in now so I've been a personal chef for the last ten years and I'm doing meal planning and my next big thing is doing personal chef business coaching great great that is so wonderful so tell tell us what our people looking for when they come across your business you want to focus on the coaching or on the I want to focus on the coaching okay rain so that's one thing I want to call out if you have a couple of different priorities in a couple of different audiences it can be helpful to do this for each of your audience is because they're gonna be looking for different things and you want to focus your prayer program on a very specific customer base that you're trying to reach okay I think they're looking for expertise and knowledge and just answers to their questions on dh maybe some inspiration on how to get there what are some of the specific questions that they might have the two big things are meal planning okay uh just what to cook for clients that keeps in the fridge for a period of time so really practical kind of questions they learned through your experience that for your experience to help them exactly great yes and the other thing is uh pricing and uh how to get out there with clients who doesn't have that question e oh yeah so that's really valuable so is you're putting your messaging together then I would definitely focus on you know how can you get that out there and let people know and in the next lesson we're gonna look at building a media list so we'll have some techniques for using these that okay great like imagine somebody has come and you've just launched what do you think it's going to compel them to make that decision? Um what do you think is going to compel them to make that decision well they can't find it elsewhere because nobody else is really doing it okay okay and I have I've put a lot of effort into my branding so they look I think they look at my website and they're like this is kind of where I want to get teo how do I do that so across the board I mean they're coming to you from expertise you're projecting expertise to me is that when you do your pr program it's definitely all about then getting that expertise out there and just demonstrating it right it's trading at which should come really naturally because it it falls in line with everything else that you're doing in her positioning exactly that's really great and you said there aren't other people doing this in the market so one thing that could be helpful is when somebody starts becoming a personal chef just thinking about what are they usually finding you know what is out there that isn't really serving them that could be a really great way to look at what you're doing to what do they usually find out there tina not I need to do more research into this but there's there's a couple of books on the subject and then there's the personal chef association but they're I mean they're training feels a little outdated and appeals to a way different market that I'm appealing teo so I'm actually the same when public relations if you look at a book on like how to do pr there's just not a lot of information and they're scary stories that are like that that they really hold on tight to their information other people have the opposite issue where there's a ton of information out there and so again it's what is it that people come specifically to you for what are they saying to you if you if you deal with your customers one at one or if they e mail you what is the language they're using can be really helpful here exactly okay great so in your messaging you definitely want toe play up that you know I have this solutions and the answers for you and just pick a couple of those different points then that you want to be focusing on your program what what do you think that two or three messages that you're going to set for your I put just uh becoming a business expert in my field because I don't know is that a message well for them it's really that like going back to the very beginning I think you had it when the what are they looking for when they come across your business so your messages should be answering those questions so you want to have articles out there that are like, you know, what ingredients last longer you might find it media outlets that talk to people who are cooking her looking for this kind of guidance. What media outlets are doing that, and then you can give them that practical knowledge. So just focus on those two or three things that you're getting questions with all the time. Perfect. Okay, all right, okay, great. Thank you so much. Awesome okay well I hope that that was helpful to see a little demo on on how we do that there's a lot of promise for you to think about um I also have this tool that I've made available for you it's a free tool you can get it be think for dotcom simple pr and it actually helps you remix the content you already have so this tool is specifically for people who have blogging for a long time or have been emailing people for a long time there's a lot of great content in your archives that you can actually repurpose so if you're already creating content if you're a copywriter and you've been writing for people for a long time right you have content that you can reuse and there's a couple of extra pumps in here about specifically how do you pick those pieces that you can remix and how you do that so I just wanted to share that with you so what I'd like to do now is talk about you or have you write down what is it that you want to be known for so write down one two three things that you want to be known for thinking about thes prompts letting them sit through we talked about the very beginning about you know sometimes you want to let this in your subconscious so maybe you know is you go to bed tonight after listening to this you'll wake up tomorrow and you might change something on your list that's okay but this is gonna be a great benchmark for you as you're starting a plan your program on what your specific media outreach is is to go back to so what are those one two three things that you want to be known for anybody have just like one thing that you know we want to stand out for chair rachel humor translated individuals humor translated into visual so tell me a little bit about that what is that what does that mean just things can be so serious in the illustration and design world people can take themselves so seriously and I like it when things are funny I love I want to bring that so what people are finding out there is that you have to be really serious you have to really probably focus and directed and you're to be taken seriously I want to be taken seriously but I wanted to it in a funny way you like but you know you could have fun with I believe that you can have fun with it I love it I love it great any more from the online audience they want to be known for yes artisan sanders shop is saying I want to be known as a high quality hand maker of personal wear on home decor brock closeness saying I want to be known for avant garde unique fashion photography and sean design life is saying well, and I'm sorry. I misread that. Reggie scorpio is saying. I want to be known for making exceptional jury with first class customer service, some really good gold. Yeah, these are all really a fantastic.
Class Materials
Brigitte Lyons - Blogger Outreach Bootcamp.pdf
Brigitte Lyons - Pitches That Worked.pdf
Brigitte Lyons - Workbook - Simple PR for Creatives.pdf
Brigitte Lyons - Brigittes Fave Free Media Resources.pdf
Brigitte Lyons - Magazine Contact Cheat Sheet.pdf
Brigitte Lyons - Simple PR Course Syllabus.pdf
Ratings and Reviews
This is one of the best CreativeLive classes I've taken. I knew nothing about PR before this class and after taking it I was able to send my first pitch within a week. If you follow along with the workbook provided you really can come up with a pitch template that can can be tweaked to work for just about anything. I really appreciate how simple and enjoyable Brigitte made this class. No fluff, just great straight-to-the point actionable information. It's obvious she cares very much about helping creative people use PR to grow their business. Thanks Brigitte!
I honestly started watching this class thinking that I didn't need PR for my business. I know Brigitte is super smart, and I wanted to check out the live stream to see if I could pick up any tips for my own clients. I was so wrong! I loved this! Within the first 30 minutes I had taken so many notes and gotten so excited about the possibilities- that not only seemed helpful, but relatively easy and FUN- for my business. I ended up purchasing right away and I know I'll be referring back again and again. Thanks for the great class!
What a terrific, informational and inspiring course! We now have a solid plan to move forward with our PR, and the know-how to accomplish our goals, only 8 hours after logging in to CreativeLive! Thanks in advance to Brigitte for making the murky world of PR crystal-clear and accessible. Best wishes, Lori Covington, Writer, Jeanette Walker Jewellery, Prince Edward Island, Canada
Student Work