Design Your First Campaign
Brigitte Lyons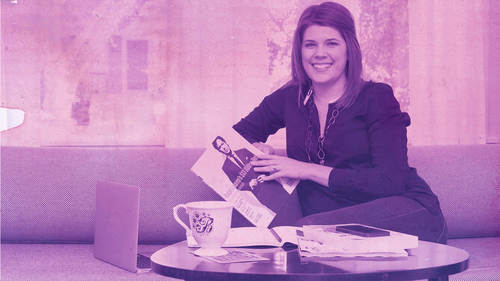 Design Your First Campaign
Brigitte Lyons
Lesson Info
10. Design Your First Campaign
Lesson Info
Design Your First Campaign
So we want to start right now with designing your first campaign. So we've been talking very generally about all the kinds of media outreach you could be doing. But when you're designing your first campaign, it can be very effective to have an organizing principle, right? It's How else do you know, like which of your messages you should be getting started with, or which of your products you want to do first? So it's generally easiest to organize your peer efforts around a specific product launch or a seasonal tie in. When you're getting started with public relations, When we're doing really simple PR outreach like we're talking about here, it's absolutely easiest to think about. I have a product launch coming up, so I want to do appear, push around it, or maybe I have a seasonal angle that I can use. It has a really natural fit because, as we learned from Katherine, the producer, the media is looking for things that are very timely that are trending with other topics that you're gonna ...
be finding in the media. So we're gonna look at that. Some considerations for you to be thinking about is you're doing this our that Our magazine lead times. So we looked at magazine media kits. But I just want to reiterate this. It's so important when you're reaching out to a print publication. They have to have time to put that content together, to copy, edit it to send it up to the printer and then send it out for distribution. Right? They've got to put those magazines on trucks and send him out to stores so they have a long lead time for when they're actually preparing content. So generally, I say six months is safe for most consumer magazines, which means that if you're gonna be pitching consumer magazines, you might even want to think a little bit further ahead. So you're not scrambling at the last minute. So one way I like to think about this is holiday. You know, a lot of people want to do holiday stories. Holiday stories generally come out like gift guides in November, and so if you're planning a campaign around holiday, if you're gonna dio maybe a bunch of pitches that you really want to get a gift guides, you want to start that outreach in June, right? You want to start it ahead of time so that you can actually meet the deadlines that the editors half other kinds of outlet. Let's like online media or even the sites for magazines or TV. We've talked a lot about breaking into TV or newspapers. You're generally okay with 1 to 2 months. One month is all you kind of need there, but two months gives you enough time to pitch them and follow up. So that's what I recommend. Eso those air, some good guidelines. Is your thinking about what is that first campaign you're going to dio? Because you also need to a lot time for follow up. That's really important. Part of your media outreach is not just sending the outreach and but also following up with the journalists you're reaching out to. So with most being outreached just Serie A, the reiterate this you can expect your coverage to run 1 to 2 months after your first email an editor blogger podcaster again. This is different for print print magazines that had this long lead time, but in general, any other kind of pitching you're doing, you can expect it to run 1 to 2 months. So when you're planning your first campaign when you're deciding what it is that you want to be pushing first and organizing around the product. Launch seasonal tie in whatever you decide. Whatever is coming up, just know that you're backing it out this far ahead. It always breaks my heart. When somebody emails us and says, You know, we want you to work on a campaign for us and it's just a month away. It's just not enough time as a professional. I can't even get it together that fast. So I don't want you to be in that position where you're missing an opportunity. That said, If you do miss something, if you're going, Oh man, like I wish I were pitching Valentine's Day and you're in February and you're wishing you had dealt a Valentine State story or or a couple story Put that on your calendar for next year. You know, you can put that on your calendar and remember that you can go back to it and just put it a few months ahead that you should start planning ahead for it. So I actually wanted Teoh bring somebody here today who is running a business who isn't doing this full time like I am somebody who is a working designer, a working jewelry maker or working artists So she can tell you how she does this because I'm in the business, right? This is my full time job. So it's easy for me to say, Plan out your PR outreach, but you know when you have other priorities and might be a little harder to think about how you might organize that.
Class Materials
Brigitte Lyons - Blogger Outreach Bootcamp.pdf
Brigitte Lyons - Pitches That Worked.pdf
Brigitte Lyons - Workbook - Simple PR for Creatives.pdf
Brigitte Lyons - Brigittes Fave Free Media Resources.pdf
Brigitte Lyons - Magazine Contact Cheat Sheet.pdf
Brigitte Lyons - Simple PR Course Syllabus.pdf
Ratings and Reviews
This is one of the best CreativeLive classes I've taken. I knew nothing about PR before this class and after taking it I was able to send my first pitch within a week. If you follow along with the workbook provided you really can come up with a pitch template that can can be tweaked to work for just about anything. I really appreciate how simple and enjoyable Brigitte made this class. No fluff, just great straight-to-the point actionable information. It's obvious she cares very much about helping creative people use PR to grow their business. Thanks Brigitte!
I honestly started watching this class thinking that I didn't need PR for my business. I know Brigitte is super smart, and I wanted to check out the live stream to see if I could pick up any tips for my own clients. I was so wrong! I loved this! Within the first 30 minutes I had taken so many notes and gotten so excited about the possibilities- that not only seemed helpful, but relatively easy and FUN- for my business. I ended up purchasing right away and I know I'll be referring back again and again. Thanks for the great class!
What a terrific, informational and inspiring course! We now have a solid plan to move forward with our PR, and the know-how to accomplish our goals, only 8 hours after logging in to CreativeLive! Thanks in advance to Brigitte for making the murky world of PR crystal-clear and accessible. Best wishes, Lori Covington, Writer, Jeanette Walker Jewellery, Prince Edward Island, Canada
Student Work