Find the Right Contacts
Brigitte Lyons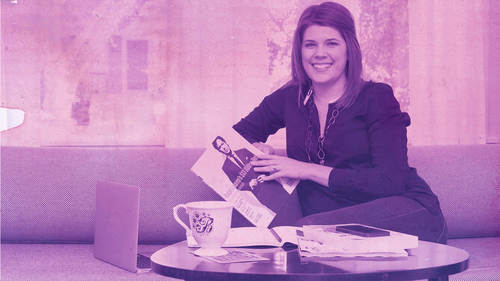 Find the Right Contacts
Brigitte Lyons
Lesson Info
12. Find the Right Contacts
Lesson Info
Find the Right Contacts
Now we're gonna take a step back and go back to our media lists. We keep circling around these media lists that we're building, and that's because, as I hope you're seeing that the more information you have on how you structure your your campaign and the more information you have on how to do this simple PR outreach, the more you're able to build a better media list. And this is so important because if you haven't noticed, I'm really about build building very focused intentional lists. This is not about pulling AH 100 context out of a database, sending them all a mass email and hoping that one fits right. It's about reaching out to the right people. And when you launch your PR campaign, it's important to remember that you're not sending your story ideas to a media outlet. So we've been talking a lot about specific media outlets. SF GATE Real simple. The kitchen specific media outlets that we want to reach out to. But at the end of the day, you're actually sending these ideas to a perso...
n a human right. One individual is getting that email that you're gonna send to them or if you pick up the phone and call them, or if you send out a tweet, there's one person who's on the other end of that. And so it's important that you do a little bit of research and try to figure out who that right person is Now. I will say there's a little bit of trial and error here, so sometimes you'll get the right person right off the bat, and sometimes you'll send it to somebody and maybe it doesn't work out and you have to find another person. That's okay. It happens to us. We do it too, so you don't have to worry about that. It happens all the time. There's no harm and sending it to the wrong person. But the more you can hone in, the better you are gonna be and getting results. So what I want to do is share my process with you of how we do this work, and then we're gonna go back to the Web and do a little bit more research. So we're gonna actually be finalizing your media lists right now. We're not gonna have to come back to this. We're gonna have a final media list for you that you can pull together with this research. So the first step finding that relevant section So you have a media outlet on your list. You want to take one specific media outlet, and the first place to go is looking at that section. So we talked about that. You know, how do you figure out what the different kinds of sections the media outlets cover go there and find if there's a particular column or feature you'd like to break into? Ideally, you've done this already. Step to look for similar articles. So you want to look articles that make you say that should've me articles similar to the ones you won't be featured in. And the first thing you look at this article is. Is there a byline? Is there the name of the person who put this article together? If there's a byline, Great. Oh my God, this process got to be so easy. But there isn't always a byline. So if there's a person's name, you want to take that down and put your media list. If there's not, then you just want to continue looking a little bit. Are there other articles So look at a couple of other articles and see if you can come up with a byline. But you don't go down the rabbit hole. Don't spend five hours on this or even, maybe an hour on one outlet. You know, you want to kind of get a quick gut check here. You don't want to spend all your time on this rabbit hole. So what we can do there is say, Okay, we know what this section is. Well, most media outlets will have their staff listings. If you pull up a magazine, it's called a masthead. Weaken Google, one of those on a website. There'll be a staff listing and you can look and see who is the associate section editor. So if it's a fashion story, who's the associate or assistant fashion editor? Why am I saying associate or assistant? Any guesses? Why not go straight to the fashion other doing all the work to get the information to the editor? I'm assuming exactly they're the ones sourcing the new ideas. So the person who is at the top is really looking at the whole package. You know, say that this is a magazine and there's our workbook, and there's all these different sections. So the assistant is the one who is pulling together. Okay, what are we going? What are we gonna put in Segment three, Right? This the assistance, the one who's putting that together. And then the person at the top is looking at the whole section together, or the editor in chief is looking at the whole thing. They're not actually sourcing that product or those ideas. That's great. Awesome. So in general, too, it's not just magazines, you know, if you go to an online site, it's an assistant online editor assistant producer. So you just want to make sure you're going to the person who's doing that work, who's doing that like work. So here's actually a little bit of a cheater cheat sheet for you on on those contact names pulling together. So we have assistant section or market editor for Consumer Magazine. So a market editor is a very special person in the magazine. Who is the person responsible for pulling together content for product roundups and gift guides. So if you want to be pitching holiday gift guides, if you want to be pitching a specific kind, of Producto around up a market editor is the great person to reach out to, if there is an assistant, even better, an online section editor. So these are often people who accept contributed articles. We work with a lot of people who we find that contributing articles to something like entrepreneur or fast company or success magazine is a great way to break in and get your ideas out there. And often you'll go after an online section editor. So if they haven't online version and another kind of format, that could be a great person to reach out to an associate producer, our booking producer. So these are the people who are on the lookout for segment and guests ideas. So earlier we talked to Catherine, who worked with NBC. She was a producer, so you want to look for somebody who would be working in that position. Or sometimes you'll find somebody whose specific job title is booking. This also applies to radio radios will booking, and they're the people who bring talent and bring guests on his shows and then a reporter, a fleet freelancer. So these are the people who are putting actual, you know, individual stories together and writing the stories. So if you're pitching yourself, maybe to do an interview or to do a larger piece of a story, or you wanna introduce yourself to somebody our reporter, a freelancer is a great person because they're looking for story ideas relevant to their area of interest and these air cold beats. That's the jargon for that. So the beat means this is the area of interest that they're covering. Um, freelancers are actually wonderful when you could come across them. So if you find somebody and you realize they're not part of the staff here, but they're writing for a bunch of media outlets, Wow, you've just hit like a pot of gold there because you can pitch them idea, and then they can actually go if they like it and take it to different kinds of media outlets for you. And they get paid when they place their ideas right when they place their stories. That's how they make a living is pitching these stories and in placing them, so it's really in their best interest to work with you and get this story out there so they could be a riel ally to you and you know you don't have to pay them. They're not like a publicist. They're getting paid by the by the magazine or by the website, who is looking for people to create content for them. So freelancers can be really great when you find them, and the last step is you want to qualify. Actually, second last up, you want to qualify your content. So, like you found somebody in a staff lifting listing or you think you've a good name, just do a really quick Google search and make sure it's not a one off story on that topic. We're not doing a one time thing, and they have a couple of stories in the area. I know this sounds long, but when I show you, I swear it'll go fast and in the last step is to find their email address. So there's three ways to do this. You can find it on the website of the media outlet you're working with. Sometimes you'll just hit jackpot. Some media outlets. Wired magazine is my favorite magazine, and next to every story they actually put the email address of the person who's put it together it's kind of rare, but when you find it, how great is that? Your life is so easy. You can also do some creative Google searches. You know, you can try to find their name and do a bunch of searches into a bunch of research, and you can yield something that way. We all know how to do searches, so I'll leave it at that andan. The last thing is, we have a free R S V P bonus. So when you're watching this course, there's a download that you can get, which is my magazine, Contact Cheat Sheet, which has the formulas to put together email addresses for 100 different magazines. All you need is the name of the person that you're reaching out to. There's one thing I didn't put up here, so I do want to mention it that if you can't find something by googling it or on their website, if these other tools aren't working, you can. If there's a phone number, you can pick up the phone and call and ask. And I have had so much success with this calling like a newspaper and saying, Hey, can you give me you know Jane Greens, email address. And usually they will Usually the people who are running the directory Well, yeah, go ahead. In fact, if they say, Oh, let me connect, Connect, you say, Oh, no, thank you, because you don't want to be pitching them on the spot at this point, you haven't put your pitch together. You're not really ready to be selling your idea for them. So you just say, No, thank you. In fact, I really should be doing this. But I've had been in positions where they said, Oh, let me connect to you and then I can't say no, thank you. And I hung up. I hang up really fast, so don't let them connect you. Another thing that's really, really sneaky, really, really sneaky is sometimes, if you call like a magazine or if you're calling like online like let's say you want to pitch some like a Gawker Media kind of pay or The Huffington Post and want to get some of these email address and you can't find any information. There's always a phone number in their advertising kit and the advertising context. You don't really want to pitch them. You don't want to talk to them, but they have access to the staff directory. So it's a little rude. Maybe, but we got to get that job done, and they're making it hard for us. So those, like those are, though the places of last resort. Okay, these other techniques can work. So I thought we would dio a little bit of work on the web. And I'll show you actually, how you do this process and how it sounds long when I describe it. But when I show it, it's a lot easier to Dio. So who has a media outlet that they want to do a research for it and see if we can find a contact? Bridget, I know you've been up. So is there anybody else who wants to do a little media research first? And if not, we can bring you up again. Gen Okay, come on up in my sins. Great. I can stand to actually. Yeah, Yeah. Probably feels good to see an effort sitting for so long. Awesome, Jen. Okay, so let's start out by letting people who are watching. No, You know what it is that you dio what it is you wanna put out there, and then we can talk. About what? Media outlet. So I'm Jen Vasquez with Jen Vasquez photography. And the message that I want to get out is that Mom's should be in pictures, and you should print pictures because your grandchildren and great grandchildren someday are gonna want to know what you look like and be able to see their family. And we're gonna look back probably 20 years from now and say, what happened to the pictures in the two thousands? So, um, so those of messages I want to do And I'm very interested in, like, parent magazine or parenting magazine or were working woman online or print. Okay. So we can just pick pick one of those if you want to start with, like, I don't working, mother. Sure. Okay. Perfect. Now, I you know, we've pitched working mother, but I have somebody in my firm who does this work. And so, you know, I don't really know what we're gonna find here, So let's see what we find. So, you know, what we're gonna do is we're going to go to their website, and then we talked about trying to find the right section. So Working mothers website is a little weird. It has this at home at work that's actually their navigation. So sometimes it's hard to figure out. And where we want to go to the navigation and figure out, you know, which section do you think he would? I want to try out. It may be holiday and seasons around. You know, the holidays or Mother's Day or could pay family time. Really? One of the family time or gift guides would be different. Oh, I see how the holidays. See, I didn't I'm just thinking that might be sure. Easier when? Okay, And then what I do here is just do a little bit of scanning. You know eso here. There's a lot of gift things. Family. Valentine's Day is coming up Holly to core. I think you're look remotely like maybe we'll on the Tom the left over there. I have something that I put together for my website, that six tips to taking excellent family photos, and that's pretty clickable, pretty so to see all the steps on the left side, I don't know where that comes from, but those that's the type of things that I typically. Right? So I see you're, like, tips around for things like that. So I don't know where. I don't know where that's pulled from, so I wouldn't know. Yeah, those were gonna be there. Featured articles. You know, another thing we can do is just say, go into their search and let's just go family for search family photos and see what comes up. This is where you know you just God hears those, like, Internet research skills a little bit. Let's see these air photo listings. Um, back to school. Photo contest rules. Holiday photo cards. This is some good. Maybe. Yeah, maybe. OK, because I know you also new products, right? With your so this could be great. Okay, so here you go. We have a holiday in season 10 holiday photo cards that make us happy. Beautiful, personally is cards to family and friends. So we're being around up with some of your photo products. Be appealing. I know that's not where we kind of started, but no, but I can partner with the coast dramatic and talk about putting those photos on products. Awesome. Perfect. So so then here we also have, you know, Irene. Her name is here in the byline. So what I would do is just copy this and again, Just take a little bit. Says edited by her. Whoops. All right. What does that mean? Edited by her? It means she didn't write it. Or Yes. So sometimes you'll have editor who is listed. Sometimes it's the writer. So editor is just the person. They're They're a step above on the totem pole. We've got a name, and we just want to see what else she does. Of course, we picked the slowest website on Internet. We're here. Live working moms. Okay, so we have profiles. Here we go. How s you can even see other. Any crowd at a crafts. So it looks like she does a lot of kind of at home sort of stories and things you could do with a family, which is perfect in right in your sweet spot. Perfect. All right, so we don't have anything more about her. No, I think this is gonna be a general. Let's see, email. I'm not gonna click on that right now because I don't know. No, no, no. But it could you know, we'll see e I e. I would look there. Bottom line s so this is the person that I would want to find the contact information for. So I scroll down to see in their about sections. They have a list of their editorial team. Devon ever even saw that? And they're about So that's right. Go. Now you see their general contact information. So generally speaking, I don't advise sending it into their info or their emails at, you know, kind of address. You want to try to reach out to a specific person. They also have different people in here and what it is that they dio. And they do have names and email addresses. We really just hit the jackpot. I can. Irene was her name, right? So? So Irene isn't on here now. I don't think that means you wouldn't necessarily pitch Irene, so I don't want to keep going with us, but I think her and see, You know she a freelancer? Does she really work here? If she's a freelancer, that's great. Um, but what you might want to do is look at their look at how their emails are. Kelly Daily, Kelley dash daily dot daily at working mother, um, Kristic, her others. Krista, that brother is a working mother. So how would you think that her email addresses work? First name dot Last name at working mother. So that is absolutely where I would start. I would take that person. I would send it out to that email address and see if that pitch goes through. If it bounces back, I might come back and just pick one of these other people and try to try to pitch them. The other thing you could always do is you could tweet them. And you could say, Hey, are you the person who does stories about Great, you know, and see if you can make that connection with them on Twitter. And would you do? And I meant to ask this earlier too. Would you do a private Twitter message or Ah, no, I really wouldn't, because, Okay, they have to be following you to do a private anyway. OK, so they have to follow you back if you're gonna be doing a private. So that might not work. That's your first contact. Yeah, Hurt. I just caught my eye. This might be the Boston sorry. In the about us. There was also no way, Right, right to the bottom, All the way to the bottom Where you family Sorry that they write to NPR Guide. Yeah, so this is great. So there. I'm so glad you caught that. Because a lot of websites will have this where they'll tell you specifically what their guidelines are. And sometimes it's at the bottom. And sometimes if you search it So, like Forbes is an example of Forbes, their leadership section has actually I'm written a couple of articles and what they're looking for if you want to contribute to them. So they will tell you really specifically what they're looking for. So they talk about, you know, they don't assign futures to freelancers. Do you actually know here that they're not doing that? Their columns, air staff written email, your queries in your pitches to the cracked editors. So here there, this is amazing. They're giving you example of the different kinds of pitches that you're going to different people, the person quake and the person to email as well. Yeah, and the person eating mom and kids fashion. So here we go. We found something even even better you find this, I would say 10 20% of the time, right? It's where it is a little bit more rare. So we really picked a good one here, and I'm I'm so excited for your eagle eyes. Take us picking this up here. It obviously also says that this is a great resource for you, Jeff, because they're encouraging people to contribute, actually reach out. Exactly. That is such a key that they want people to reach out. And there's a lot of sites like that. We've worked with women 2.0, they have contributed or guidelines, and they tell you specifically how they want you to reach out to them. Now there's a little area here where sometimes will, say, editors at working mother dot com. So if you reach out to a site, they might say, send it to this email address instead of to a direct person. My rule of thumb is if they're a smaller website, where you think they have a smaller staff. So if it's a block that has one blogger, author or maybe they have 10 different people problems directions because these people are just managing their workflow. If there are bigger media site, and they might have, like 100 people on staff. I do think it's better to try to find the right person and the right email address because they're getting so many emails there. And really like when we heard, you know, early from Katherine, she was like, Find the right person, send them the right pitch. So there's a little bit of a judgment call to be made there. Thank you very much. So welcome. Great job, reach, job. So that shows you just how simple it can be. You know, this is one of the biggest questions that I get from people is how do I actually find that contact information And often the media outlets you want a pitch will actually tell you they'll just straight up and tell you. And if they don't, you can do a little sleuthing. So we've actually seen both of those approaches at play in this in this lesson. So what I'm wondering from you are do you have an idea of some on your media list? What? Some of those titles you might think are that are relevant to you? Just what you know about what? The job titles. We went over what might be some of those job titles that would be relevant. Tush. Now, about market editors, that's super helpful, cause, you know, I've looked for, like, trying to figure out who edits gift guides before not knowing that that term. Yeah, that it's indoors. That's an insider. One for sure. For sure that you find out Rachel art director, maybe editor, maybe market editor would be relevant. I'm not sure, Art Director. So when you find that kind of person, they're usually in the advertising department. Um, now you do illustration. So, you know, there are people who are photographers and illustrators, and they want to approach it in a different way. They want to be hired right for their illustrations. And so that would be somebody that you would reach out to their. But if you want them to cover, you want to stand the editorial side? Okay. Other truck side of the divide. Definitely. Online section editor on and associate, our booking producer. Um, if I want to get well, actually, I don't actually know that that would be That's for radio or television, right? Which one is that associate or booking producer? Yep. That's radio and TV. Okay. No, I'm thinking more podcasts. Yeah, the podcast is usually you're reaching out to the podcaster directly because they have smaller staff. And that's a case. Or if they say, a general email address, You know, you know, there's a, like, a couple of people checking that. So they're just trying to manage what they're getting in, and they're a smaller staff, and I do think you should respect that as much as possible.
Class Materials
Brigitte Lyons - Blogger Outreach Bootcamp.pdf
Brigitte Lyons - Pitches That Worked.pdf
Brigitte Lyons - Workbook - Simple PR for Creatives.pdf
Brigitte Lyons - Brigittes Fave Free Media Resources.pdf
Brigitte Lyons - Magazine Contact Cheat Sheet.pdf
Brigitte Lyons - Simple PR Course Syllabus.pdf
Ratings and Reviews
This is one of the best CreativeLive classes I've taken. I knew nothing about PR before this class and after taking it I was able to send my first pitch within a week. If you follow along with the workbook provided you really can come up with a pitch template that can can be tweaked to work for just about anything. I really appreciate how simple and enjoyable Brigitte made this class. No fluff, just great straight-to-the point actionable information. It's obvious she cares very much about helping creative people use PR to grow their business. Thanks Brigitte!
I honestly started watching this class thinking that I didn't need PR for my business. I know Brigitte is super smart, and I wanted to check out the live stream to see if I could pick up any tips for my own clients. I was so wrong! I loved this! Within the first 30 minutes I had taken so many notes and gotten so excited about the possibilities- that not only seemed helpful, but relatively easy and FUN- for my business. I ended up purchasing right away and I know I'll be referring back again and again. Thanks for the great class!
I am really fortunate in that I've had a lot of media exposure over the course of my career - all of it by referral or invitation. But with Brigitte's Simple PR class, I now have a framework to confidently pitch ideas and proactively create opportunities. I particularly appreciated her suggestion to tie my media outreach efforts to my business goals. And, she provided a clear roadmap that will help me be systematic and strategic in doing just that!! Way cool. Many thanks, Brigitte.
Student Work