How the Media is a Product
Brigitte Lyons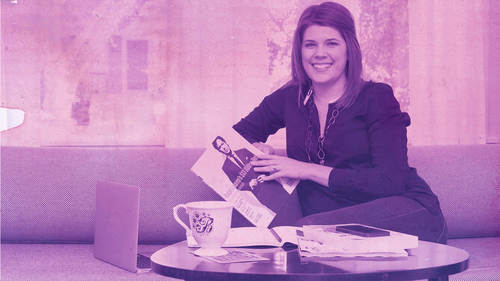 How the Media is a Product
Brigitte Lyons
Lesson Info
8. How the Media is a Product
Lesson Info
How the Media is a Product
So let's take a look now at the media as a product we heard from katherine and lesson five about you know how you could be looking for the kind of content that they're putting together but you know how do you figure that out and how do we figure it out really quickly what it is that they want from us so that's what I only showing you some tools to do that because the media's revenue model is advertising you can actually learn a lot about who the readers are in what they care about and it's often public information that is freely available for you to look at you can look under the hood of the media and that's exactly what I'm going to demonstrate for you so if we could actually pull up the web I'm going to demonstrate this by showing you the kind of information that you can get and and how you find it so um tash I think we heard from you that you're really interested in reaching out to real simple right all right well I really like real simple and I spent a lot of time looking at their ...
website and trying to figure this out so the tool that we're actually going to be using here is looking at the media kit of a media outlet and what the media kit is I know sometimes and blogging you might have heard this term the media kid is actually the package a media outlet puts together to sell advertising so this is how they're selling their product advertisers to find it it is so simple we're goingto google real simple idiot boom there it isthe waken pull it up right now going to click on this link and here you can see really simple lt's media kit now I'm just going to take you through this navigation really quickly because thie insights you can glean for this are seriously they're going to blow your mind I promise so you've got their mission statement buzz about their brand then increasingly media kits will have differences between their prince content versus what's on the web and mobile so we talked about the different kinds of media that can reach your goals so even something that you think traditionally think of as being a printout let you can see what they're looking for for web and mobile marketing opportunities we don't want that we're not advertisers so we're really just using this media kit to see who they're reaching out to in the kind of content that they want we don't care how much they charge for their ads although sometimes when you see that and you get a placement it can make you feel really good you got it for free contact information so this will be an advertising contact so this is not contact information that that will work for you and then town load you know I recommend you download these and see them in a folder as you're working with the media outlets you want to reach out to so if we click on one of these conceive the mission statement really simple is the everyday essential for today's time pressured woman that guide she can trust to make her life a little easier it goes on when you look at this mission statement you could get a very quick hit on is this magazine actually right for me I think they're right for may I think I'm interested in them and here they're telling you specifically who they're talking tio in what need they're serving so we looked at in the very first segment you know what you want to be known for who you want to be reaching and so you can kind of qualify is your client touches she time pressure woman you think I would say so most of us are right on you know you're trying to help her day be a little easier we talked about that you're a great gift right your coasters or a great gift so that absolutely will make somebody's day more easier and so their strategies and short cuts then you can go in here let's look at the print link and here you actually can see demographic information I know it's on riel so they show you how many readers they have. They show you the media and age of their readers their income okay so if you have a product and, you know, depending on where your price point is, this is where you can see is income in line with my different media outlets are serving people with different kind of lifestyles. How are they college educated, or they employed how much you can find out about this and you can qualify, does this feel like the kind of woman that you want to reach their product, right? Um, you can also see rates and circulation. We don't need to look at that ad specifications. You don't care, right, don't care, the ad terms, conditions. I'll show you a pricing, though, if I can now not in here. All right, no more, no, okay, I was going to show you the prices, because, um, they're kind of crazy. They're kind of crazy, and we talked about public relations, has earned its free, okay, so here you also see their editorial counter. Real simple and almost every consumer magazine some websites and a lot of shows actually put out an editorial counter and even if your particular media outlet doesn't put this out here when we talk about what are the trends and coverage we're going to talk about looking at seasonal opportunities you can look at these editorial counters and figure out exactly what they're planning for the season for the year now this is a twenty fourteen editorial counter were in twenty fifteen that's really common they usually don't release the editorial counters are a little behind I'm putting on the up there until you know the end of the first quarter of the year but they don't change there's very minor changes so it's okay if you're looking at in order alerted correct counter so here you can see in real simple they have categories in january it's going to be a balance february fitness march beauty april spring cleaning mai organizing I mean you can see month by month what their general themes were going to be november holiday entertaining may be a perfect fit and then something that we're going to come back to later but I do want to point it out here is that you can see they're on sale date so a january issue usually is on sale in december that could be helpful for planning and they're closed a is when the the last day they'll accept advertising. So one thing that's really important when you're reaching out to the media is to consider how far in advance are they putting that together so well simple is saying january you you can't even pay your way to get in after all tober it's the last day you can buy a paid placement and usually they're content is done much further in advance so for consumer magazine I recommend planning six months out and for a website generally want to plan one to two months out so that makes sure that you get your content in there when they're actually working on it so holiday a lot of people want to be in gift guide if you wanna pitch holiday gift guides it's christmas in july you know you want to get your plans out there no later than july ideally in june because that's when they're actually sourcing that products I wanted to share that and then you can also see a little bit more examples you know they have in may is organizing but they're also going to be doing things about mother's day thes air their advertising packages but they're advertising content in the editorial content which is what we're talking about often go together okay let's look at another one just so we can see how these were different I know a lot of people also want to work with like it does anybody interested in something like an entrepreneur and ink to get their ideas out or yeah, part of me, that wants that, but I'm not sure that might cause it's. My thing is so niche that I'm not sure that I necessarily belong in there. If that's the right place for somebody who's, you know, it's interesting has bridget. You're a personal chef. Your training, other people to build businesses is personal chefs. So if they're looking for business, building information, be a great one, especially because we already talked about there's, not a lot of other people providing it in your industry. So I, you know, I might really be look worth looking into so let's. See if we can find entrepreneur if I can spell entrepreneur media kit. I'm here again you see comes right up no problem no problem and here you know they give you their brand spake spectrum reaching the spectrum of entrepreneurs at every point in their business so that could really be relevant for you it's organized in a very similar way you know you can find out information about the magazine so this could be a really good way just teo scan this information and and see if it might work for you again they're trying to sell ads here so might all not all be real relevant and then let's look at their digital section digital sales we don't care about that I'm not going to download their media kit right now but let's look at their editorial counter so again we're back in their editorial calendar and they're showing us this is their entrepreneur dot com right this is digital this is webb this is tablet exactly what kind of information that they are covering in every issue so january powerful women culture excellence entrepreneurs of twenty fourteen april is the branding issue so maybe if I were you know running a chef or a personal chef business I'm trying to train people to do something one of their questions might be how do I ran myself is a personal chef in this world the branding for most personal chefs is really bad that is amazing so you could kind of take something like that and say they're going to be looking for a lot of stories on branding and this time now I know I told you six months lead time but with these business publications sometimes you can get away with four but because this is digital and you're looking for digital content you can actually be pitching something in april in like february or march so it's the perfect time to be reaching out there um we can also look I mean they have viral marketing like looking all this information that they give to you and then I also want to show you on the side so in every issue they'll tell you what their features and columns are in every single issue not every editorial calendar has that in our next lesson we're going to go over it so you can see they do culture they do something called trap a nomics and there's specific columns and they're innovators tech money so you can look at those and say are these relevant to me do I do I have something to talk about with an innovation am I talking about tech and this is a way you can say is this a media outlet that I should be working with does this work for me so what do you think about these things these head editorial calendars and these media kit it's pretty amazing the kind of information that you confined I think I think this is good to show you I love for people you know to spend some time and looking up their own media kits we can we can pull the slide back up um because I really like to hear from you what your surprises were what were the surprise is that you found in the media kits and as we close out this lesson you know what what I'd like you to take action on is not just writing on the surprises but actually looking at that media list that you've started pull together of your three to five media outlets and seeing if they have a media kit and if you what kind of information you confined so that you can think about planning and no any special issues that might be relevant to you so surprises jenny look ready I'm just I'm shocked that they're literally telling you what to pitch them and when exam early exactly they're planning these things out so far in advance and I would say any kind of blog's that air professionalized have the same kind of outlook right? So a single person like lifestyle blogger actually more often they do have like editorial calendars and plans put together and they also have regular sections and features which we're going to look at in the very next lesson how to figure out that information so you know even if you have the media kid I think you're just learning this way of looking there is a really good question that came from lane tanner designs I just throw in here because they live in an area where the local newspaper magazines and everything else has now outsourced all the media's too freelancers so they're really struggling to know exactly how to find the people through the organization yes so we come back to this in less and nine but freelancers can actually be a huge asset to you so freelancers are doing much like what we heard that producers are doing and that they're pitching they're actually making their living pitching story ideas to these different outlets to local tv stations to magazines to newspapers and so you can work with a freelancer in exactly the same way you can work with an editor or a producer and creating content this is a struggle for a lot of people now with certainly local media there is no staff anymore so it's this is finding out who those people are externally you know it's a struggle and it's an opportunity it's a struggle in its opportunity because there's fewer people on staff which means that fewer people are trying to get the same job done in fact it's a bigger job with all the digital content they have more to dio you know catherine and it talked to us about in the last lesson how lot of newspapers are doing video content and how tv tv stations are putting content on the web often they also have exclusive content so there's fewer people on staff and more content which is where you come in with your messages and your ideas nor is saying that if they take away from this lesson is being their bean really surprised you get all this information so easily it certainly makes the work for her pitch is so much easier yeah whenever I promised you and blow you away did I lie are you with me awesome. What other insights did you get what what are you taking away from this? Melissa actually pitched my first print magazine recently relatively new magazine called maybe mabel magazine that's locally produced for artists in makers and they have a call for submissions I think they come out every sure twice a year or something like that and with the big insight what for me was oh you know, every magazine out there essentially does the same thing with there media kit I mean they may not be physically you know, sort of literally making a call for submissions but when we look at their media kit we can sort of approach it that way absolutely and now what I'd really like to dio is you know, have you do some research into the media kits for any kind of magazines that are there and we can go into the next lesson and look at what our other ways that you can find these kinds of opportunities because not every outlet out there has a media kit and you're not always going to be able to get it. So how do you do that if you don't have access to media kit?
Class Materials
Brigitte Lyons - Blogger Outreach Bootcamp.pdf
Brigitte Lyons - Pitches That Worked.pdf
Brigitte Lyons - Workbook - Simple PR for Creatives.pdf
Brigitte Lyons - Brigittes Fave Free Media Resources.pdf
Brigitte Lyons - Magazine Contact Cheat Sheet.pdf
Brigitte Lyons - Simple PR Course Syllabus.pdf
Ratings and Reviews
This is one of the best CreativeLive classes I've taken. I knew nothing about PR before this class and after taking it I was able to send my first pitch within a week. If you follow along with the workbook provided you really can come up with a pitch template that can can be tweaked to work for just about anything. I really appreciate how simple and enjoyable Brigitte made this class. No fluff, just great straight-to-the point actionable information. It's obvious she cares very much about helping creative people use PR to grow their business. Thanks Brigitte!
I honestly started watching this class thinking that I didn't need PR for my business. I know Brigitte is super smart, and I wanted to check out the live stream to see if I could pick up any tips for my own clients. I was so wrong! I loved this! Within the first 30 minutes I had taken so many notes and gotten so excited about the possibilities- that not only seemed helpful, but relatively easy and FUN- for my business. I ended up purchasing right away and I know I'll be referring back again and again. Thanks for the great class!
I am really fortunate in that I've had a lot of media exposure over the course of my career - all of it by referral or invitation. But with Brigitte's Simple PR class, I now have a framework to confidently pitch ideas and proactively create opportunities. I particularly appreciated her suggestion to tie my media outreach efforts to my business goals. And, she provided a clear roadmap that will help me be systematic and strategic in doing just that!! Way cool. Many thanks, Brigitte.
Student Work