Leverage Your PR Coverage
Brigitte Lyons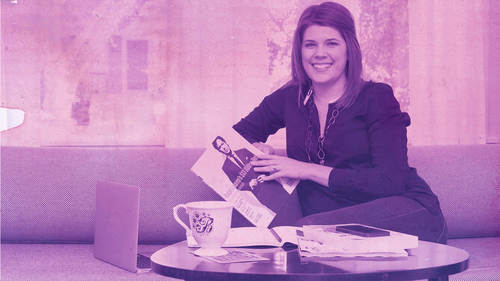 Leverage Your PR Coverage
Brigitte Lyons
Lesson Info
18. Leverage Your PR Coverage
Lesson Info
Leverage Your PR Coverage
So how do you actually leverage your PR coverage? So you have everything you need, right? You have everything you need to get started. But once you get your PR coverage, I want to spend just a little bit of time before we go on how you can actually leverage that coverage so that it's more than just the placement, how you can get results, because the benefits of your media coverage actually extend well beyond the policeman. And if we go back, let's go back to the very beginning, back to lesson one. You know, in our in our, um, where we were setting, what our goals are in what our goals are for appear program. So, you know, we talked about putting in a scene in page onto your product pages, right? That's one way you can leverage it view but product or view of a service, and it's been reference in the media, or you've been referenced in the media. If you're a person who is out there with an expert opinion, it doesn't have to be your product. It could be you, and in you can put it on your ...
Web pages. Yeah, we have like two sources that you've been in doesn't matter. Look, there's just I mean, you just have the one right up here, you know, as CNN. So it's enough to get started with just that one. You don't have to wait until you have a collection for sure. In fact, on this next side with terrorists website, carriage and chilies, you see that she just has a few a selection here, So this is more than one or two, but it's still not, You know, we don't see it does in here. So you can put featured media locus on your home page and that will help you with your authority building right away. And there's some size I've seen with only if they have one big placement. They just put the one so you can start using what you have already. Is it a good idea to link back to those articles from your website? It's kind of up to you. I mean, for me, for your home page design. I don't want to clutter that up and have people you know. You want people to have a clear action that they can take on your home page that supports your goals. And so what I will do sometimes, though, is I'll put a press coverage page and, um, I'll actually link them from there, an actual skip ahead of slide because this is something else we do. We have a Pinterest where we have this is my elsewhere, Like all the different media that's covered me on. I actually pin that on a Pinterest on a social media so you can share these things on social media in that way, too. And that's another way to do that. That's kind of a fun one. I have such a few PR pieces for me because I'm always took it for everyone else that it always makes me feel a little weird. But I always love that, you know, seeing other people's placements. And for our site, we have, you know, our clients have been featured in because that's what matters to people. They don't care what I've done. They care what we've been able to do for. Clients did have a question. Melissa, are you okay? Awesome. And then here's another one that I cannot emphasize enough and I don't know, we always have a teller clients to do this But when you get coverage, email your people. If you have an email this belonged them. Let them know, give them an opportunity to celebrate that placement for you. Remember what Megan Almond said when we talked to her? In another lesson about how, when she has media coverage and she shares, it is the best open reach. She has any email, and then she gets a bunch of product sales. So you definitely It's not just about the placement, but it's about what the placement can do for your business. So it's so important that you're leveraging those in letting people know and letting them celebrate with you. So that's what I want to dio. And can we just celebrate like everything that you've accomplished here? I mean, throughout this program, simple PR for creatives. You guys are amazing. You've been helping me develop pitches. We've been pulling together media lists. It's just unbelievable. You have a personal PR roadmap that we created in your 90 minute pure plan. In minutes, we put together your personal PR roadmap that that's going to serve you at least through the rest of the year, if not longer. You learn how to see the media through a publicist I and a crash course on the media. You learned a whole new way of looking at the media, right? That's a completely different skill set that you didn't have before. You prepped your first PR campaign in our pre pech checklist. So you are totally ready to go. You have all the materials together you need and you crafted. You're irresistible media pitch so that you can build lasting relationships of the press like, wow, you just amazing. So I just really want to celebrate that because celebrating your PR accomplishments in your winds I want to start that culture of celebrating those winds right now because it's so important, it can bring such amazing momentum in your business. It brings amazing energy and your business. It gives you that boost of confidence. You know, it feels so good. We've had that. Melissa, Have you felt that when you have PR before? Oh, yeah. Yeah. And Bridget do you, too? Yeah, right. It feels really great when you get those placements and it gives you that whole feeling of I'm legit. I'm doing it like my business is really like It's out there were out in front, and that's a great feeling. So what I like for you to dio when you take it from here, is that in the next couple of days, I want to throw down the gauntlet. I want to say, like, two days, you know, take take a little nap, and then I want you to finalize and sent out that first pitch because you've got it. You we've worked through. You have everything you need. You have your media list together, you have your media contact, you have your pitch together. So just get that one out there. Don't wait until you have 10 pitches together to send one out. Just get one, start with one, and then also just sort steadily. Then working through your outreach plan, get the dates on the calendar. I mean, Jen, you talked about this amazing process that you're gonna be doing to put together the counter. And I know you've got a launch coming up in a month, So you're really gonna be running out there in fired up, so make sure those dates on your calendar and setting yourself reminder so that you can implements your plan so I want to hear who here is going to be, you know, accepting my challenge. Who thinks they can do a pitch in a couple of days? I didn't. So I see all hands were so proud of you. I am so excited. And I hope watching at home that you were timing in and letting me know that you were gonna finalize and send out your first pitch because you could take this momentum and it will build upon itself. And it will create so much energy for your business. Now, as you're working on this, we do have a couple of targeted courses that are also in the Creative Life Catalog to help you along. So what we've been talking about is a foundation for your PR program. These are the fundamental skills, the fundamental principles, the fundamental system that you can do to do PR outreach for your business. But there's a few different variations in terms if you have a product based business or if your pitching yourself pitching yourself as an expert as a coach is a consultant, and so I'd like to think about it in terms of pitching your product or pitching your ideas so we actually have courses in the catalog. Simple PR for your product are all about those specific things on How do you build a media kept for your product? What are your best opportunities? How do you create products specific angles and how do you create product specific headlines? On the flip side, simple PR pitch herself is How do you get your ideas out there? What do you want to be known for in the world? And we should look at four different kinds of opportunities to do that. Contributions, podcast interviews help a reporter out an expert pitching. So those get in much more detail around those two different kinds of pitches and the so those air supplemental toe help you with this if you have specific goals, so you can find those that creativelive dot com for its instructor, Bridget Lions. Okay, the last thing I really want to ask you to Dio is Celebrate your winds will be so be think forward. That's my website. Be the letter B b. Think for dot com, and I actually have a special bonus for anybody who comes over to my website. It's a B think for dot com. For such simple PR, it's our content remix. It's this amazing tool and helping you use the content that you already have created to get even a faster start to your PR program. So I really hope you'll come on over and check that out. There's an audio guide, another workbook. I love putting together workbooks for you guys. Um, and it's a great resource for your use and please tweet me. Email me. I put my email address up here. Hello, it be. Think for dot com because I want to know about the coverage that you're getting. This is why I'm here. This is why I am in this business is to expand the coverage to get more voices on in the media, to get more products on the media to help you support your creative business. That's what my business is about, and I want to celebrate with you. I definitely want to be your biggest fan and your biggest cheerleader, and so I hope that you'll let me know as you're getting an implementing this program. And as you're getting your big PR wins,
Class Materials
Brigitte Lyons - Blogger Outreach Bootcamp.pdf
Brigitte Lyons - Pitches That Worked.pdf
Brigitte Lyons - Workbook - Simple PR for Creatives.pdf
Brigitte Lyons - Brigittes Fave Free Media Resources.pdf
Brigitte Lyons - Magazine Contact Cheat Sheet.pdf
Brigitte Lyons - Simple PR Course Syllabus.pdf
Ratings and Reviews
This is one of the best CreativeLive classes I've taken. I knew nothing about PR before this class and after taking it I was able to send my first pitch within a week. If you follow along with the workbook provided you really can come up with a pitch template that can can be tweaked to work for just about anything. I really appreciate how simple and enjoyable Brigitte made this class. No fluff, just great straight-to-the point actionable information. It's obvious she cares very much about helping creative people use PR to grow their business. Thanks Brigitte!
I honestly started watching this class thinking that I didn't need PR for my business. I know Brigitte is super smart, and I wanted to check out the live stream to see if I could pick up any tips for my own clients. I was so wrong! I loved this! Within the first 30 minutes I had taken so many notes and gotten so excited about the possibilities- that not only seemed helpful, but relatively easy and FUN- for my business. I ended up purchasing right away and I know I'll be referring back again and again. Thanks for the great class!
I am really fortunate in that I've had a lot of media exposure over the course of my career - all of it by referral or invitation. But with Brigitte's Simple PR class, I now have a framework to confidently pitch ideas and proactively create opportunities. I particularly appreciated her suggestion to tie my media outreach efforts to my business goals. And, she provided a clear roadmap that will help me be systematic and strategic in doing just that!! Way cool. Many thanks, Brigitte.
Student Work