The One Pitch Template to Rule Them All
Brigitte Lyons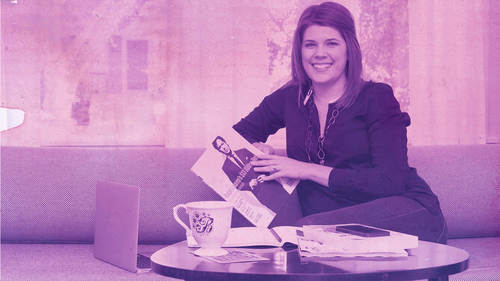 The One Pitch Template to Rule Them All
Brigitte Lyons
Lesson Info
16. The One Pitch Template to Rule Them All
Lesson Info
The One Pitch Template to Rule Them All
right now, we're gonna be looking at how you craft your ear. Is this boat media pitch? So this is where you pull everything that we've done in the 1st 3 segments together to create a pitch package that you can really sell your idea to the media. I'm so excited to be going over this over this with you. We're gonna really interactive segment here where we're crafting pitches, so we're gonna be looking at the Onley pitch template you'll ever need. So I have this pitch template that I have used for my own business and I've given to other people, and it's something that works so well, you can customize it for any kind of media outreach you're doing. You don't ever need another pitch format once I give you this template and so we're gonna be actually crafting some pitches here on the fly so you can see exactly how to put it to use for your own business. You'll also learn the do's and don't of following up with a reporter. So we're gonna be talking a bit about etiquette pitch etiquette. I kno...
w that people often have a lot of questions about how do I follow up. When should it be reaching out to reporter? What's the best day of the week to be reaching out? That's a question. I get a lot. So we're gonna be talking about the etiquette of reaching out to somebody in the media. And then finally, we want to wrap up with some ideas of how you can make your coverage count long after the placement. Because public relations and doing your media outreach isn't just about getting that one and done media placement. There's a lot of ways that you can leverage the media. You get that have results that go far longer than the day or the week or the month for that placement comes out. And so I want to give you some ideas of how you can do that and how you can fire people up with their media outreach. So we'll start now with the one pitch template to rule them all. Do you get my little nerd ease? Rule them all the one ring to move them all. So I'm gonna get a little nerdy here with you with my pitch template, because it really does. This is like the King, the queen of all the pitch templates you can have out there, and it's customizable for any kind of media outreach that you're doing so just to set a little bit of context. Most journalists we prefer to receive your ideas via email. We know this is true. Bloggers, bloggers, don't you calling them up at home? It can also be true of traditional journalists. So that's why what I've done is put together an email template that you can use that is going to sell your idea. It's gonna get through. It's gonna cut through all those other emails that they're getting. The purpose of this email is really threefold. You want to present your idea in a way that it's really easy for this journalist for your contact to envision using it. So in this way, we're gonna be talking about speaking in their in their language. What can you do to make it? What are those little cues you can give that make it clear to them that they can include you in their coverage? He want to pique their interest. I love the Q and A with Katherine that we had because she talked about how you don't necessarily need to cram your email full of information. Sometimes people give too much information in this email. And what happens when you get an email that is just, you know, paragraphs and paragraphs long what it what happens? You ignore it. You don't delete it. You don't read it right like nobody wants to get an email like that. I certainly don't. And the media doesn't either. So this is also about using a little bit of common sense and thinking about what you like and what would catch your eye. And that will also catch. There's it also communicates that you're paying attention will be a great resource. So one of the things that I've really been emphasizing to you, right is reading and researching the media that you want to reach out to. And when you do interviews with journalists and when you hear them talk, the often tell you that that's the number one thing to getting covered. It's make sure you know what we're covering. Make sure you know where content is and what if it ISS and there is little subtle ways you can actually que that to them and show them that you've been paying attention and show them that you will be a great resource for them, and this can go a really long way. And this isn't about being really pushy or sales, many with your ideas. It's about how can you help them as much as possible? And this is what makes the approach that you're doing here and simple peer for creatives really, really different than the approach that may be your competitors or other people in your industry or doing Ah. Lot of people aren't taking this time, but they're also not getting the results. So we talked about, you know, a little bit about this pitches, that work packet that you can get along with this program. And those are people who have seen amazing results, amazing media results, and it's using this process in really paying attention and then upfront research that we've done into our media outlets. It's all gonna come together now into this really powerful package that's going to sell your idea. So what goes of this email? Well, first, of course, you need to know the person's name who you're pitching. We've definitely cover that. I know you haven't in your media list. So you want to make sure that you're addressing people by names. I was always address a human. You're not sending something out to dear editor or two, dear blogger, but you're sending it out to Jack or Sally or Jane or Joe, right? You're addressing it to a person who has a job to do. And if we go back to what I told you was the most important thing to remember, actually, does anybody remember the most important thing to remember in the course? I'm kind of putting you on the spot here. 10 8000 things that I mean to put your name and phone number when you're submitting all in the beginning about what was the one thing I want you to take away from the course. What? What do you want a journalist have in common? I'll give you a hint because we've been through a lot of content. Tash, we're working on things together. You're working on things together. You're serving the same customer, right? And so you are working with the person. You're helping them do their job. And so you want what you want to be communicating that you want to include your idea and preferably a potential headline. So we're playing with headlines here and making your idea really sellable. We're gonna have a very brief bio in here and your contact information. So, Jen, call that. Actually, you want to include your name and your email address, an ideal your phone number. So you don't always have to give a phone number, but especially for doing traditional media that's working on deadlines, you might pitch them something and they might say, Oh my God, I have a hole to fill tomorrow and what they want is to know that you will follow through and you will give them that information. You have no idea how often we hear from editors that they had somebody lined up for a story that sent them a great idea. And they emailed them back and said, Great, give it to me. I'm gonna run it and they'd hear nothing happens all the time. Why on earth would you let that happen to you? So give them your phone number if you can. So here is the template. This is the one pitch template. This is the one pitch template you'll ever need. and we're going to do a couple of live examples actually writing these pitches, and I'm gonna show you how you can customize them. So these air the essential parts. There's a lot of flexibility in here, but these air great guidelines. So the subject line of your email should be your headline. Remember when we did the Q and A with Katherine? And she said, You know, there was a question from the audience of How is it that you get somebody open their email? What should your subject Line B? And she said, people often try to cram a lot of information in the subject line, so you want to actually use a headline to get them to click. It shows them that you're paying attention to what they need. It shows them that you're helping them create content. It peaks their interest. That's what headlines dio right. They pique your interest and get you to click, so you should use that in your pitch template. The next piece, of course, is you address, dear whatever or high or, you know, whatever is natural to you. It doesn't have to be dear. He introduced your idea so within the pitch. This is the meat, right? The first paragraph. You want to introduce your idea leading with your Why now? Statement. So we talked about how to create your wine now. Statement. This was either. You know, you have a seasonal angle, you do something that's really urgent. That's trending in the media. Or you say, Why now is because you have something new to say about something that's always trending, So you want to lead with that in your pitch. The next thing to do is briefly share any supporting details that you have, so you know we can look at what those supporting details are. Sometimes that's actually other ideas. So maybe you lead with lead with an idea, and then you give them three other headlines that they could also cover sometimes if you have data. So Melissa, you said that you were thinking about maybe using statistics so you could actually bullet out like there's been a recent study on this, and here's a link, so you can include some that supporting data. If you're a product person, supporting data might be links to your to your products so they can see the photos and things like that. So we'll take a look at this in a minute and then last you want to state your credentials. So what is it that makes you the best person to tell the story? And then finally you invite the journalists or the blogger to take the next step with you. You know, I think that often people's will give this pitch to a journalist, and then they just kind of leave it hanging and they don't give a call to action. So we call the action might be something as simple as may. Be happy to send over an article for you to look at. Or if you want to see high resolution photos of my product, email me, let me know. So put the ball in the court, let them know what the next action is to follow up with you. So I thought we would do a couple of different examples of this because this really fun to play with this different template on and I want to work with, you know, we could do a product because Hampel and we could do a cervix example. I don't attache if you wanted to come up because you had a really clear idea of what you want to be doing for your pitch gift guide. And that could be really powerful here as well. We put that together, so I'm gonna have you coming up and let's actually pull up this listing on here. Right over here. Right. Um, so this is the basic components and touch. You have your coasters with you. Thank you. Because they're beautiful. Thank you very much there coasters that you're promoting. So tell us a little bit about your line. Okay? So coast dramatic allows you to make coasters out of your instagram images. So you go to costa Matic dot com and you log in with instagram and you can pick up to four, and then we print and ship them to you or ship them to someone else if you're giving them a gift. And so I really love them. And a lot of people really love them because it gives you this opportunity to bring ah, moment. That's really special to you into your home in a way that you could like, see it and use it every day. So, like, this is a moment with that I shared with a friend in Brooklyn a couple years ago where we had a glass of wine during the summer on her rooftop. Awesome. So what was? Let's pick something. So, what was your first campaign gonna be organized around? I'm a mother's Day, mother. Still like a good. Okay, so I just want you to keep in mind as you're watching at home when you were thinking about this. We're trying to organize this. Now are on your first campaign. I want you to think about this pitch template of writing one pitch, one outlet. But really, about that first focus that you have, you know? So you don't want to have a situation now where you're writing a pitch. And, um, it's not for what you're gonna send out, because I want you to have something to send out. I want you to have this really great action in this really fast action you can take. So we've got Mother's Day for you, which is great. And then what media outlet do you think you want to pitch? We've been talking about riel. Simple. So maybe real simple. Or maybe even their blawg. They're block. Okay, that's a great one. And the nice thing with blog's something like that is in the magazine is reaching a lot of people. But a blogger is gonna have a link back so you can drive direct sales in that case, and you can still put real simple on your product headline. So I think that, you know, often times we might have a hard time breaking into the publication because real simple, they have 12 a year. Maybe they're blogging every day, so they're looking for more content. There s so you know, you it's a good idea to kind of think about that and also think about timing. So Mother's Day, with a print publication, you want to be pitching at six months in advance, so you might be a little bit late for that too, right? So we want to focus on what's actually going to work. Okay, so, um, you know, we want to think then about what your headline might be for real simple for their block. So we know we don't have a real simple in front of us, but we did some research on them before, and I know you're a fan of the magazine, Right? So you know, we can use some of that knowledge that we have and make some assumptions, and then you can go back at home and do a little research and make sure it makes sense. So what do you think a headline would be that rial simple blogged would use if they were doing a Mother's Day kind of gift guide round up, You know, maybe like a memorable Mother's Day gift or something that, like a Mother's Day present that matters were I love memorable Mother's Day because it has a liberation, and I'm a total sucker. Jay Leno's for My Tongue twisters I that I love a liberation. It's one of those techniques you see on magazines all the time, so let's just say Memorable lover stay. And maybe it's some of the things you might play with here to our make memories this Mother's Day or share memories this Mother's Day. So, Jen, that would be great for your business to, you know, are how are there different ways that you can actually play with this? And if you go to real simple, is website and Google like Mother's Day or not? Google cause you're on their site, but search, You know, what are they doing for Mother's Day? Then you can see what they're old headlines are, and you went can actually play with them. But this is a great start, and I think this is gonna work with service. Really? Well, So you've been here, live with me. So you have not been able to research in the name of a person. So we're gonna call her Katie because that popped into my head. Zeer Katie, um is the person we're reaching out to. So you're why now? Statement. You're introducing your idea. So you have something pretty concrete here. So do you want to take a stab at coming up with what that might be? I think it could be something around, um, bringing the special moments into the home. Okay. To use daily. Say that again. You know, ways that you can you can enjoy your photographs on a daily basis. Enjoy them on a daily basis. So you have bring your special memories into your home. Enjoy them on a daily basis. So I would actually start with something like this. Mother's Day get really literal, and it might also be something like, um, you know, like, you, um your readers are going to be looking for gifts, you know? So you're kind of talking about here, serving that that common customer. And I'm just gonna dio looking for, like, because if you are watching this and you have Oh, my gosh, I want you to Mother's Day pitch, right? This is such a great construction. This mother say your readers air looking for what are they looking for? Going all the way back? I think it was our second lesson with that. Those ideas that we had of what are they looking for when they come to us so we can use that in our pitch? We don't have to keep starting. You have so much information out of pull together, and this is actually at this point should be pretty easy, right? It's, You know, there's some editing involved, but you have all the raw material. So this mother's Day your readers are looking for, and then you would say something like my line of and I'm just kind of generalizing this for people. So my lineup, you know, coaster is my line of customizable coasters, something like that's you describe your products. Um, and I'd see something, maybe, Like are the perfect Fine, because it's a gift guide. We talked about what else they might need to remember. What Give guys what they need in addition to what the product is. So probably like a photo and how much it costs and where to get it. Yes, so definitely here, I would bring up the price of the big, very beginning. So are the perfect fine at like, Well, there 28 20 shipping. So under under 50 maybe that sounds better. Yeah. So give guys air often in that like zones right under 50. Splurge or seals, It's 25. 5100 are really common. So you'll see those panners is your during your price point. Have a quick question for this. So you put like my line of link, since Coast Dramatic has his own entity and it's not like Tosh wrongs Coast dramatic. Should I put coast dramatics coasters or should I make it more personal about me? You know, that's a really good question. In this case, they're not really you know. They're gonna have what's gonna happen in the guest guide. Writers will pull it together. There will be a picture of a coaster, the description, the price and where to buy it. Because it doesn't matter so much how your positioning it, OK, when when I would pitch it, I would probably use if I were pitching it for you. Your company's name? Um, But you also there is a weird thing there when you're pitching yourself of like not wanting. Teoh kind of represent yourself in a like feeling, like you have to, like, put on the suit, you know, like where you start talking about yourself in third person. So if you're the designer behind it, even you have a company. You definitely say my liner, our line or, you know, however, you want a reference that but don't feel like you have to put on like that is weird. Close reminder. You're I know is it's It's me, too, but not yeah, yeah, and you know that really won't bother them too much, especially because people So where can they buy your your coasters? Online race dramatic dot com Yeah, so it's something that has distribution that's really brought and will reach a lot of people and that's kind of what they care about. Okay? Okay, so here we have your wine now statement. It's pretty brief. And it's really about What's their knees? What do they need when they're putting together the gift guide? Now, what you could do underneath there's a couple of different options. So this is where it's customizable. So So in here, You know, I would actually just to say my line of here, I would put in a link. So you want underlined. You want a link? Your line. And you can link Teoh a direct product shot of the product that you think that they want to use. Or you can link Teoh a media kit that has a few more products. So it's kind of up to you what you want to do there, but make sure you're linking it when you're talking about it. So, you know, links their currency of the Web links or how people now go on research, extra information. So when you're doing a pitch, you want everything linked, you don't necessarily want to put attachments okay into their Okay, So your, um your readers are looking for, you know, memorable mother steak It's customizable. Mother's Day gifts. What applies to you? How would you use this? How would you do? Um, other state pitch. My line of coasters are the perfect fine at $28. You know, maybe it's their affordable for daughters to be giving their mothers or something like that. Um, so supporting details. You could say one thing I like to do with gift tries to say, Like, they they might like to print off a photo of this or that. You give them a couple of options of things that people really like again going back to work. What do your customers like? So you might pick the things your customers by the most because then you know what people are looking for or you can also go back and think about trends. So are their color trends. You know, when you're looking good, give guys like that's another way to organize them. You can also give two options at different price points, so there's a way to organize it. So then here, you know, you might do in a paragraph form, or you might too simple it out of some different options. So I'm just gonna do this and then your credentials here when you're doing a product pitch. So what do you think they'd want to know about you To tell us about me? Or about cause? Dramatic. Both. Both. Both Because you're the founder, right? Yes. Right. So when you're the founder, they're gonna want to hear a little bit about you know, I'm Tash Long. I'm the founder of Khost. Dramatic and like, a mission statement of what you dio Okay, So, like, coast dramatic is about bringing people's memories into the home. Okay, great. That is such a great brand statement that I would just do that. You know, I would introduce your name and say that exactly. OK, you know, and that could be it for something like this. You know, you don't have to have too much extra information. And what we want to do is we want to keep our pitches as short as possible. Okay. What would be your called action here, Um, that I have high res photos they can get in touch with me for Would you be open to sending them samples? Yeah, Okay, I would. So that's a big question that people have right to. I need samples. Do we need to send out samples of my product? And that's really a personal decision. So, you know, if you have a sample that you are comfortable sending out that maybe doesn't cost you too much money to produce. You know, maybe it retails for war, but isn't costing too much money produced? You might decide you want to send out a sample? One thing you can do is you can actually send them a return address envelope and ask them to send it back to you. Now you Onley send out samples if they requested, so you wouldn't just mail them a sample right here. You're telling them you can send them a sample if they're doing, like a photo shoot or putting a spread together. Um, and they might say they don't need it. So you can put it out there and then you would sign off and include your probably a phone number for something like this. Sure. Awesome. Any Yeah, Any questions or recommendations on this? The high res photos Is that a link? Or if you would like high res photos, contact me and I'll be happy to send them to you are. That's a great question. Um, I often will recommend that you linked to low resolution photos. You can put those in a drop box or on a Web page, and then you would share them high rest photos if they ask for them. Part of the reason for that is they might not tell you that they were gonna publish your product. And so if they requested, then you have. You know, you can monitor and look out for that placement. So that's one thing you really have to watch out for when you're pitching, you really, it's up to you to monitor for what's happening, and they're not out there to get you like they're not doing it because they're bad people and and they don't think you should know. But they're so busy and they're moving on to the next thing and that they have to follow up with every single person that they mention. It would just be a whole a whole, another job on top of it. Sometimes they dio you know, it just it just depends. So it's up to you to look for that. It's a great question. Any other questions or any other enhancements on this. I think we're great. Awesome. Well, thank you so much. Thank you. Thank you for coming on up. Okay, let's do another one of these. So I thought maybe Jessica we could do one with you because we've got the product side. You have the service side. Okay, So let's let's hear a little bit about what you're doing and who you're reaching out to. Okay, So my name is Jessica Lane, and, um, Interior architect specializing and design build residential remodels in San Francisco. So I've sort of been nearing in on sort of what I'm about in my mission while I'm here, actually, Um, and just basically, it's about, um, approaching a project differently than the traditional way where I'm collaborating. Um, did the life project and how that leads to, like, more successful projects, but her ideas. So here we're really going to be looking at your methodology. Yes. What? You're pitching and you want to be building up. We talked in their beginning kind of your thought leadership and getting your ideas out there And also drawing and potentially local clients. Yep, yep. Do you have a media outlet that you think you know you want to be reaching out to? Um I felt like I'm totally not, as you know, Yeah, focused at, but maybe sf gate. Maybe there was the other one came up curbed. Um, I was thinking about earlier. So for you, these are both kind of local outlets, right? Curved. I'm not as familiar with them, but they're both reaching people locally, which means they're both gonna be really helpful and thought leadership badges of success and driving local foot traffic, which is really important. Do you have one you think you want to start with? Let's do SF Gate because that came up earlier. Okay? Yes. Perfect research. Which helps, right? Cause yeah, I would have never thought that way. Were able to do a little bit of research and the lesson of billing your media list and come up with some ideas. Okay, so, um, going back, Teoh Like what? It was that you wanted your message to be, Um Do you have some, like, headline ideas like, so if you're doing something for SF Gate, you know, you're probably going out there and giving some advice and some tips, and you might write an article for them or you might also be interviewed, right? Yeah. So I think that doing the research into this outlet, you definitely want to go and look and see on the kind of articles that you want to do, which are kind of how to advice pieces, doing a little bit of research and figuring out, um, do they accept contributions from people? Newspapers usually don't use people. Papers usually have reporters. Now. Their websites might be a different story, but they usually have reporters who have beats rate. And the reporter would interview you and put it together. Or a columnist who would interview you and put it together. Okay, so that's a little bit of a different place, something like curved. You'd probably be pitching yourself to write it, okay? And you can figure that out like I know that because you look at the media and you're doing research and you're just saying Who are the bylines by? And you can see if there's an article that's an advice piece, you know, Does it have a reporter or a freelancer writing it, or somebody getting an author bio? And that's an easy way to tell the difference. Okay, so here we're probably pitching. He was an expert. Yeah, on the pitch piece. So, um, what did you think That the headline for something like that might look like I have No, I dio ideas, your expertise and getting permits through, because in San Francisco, that's a huge deal and very complicated. And a lot of frustration with I, um Yeah, I know a lot about that. It sounds so boring. And I can't imagine that somebody would want to read about that, but I guess that they would. So you say you did some research into that, too, That there were some articles that came up. I thought you had done some media search. Yeah. Yeah. I mean, apparently people write articles about this stuff. People want to read it. Yes, all right. Remember into that. So what is it? The new would be passionate writing. Well, I think maybe something trendy right now is is the market. I mean, everybody's buying these homes. You know, I don't know if there's a way to get into that. Is there something on like the, um what are those HDTV or those shows where it's like love it or list it kind of thing. Suddenly like that war, I would almost do, like an unconventional thing where I would talk about how HD TV is right and realistic on, like, the reality of, like, a riel project and how it works. Reality lady is saying, How about updating a home remodel the approach? 00 my gosh. I love that. All right. Uh huh. That is a really good one. We actually just got to That's really good update the home remodel. The approach. That is so, Bond. I love that. And look at how much people are picking up and enable to help each other that this is so awesome. So here, we're gonna be reaching out to mark, Let's let's reach out to a man in the home section. I very like female center because I'm trying to balance out the use of pronounce and stuff, so I have to remember to bring the men into it. Sorry about that. Right. So if we're reaching out, then here, let's introduce your idea. So you know what is your wine out? Statement? So this is something that people are doing a lot, right? So you just really want it. Have this. It's unconventional. So how let you do that? And so I think the why Why start now? What's the start of the story? Um, what is the need that somebody has? That's a way to look at it like, Oh, so you. So you have a lot of people in San Francisco right now that are remodeling their homes? I would like to remodel their home something like that. Yeah. If I were you, I might actually dio find some stats on that. OK, you know how many homely metals are there? Yeah, or there's an uptick in remodeling happening. Or, you know, with, um, with real estate prices through the roof in San Francisco, people are opting to remodel as opposed to move. Okay, It's all true. Yeah, And you can't build a new home, so you have to be modeled. You can. Well, there's not a lot of and no land. So remodels are on the rise, will say something like that and see, this is like brain surgery. You know, this simple step in as you read articles, you catch up on these trends. So you know, Israel real estate prices skyrocket. Remodels are on the rise. Um, and then here I might do a statement of what people get wrong. So when you're doing something unconventional, it's good to point out the conventional that's leading them astray. Yeah, So we're really quickly, like, were people going wrong watching too much HD TV? Um, I would even go as far as to say, like going the very conventional route of just hiring an architect first without thinking the whole project through. So you could use either Those HDTV might lead you to believe, but actually, and then here is where you do a one sentence on what your approach is so HDTV might lead you to believe that a team is gonna swoop in and take over your remodel it in two days. For $200 you have a new house. But actually, you really need somebody who's gonna partner with you through the process, or you're gonna have a ton of head and heart ache, something like that, right? That goes there. And then here we're gonna stage your credentials. So because you're saying I want you to interview me on the tips, it's a really important, actually, Cirrus supporting details. I got ahead. Eso here's a starting detail. So what I want to hear in your case is due to three bullets of exact things that break down on the process, so I would pull it down. Here is the breakdown that people usually experience catch their attention with what you might share. And then here you can credential yourself and for you because you're working in the industry that it's really talking about your accomplishments. So any projects that might have name recognition, any words you want people you've worked with? Can you think of some stuff they might include? I mean, I think I would say, you know, I've developed this specific system and been doing it successfully in San Francisco for eight years. He was done a ton of hundreds of Yeah. Yeah, actually, journalists love numbers, so definitely, you know, any numbers like that, that's a great tip to pull out. And then the next step here would be, uh oh. I don't know what my call to action would be. I mean, what I want to send photos of projects are for this. I would really be like I love toe work with you on creating tips piece for this. Email me if you'd like to set up an interview. OK, that's exactly where I would go with that. Okay. And that gives them the next step. So this is a great pitches it it's totally usable. So I It was great to see those two different examples of very different kinds of media outreach. You have something This is really hot in San Francisco right now. But let's be honest, this is gonna be hot for a while. You're kind of in that always trending place, but you have It's unconventional approach and you're able to use something. You know, some things were happening in the media. Some things that are happening in your businesses tie it together. On the other hand, we saw a product lying being supported around a very specific holiday. So these are the two different approaches that you could be using to organize your outreach and how they will come together into ah, pitch a perfect pitch for you. So let's move on into, you know, drafting up your first pitch. I'd really like to see you working on sketching out these elements, pulling them together if you get stuck, go back to your media research. Look at those articles. What kind of language are they using? What kind of construction are they using? The subject line and that first paragraph. You really want to do it in the media's voice. That's how you're showing them that you're a perfect pitch for them. So I want to make sure that we have time to take some questions for this and what some insights might have been, You know, both from the people in front of me here in this studio, onions and online, because putting this pitch together is so important as you go forward their media outreach. I saw a hand Tash, because I am a person that likes to overthink things a lot. If I gave myself a time limit as to how long to obsess over this, how long do you think I should spend writing one of these eso. It's so funny because Maggie, who works with me, and I totally disagree on this because she's in the kind of person that you are. She can really work on the language and obsess over it, so it would be like 30 minutes and ready and should be like, um I'm sorry. Even three hours, so definitely no more than three hours, but probably like 30 minutes an hour. And like I said, if you're getting stuck, go to that media outlet. Don't. You're not starting from scratch here. Don't try to create something that's totally out of left field. And if you get really stuck, what I tell the Magi when I tell everyone, sleep on it. If you're struggling, if it's taking you more than an hour to write one pitch, just leave it and come back to it another day. Who feels like, Like, you could, you know, work on one of these in the next week and get one out. Yeah, I want to see those hands like up in the air. We got it because this is really what you need. It's just one media outlet. One pitch. You just need one of these to start. You just need one of these to go out there. You know, there is a little bit of a numbers game. People are busy and you're reaching out and you want to make sure like one pitch might not necessarily be that hit you need, but I've seen that happen for people. And once you have one of these down, you know, if you're if you're organizing something around a specific idea, remember what Terra? Meghan said us. They just create this one idea and then they tweak it. So you're finding different angles. You could go back to that. You know how to work with your headlines, how to make your headlines saying and say, Okay, I tried something seasonal here. Maybe now I'm gonna go and look at the trend, reports the color reports, or I try this piece of unconventional advice and about real estate skyrocketing. So how can you tweet this and go to curb, you know, and give them something that is unique for them? You're not giving them a repeat of another story, but you're not starting from scratch because you want to be supporting your messages. You want to be supporting your objectives so you can remodel, right? Your pitch. You can go through and say, All right, we talked about real estate rising. What will it be? Another kind of hook that you can go in that you could go into when our people hiring you. Maybe there's a time of the year that they do this. Maybe there's another hurdle that they dio where you can bring in the same sorts of ideas and use them again because it's about giving them that taste, you know, giving that little bit of information that's gonna wet their interests. And then they're gonna work with you to finish the story. They're gonna tell you what they want to see, and so you don't want to give them more than this because they want to be a little bit in control of what goes into their outlets. So this is really all you need.
Class Materials
Brigitte Lyons - Blogger Outreach Bootcamp.pdf
Brigitte Lyons - Pitches That Worked.pdf
Brigitte Lyons - Workbook - Simple PR for Creatives.pdf
Brigitte Lyons - Brigittes Fave Free Media Resources.pdf
Brigitte Lyons - Magazine Contact Cheat Sheet.pdf
Brigitte Lyons - Simple PR Course Syllabus.pdf
Ratings and Reviews
This is one of the best CreativeLive classes I've taken. I knew nothing about PR before this class and after taking it I was able to send my first pitch within a week. If you follow along with the workbook provided you really can come up with a pitch template that can can be tweaked to work for just about anything. I really appreciate how simple and enjoyable Brigitte made this class. No fluff, just great straight-to-the point actionable information. It's obvious she cares very much about helping creative people use PR to grow their business. Thanks Brigitte!
I honestly started watching this class thinking that I didn't need PR for my business. I know Brigitte is super smart, and I wanted to check out the live stream to see if I could pick up any tips for my own clients. I was so wrong! I loved this! Within the first 30 minutes I had taken so many notes and gotten so excited about the possibilities- that not only seemed helpful, but relatively easy and FUN- for my business. I ended up purchasing right away and I know I'll be referring back again and again. Thanks for the great class!
I am really fortunate in that I've had a lot of media exposure over the course of my career - all of it by referral or invitation. But with Brigitte's Simple PR class, I now have a framework to confidently pitch ideas and proactively create opportunities. I particularly appreciated her suggestion to tie my media outreach efforts to my business goals. And, she provided a clear roadmap that will help me be systematic and strategic in doing just that!! Way cool. Many thanks, Brigitte.
Student Work