Transform Your Message Into Headlines
Brigitte Lyons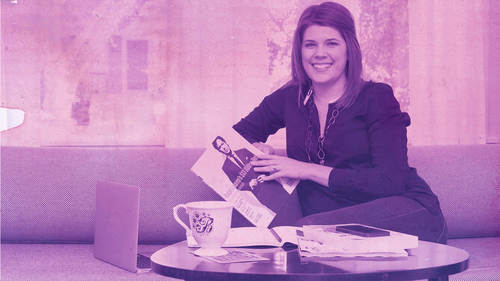 Transform Your Message Into Headlines
Brigitte Lyons
Lesson Info
13. Transform Your Message Into Headlines
Lesson Info
Transform Your Message Into Headlines
Now we're gonna look at how do you transform your message into headlines? So how do you take them messages that we've been working on and specifically focusing in on what you want to organize that first PR campaign around? Because we really want a transition that theoretical I'm going to do PR to. I'm gonna make I'm getting ready to send out my first pitch. I want to get you ready to send out a pitch by the end of this program. So thinking about what is that first thing that you're going to be supporting? And how do you make that into headlines? So one of the most important things that you can dio is communicate a sense of urgency. It's communicate to the person to reaching out to Why now? Why should they be covering me right now? And there's two key approaches that I recommend to this. So one thing you can do is look at seasons. We've talked about gift guides. We've talked about Mother's Day. We've talked about Valentine's Day. We talked about seasonal tie ins and also trending news w...
hat's trending in the media right now. You can also look at a fresh take on a topic that's always trending, and we have a very special guest. Terra Gentilly, who's gonna come up and talk about how she does that. So first, I want to give you a couple of tips on seasonal on trending news. So one of the first ways you can do this the best ways is to look at what our upcoming holidays and observances. And here you can actually just see there's you few Google like holidays and observances. You can see listings, and you can see exactly what's coming up in what day of the year there are. Hallmark actually has a really great calendar that they offer. I didn't bring it up here because it's kind of a mess to look at, but Hallmark talks about what are all those things? What's sweetest Day? You know all the things you might not think about. You can also look at industry forecasts, so this is the Pantone color of the year that comes out there. Pantone guy for color of the year, so few of a fashion product, a beauty product. If you have a home to core product, you can actually go on to Pantone's rub site and see what are the colors. They're gonna be hot in a given calendar year and in and given season. And if you have a line or you're doing recommendations and ideas, you can actually make this more attractive to editors and bloggers and reporters and producers by saying you should give my tips now because it it ties into the upcoming upcoming trends. Another thing that I love, too Dio is pull up research that's being released. So the Pew Research Center is a nonpartisan research organization that does reports on all kinds of topics. So here you can see they have US politics, media in the news, social religion, Internet tech. There's so many different areas that they're releasing research on. So if you're a person who is going out there with your ideas, this can really help you answer. Why Now you can just scan the headlines of their trends. Are I actually have pew on my feed, you know, So I have, like, a feed Lee and I have the Pew research trends coming out to me so I can just do really quick hits in the tech recently. Actually, they had, you know, people feeling burnout by text. So we sent on a couple of pitches for some of our clients on how you can deal with that and then last state media sites. So this is the today home page from a few days ago, and you can see things that are trending at the bottom. Here. It's feel the love with these Valentine's Day, something that's cut off. Probably gift, sir projects. So, you know, if you look at something like today or MSNBC dot com or any major media site, you can look at their site and see what's trending. You want to use this mostly for your online or, you know, local press. That might be more timely, you know, not for long leads or for your planning. And the last thing is just remembering toe. Look at those editorial calendars because that's exactly where the media is telling you what they're covering on a monthly basis.
Class Materials
Brigitte Lyons - Blogger Outreach Bootcamp.pdf
Brigitte Lyons - Pitches That Worked.pdf
Brigitte Lyons - Workbook - Simple PR for Creatives.pdf
Brigitte Lyons - Brigittes Fave Free Media Resources.pdf
Brigitte Lyons - Magazine Contact Cheat Sheet.pdf
Brigitte Lyons - Simple PR Course Syllabus.pdf
Ratings and Reviews
This is one of the best CreativeLive classes I've taken. I knew nothing about PR before this class and after taking it I was able to send my first pitch within a week. If you follow along with the workbook provided you really can come up with a pitch template that can can be tweaked to work for just about anything. I really appreciate how simple and enjoyable Brigitte made this class. No fluff, just great straight-to-the point actionable information. It's obvious she cares very much about helping creative people use PR to grow their business. Thanks Brigitte!
I honestly started watching this class thinking that I didn't need PR for my business. I know Brigitte is super smart, and I wanted to check out the live stream to see if I could pick up any tips for my own clients. I was so wrong! I loved this! Within the first 30 minutes I had taken so many notes and gotten so excited about the possibilities- that not only seemed helpful, but relatively easy and FUN- for my business. I ended up purchasing right away and I know I'll be referring back again and again. Thanks for the great class!
I am really fortunate in that I've had a lot of media exposure over the course of my career - all of it by referral or invitation. But with Brigitte's Simple PR class, I now have a framework to confidently pitch ideas and proactively create opportunities. I particularly appreciated her suggestion to tie my media outreach efforts to my business goals. And, she provided a clear roadmap that will help me be systematic and strategic in doing just that!! Way cool. Many thanks, Brigitte.
Student Work