Trending Topics with Tara Gentile
Brigitte Lyons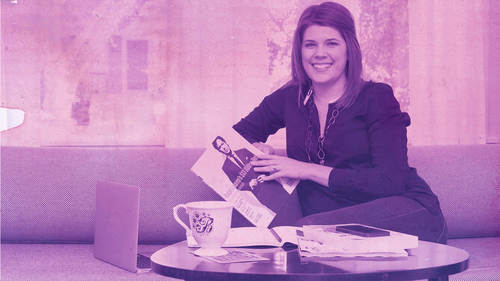 Trending Topics with Tara Gentile
Brigitte Lyons
Lesson Info
14. Trending Topics with Tara Gentile
Lesson Info
Trending Topics with Tara Gentile
now I want to get tear up here because she has some really great insights into how you could do a fresh take on a topic that is always trending and I don't want picked here on this. But for this part, But you know, your least conventional opinions can actually be your key to getting media attraction like, Where is that where you have something to say That's different than all the other people out there in the market that are saying an unconventional doesn't have to be weird or quirky. It doesn't have to be confrontational, but it's those areas where you have just a little bit of disagreement with the conventional wisdom that's always out there. And that is one of the ways you can really take something that is always in the news and make it fresh. So let's get tear up here. A Tera Gentilly is a great friend of mine. She's also the author of a brand new book, Quiet Power Strategy that just came out. You can find it on her website, Quite power strategy dot com. She is a business strategis...
t. She helps people with their business models. We run a program actually quite power strategy together and tear it. Just come on up here. I was so excited as you. Thank you. So welcome. And thank you so much for joining us. Absolutely. So what? I invited terror here to talk about today is how she takes that the work that she does, which is something that can be talked about a lot in the media. Talked a lot in the blogosphere. There's a lot of competition for your work. But, man, are you great at creating fresh angles on it on. I just love if you can share, you know, how you been doing that and and see what we can learn from? Yeah. Yeah, absolutely. So my message is always trending because people always want to make more money, do less work, get their ideas out there. So, like, the idea of thinking seasonally or thinking about trends pretty much makes my head spin s. So instead, I definitely try and find new takes, uh, or unconventional opinions on things that are always trending. And, you know, I was thinking about this while you were talking, and you know, the difference between a message and a headline to me is a lot like what I talk about in the difference between Buy in and buy now. So bye in when I talk about that with clients. What I what I mean by that is what gets your audience excited. What gets them interested, you know, what are they buying into when they're thinking about what your business does? What your message is by now is what actually gets them to hand their credit card over to you, right? I mean, that's it's that thing that solves an immediate need. And so my message is big and broad, and it gets people excited. Get your idea out there, make more money and do it with less heartache and hassle leverage or quiet power so that you can create a business with more wealth and peace and ease. But that message only, I mean, that's good for one headline, right? That's maybe too. But if I drill that down and think about how can I solve a particular pain point? Or how can I solve a particular problem? I can turn that into a headline that gets people to click and when people click and they pay attention and they read all the way through. They're much more likely to then come over and convert to my email list or by my book or sign up for a program. So one way I've done this recently, I mentioned you know, that I like to help people build businesses with more wealth, peace and ease piece. And he's being kind of a really big deal. Is that, you know, delegation is something that's always trending. We always want to know better. How can we delegate? Why? Because we are really bad at delegating. I don't I honestly do not know many people who are good at delegating. It's a skill that we all have to learn. The thing is because it's difficulty, a lot of us still avoided. Like even Meghan earlier said, You know, I'm a control freak and I do everything myself, and I totally understand that, and I have sympathy for that. So just this week I published a headline that was three ways to quit your business without delegation delegations. Great, I highly recommend it. But you know what? There's other ways you can find peace and ease in your business without delegating. So that headline then got Ah, lot of traction on a platform that I've gotten great publicity on in the past, which is called Daily Worth. And it's a daily financial email specifically geared toward women. So it's a great platform for me, and it's a great way to take my message and tweak it to create a headline that specifically geared for a particular audience for a particular pain point and to get them to solve a particular problem. Wow, and who wouldn't want to click on an article like that? But who wants to read another article on all the different ways you could be delegating exactly? No, no, because those are already out there. They're so saturated and it's here. That's why I want you to be here because you know, you have this amazing way at looking at things and gleaning insights in areas that are also saturated. Do you like another example of that? I know you dio examples of this. So, you know, speaking of the idea of offering an unconventional opinion, two articles that I've written, I've done the exact same thing that I just mentioned with where I took a much broader message and boiled it down into something much more specific. So the conventional opinion is following your passion and the money will follow. Or, you know, here's how to make money from your passion. Well, I think that's B S. And so one article I wrote that's been extremely popular on my own blogged. But that's also gotten me a lot of external media as well is simply stop trying to make money from your passion. And throughout the article I outlined why, you know, make money from your passion doesn't work. I won't go into that here, although I would love Teoh. Exactly. But and then I outlined what does work. And it's not that being passion driven is bad. Of course, being passion driven is wonderful, and it can be a real key to your success. But I have other ideas on what your passion should drive you to do, which is speaking of the second article, I wrote pretty much on the exact same topic, which was called This is the motivation that helps your business succeed. And so that headline comes specifically out of those kind of click bait titles where okay, well, what is this right, You know, and so That's another thing that you can think of to is you could take your message and fit it into the kinds of headlines that you're clicking on right now. And so that story is a story about how my partner are, how I marked Met my partner, Actually, which is because his OK, Cupid profile said, started with I make better kimchi than your Korean grandmother. And he says, This is a six foot tall, bearded, redheaded mountain man from from Montana. But you know, so he, uh, we have this a couple of crazy experiences with his kimchi and fermented foods. And he got to the point where he said, You know, I just love this stuff so much, I want to share it with everyone so they love it, too. And so that article, where I say you know your passion should be for sharing your business, not just creating what you make has been the most widely read article on my entire site, which has existed for 5.5 6 years on DSO. That's that's another great example. I think of taking my message and boiling it down into a headline that really makes you want to click on it and something that doesn't you know it doesn't blow my whole wad. One message I can use that, that same idea over and over and over again. It just tell different stories every time I share it. What I think it's so interesting is how you're getting inspiration from so many different areas. You know, you're following other industry trends and what other people are writing on and saying, I think that's pretty bad advice. Let's do something else or that's not the whole story like this, that the whole story. So here's another piece of where we can be going with that You're also taking experiences from your own life. We've talked about how journalists are storytellers and so when you can actually create a really narrative and a story that shows your your message. You know in that light and you're not just sharing it and telling it, but you're showing it off with a story that could be incredibly effective in a fun way to do it, too. Yeah, absolutely. And that's actually something that I really thought about while I was writing my new book, What are all the different stories and examples that I can share that are going to really, you know, bring bring my ideas to life and then I can take those same stories. And when I go out and do media for the book, specifically, I can recycle those stories and tell them again and tell them maybe with fresh details Or, you know, even just me. Telling them instead of writing them is really, I think, effective way to draw people in and not just make it. You know, we'll link on some website, but make it something that people really want to share an act on. And that's our goal, I think. Yeah, absolutely. Another thing I'm hearing you talk about is how you're writing your headlines, which I think is really interesting, because headline writing is something that people go to journalism school and get training on right. It's tricky and you have some techniques like you're you're saying, like pulling headlines that catch your attention. And as you're building your media list, hopefully you. Now you've a spreadsheet where you have all these sample articles so you can take those sample articles and say I really like this headline construction and play mad Libs with that, you know, and replace it with your own ideas. How long have you been working on your headline building? Oh, man. So I have to say that headline building has been something that I've really had toe work on over the years. It used to be something I didn't pay attention Teoh at all and really just worried about my content. But you know, over time it's become more and more important to me to make headlines work. You know, you mentioned while we were talking earlier that Twitter is a great place for figuring out what makes people click. And, you know, I am a great Twitter lover and so experimenting on Twitter and seeing what constructions of words what tactics with headlines get the most clicks or get the most retweets or the most, you know, at replies back to me has been another really good way. I also like writing really unexpected headlines. So, like a subject line that I sent out in an email yesterday, was how to create your own pie recipe. I know it does not sound like it's about business building, because everyone's out trying to get a bigger piece of the pie, right? And my clients aren't out trying to get a bigger piece of the pie. They're actually trying to bake their own pie, so I want to provide them with a way to create their own recipe. But let me tell you, that email got crazy amounts of opens, right? Because why is Terror telling me to write a new high recipe? I would totally open that email. I was here yesterday and tomorrow. Eyes really fantastic. And you're playing with different techniques to so you could take different techniques like play with storytelling, play with metaphor. We're gonna talk a little bit about the techniques, and there's actually a bunch in your workbook to exercise to help you work out on these things and play those mad lives. I know we're gonna have questions for terror, so I don't want to be the only person asking you questions. People are free free to type them in and enter them in. But it's just so funny here, like how you're able to do this and you have to tell us about your book, uh, of my new book Eyes Called Quiet Power Strategy. It is all about leveraging your unique point of view. So you know you're talking about preventing an unconventional opinion or adding a new angle to an existing story and quiet power Strategy really is about using your unique angle, using your unique perspective to ground your business in a foundational strategy that allows you to be more compelling, more effective and more efficient so you can build your business with less heartache and less hassle and get that wealth, peace and ease that we were talking about earlier, which is great what you're hearing. Terror doing right is weaving her key messages even as we're standing up here. And that is such a great effective PR strategy. So you don't have to always be out there talking about new top topics. But what you want to do is just create new angles to be talking about them. And why would you be talking about them now? And this approach that you're having a just saying This isn't the full story, and I have another piece or have a different pie to give you You want apple pie. Blackberry is a great approach. What kind of questions we have for terror. Yeah, how do you go about finding sort of what topics are trending or what topics you disagree with that are kind of going on right now. Yeah. So this is actually an opportunity to talk about a tool that Bridget and I both love, which is my perspective map. And I don't think you've mentioned the perspective at all. So my perspective map is super easy. It is a four quadrant chart. Um, the top left is, say, I should do this mirror the top left to say talk writers dio bottom Leftist Think bottom right This feel and the idea here is to write down everything that you hear your perspective, clients saying, doing, thinking or feeling. And the idea here also is that you don't want to think about what they're saying or doing in relation to you. You want to think of how they're saying or doing thinking or feeling in relation to their work their friends, their spouse, their kids, their colleagues. So basically, there really life because any time that client or customer is communicating with you, they're trying to prove something to you. They're trying to get it right there, trying Teoh just interact with you in the way that they think they're supposed to, and it's not entirely rial. It's not that they're trying to be disingenuous. They're just trying to be good, right? So I like to get. I like to remove myself from the picture and really examine what my clients are saying doing thinking and feeling. And when I do that, I start to notice patterns. Um, and those patterns are the things that end up trending two weeks, two months, two years from now. And so there's things that I've been talking about, the things that I've noticed that have bubbled up to the surface as trends, you know, really two years later. And if I can start weaving those threads into my work like, for instance, you're going to start seeing ah, lot of quiet and power stuff, specifically quiet power stuff from a whole lot of other people than meet very soon. It's just, you know, the power of introverts is something that is has already become huge but is about really, really ready to go completely mainstream. But because I've been listening because I've been observing, I could get my ideas out there at the head of the trend as opposed to at the tail end of the trend. So that's that's the main way I do it and I use social media really to do it s o following people on Twitter, following people on Facebook, really paying attention on Facebook and listening more than I broadcast or observing more than a message is the way that I spot trends before they're actually trends. Brilliant. And you had asked earlier to about should I ask my customers with media outlets they're doing and this is a part of it is what they're gonna tell you. Nobody is gonna tell you that they're reading like us Weekly Press Hilton, I maybe, But most people aren't could admit to that. Like there's a gossip log that I read every single morning that I just told care about today. And she was like, Are you serious? Not a bad way, because we talk a lot and like, I've never mentioned it before. And I had this really weird wealth of information about Kate Middleton. She really weird. It was weird. It's what I do because I don't like to get out of bed in the morning and so it will. It wakes me up. It gets me going. But if you ask me what media outlets I tune into I mean, I'm not even gonna mention it right now, but you can. You can observe these things online. What are people sharing from Winner? They interacting with the trending stories on Facebook. I mean, I'm sometimes shocked who is interacting with, like, not trashy trending toe next, but like really poppy trending topics. Do you care about that? That's so interesting. But it's a good window into what? People are paying attention to what they might be interested. How you might be able to create really cool tie ins, really unexpected tie ins that play into your evening perspective as well as to your customers. I love it. Did we have anybody on in the chat rooms? We do indeed. And then we'll come to Melissa. A few people, actually, I think confused about Twitter and how you actually target me because cause you can't direct message somebody unless they follow you, etcetera, etcetera. So people just about basically asking for the best advice to pitch someone through Twitter and then time capsule was saying, Is there then a website that get least list the most retweeted tweets that you can study the headlines and popular. Uh, okay, so those were both um, yes, I have excellent ideas on both of those. So first, my topped Twitter tip I've shared this before. I will share it again because it never gets old is to create lists on Twitter. Just going onto the whole mainstream is a really good way to get sucked into something that you can't get out of its like a, you know, crazy world pull of social media craziness. So what I do is create Twitter lists, and it's not so much about interacting with people. I mean, obviously, interacting with people is important, but for what I'm talking about, like I said, it's about listening and observing. So what you want to do is find people online who represent your target customer. Your ideal couple, your your ideal client. You want to find people who are influencers or, you know, uh, journalists in your field on you want to find people who are your colleagues, your tribe, the people who are doing similar work or complementary work to you. And those are three different lists that I pay attention to every single day. Some of those lists have maybe 15 people in them, and some of them may have 300 people in them over time. But the fact of the matter is, I can keep up with each of those lists, So there's very little that I actually miss. Which, of course, is a big problem with Twitter. Um, and so I'll follow those lists and again, all observe all. Look at what are people saying? What are they doing? What are they thinking? What are they feeling? And then I can, uh, craft the content that I want to respond to those things and put it up either on my block just on tweets, you know, in Facebook updates, and it makes what I do way more relevant in terms of really crafting those headlines are looking for those headlines. You know, make sure your Twitter emails your emails from Twitter aren't going to your spam folder because Twitter actually sends out an email at least once a day. It might be twice a day where they actually say These are top tweets in your field or in your in your network, so they'll send them to you. You don't have to go looking for them, Uh, and then trying to think if there's another part of that that I wanted to go, there was the pitching, so I could actually get really quickly. So in, generally speaking, when you're reaching out to people, I think it's better to network on Twitter than to pitch on Twitter. So form a connection, share their content, you can send them a tweet and say, you know, we've done this, We've sent over a pitch and we've sent a tweet of like, I just sent you something Or are you the right person for this? But your pitch really will go into an email, and we're gonna be talking in a lesson about what that email should look like. Yeah, and then Melissa, I know you have a question and then tear. I think we're gonna have toe, you know about this. Um So I'm curious how much time you spend on Twitter every day. And I know I know you spent a lot more than most people, but my original question was, as you are reading all these tweets and observing and taking it in are you just sort of absorbing it and letting your subconscious mind like make the connections are Are you taking notes or you know what? What are you actually doing? Yes, So I have a place where all of my ideas go that are generated from social media or generated from traditional or new media headlines, stories, things like that. And that's Evernote. So any time I have an idea specifically for a headline is most often the way it comes to me. And if it's not even the final headline, it's that is that nugget of an idea that I know I'm going to still be interested in when I go back to ever know later. So I'm I'm watching What's going on? I'm watching what people are saying, doing thinking and feeling. And when there's something that I have a gut reaction to like, as Bridget has been saying, Oh, no, that's not right or that's not the full story or I wish people would say this instead of that. That idea goes straight into a never note note, and the the subject line or the title on my note is that initial headline idea that comes to me, and maybe I jot down some other notes. But a lot of my Evernote is actually blank Notes with headline ideas on All know when I come back to that headline idea kind of how I wanted to flush it out. And then every week when it's time to write the email, write the block post whatever I go back to my Evernote, look back through the last week or two's ideas and see what is it that I feel really called to write about today? What is it that I think is gonna be really relevant to my audience today? And that's what then I flesh out, um, and then in terms of how much time I spend on Twitter, I mean in as a chunk, not a lot. But over the course of the day, I mean, I probably check it 50 times, but unfortunately there's no app for that. Rarely Amman on my phone. It's much more that it's a tab that's always open on my browser, and I use Hoot suite to keep track of those lists that I mentioned all at the same time. That's awesome. And that's such a great tool for just seeing what's coming through. Lots of media outlets, right? If you're falling media outlets, you'll see their headlines coming through on Twitter, and you can get those really quick hits. Thank you so much. Terribly. You're such A, you know, great person to be talking about how you make your message, saying how you pull it together because I think you live and breathe at every day. So where can people connect with U. S so the best place to connect with me online? If you want to talk, if you want to ask me questions is on Twitter, and you can find the at te Rijn. Tilly just like Meghan. You can find me at tear it until you just about everywhere on then quiet power strategy dot com. You can download a free tool. You can buy my book. You can find out more about ways to work with me and the whole team that I have working on this great quiet power strategy idea. Thank everyone. So wow, there was so much information there on ideas and how you can put your messages together. And what I will say is that this is the sort of thing that does take a little bit of practice. You know, terror has been doing this over the course of many years and making observations. So if I but there are really proven techniques that you can use to get better at it very, very quickly. So the first thing I just have a couple of examples here on how you might put some this together. If you're pitching a product, maybe you add a seasonal angle. So have the perfect Valentine's gift for new moms, right? You're combining these things expert positioning, and then you have unconventional opinion. Seven things they don't tell you when you start a business really intriguing people that would be right in line, I think, with with some of the things that Terror was talking about, current reports and methodology, Social media stressing you out try and Internet detox. That's actually something that was in the Pew report that I was sharing with you before that. There is a lot of people showing how they're being stressed out by social media, so you could actually, you know, reference that when you when you're putting your ideas together, so in the workbook that you get if you purchase his course, there's prompts in here that go along with this lesson that help you start transforming your message into headlines. This is a place to play. Be completely playful with this. It's totally creative. It should be fun. You know, you should look at your inspiration. Look at the headlines that you've pulled into your media list and play with them. So what? I love this here is a little bit about which approach are you excited about? Are you going onto something that seasonal? Are you gonna take an unconventional twist on something that's always trending? Which one do you want to try out first? Melissa, I'm definitely the expert positioning an unconventional opinion and possibly also the current reports of methodology. Oh, yeah, I just love looking at those current reports because, you know, the media is always looking for, you know, angles on that, and so that could be just a great way if you catch a moving within the first month of when it comes out. Very cool. What's another one? You have the seasonal, the seasonal angle, plus the product pitch, and it'll be really helpful for Mother's Day like a um something, something to get for someone who's hard to shop for. Yeah, so you you pull these things together and you can combine them. And that's where some of the magic Certs toe happen. Taking your messaging, taking these different kinds of ways that you can make it really fresh and make it exciting and created into headlines. And in the beginning of my career, I tried way too hard to be really clever with these different things, and the second I started looking at these media outlets and saying what kind of headlines air they doing? And I did something that I call Steel like a journalist, right? Steel, like a journal, said journalists source their ideas often from other media. You can do exactly the same thing. You can source your idea so you can look at your local newspaper, think of an idea and pitch it to something national. You can look at the home page of the Today show, take a headline, tweak it for what it works for you and pitch it somewhere else so you don't have to be starting from scratch. And I will say the second you realize that and stop trying so hard for me. It was an overnight transformation when I realized that. So I struggled and I struggled for years and then I had this switch and everything changed.
Class Materials
Brigitte Lyons - Blogger Outreach Bootcamp.pdf
Brigitte Lyons - Pitches That Worked.pdf
Brigitte Lyons - Workbook - Simple PR for Creatives.pdf
Brigitte Lyons - Brigittes Fave Free Media Resources.pdf
Brigitte Lyons - Magazine Contact Cheat Sheet.pdf
Brigitte Lyons - Simple PR Course Syllabus.pdf
Ratings and Reviews
This is one of the best CreativeLive classes I've taken. I knew nothing about PR before this class and after taking it I was able to send my first pitch within a week. If you follow along with the workbook provided you really can come up with a pitch template that can can be tweaked to work for just about anything. I really appreciate how simple and enjoyable Brigitte made this class. No fluff, just great straight-to-the point actionable information. It's obvious she cares very much about helping creative people use PR to grow their business. Thanks Brigitte!
I honestly started watching this class thinking that I didn't need PR for my business. I know Brigitte is super smart, and I wanted to check out the live stream to see if I could pick up any tips for my own clients. I was so wrong! I loved this! Within the first 30 minutes I had taken so many notes and gotten so excited about the possibilities- that not only seemed helpful, but relatively easy and FUN- for my business. I ended up purchasing right away and I know I'll be referring back again and again. Thanks for the great class!
What a terrific, informational and inspiring course! We now have a solid plan to move forward with our PR, and the know-how to accomplish our goals, only 8 hours after logging in to CreativeLive! Thanks in advance to Brigitte for making the murky world of PR crystal-clear and accessible. Best wishes, Lori Covington, Writer, Jeanette Walker Jewellery, Prince Edward Island, Canada
Student Work