Simple PR for Creatives
What to Gather Before You Pitch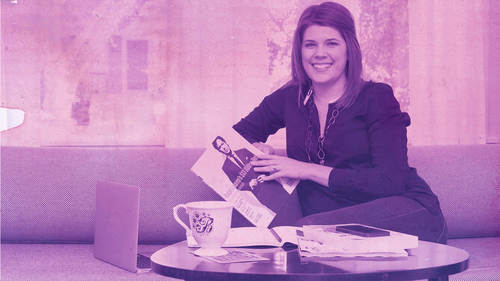 Simple PR for Creatives
What to Gather Before You Pitch
Lesson Info
What to Gather Before You Pitch
Headline writing can be so fun so this lesson is just a couple of extra things that you need to gather before you pitch so you need to know your messages you need to know your headline but before we go out there and actually put your first pitch together which is what we're doing in the next segment there's a couple of other details that you need to pull together before you start your media outreach the best way to know what you need is actually the look att similar story types so you can look at you know those um story examples that you put in your media list and look at them and say what do they need to put this together they need more than just a headline they need more than just a ni idea you know they might need video they might need photos and you can figure that out by looking at the media so it's this whole idea right of looking at the media figuring out they need and giving it to them and not making it so hard that you have to brainstorm something from scratch so a couple of e...
xamples of this we have ah sweet paul magazine which is this really great lifestyle magazine and if you look on here I pulled up holiday gift ideas for the ladies so this is a feature that they did I think there were like thirty of these this really scrolls down and if you just glanced at it you can see if you're going to pitch sweet paul and you want to do something that's a gift guide you can see you know you're gonna want to know what the name of the product is the price point this is really important often when you're pitching product they want to know the price point and so you wanna have that for them and don't try to hide it and then a product image so if I were to be pitching sweet paul I would know I need to pull together you know, an image I can look at these things look like style shots and they would also want the price point so you want to make sure that you have these different components before you reach out before you start reaching out now here's another example where we have ana ramos who had done a contributed piece for upper case magazine for their block so this is one where unfortunately I don't have the full screen shot but you have it's a constructive piece so obviously she wrote that article 00:01:59.96 --> 00:02:02. now you don't have to send over the full article when 00:02:02.42 --> 00:02:04. you're pitching yourself to write a contribution, 00:02:04.62 --> 00:02:07. but what you do need is a couple of bullets about 00:02:07.63 --> 00:02:10. what you would include or a couple of headline ideas 00:02:10.04 --> 00:02:12. that you consent to them. She also included pictures 00:02:12.93 --> 00:02:15. so if you look at this site, they're very heavy on 00:02:15.48 --> 00:02:18. visuals so if you include different pictures, you 00:02:18.18 --> 00:02:20. know that you're giving them a complete package if 00:02:20.72 --> 00:02:23. we could scroll down here to wed also see a headshot 00:02:23.23 --> 00:02:26. of ana so you know, you know when they're doing contributions 00:02:26.45 --> 00:02:28. a head shot they need photos and they need the piece 00:02:29.13 --> 00:02:31. so if you're going to be pitching contributed articles 00:02:31.56 --> 00:02:33. that that's something that you want to dio you know 00:02:33.71 --> 00:02:35. that you want to maybe get some headshots together 00:02:35.62 --> 00:02:38. before you do that so just knowing that you can plan 00:02:38.34 --> 00:02:42. ahead so you have the pieces that you need so the 00:02:42.0 --> 00:02:44. most common things that you'll need to gather our 00:02:44.41 --> 00:02:47. photos photos of your product photos of you at work, 00:02:47.45 --> 00:02:50. er just simple headshots I also recommend that you 00:02:50.88 --> 00:02:54. do either photos that are in this styled shot or on 00:02:54.8 --> 00:02:57. a plain white background so when they do round ups 00:02:57.35 --> 00:03:00. heroes often taking your photos and they're putting 00:03:00.04 --> 00:03:02. them together and so they need to have them on a white 00:03:02.22 --> 00:03:04. background so they can take them out and use them 00:03:04.22 --> 00:03:07. as they are you're gonna want a bio your media ready 00:03:07.65 --> 00:03:10. bio so we'll be talking about that when we look at 00:03:10.01 --> 00:03:12. how to put your pitch together but you know, just 00:03:12.35 --> 00:03:14. know that that's something you're going to need before 00:03:14.11 --> 00:03:17. you send out an email if you have any sort of data, 00:03:17.62 --> 00:03:20. so if you're going to be using the trend idea you 00:03:20.15 --> 00:03:22. want to make sure you're pulling together that data 00:03:22.34 --> 00:03:24. now you don't necessarily have to do the data yourself 00:03:24.36 --> 00:03:26. right? You could just link to the report but you want 00:03:26.59 --> 00:03:29. to make sure that you have that original source so 00:03:29.0 --> 00:03:31. if you read a report that you're like oh my gosh this 00:03:31.76 --> 00:03:34. ties in really great and it really supports my message 00:03:34.62 --> 00:03:37. and it makes it really timely makes sure you bookmark 00:03:37.36 --> 00:03:39. it don't lose it because you're going to need to send 00:03:39.91 --> 00:03:42. it I cannot tell you how many times I have done that 00:03:42.65 --> 00:03:45. so just make sure you have this stuff put together 00:03:45.14 --> 00:03:48. and so you can reference it later and then of course 00:03:48.16 --> 00:03:50. you might need to gather a contributed article right 00:03:50.25 --> 00:03:51. if you're pitching something that you'll be doing 00:03:51.99 --> 00:03:54. especially if you're doing online media or guest posting 00:03:54.73 --> 00:03:57. you're going in that article you don't necessarily 00:03:57.07 --> 00:03:59. need to have that article upfront but you want to 00:03:59.41 --> 00:04:01. make sure that you feel confident that you're gonna be able to turn around so sometimes what I recommend is when you have the idea you outline it so you can come back to it later and it's very easy for you to fill out so these air there really common things inthe e course that we have also in the catalog we have a pr for your product simple pr for your product I talk about how you can put together a media kit or a press kit now if you're not a product based business, you probably don't need it in a digital format or in a physical fermat you could just kind of pull these pieces together put him in a folder on your hard drive put him on a folder you know however you organize your information so it's very quick and easy for you to access so if you reach out to an editor or a blogger or producer and they say I want to include you it's just right there at your fingertips you don't have to struggle to find that information so you just want to pull it together before you start pitching but if you are doing a lot of product fixing you might want to check out that simple pr for your product because it has a lot of information about what your product photography should look like and how you would put that press get together so that's where I want to leave it in this segment is what will a blogger urgent journalists need along with your story idea so you have your headline you have your message what are those other components when we come back erection gonna be talking about how you craft that irresistible media pitch but first we were together all the components you need so that when you start when you implement your media plan you hit the ground running and you're ready to go. What kind of things do you think you might need for for immediate tesh I'm gonna need some product photos so probably styled ones and then also ones on white backgrounds like you mentioned and then probably a few good a few good angles to talk about the coasters and maybe some information about the materials they're made with do you have all that stuff together mostly it's in places yeah yeah won a lot of places it is so common for businesses that this is information is scattered and so what I'll do is will copy those files and put them into one location so that it's really easy to respond because often when you're working with the media there on a deadline and so it's so important 00:06:02.97 --> 00:06:05. you can collect it and pull it together then you had 00:06:05.46 --> 00:06:09. some too as a photographer I always take bio photographs 00:06:09.27 --> 00:06:15. for people but I haven't had mine taken things that's 00:06:15.29 --> 00:06:18. what I will need to dio I will need to do that yeah 00:06:18.44 --> 00:06:20. if you're gonna be out there pitching yourself especially 00:06:20.79 --> 00:06:23. if you're going to be doing any sort of expert kind 00:06:23.31 --> 00:06:26. of pieces were you know we talked about working mother 00:06:26.62 --> 00:06:28. and so you would maybe we working with them or be 00:06:28.96 --> 00:06:31. interviewed by them you definitely will want a photo 00:06:31.34 --> 00:06:33. before you send that out because they're going to 00:06:33.13 --> 00:06:35. ask you for one and if you look at their coverage, 00:06:35.58 --> 00:06:37. you'll probably see that that's true and so you don't 00:06:37.95 --> 00:06:40. want to do that and go oh crap am I allowed to say 00:06:40.63 --> 00:06:42. that I agree with what. You don't want to have that 00:06:42.92 --> 00:06:45. situation where you don't have what you need if they 00:06:45.17 --> 00:06:45. ask for it.
Class Description
When it comes to your business, pretty much all press is good press. Mentions of you and your work in blogs, podcasts, magazines, on TV, and elsewhere raise your profile and puts your business in front of a whole new audience – for free. But hiring a public relations agency can break the bank, especially for creative freelancers and entrepreneurs just starting out. In Simple PR for Creatives, Brigitte Lyons will show you how to harness this powerful tool yourself.
Brigitte has lived and breathed PR for more than a decade, and she specializes in working with creative professionals. In Simple PR for Creatives she'll teach you the PR basics and offer a step-by-step approach to generating buzz on a budget. You'll learn how to get real press attention using tools tailored to the needs of freelancers and small business owners. Brigitte will show you how to:
Put together a media contact list
Get journalists to write about your business
Earn important endorsements
Create an effective editorial calendar
You'll learn insider tricks for fitting your product or service into the editorial mission of your target publications and increase the likelihood of your pitch getting picked up. You'll also learn the most effective ways to pitch and the perfect times to do it.
PR isn't reserved for other, more successful people. It's a great option for enterprises of all stripes and sizes, and it's easier than you think – learn the ropes in Simple PR for Creatives with Brigitte Lyons.
Reviews
This is one of the best CreativeLive classes I've taken. I knew nothing about PR before this class and after taking it I was able to send my first pitch within a week. If you follow along with the workbook provided you really can come up with a pitch template that can can be tweaked to work for just about anything. I really appreciate how simple and enjoyable Brigitte made this class. No fluff, just great straight-to-the point actionable information. It's obvious she cares very much about helping creative people use PR to grow their business. Thanks Brigitte!
I honestly started watching this class thinking that I didn't need PR for my business. I know Brigitte is super smart, and I wanted to check out the live stream to see if I could pick up any tips for my own clients. I was so wrong! I loved this! Within the first 30 minutes I had taken so many notes and gotten so excited about the possibilities- that not only seemed helpful, but relatively easy and FUN- for my business. I ended up purchasing right away and I know I'll be referring back again and again. Thanks for the great class!
What a terrific, informational and inspiring course! We now have a solid plan to move forward with our PR, and the know-how to accomplish our goals, only 8 hours after logging in to CreativeLive! Thanks in advance to Brigitte for making the murky world of PR crystal-clear and accessible. Best wishes, Lori Covington, Writer, Jeanette Walker Jewellery, Prince Edward Island, Canada