What will we cover in this course?
Brigitte Lyons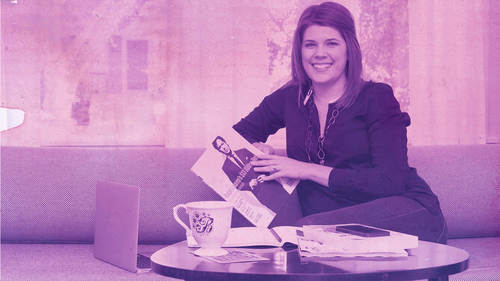 What will we cover in this course?
Brigitte Lyons
Lesson Info
1. What will we cover in this course?
Lesson Info
What will we cover in this course?
It's so great to be here today with creative live we're going to be covering a simple pr for creatives and what that is is a very basic framework that anyone can use no matter whether you have a business that has handmade product if you have an information product if your coach or consultant this is for you to really empower yourself to go out there and get major media coverage for your work and for your ideas a little bit about me is you know I've been working in the pr industry for I think thirteen years now actually and I've been ableto work like jason introduction with some major media outlets you know I've worked directly with cnn with bloomberg with fox news but what I'm most excited about isn't the work that I've done myself but actually things that I've helped empower other creative entrepreneurs to go out there and get for themselves so just a couple of clips to start us off to show you what it's possible what is possible for you to achieve using your own public relations work...
so here we have something on el canada where we had a just who's the owner of a flower shop go and get a feature for her shop local coverage which is great here we've ana ramos she is an illustrator and an embroider and so she was able to go out and work a couple of different times with uppercase magazine which is a magazine that I know a lot of creatives love I love it too um here you see megan group on mind body green able to get her ideas out there she did this within just a month of launching her website she was able to get onto mine body green with her ideas and then design sponge megan on men who were going to be actually hearing from later in this program had to be foreign after she had this amazing pool room that she transformed into studio pitched it to grace body of design sponge and was able to showcase that and as a working artist in a textile designer and a jewelry maker this was big for her because she was able teo showcase their work here and that's what we're about today you are going to become your company's best publicist you're going to have all the tools all the knowledge that you need and hopefully the confidence in the excitement to take all this and go out there and get your own media coverage so here's how we're going to be getting you there of course the programme we're going to first create your pr road map in your ninety minute pr plans that's what our first segment is about you know how do you set the stage for the pr outreach you're going to dio then I'm going to help you see the media through the publicist eyes and a crash course on the media so here I'm gonna be showing you how I look at a mean outlet when I open up a magazine or if I pull up the website the way that I'm looking at that information is fundamentally different than when you're reading it for fun right for consumption we're also going to prep you to implement your very first pr campaign so we're going to organize a specific campaign for youto launch and you're pre pitch checklist and then finally I'm going to help you craft an irresistible media pitch that will help you build lasting relationships with the press this public relations program is not about one and done we're going to set your business up for success and when things I'd like to say that pr does for you is it can help you set your business up for the next six years not just the next six months so michael is to get you some fast winds and some great momentum but also to put you in a position where your business has some real staying power and is able to get some influential press mentions and badges success that will help you get out there so public relations is a creative discipline in fact a lot of people call it a craft just like any other kind of thing you know make her craft that you might have whether your scrapbooking where they're painting when you're doing photography it is a craft that you can learn and there's a lot of creativity that you could bring into designing your messages and building your plan there's also like any other craft where there's a learning curve at the very beginning so it takes some practice right? You don't come out of the boat able to paint a beautiful masterpiece your first time out but you're getting the tools and that you need to get started and then the more you do it the more it become second nature so what I want to recommend to you as you're implementing this course is you're implementing this content is that first of all you just take it one lesson at a time I don't feel like you have to rush through and take on all the learning in one afternoon take it one lesson in a time and at your own pace whatever pace feels right to you trust that your skills are going to grow as you practice these techniques so the first time you look at a media outlet the way that I would you might not see everything I would see but every time you do it you're gonna pick up more and more learning and knowledge and inspiration it also recommend that you practise the art of noticing so we're going to be looking at um different ways to look at the media but I will come into you is you're out in your day even when you're not working on these specific lessons notice the magazine covers when you're standing in line at the grocery store see what you're picking up on what kind of pinning for you when you browse your favorite website sir, if you're reading a block see if you notice them and you're looking at them in a different way that will really help build your skills and doing this over time and finally I know this sounds a little weird, but let your subconscious have time to incorporate what you've learned so I found in micro so many times where I go to bed and I'm struggling to put a pitch together I'm struggling to figure out the right message of the right angle and I sleep on it and I wake up and you know, my subconscious has worked it out overnight it works, it really works and so if you're really feeling stuck on something sleep on it don't push it don't feel like you have to force it it should be something that you allowed to come up a little bit more naturally and so again just you know, take this at your own pace use these are my recommendations but use the process that you know works for you, right? That that's what's most important here because this is all about empowering you so with that let's jump into the first segment, you're ninety minute pierre plan quick review what we're going to be doing we're gonna get you clear on why you're doing pr. So what are your objectives? What are you here, tto, learn, identify the best kinds of media that will help you reach your goals. So I've got a really fun chart to show you on this. Um, I'll help you decide which messages you want to put into the world, so have a really fun group of exercises to look at your messaging and then develop your hit list of target media.
Class Materials
Brigitte Lyons - Blogger Outreach Bootcamp.pdf
Brigitte Lyons - Pitches That Worked.pdf
Brigitte Lyons - Workbook - Simple PR for Creatives.pdf
Brigitte Lyons - Brigittes Fave Free Media Resources.pdf
Brigitte Lyons - Magazine Contact Cheat Sheet.pdf
Brigitte Lyons - Simple PR Course Syllabus.pdf
Ratings and Reviews
This is one of the best CreativeLive classes I've taken. I knew nothing about PR before this class and after taking it I was able to send my first pitch within a week. If you follow along with the workbook provided you really can come up with a pitch template that can can be tweaked to work for just about anything. I really appreciate how simple and enjoyable Brigitte made this class. No fluff, just great straight-to-the point actionable information. It's obvious she cares very much about helping creative people use PR to grow their business. Thanks Brigitte!
I honestly started watching this class thinking that I didn't need PR for my business. I know Brigitte is super smart, and I wanted to check out the live stream to see if I could pick up any tips for my own clients. I was so wrong! I loved this! Within the first 30 minutes I had taken so many notes and gotten so excited about the possibilities- that not only seemed helpful, but relatively easy and FUN- for my business. I ended up purchasing right away and I know I'll be referring back again and again. Thanks for the great class!
What a terrific, informational and inspiring course! We now have a solid plan to move forward with our PR, and the know-how to accomplish our goals, only 8 hours after logging in to CreativeLive! Thanks in advance to Brigitte for making the murky world of PR crystal-clear and accessible. Best wishes, Lori Covington, Writer, Jeanette Walker Jewellery, Prince Edward Island, Canada
Student Work