What's the Best Media to Get Results?
Brigitte Lyons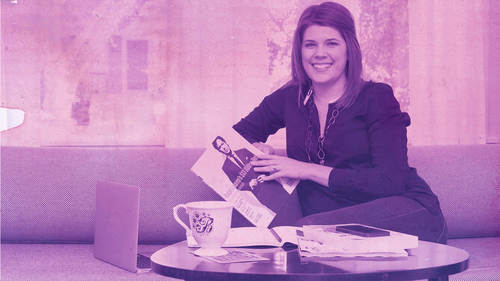 What's the Best Media to Get Results?
Brigitte Lyons
Lesson Info
3. What's the Best Media to Get Results?
Lesson Info
What's the Best Media to Get Results?
What is the best media to get the results because different kinds of media are actually suited to different kinds of outcomes so in this listen what we're going to be talking about is knowing what your goals are which media outlet should you actually be concentrating on which ones are actually going to help you drive those goals because there are not all equal so I created this chart for you I hope that you can see it on the screen um but this chart is actually a chart that shows you various kinds of media outlets that you might reach out to and I put little gold and silver stars to talk to you about what kind of results they get so I just kind of want to walk you through this a little bit so that you can understand it and shot down the ones that feel the best for you so if you actually have the workbook there's a page in there with all of these different kinds of media outlets um listed on page six thank you and you can go in into the workbook and highlight the ones that you feel like...
are going to make the most sense according to this chart so that still really handy cheat sheet for you so let's break them down because you know there's so many different kinds of media outlets that we could be reaching out to you know it used to be just t v radio magazines newspapers but online has opened up this this new range of opportunities and I'm finding people sometimes get the best results when they're doing online media so we don't want to you know think about them is being less than anything else so I started out with local media um I am a huge fan of doing local media outlet especially if you have a physical location of brick and mortar a strong tidier community you know, if you have a lot of local distribution local media can be a great place to get your feet wet especially if your person on the thought leadership side that wants to move your way up like we have a lot of clients who come to us and say, you know, I really want to be on the today show and when you were pitching to a bigger media outlet like that, it can be great to go to first the local nbc affiliate and kind of get your feet wet and practice being in front of the camera because if you're pitching somebody at a bigger media outlet they want to see that you can actually deliver that you're that you're going to get up on their stage and you're going to be sitting there and you like, you know that you can you're looking in the right directions and you're able to be articulate so this could be a great place to get your feet wet and of course if you've a local business you know local media is going to be great for you so local media is amazing for reaching potential customers that is the best thing I think that if you have a local customer base you should be doing you know newspapers, tv, radio and if there's any regional magazines that's great for you now I will say that product sales like you know direct product sales because when you have a local media it's often print I'm usually thinking of prince or tv or something like that and so if you don't have a link it's harder for people to buy from you right it's harder tohave an immediate product sale it's heard a track it doesn't mean that they don't happen but it's not that direct immediate gratification so I would say that in general local media is really great for reaching potential customers. It's not great for trafficking e mail opt ins it's not great for search engine optimization the exception to that rule is if you do have a local brick and mortar if you have a restaurant if you have a shop if you have an artist studio that people can come into, then local media is where you want to go, it'll be great for your products fails and it's great if you're in the local community for expert positioning is social proof if you have a broader kind of more community across multiple regions or a global community you know your local media lot might not impress them as much but if you're in that hometown community and that's your base than it really well so that that's where I would look there print magazines uh print magazines air so fun to work with right and you could get beautiful spreads and they're great for reaching potential customers in the very beginning and lesson one we looked at the kind of readership numbers you might actually be able to get from a local print magazine so they're great for reaching people with your message they can also be really good for product sales although I don't think getting your product in a magazine always leads that direct sale but when you share it with the people you know it can really encourage referrals so that's what I'm thinking of with product sales is sometimes it's not the immediate placement it's how you use and leverage it so you might get some great product sales from your print media work but really when you throw that up on your sales pages or when you e mail it out to your people that you've had it that's when you're going to generate that cause you're in a generate a lot of excitement and word of mouth expert positioning a social proof from magazines or killer for that right we all know who they are. We all recognise it it's like if you have name recognition you know you're going have amazing positioning work online magazine blog's gold stars across the board now this is all about the right online magazines and flogs that connect with your customer and we're going to be looking more about how do you find the right kind of media that connect connect to their customer and lesson for so we'll come back to that point but it's a great way you know a lot of online sites have huge reach I mean think of huffingtonpost mind body green any of those sites have huge reach products deals are great because you have a link people can go directly to your store the same thing with email op tins you have a link to an opt in page if there's name recognition you know group social proof and ceo you can't beat it and then podcasts and web shows there another area I want to talk to you about because it's a growing area of opportunity and so I think that you know you have a really great opportunity to reach people because you're having that too direct connection where they're hearing your voice and that is so powerful and reaching people in connecting with them engaging with them I don't necessarily think all of them how are the best for product sales you know if you want that immediate gratification so that's what I'm meaning product sales is that like immediate link um you might not derive you know, twenty new sales when ugo a podcaster web show um expert positioning of social proof it's kind of the same thing like they might not have us much name recognition but again it depends on your audience so really you know consider your audience there and then they're great I found for traffic and email optimize we have clients who have done webinars or have some podcasts and seeing you know generally like around sixty to one hundred new op tins after doing that that could be a nice you know an hour of your time doing an interview that's a pretty nice result and they're good for search too when you get that link back let me show you some more specific examples of this so this is a video that we did in sacramento for a local you yoga studio called it's all yoga and we did they do this sacramento free day of yoga which is actually a nationwide campaign but they brought it to sack a few years ago and so we had a bunch of tv crews come out and do a bunch of tv segments so this is one actually at the day of inside this yoga studio shooting on the free day of yoga and they brought in a ton of different people into the new yoga studio who said I found you because you were the newspaper they did some segments ahead of time they did this segment on the day of and people came in and visit the studio which is important for them because they're just right outside of downtown you know location is everything and they're in this like they're like across the highway from like where everything is so this is really valuable for them and deriving foot traffic and if you really want foot traffic in a local location tv you can't beat it or your local newspaper you can't beat it another example here is this is ah magazine I think it's uppercase magazine and this is anna ramos and she has his embroidery kits and so she wants to sell more embroider kits so here she has a feature in an issue of the magazine that's all about those kids so that was supporting her goal this is the kind of media average that she was supporting again it's in prince you might not see it's hard to track you know it's just harder to track sometimes you can see like oh there's a spike in my web traffic and you can associate that to media but then what you can do is you can actually share this with your audience again you put that as seen in upper case on her embroidery kits on her sales page and that motivates people when they're making the buying decision and then here's signing up for the email list so this is jenny deposit or a graphic designer client and this is her on the female entrepreneur association and you know we looked at lesson one, her web analytics and she's just had a lot of success doing these web shows and driving new email op tins for this and this is one of those where she used that approach of actually offering on added bonus and a free landing page so that could be really powerful to give them that cookie to come come and get so we'd love to hear from you is what type of media is gonna help you reach your goals when you look at that chart when you think about the different kinds of many opportunities I love for you if you've the workbook to star the ones that you want to focus on if you're a home you know write these down in your notebook which work for you do you are you going to focus on local media? Do you want to do some print work? Are you really interested in I'm doing trying out podcast day so just thinking about what kinds of things you want to do, what you want to do online media blog's or online sections of major media websites that that's great too so just make that note because as we go you're going to find that there's so many opportunities out there that it would be really helpful to come back to this and narrow in on your focus again so let's hear a couple of places it did anything open up for you yeah, well I've already I'm already contributing a lot teo a number of online magazines and blog's and that's been so fantastic for driving traffic and new opt in and also positioning myself as an expert on dh I've done some podcast but it's always been by invitation so I'm excited about the idea of pitching them to get more of those because those have been really great to and then also print that's sort of a new area for me to look at but that I'm excited about that that's great and you know there's something about that of trying at experimentation we talked in the intro this is this is a creative process right so sometimes you have to try it and see what's working for you and if it works keep doing it and if it doesn't work then you try something else bridget you had your hand up to uh yeah so I I like the I've already been contributed contributing to some online magazines but I definitely want to a ramp that up and get into some bigger publications bigger websites okay great and bring in a little bit more of that traffic in that name recognition ecklie perfect one more just I feel like it would be really fun to try all of them yeah it was odd so I love your spirit well in your interior designer you're based in a local market so that local media you're a classic case of somebody that the local media makes so much sense for you. Counter burger. I mean the same thing, right, that's gonna be an obvious place for you to go to. But then you're also looking to build your prestige and your authority and your thought leadership. So I can totally see why mixing and matching from these was going to help you. Great.
Class Materials
Brigitte Lyons - Blogger Outreach Bootcamp.pdf
Brigitte Lyons - Pitches That Worked.pdf
Brigitte Lyons - Workbook - Simple PR for Creatives.pdf
Brigitte Lyons - Brigittes Fave Free Media Resources.pdf
Brigitte Lyons - Magazine Contact Cheat Sheet.pdf
Brigitte Lyons - Simple PR Course Syllabus.pdf
Ratings and Reviews
This is one of the best CreativeLive classes I've taken. I knew nothing about PR before this class and after taking it I was able to send my first pitch within a week. If you follow along with the workbook provided you really can come up with a pitch template that can can be tweaked to work for just about anything. I really appreciate how simple and enjoyable Brigitte made this class. No fluff, just great straight-to-the point actionable information. It's obvious she cares very much about helping creative people use PR to grow their business. Thanks Brigitte!
I honestly started watching this class thinking that I didn't need PR for my business. I know Brigitte is super smart, and I wanted to check out the live stream to see if I could pick up any tips for my own clients. I was so wrong! I loved this! Within the first 30 minutes I had taken so many notes and gotten so excited about the possibilities- that not only seemed helpful, but relatively easy and FUN- for my business. I ended up purchasing right away and I know I'll be referring back again and again. Thanks for the great class!
I am really fortunate in that I've had a lot of media exposure over the course of my career - all of it by referral or invitation. But with Brigitte's Simple PR class, I now have a framework to confidently pitch ideas and proactively create opportunities. I particularly appreciated her suggestion to tie my media outreach efforts to my business goals. And, she provided a clear roadmap that will help me be systematic and strategic in doing just that!! Way cool. Many thanks, Brigitte.
Student Work