The Mastery vs. Overload Principle
Peter Voogd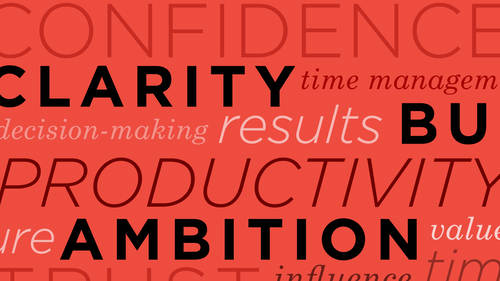 The Mastery vs. Overload Principle
Peter Voogd
Lesson Info
3. The Mastery vs. Overload Principle
Lesson Info
The Mastery vs. Overload Principle
So we're going to dive in the mass. Reverses overload. Now you guys have heard me talk about this. Has anything I believe it was. You have anything shifted your mindset with master versus overload last year to this is has this helped you quite a bit. As far as like what you've learned and took on because I know you've been doing this quite a bit. Yeah, definitely. I mean, it's just really focusing on that one concept and really get it down rather than listen all the other noise and just it helps with focus so much. So people take on too much guys and don't have enough implementation. So I want to help you shift from complexity to simplicity. Right? So the mast reverse overload principle. This is one of the biggest problems in the economy right now. Is there so much information? And there's not enough action taking of the right information. So my goal here is to start small. So write this down start small riel progress and self improvement. Guys can feel overwhelming at first to improve...
, to learn marketing, advertising, branding your mindset, all these things you have to learn it can feel overwhelming, especially when you have all these ideas coming. Right, So you can't take on everything. So the key here is the choose one or two skills most relevant to whatever you need. If right now you need money, figure out the one or two skills that help you make income. We'll help you define your profit producing activities. But if you don't have income and the skills you're learning are not relevant to income, you're not making income. And then you're in concurrently confused, like Wait, I'm working. But I'm not making money because you're not focusing on skills that actually make money. What have you been there? Okay, so start small. Choose one or two skills that are proven okay to do whatever is your end goal, which we'll talk about and break those down into manageable goals every week. So start small. Okay, so whatever your industry isn't whatever you're in, I'll teach you how to reach out to a couple of the top people. Literally give you the exact script that used that works almost every single time. And I'm gonna help you ask questions of those people. What is the number one skill? I could master in this industry that's most relevant to influence. Or what's the number one skill that I could master? That's most relevant to income? Because if you're not making money right now, what should you focus on becoming more valuable on making money? Right. So start small, though. Don't try to learn the biggest possible skill that's gonna take you eight months to master or two years to master start small, breaking into manageable goals. OK, now, here's a big you have to reflect along the way to move from experimentation to mastery. You need to reflect on what you're learning. Otherwise the training won't stick. So reflect on what you're learning. One thing I teach, people in my academy is making sure that when they watch something, they watch it again and again. Then they take notes on it, Then they execute it, and I don't want them to move to the next module until they've seen results. So don't move on. Now. We're gonna go through a whole day of training. I'm gonna give us amazing information. But at the end, I'm gonna teach you at a simplify everything toe like to action steps one or two so you leave. Not like, uh, I got to do this. I gotta do these 15 things. No. You're gonna have clarity on exactly what to do, right? And that goes along with them and teach and reflect along the way, and then go back and pick the next skill. Once that skills master. Okay, challenge yourself to teach it to others. Ah, whole new type of learning happens when you teach it to someone else. Okay, so one of the quickest ways and learn something new is yes. Practice it, but to teach it to others. So once you learn something, teach it. And then this is a hard one for people. Be patient, be patient. We approach this new skill with the attitude that you can learn it right away, and you should nail it right out the gate. If you're learning about the gay, it's not a very valuable skill. If you learn it within a week, it's not that valuable, because someone else could learn in a week. Right? So it usually takes much longer, and it's gonna happen. I mean, in a couple of months, maybe six months to a year. But it takes a long time to develop in your school. In most people only recognize 10% of every 100% that you gain, so you just gain 100% of a new skill. They recognize five or 10% of it. So you want to be like what the heck? I just did all this work. You only recognize this small. It's not about them, it's about you, right? So keep that in mind. So I have a checklist I created for you guys. Okay, so the question you ask when you take something on whether it's listening to a course, whether it's listening to a podcast, whether it's reading a book, whether it's going to a seminar, there's no criteria for people these days to choose what they're reading. They're just sounds good. Their friends like I have a cool book. Let me read it. What if it's not relevant to what you're doing right? And this was me years ago. I would read anything now very selected. I literally make sure the author is a stand up person that has value that's living congratulate for every the book, even if it's the best book on Earth and I don't like him or he did something. Not them. I judge people, but the reality is I'm not going to read it unless I know he's a world class person or she's a world class person. I have those with books I read now, right, because there's a lot of people not going to say names that are just they look perfect on camera online, but they're really doing some shady stuff, okay? And I don't want associate with that. And I'm not saying they're bad people. Just I'd rather follow people that I want to emulate or be like Right, So here's the master versus over overload checklist. Is this information proven and topped by somebody who has the results I want. So now every time you're taking something on this will give you a lot of clarity because you're going like I don't have to listen to 52 podcasts, right? Pick one or two people to follow that have the results. You want your industry next. Have I taken action on the previous information I've learned? I've done it. Even people here, how many guys have have learned something and you haven't took an action. But then you're learning something again, everybody. I've done the same thing That needs to stop, though, because information with the execution is wasted information, right? And it's it's scary. I know. I know some broke geniuses like I know people that are brilliant but broke and I don't want that right. I want people that are brilliant, actually using their brilliance to help people and making money doing it so they can have freedom in lifestyle, Right? So have I taken action? One of previously learned? Am I certain? And my certain this is the best information and training on this subject? Now what if the answer is no guys, what if it's like much? I'm not certain. Then what? Keep looking for stuff that you're certain is the best information for you to learn. That way, if you fast forward a year and you've spent 82 hours on podcast books, whatever you know that 82 hours is maximized for you versus spending hours and you don't know what's relevant. What's not what you took action on your wasting time and time is the most valuable commodity on Earth. We're gonna spend a whole half hour, 45 minutes Mac teaching. You gotta maximize time, okay? And duplicate yourself. Create leverage so you can actually build big businesses and get results. And you're not attached to it. Right? So of those, the checklist, everything I take on, I make sure I have those. Every single thing. Now, four years ago, I didn't have a criteria. And when you don't have criterias, you're leaving it up to hope and chance to build your business. And I don't know how many successful businesses I know that are built on chance and hope. Not much.
Ratings and Reviews
Amazing amazing amazing! This course is for anyone and everyone who is looking to jump start not only their career, but their life. Extremely actionable steps throughout the entire course that are great for people who are just starting out or already have a successful business that they want to take to the next level. Many of the courses that I have taken over the years, I find myself just trying to quickly get through them to check it off the box. This course on the other hand, I rewound, shared, paused, thought about and then re-watched. I would have paid $1,000+ for this info. Please don't think twice about buying this course. Amazing job Peter! Highly recommended!!
I don't know Peter Voogd. I bought this class anyway because Six Months to Six Figures is a very good eye catching phrase. But when I started to see each module of this class everything Peter taught gave me a new perspective of what an entrepreneur should do in order to be really successful. Peter shared his teachings not only from his own personal experience but most of all from his heart. Peter you turned this dude into one of your disciple. I will highly recommend to every entrepreneur this class. It's only inspiring but practical and honestly true in every aspect of what Peter teaches. I wish I bought this class earlier and had known Peter Voogd when I started my business. But you know what? It is never too late to do things right! Peter stay healthy the world needs a good teacher and coach like you. Thank you and God bless you brother!
This was my first class at CreativeLive, and I loved it! This course doesn't only tell you how to increase your income, but it also elaborates on how to be a first-class person in EVERY area of your life. It helps you identify your strengths and top core values so that you can use them to achieve your goals. If you are an entrepreneur and wish to improve your business, this course is a MUST. Even if you don't have a clear business idea yet, Peter Voogd will help you organize your ideas and execute them like a CEO. Peter is by far one of the best motivational speakers I have ever heard. I will definitely come back to this course to make sure I am applying everything I learned in his videos.
Student Work