Creating Financial Goals
Erin Lowry/Broke Millennial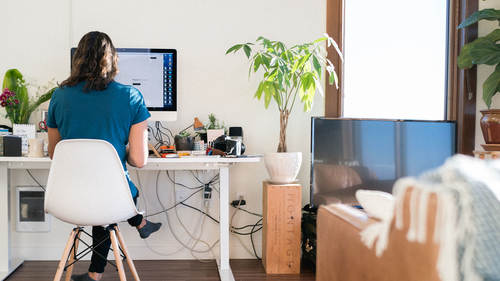 Creating Financial Goals
Erin Lowry/Broke Millennial
Lesson Info
5. Creating Financial Goals
Lesson Info
Creating Financial Goals
Creating financial goals. We don't want you to do this. This is called barbelling and it's actually really common for us when we set financial goals because we think very short-term and we think very long-term and we kinda forget about that middle part which forms a barbell. That's where that idea comes from. I want you to be really careful not to do that with your financial goals. I want to make sure that you are thinking through short-term. That could be things that are next couple of months, it could be a year away. Some people would even take short-term goals up to about three years, kind of depends on who you're talking to. I would love to hear from some people. What are some things you can do in the next three months to a year to change your financial life? Anyone have some ideas? One potential change I can make in three months to a year would just be simply to increase the amount I contribute to my IRA. Yep. And live off of less per month and then that could greatly impact...
my life over a year. Definitely. I think another great one for a lot of people, too because this is a time frame where you can really get some work done is improving your credit score and your overall credit history. We'll be digging into that in a little bit but that is something that you can see a lot of really positive change in a short period of time and it can be such a good boost for you. And this is an idea we're going to be coming back to towards the end of this bootcamp as well, so once we've talked about everything you'll probably even going to have some better ideas about what you can do in the short-term. Now, medium-term in this case, I'm talking about things you can accomplish in maybe the next three to five years. Sometimes you might hear people extend medium-term goals out to a about ten years away. Kind of depends on how you want to think about them. For some people that might be hitting a savings goal. That gives you a good amount of time. It might be a life milestone that you want to be achieving but that could definitely be tied into finances for example, if you're phasing into a part of life where you want to start a family but you need to have a certain amount saved before you feel comfortable doing that that's a good example of medium-term goals. It could be that you want to be slaying that debt dragon and be done with all of your debt in the next three to five years. That's a personal favorite goal for people to have. Honestly, five years depending, obviously on your debt situation, but five years is usually a pretty realistic time frame that you can definitely get at your debt and pay it off. And then we've got long term which is the other end of that barbell. What are things you want to achieve in the next 15 years? How about the next 30 years? This might be ideas like buying a home. This could be things like saving for retirement. It could also be talking about trips that you want to take and kind of mapping out what you want your life to look like in the future. Thinking a little bit about lifestyle design. How do you want to format your life to be something you're really excited about in the future 15 years from now. How do you want to be living? Now I'm almost scared to put this up a little bit because we're gonna see some big things that might really make you feel a little bit of a gut punch at the moment. Part of the reason I do this is in the book when I go though, kind of, this segment I have different systems and they're very Millennial titled, like You'll Be Living In Your Parents Basement Forever. You Went Viral. But for this, the reason I'm putting it up here here right now is because it's a checklist for you to be able to go back to in the future. Perhaps at the end of this boot camp. Perhaps in a year. But this is an ideal situation. Yes, I'm riffing on how we always get gold stars and participation trophies, but when you got a gold star from your parents or your teacher when you were a kid it's because you did something really good. Hopefully. Or you got to the bathroom on time. It really, kind of arbitrarily they gave you those gold stars all the time if we're being honest with ourselves. But this is where I want you to be striving to push and if you also download at the very end of this there's gonna be a checklist. You'll see a lot of these things on there so that you can over the next year or more refer back to this is what I'm trying to achieve. And if you get knocked down that is okay but, I want you to have a budget and something that works for you. And this could mean that you have tried a particular style and three minutes in you're like, "You know what, no." I know everyone raves about this particular thing but it is just not working for me I am still overspending I'm not enjoying it it's too restrictive whatever your feeling is, that's fine, but you have a budget and it works for you. You are contributing at least enough to get a match on an employer match retirement plan and if you don't know what any of that sentence means that is also totally okay, you will by the end of this bootcamp. Or, if that's not an option, you're maxing out an IRA. We just heard about IRAs, especially for freelancers. It can be a great option. So for maxing out and we'll talk about it a little bit in retirement, but that means that you're putting up to the amount that you're legally allowed to put in. For right now in 2018 on an IRA that'd be $5, I believe we're upping that to $6,000 in 2019. But, for an IRA for 2018 it means that in the course of this year you're going to be putting away $5,500 into retirement. For a 401k, maxing out would be $18,500. Well that's a lot of money, especially for a lot of us. That could be nearly your whole salary. So, I don't want you to necessarily be maxing out your 401k. If you can, great. But I want you to at least be getting the employer match. You have a 700+ credit score. And if you don't know how to get there, we are going to overview that very soon. And you're gonna check in on your credit reports once a year. Now, some of you might have that 700+ credit score but you've never pulled a copy of your credit report. I will be talking to you very soon about how can do that and why it is so important. You are paying off all of your credit cards on time and in full every single month. You are never carrying a balance month to month and your utilization ratio is 30% or less. And if you are unfamiliar with term utilization ratio it's the amount of available credit that you use. So, let's say that you have a $1,000 credit limit and you spent $200 this month you are 20% utilized and I want you to pay off that $ when the bill comes in, in full. All 200. You have created an actionable plan to pay down any debt and you are also sticking to it. That's a very important part of this. And if whatever form of plan you created is just no longer working for you, maybe you got really excited, really overenthusiastic set some incredibly high bars and you're like, you know what? This definitely is not happening month to month. Tweak it. But make sure that you have a plan that's working for you and you are sticking to it and you've got a date for when you are actually going to be debt free. We will get into this idea a little bit when we talk about paying down consumer debts. I'm saying you're paying above the minimum due on all debts with a caveat of there are certain debt payment techniques like debt snowball and debt avalanche that I will explain where maybe you are just paying the minimum on everything except one where you're really aggressively attacking that. So, if that's your strategy, totally okay. Otherwise, if you have just minimums due on a bunch of different debts paying every little penny above that really helps cut at your principal balance. It helps you get out of debt a lot faster. And you have three months of living expenses in an emergency savings fund if you are debt free and if you're not, a little bit of a teaser, I want you to have a least $1,000 set aside in an emergency savings fund. So if you are trying to pay down debt you still do need an emergency savings fund. We will talk about that a little bit more in the saving segment. And I also want to say if you have a dependent, so if you have a child or, and I am actually including pets in this because they get sick, too. I'd love to see you have $1,500 set aside because then you have a little bit of cushion for your dependent as well so not just if something happens to you. Or, you can try setting up an emergency fund just for that person or pet. I actually had an emergency fund that was just for my dog. So, every month I put an amount in there so when he had to go to the vet it didn't blow up my budget I had a little bit of money set aside. So that concludes how to take control of your money. Kind in a general and I guess my question would be on your Gold Star Finance check list, do you see any common short coming areas? Like on every bullet point, lets say, or maybe in terms of financial goal setting as well, I was wondering maybe what the most common missed period would be. You know what I mean? I would say the medium-term gets overlooked a lot with the exception of having a debt repayment goal. A lot of times we get really focused on just paying down debt or something really granular that we don't think about other goals. Sometimes we do it to the detriment of saving for the future, putting money into retirement, balancing in other goals that you might have. Because those other goals take money. So, if you are just focused on paying off debt and you put all of your money towards it and you're not balancing in other things you want to do. Well, first of all if you don't even have an emergency savings and something goes wrong you just fell even further into the debt trap. But the other thing is, I actually don't ascribe to this idea that you shouldn't have any fun while you're paying off debt. I think that there should be a little bit of moderation in here, have a little fun fund. So, maybe you're also saving to take a trip in moderation. Nothing too crazy, you're not going on a European tour but maybe you're doing something for fun. Or even if it's just 20 bucks a month that you use to go do something enjoyable with your friends because if you go full deprivation for a long period of time you're likely to swing back in the wrong direction. So I think it is definitely about striking a balance, but a balance that works for you because we also have different debt tolerances. Some people might just feel so uncomfortable with the idea of having debt that they are willing to kind of go complete deprivation. It's going to actually work for them. But a lot of us are not wired like that. Now, trip ups on here, I think credit score is definitely a big one. I think it's really easy to actually get into the 700+ range it might no sound it when I say it right now. We're gonna talk about how to get there. It's also really easy to fall. And especially because of items going to collections. That's a huge one. Especially medical debt. I will tell you a story when we get into the credit score section actually about my husband who had a $25 doctor bill he didn't even know existed go to collections and it decimated his credit score. Dropped by over 100 points in a night. So. And I will explain what we did, how we rehabilitated and everything I'll get into that in the credit score section but I do think that being really proactive and aggressive about protecting your credit history is something that's important. And it also can feel really discouraging because it, for a lot of us, is kind of this black box of you don't really understand what's happening and how it's being scored and you might also get too into it where if it drops by 5 points in a month you panic. So, I think it's very important to understand how they work and why they're important. Other places, I would say the emergency savings fund gets a lot of push back because three to six months sounds like a lot. And I get that. But I do want to talk about why that's important. And having $1,000 set aside for some people might sound like (scoffs) just 1,000? But for other people that's so much money. And I like it as a goal because it does help mitigate against a lot of things that pop up. Like tire blows out on your car. You need that car to get to work. It must cost you 500 bucks to replace it. $1,000 is money that can go towards that. Medical issues as well, depending on what your health insurance is, if you have it. Especially in the United States, I know we do have people tuning in from around the world. But, that's something that can definitely be helpful as well. Any other questions? I think the challenge with the goals for me is that as someone who's self-employed or a freelancer it's so variable that you create goals and then you're like it's almost like, is it even a realistic goal? It's like, "Oh, I wanna do this." It's like, what does that look like? Is that a realistic goal to even have? Or you kind of get there and you're like, "Oh, I didn't do that," but I didn't know about all-- I didn't know what I didn't know, essentially, in a lot of ways. So, the goals for me always kind of feel discouraging because I've created goals in the past and then it's like when you don't hit them, or things don't turn out the way you thought they were, that contract fell through, you didn't do that speech, whatever, then it's like, "Oh, that' didn't pan out," and it threw off your whole sort of what you projected and everything. So that's a big challenge. We will be getting into goal setting throughout the course and really for that reason. I really like to talk about how to set actionable goals because it's very easy to say something almost flippantly, like "I wanna have $10,000 saved "at the end of this period of time." But we don't necessarily put it into action. So I want to talk about how we can set actionable goals and how you can adjust and tweak. I mean I set goals at the beginning of like everyone else around the New Year and I actually, for something that worked for me this year is I then created micro goals out of it. I had a very overarching goal that I was hoping to achieve and then in each different category, I had like, personal development, professional development, income, all these different goal sectors and then I created what I considered micro goals. And it could've been something that seemed unrelated but I felt that it was going to help serve the broader point of the goal. So, if it was personal development maybe I said, "I'm going to take 20 minutes "every morning to read an article." That simple. Because it's going to make sure that I'm taking time for myself which was part of my overall structure. And then, I wrote my little micro goals on a Post-it note and put it on the wall in my living room so I saw it everyday. So, that's something that worked for me. That might sound really bananas to you and might not work for you but I do want to get into different ways to set actionable goals and it's good to readjust them. I mean, come in halfway through the year and be like, "This particular version, I'm not gonna hit it "but lets adjust it down "in a way that I still am going "to feel like I achieved it." Or chunking it in a way that you can hit different segments and then you feel encouraged to keep going as opposed to I have this huge goal that I've set, I'm not getting anywhere close. So, having milestones with them can be very helpful as well.
Class Materials
Identifying Your Financial Roadblocks
Ratings and Reviews
Erin really helps breakdown how to create SMART realistic goals and provides some amazing handouts to help you know what you don't know! I wasn't even sure what financial health looked like beyond paying down debt or buying a house or car.
Very good material, coverage and presenter. Too bad they are all planted "that is a very good" questions.
Student Work