Taking Control of Your Money
Erin Lowry/Broke Millennial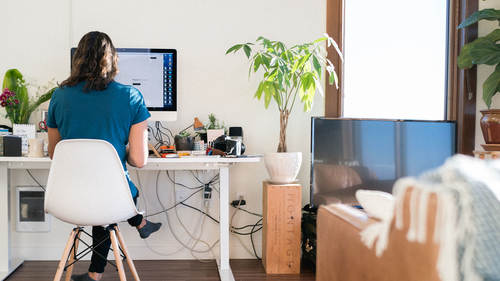 Taking Control of Your Money
Erin Lowry/Broke Millennial
Lesson Info
2. Taking Control of Your Money
Lesson Info
Taking Control of Your Money
So let's kick it off by talking about how to take control of your money. And one of the best ways to be doing this is talking about the money baggage that we all have no matter how in control we feel. So what we're going to be talking about in this segment is starting off with your money mindset and this really weird idea, but hang with me, about how your relationship to time actually impacts how you spend a save your money. Then we're gonna start to unpack some of your money baggage, and that's when definitely those questionnaires are going to come into play. So if you are tuning in please make sure you download the psychological financial roadblocks worksheet. Maybe start to jot down some ideas as I'm talking through all this so you can definitely tune in and chat with us as well. Then I am gonna dig into some cliche but very important personal finance facts and lessons and things that we should all know. We're also gonna talk a bit about goal setting and the importance of setting yo...
ur financial goals. And we're gonna take a moment to evaluate where we stand now and where we want to be going in the future so we can get the most out of this whole workshop. So first I just wanna start with the idea of the fact that money gives you choices. It allows you to quit your job and be your own boss. It can help you travel around the world if that's something you wanna do. It makes sure that you never have to stay in an abusive relationship, whether that's at work, or with a partner, or a family member. It gives you the opportunity to helps others in need. And this gets a little bit bleak, but money gives you choices about how to live your life and instead of just changing your time paycheck to paycheck and having to work until you draw your very last breath. (audience laughter) Got dark real quick here at the beginning. (audience laughter) But the reason I bring it up is because sometimes we think about money as almost a force of negativity in our lives and I really want us to start reframing to think about the fact that having control means that you are giving yourself choices and flexibility. And ultimately we wanna get to a point where we don't have to be exchanging our time for money and a paycheck. This idea of financial independence and financial freedom, which I'll talk a bit a little bit especially once we get into the retirement section it's really all of our goals, but it's also about the flexibility that you're gonna be giving yourself in the interim and things like having a healthy savings account and all of these different ideas and understanding how personal finance works. So, like I said, you are going to need to know the basics. We're gonna talk about budgeting, mastering that cash flow. We're gonna talk about planning for retirement and paying off debt. But what I really want to talk about in the beginning before we discuss any of this is why does money freak you out? And maybe you're tuning in or sitting in this room and thinking it doesn't, it doesn't freak me out I just want to learn a little bit more about how it works, which is great but I guarantee you still have some money baggage that impacts the way that you make money moves today, I know I do. But ultimately, money really is more mental than math. I said it in the introduction, we are not rational creatures when it comes to our money, no matter how people wish that we were. So we make a lot of moves based on gut instinct, or how we're feeling, or we might be spending our saving in a way that just aligns with how we are in that exact moment. So I want you to move past this idea that you have to be good with math. Remembering that excuse in the beginning and the introduction, I know a lot of people have used it, I definitely used to use that excuse I'm not good with math which means I'm not good with money, not true we're debunking that today. So, this idea that your relationship with time impacts how you handle money. The thought is that your ability to think about the future, or inability to think about the future, really ties into how you use money. And I really love this idea. It comes from a study that a company called Magnify Money did with Professor Philip Zimbardo, who's a professor out of Stanford. And he had created this thing called the time paradox. And the idea is essentially that your relationship to time impacts a lot about your personality. And so they married that idea with money and they came up with these concepts of if you're negative about the past or positive about the past, if you're very present focused or if you're exclusively future focused, it impacts the way you spend and save. So I riffed on that idea, made it a little bit more millennial centric and came up with some teams like team yolofomo. I think we can all understand that the you only live once fear of missing out people are people who like to very much live in the moment. Then you have team guarded optimist. I think a lot of millennials are in this team. It's this idea that things might not be great now but I'm pretty sure that they're gonna be great in the future. We tend to be a pretty optimistic bunch. I'm gonna chalk it up to the participation trophies. (audience laughter) And then team dreaming about retirement. These are the very future focused individuals and they do exist, I'll tell you a bit more about them in a moment. So you might be team yolofomo if you have said things like drinks are on me. Hell yeah I can take that trip. Nah I don't have a 401(k), not gonna worry about it totally can set one up in the future. Or shit just got another overdraft charge. Don't worry I can put it on my credit card. If any of this resonates with you, you either might be in this team or definitely have a dash of this team. Team guarded optimist are people that think like nah things aren't so great right now but don't worry I'm totally gonna be earning like a six figure salary by the time I'm thirty-five. Even if you don't work in a job that necessarily tracks into a six figure salary, I feel like a lot of guarded optimists still are in that mindset. Or they're thinking you know I'm not saving not as much as I like, I kinda understand some basics, but I'll worry about it later I'll catch it up cause I'm gonna be making bank in the future so it's not a big deal. And then team dreaming about retirement are people who say things like I should probably increase my 401(k) contribution from 15% to 18%. Or I can't come out I don't want to spend money or I gotta get a side hustle just cause I wanna save it. I swear these people are real because this is totally my crew. (laughter) And the reason I say this it actually ties back to delayed gratification which, for a lot of people, is just an innate thing and if you've ever heard of the marshmallow test and if you passed it with flying colors, this is your crew. And if you aren't familiar with the marshmallow test, please pause and go look it up on Youtube because it's hilarious. Essentially what happens is a little kid has a marshmallow put down in front of them, a person comes in the room could be a parent could be somebody doing psychological testing, whoever it is, comes in and says hey, if you eat this marshmallow now you only get one, but I'm gonna leave the room and if you don't eat this marshmallow for five minutes, when I come back you get another marshmallow so you get two marshmallows. And if you watch the videos these kids are just squirming, some of them pick it up and lick it and put it down kind of trying to figure out some hacks in the system. And some just sit there staring at it until the person comes back and they get two. My mom actually did this to us when we were kids and I famously just sat there stared at it until she came back. I'm also the kid who on Christmas wants to open my presents last. I want to make everything like savor every moment all about delayed gratification. So that's just hard wiring in my opinion, which is what people who tend to be in this group are like. Now the problem is you have to strike a balance, because being all in on any one of these groups is actually not necessarily a great thing. If you are exclusively future focused it might sound great for you money, and it is, but it's not great for your life. And you might be so dogmatically focused on the future that it is in a all kind of deprivation of your current life experience. You're not willing to spend any money on any sort of joy and at what point do you turn it off? That's the other problem is you might get to a point where you're 45 50 and you had thought at 22 that's when you would be living it up and you get there and think no no I'll just keep pushing for another ten years. So you know you might need a dash of team yolofomo in your life, just a little sprinkle. Now if you are yolofomo you definitely need to balance it out because you probably aren't putting any systems into place to protect yourself for the future. You're probably somebody who is not having any sort of emergency savings fund so if anything goes wrong it means it's being financed on a credit card. You probably if not definitely have debt and you're likely not handling it. In guarded optimist it's good to balance things out with a more realistic expectation of what the future is gonna be because if you put everything off with this delusion that it's gonna be all great in the future, you're not setting yourself up for success.
Class Materials
Identifying Your Financial Roadblocks
Ratings and Reviews
Erin really helps breakdown how to create SMART realistic goals and provides some amazing handouts to help you know what you don't know! I wasn't even sure what financial health looked like beyond paying down debt or buying a house or car.
Very good material, coverage and presenter. Too bad they are all planted "that is a very good" questions.
Student Work