Optional Accessories
Ray Ortega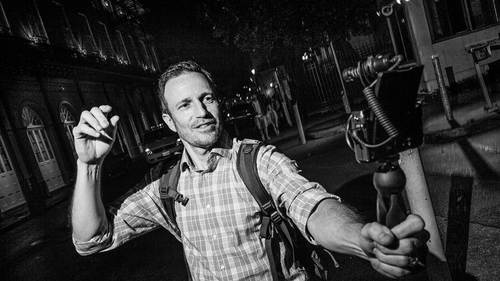 Optional Accessories
Ray Ortega
Lesson Info
8. Optional Accessories
Lesson Info
Optional Accessories
Some audio accessories. These are all the parts that sort of support all the stuff we've talked about. So even if you're using just a USB microphone, you know, it's plug and play. We got one cable we're going to computer. There's probably some stuff you wanna buy to go with it. So just to show a few of those. A pop filter. So I talked about the Ps and Bs that come out of your mouth. We have to get close to these microphones to get the best audio. This acts as a barrier between you and the microphone so that it can stop some of those high pressure sound waves going in, which does not sound good. So you have this kind of version on this. This costs more, but it's really nice low profile. It does the same thing. Depending on the mic you're using. If it's a barrel style, you can get one of these. And I don't have it up here, but you've all seen this standard foam thing that's a little ball that sits on here. It offers a little protection. Sometimes you don't want that big thing in your fac...
e. Some is better than none in most cases. Sorry, that was the pop filter windscreen, both of those. Cables. We talked about XLR. There's all these other cables. If you're gonna patch through with a mixer. This is not a place to get cheap. You don't wanna buy all this nice gear and then have it fail with a cable. So invest a little bit. That doesn't mean a ton of money. I like to look for, these are called Nuetrik. That's how you spell it there. If they have Nuetrik connectors, to me it usually means it's a pretty good cable. These are really solid connectors. So they do a great job. So if you don't know what you're looking for, look for that Nuetrik connector, buy that cable. You'll be good. That's how I do it. I'm not nerdy enough to get into the actual wiring part. Shock-mounts. We have a couple different types. So these handheld microphones, these generally don't go in shock-mounts because they go in like a little clip. But there could be reasons why you'd want a shock-mount to isolate the microphone from being on the desk or if you're gonna move the mic stand. So I have this one here. This mic stand has a shock-mount on it, so it's gonna sit in front of my desk. There are vibrations that come under the desk. This might help. You might not have that issue. So it's an optional add on. But if you wanna pick it up and move it, you generally won't hear it because the microphone essentially is suspended in mid air. So just something you can add on if you're having issues like that. This is also a shock-mount, which you can see this microphone sits inside and it's sort of suspended. Not the best one there, but it'll work. This picture is just again, that actually Rode one is what you're seeing here. A lot of these mics will come with their own style of shock-mount. The RE320, which I showed, is just one of the RA Gold Standard one, has a ridiculous shock-mount. It's just big and expensive and ridiculous. So there's the Rycote version if you wanna suspend some of those bigger microphones. A lot more affordable and a lot more lower profile, so I like that one a lot better. Mic stands, which we showed you a little bit. And boom arms. We got a boom arm here. Mic stands obviously is the more affordable way to get into it. You've got everything from this little tiny one that's highly portable to a boom arm. And I would say with the mic stands, you wanna pick these based on if you're gonna add a shock-mount, it's gonna add height to it. I'm not a super tall guy. This one is very, it's very travel friendly. It's made by Hamilton. It's very cheap. It doesn't have any oiled parts so it goes in your suitcase. But it also goes really high. So if you're tall, a lot of these mic stands, you'll find yourself, you don't wanna lean forward and it's a terrible position to be in. So you can get, based on your height, pick one that extends up. You can see the one I showed there, actually then it let's you extend it. It's not too tall to start with and you can extend it higher as you go. But a boom arm, I love these because you know it's obviously a more permanent setup. You don't travel with this so much. But you can see, this allows you to put this microphone anywhere you want. So a lot more comfortable. You bring it up and you start talking into it and if you move and it's shock-mounted, it's just easier. When you're done, this sort of just takes the mic out of the way. You have room on your desk if you're gonna be on your keyboard. More money, but it offers some nice advantages. It also isolates the microphone. You got the shock-mount, but if you're having problems on your desk, it may help with that. Let's see and headphone amplifiers. So if you are in that situation where you are, this one is this one, it's Behringer HA-400. It's very entry level. If you have more than one person in your recording, you only get one headphone now put on those devices. You plug that into this, everyone plugs their individual headphones into their headphone amp. Now I get to listen at the level I want and you get to listen at the level you want. We're not fighting for volume on one output and splitting our headphones. So headphone amp can be a nice thing to have if you have more than one person in your recording. A ground loop isolator. I have a picture of one. This is a super cheap item. If you're doing that big mixer setup, anytime you put a computer into your gear, people will comment on my YouTube channel all the time, hey I set up like you showed me getting this really crazy high whining sound and that's a ground loop. Like six, to eight to 10 bucks. There are more pro versions if you need some for XLR, but I had one of these. I had three of these with me on tour at all times 'cause we interfaced a computer for a game we played and I was in these large, I was in the Chicago theater and like it just didn't have, I said I got it, I've got this little ground loop and it just saved the day. Only if you're connecting your computer to either your recorder or your mixer or something, good to have and it'll knock that buzz out most of the time. Microphone activator. I keep talking about how some of these need a lot of gain. So some of those, the SM7B, the RE20, those sort of gold standard microphones, they need a lot of boost. So this one is what you'll be used to seeing. The Cloudlifter you'll hear about a lot. This provides essentially a condenser. Microphone is powered already, so it needs less gain. Dynamic mics are not. Essentially, this gives you that extra power and makes the microphone more sensitive the output. So it gives you sort of the head start. This one takes two XR cables. The cable goes in, the cable comes out. You can see it's super portable. It's a Fethead. It also costs less. This is my favorite one, but if you have a soft voice and you're finding you have to turn up your gain way to much and you're getting a lot of hiss, it'll cause this hissing sound in your audio, you can add one of these in and it'll make it super clean 'cause essentially it's giving your preamp, that gain, it's giving you the head start. So just something you may find yourself into if you're into some of the bigger end microphones. And here's an example. This is an H4N. So I said we saw H4N Pro. I said be careful with the H4N 'cause it doesn't have good preamps, but this is a Fethead. I added it in and I don't know if people didn't hear the difference here, but it's an example of what this helps do. This is the Shure SM7B going into the H4N and this is the noise floor. Alright, this is the Shure SM7B. Now my input is at 23 and here's the noise floor. So you just get a much more better sound, depending again on your preamp, depending on how loud you are, depending on the microphone you're using, just an accessory that you may find you need. And the iMac and the iRig are just too, again, if you're doing that complex mixed mic setup, this iRig let's you go into a smartphone if you wanna bring phones in your mixers, kind of the easiest way to do it. They have cheaper cables. I really like this. This is going to be, if you have a Mac that doesn't have these analog inputs, which is that special auxiliary channel I talked about comes out with a cable, this goes into the USB and it becomes your sound card. It gives you those options to go in and out to perform those sort of more complex setups. A surge protection is something everyone has. You probably have that in your house. Use it. You're plugging in expensive gear. This is a Furman Power Conditioner. It does a little bit more. It's a surge protector, but it also cleans up. If you're in your house, the wall power sometimes is not good. It's dirty power they call it. This can help clean it up. So if you're plugging in a lot of audio gear, this is an upgrade. You don't need it. At minimum use like a surge protector that if lightning hits your house, I just have a friend lose a mixer because he claims that was the issue, but a surge protector will at least help. Battery backup. This one, when I was researching for this, this one on the left, this APC battery pack. It's not something I have, but I really want it because this you plug in your computer. You're recording, the power goes out, you could lose that recording if your software is saving or not. This will give you time to save and shut down. I think I'm gonna buy this unit 'cause I was like that's affordable and as I said I don't usually record on recorders, but I would like to add it in. This USB power supply, back to the redundancy thing, this is mine here. This will go into a lot of the audio recorders that we saw and, again, redundancy. I use batteries in it, but if those fail or stop or whatever reason, this will power without the recording stopping. So just having the backup plan. I've had that happen. Actually, I get the power mainly from this and have the internal battery as the backup 'cause those things will power your recorder for days. They're really, really powerful. SD cards. You're gonna need one if you have a recorder. A lot of recorders come with them. They're cheap. I just don't like them. Transcend and SanDisk, these are way more powerful. These will do 4K video, but you can throw in audio you want. They're so affordable these days. You could get a 32 gig like $20. They're super fast. So if you go out looking for these, just look for the sort of UHS one will be fast enough for you. But Transcend a little more affordable than the SanDisk. Just two really good brands that I so hesitate to say I haven't lost a recording with them, but you know it's gonna happen. But just better than what usually comes with your audio recorder. And hardware processors. I talked about all those racks. In podcasting you'll see this one mentioned a lot. It's the DBX 286s. When I talked about needing that extra preamp, you get that. If you wanna spend a little bit more, it does some processing. Those sharp S's, you can dial that out with one of these. It has what's called an expander so when you don't talk, if you have noise in your environment, it'll push that down and you won't really hear it. It's obviously a more advanced unit that you don't need, but I think more if you are being interviewed often, it's nice to send someone else a more polished version of audio. I like to do that 'cause I don't know what they're gonna do to my audio, so I send them the version I want. This lets me do some processing in sort of real time. Or I live stream my podcasts a lot. So this lets me send out a more rounded out sound 'cause I can put it through this processor. And then it gives me that clean preamp as well. So again, not something you're likely to use, but if that's something you wanna do or you're doing live or interviews, it can be great for that. And then, of course, a backup recorder. I just noticed when I pulled this, this did not survive the tour. It's completely shattered. But this is more than you would need. All those other recorders we looked at, as I said, they put your microphones in 'em. This does not. It just takes one connection from either your recorder or your mixer or however you're set up and let's you take like a stereo channel, so that if you did lose one recording in your software, you will always have it here at least. And the Zoom H1 is the one that I like for this. They just came out with this brand new version. It used to be like significantly sub 100. Now it's a little more, if you can find the first gen version, I was looking the other night, it's hard to find. That's fantastic because it costs barely anything. Heck, you could even technically, I set up a guy, he recorded a podcast on this, 'cause those microphones on top, they're super sensitive, they're a condenser, you don't wanna use 'em, but you could in a pinch. You could throw this in your purse, in your back pocket, whatever, and record something. So in a pinch you can also work that way.
Ratings and Reviews
Thanks Ray, Great gig, simple and very informative a very good place to start, for someone like me who is considering adding Podcasting and looking for a place to start..
Thank you. A helpful introduction!
Student Work