Putting It All Together
Ray Ortega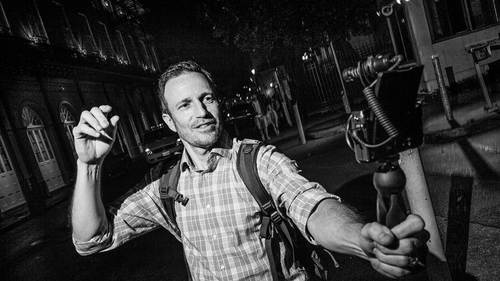 Putting It All Together
Ray Ortega
Lesson Info
9. Putting It All Together
Lesson Info
Putting It All Together
What to buy, we've seen a lot of stuff, a lot of options, it's like, what the heck. So I try to break it into some potential setups. I'm obviously gonna mix and match any of this. But if you are a solo host, it's just you, you're just gonna record yourself, which I think is probably the majority of podcasts or you have a remote interview, so someone on Skype or whatever other VOIP system you wanna use to connect to someone. Again, you can go and get the USB microphone. Solid start, we remember that it has XLR also, so it grows with us when we decide, you know what, I wanna recorder, I don't wanna be tied to a computer, this does it. So I like this Samson Q2U, but the ATR2100, also a great option. So low threshold, again, you're recording, you're plugging this in, and you're going, you're not learning how to set this stuff up, so it can be really easy. If you're two or more in-person hosts, and we talked about going XLR again, if this is in your budget, you can get just this microphone ...
and go into use the XLR connection to go in your recorder or go into an audio interface. Or you can step up and get any of the XLR options of your choice. The SM58, again, which I'm so tempted to drop right now as an example, but I won't, this is mine. This is a great option to step up into a professionally-built option that sounds good on most voices, spend a little more, or even this Procaster, it depends on what you want, the style of microphone you want. And then, get a recorder, because you're two or more. Get a recorder, makes you super portable, you can go to someone else and easily go to someone else's office and get a recording, again, if you're at a conference or something. If you're two or more, and you're in-person, you got two people in the studio, and we have that remote option, then maybe you're thinking, all right, am I gonna step into a mixer based on your budget. Again, some of these recorders, the Zoom H6. I have the Zoom H5, I think, in a basic podcast package, which will be available, sort of a get-started-quick package that lets you expand. It's not too simple, but it's not too expensive, I believe that'll linked up. Some lucky person's gonna win the H with some SM58s. So, the Zoom H5 is a step down below this, I think is the happy place, but again, more expandability, high-quality, a couple of nice microphones in that, and that actually will connect your computer, as I mentioned, and you can actually do, through wiring, you can do that mix-minus setup, so you can even accomplish that through that tiny device without ever stepping into a mixer. Dress to impress, I just added it in there this morning just because, I think there is some appeal. I mean, anyone who tells you you don't pick a microphone partly on the way it looks, like I like the way that looks, or people buy a microphones who are like, my favorite podcast uses that, and I wanna sound like that. You won't sound like. A lot of people want the radio voice. We're not radio people, we don't have radio voices, and like I said, it's better, I think, to be yourself, you wanna be you. People are kind of tired of the radio voice and the professionally-trained. That's great, it has a place, but we're us. The audience connects to you because they relate to you, so you just sound like your true self. But if you have a business where podcasting has become part of your marketing plan, and you have a little setup there, I've seen a couple of setups here at CreativeLive, there is something to be said for walking in and seeing a professional setup. You know, a boom arm, it has a nice microphone on it. Obviously, your quality is gonna be fantastic. And then, it can be just super convenient to have a couple of boom arms. People who aren't used to being on a microphone, they can easily move this to where they need it. So, that's just sort of stepping up, get to the nice sort of broadcast-style microphones, put them on a boom arm. And then, again, get an audio interface to plug those into your computer, or make it easier on yourself and just get a recorder. Audio interface, if you're spending a little bit more on the boom arm and the broadcast microphone, the audio interface can help that in the budget because they're more affordable than an audio recorder, on average. And then, if you're stuck between... No, let's consider the add-ons. We saw the accessories. So again, when it comes to budget, budget's always a factor. If you're thinking, oh, I want the Procaster, but then, I need to spend money for the shock mount, maybe money for a pop filter, then maybe you wanna step down a level because, then again, the sound law of diminishing returns, it sounds like it's gonna be that different to you, and you might sound better. The key is that you might sound better on the $60 microphone. A lot of people sound, on that ATR, they sound fantastic, and I told you I would compare it to the $350 microphone. So, the price doesn't determine the quality, especially in what we have up here. But consider all things you might need to add into it before you just go and buy a microphone. Now, if you're buying one of those upper-ends, and you realize, I need a FetHead or a Cloudlifter because it needs more gain to support the recorder, it's not giving you enough, that's gonna add into your budget, so you might need to back down on your mic choice a little bit. You're gonna have a good quality no matter what you pick. And where I was going, if you're stuck, those other factors we looked at, the frequency response. If you're stuck between a Procaster and an RE320, but you see that the RE320 is really bright, might enhance that sibilance, then you can just decide between the two, you're like, okay, the Procaster does not do that, it's a more smooth sound, deeper, it's a rich sound. So you can go to the Procaster, and you save a little bit more money in that instance. And then, go listen. I don't have a whole bunch of examples here. You'll hear a couple more of the mics tomorrow. But YouTube, I don't know if it's dot com, but Podcastage and Booth Junkie, two friends through the Internet, I don't know if you'd call them that. If I have a question about one of these mics or any of this gear, they're always turning up, so you can hear all the microphones, all the interfaces, they've tested it all. So those a great places because we can, again, put our voice through a lot of these microphone to hear how we sound. One has a really bright voice, and one has a really deep voice, so you can hear a little differences on that. And then, of course, ask me. I'm at PodcastHelper, I obviously want you to ask, that's pretty much everywhere. Instagram's my favorite right now, and I do a lot of behind-the-scenes, and when I test all this stuff in my studio and give you examples, it's there. Twitter, Facebook, I don't use as much. But I'm definitely there, ask questions, and hopefully, that'll help.
Ratings and Reviews
Thanks Ray, Great gig, simple and very informative a very good place to start, for someone like me who is considering adding Podcasting and looking for a place to start..
Thank you. A helpful introduction!
Student Work