The Gear You Need to Create a Podcast
What's an Audio Interface?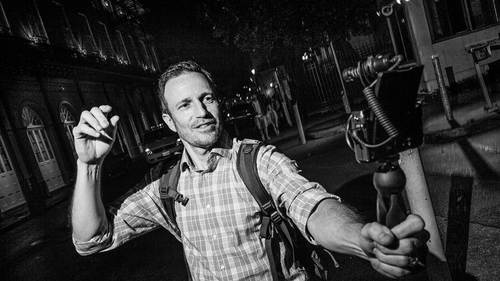 The Gear You Need to Create a Podcast
What's an Audio Interface?
Lesson Info
What's an Audio Interface?
Moving to an audio interface, which is multichannel at a better price. And I think this is where a lot of people who get, like, an XLR professional microphone, did I mention that this, one of the special features of this is, I mentioned it's USB. And if you may have noticed, it has the XLR connection. This is both, so I'm gonna rewind here a little bit before I go to audio mixers. This does both. So usually with a USB microphone, you buy it, it's entry level, you record with it, and then you realize, I'm gonna add someone else in my studio, I need another channel. And you go, you need XLR, and then your USB mic becomes a paperweight. This one does not, it grows with you. So you can buy this not knowing if you're gonna expand and this will go with you. So really cool. And so an audio interface, if you know you're into more than one microphone, this here is a Focusrite, this is really cool. This is an audio interface, much smaller, does multi-channel, much smaller than having a mixer on ...
your desk. So, and a better price. So you can take your XLR microphones and plug them in there. I have a couple, the 2i2 is just a version down from this. Almost the same, it just has a couple more routing options. And um, the 2i2, I would say, if you're on a Mac, you go with the Focusrite series, Scarlett, there's a lot, but they play really well with Macs. If you're on Windows, I find that these don't play as well, because you get into drivers and all kinds of things. The Steinberg over here would be my recommendation. They're basically the same, but the Steinberg does really good at delivering updates for Windows users, whereas I don't feel like Focusrite does that very well at all. So I'm on a Mac, Windows has sort of extra things to work on, but this would be better for you. And that's two channels, you can move up, you can plug in more microphones, they have four-channel units. Even less money than that, if you're just gonna go with one of your XLR microphones, this Rode AI1 is new. It only has one input, but if you know that's where you're at, this one can even power some of those more gain-hungry microphones. So any microphone that you plug into it, it's gonna do a great job. It's very simple, small format, so the Mackie also makes great stuff. They both have one-channel options. So just if you need to spend a little less, you can get into an audio interface around the $100 mark. This I put up here, the Zoom L-12, just because all the things we've talked about. Mixers, audio interfaces, recorders, this does it all. I had this out on tour with me for a little while and I was demoing it, it's really cool. It's the Zoom L-12, so if for some reason you said, I wanna do all those things. It does it all in one package. Obviously it's a little bit more money, but it's a mixer, you can see that. The audio interface goes multichannel, all those channels in your computer, has a bunch of outputs, and that thing on the bottom right that's lit up, that's a recorder. And, like that sound devices which cost a little bit more, this records and is an interface at the same time. So you get that redundancy built in. And the recorder is multichannel, so really cool device, just put it there to demonstrate that if you wanted to do all of it, like, yeah, I want all the things. There's an option.
Class Description
You can't create a podcast if you don't have the proper gear. But knowing what you need and figuring out the best equipment to buy isn't always easy. Fortunately, Ray Ortega is here to show you the way.
Ray is not only a professional producer, he hosts his own shows, "The Podcasters' Studio" and "Podcasters' Roundtable," which are dedicated to helping people start, improve, and profit from their own podcasts. Ray will guide you through the process of deciding what gear you need and how to set up your studio so you can create a high-quality podcast that people will want to listen to.
In this class, you'll learn how to:
Set up your podcasting studio.
Purchase the right microphones, recorders, mixers, headphones, and more.
Use audio interfaces.
Record on a computer and record guests remotely.
Figure out what accessories and outboard gear you need.
Reviews
Thanks Ray, Great gig, simple and very informative a very good place to start, for someone like me who is considering adding Podcasting and looking for a place to start..
Thank you. A helpful introduction!