Define Strategy: Think vs. Plan
Jason W Womack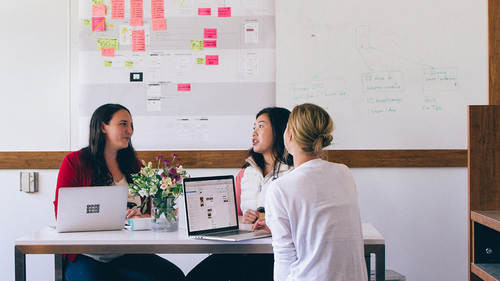 Define Strategy: Think vs. Plan
Jason W Womack
Lesson Info
2. Define Strategy: Think vs. Plan
Lesson Info
Define Strategy: Think vs. Plan
Tell us your name and what you came up with, with that word, strategic? My name's Daniel, and kind of built it off of what we talked about in here, but goes like this. Aligning a plan and a process towards my values or purpose, setting both long and short term goals along the way. I wanna give him a round of applause. (audience applauds) Thank you. Thank you, thank you, thank you. Okay. I said investment and thinking and planning to illuminate the path of where you need to go to get to where you wanna be. Big round of applause. (audience applauds) Thank you, thank you, thank you. Let me turn to the live audience. We have two that are gonna get shared. Making choices, especially what to say no to. And man, have we worked a lot on that together. This idea of making that to-do list. Who are my to-do list makers in the studio, by the way? Awesome. And then, who's ever made a stop doing list? That is an interesting one. How do I identify in the day what not to do with all of those t...
hings? Some great books that I've read over the years on that one. And, let's see. We had, I think we had two come in, and this one comes all the way from Lamar in Florida. These are all my friends who are tuning in, so, hey Lamar! Top priority for forward movement. So, that concept of moving things up to the top. You know, what I find so fascinating about this little exercise and for everyone that wrote down those two- or three-sentence definitions, here is an idea that I put out there. Share that with your team. I'm a firm believer that when someone else sees what's in my head, it lets us deliberate, it lets us work together, together. That strategic planning session. By the way, we will separate today, planning from thinking. That strategic planning session, now I'm about to enter with the board, with the manager, with my wife, or with your partner. What do we mean when we talk about strategic thinking and planning? Another way that I can push on this, and I'm a huge fan of the visual reminder. You'll hear me say this several times today. I'll take a picture of that little definition that I wrote, and I'll make it the wallpaper of my mobile phone. And so that way, during the day, if I ever need a reminder of what I need to be doing, right before I swipe and go check my calendar, my email, my text messaging, or some social media site. Wait a minute, Jason. Is this strategic, if that's what I wanna be working on? So, I do separate out this concept of strategic thinking, strategic planning. Today is gonna be all about thinking. Ultimately, the more thinking I do, the deeper I go, the more diverse that thinking is. It helps me with the planning.
Class Materials
Think and Work Strategically Worksheet
Adobe Stock Get Started Download
Ratings and Reviews
Fantastic class! Highly recommend- Jason has such positive energy and enthusiasm, all his courses have been fun to watch and very informative.
A lot of inspirational exercises in a short time! Enjoyed it a lot and got few interesting insights.
Student Work