Product vs. Process
Jason W Womack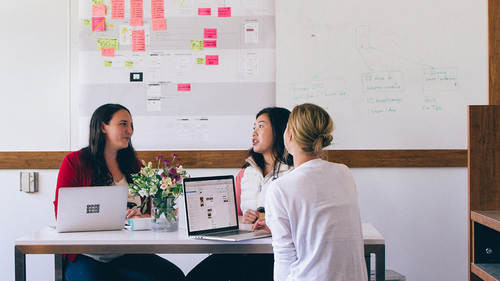 Product vs. Process
Jason W Womack
Lesson Info
5. Product vs. Process
Lesson Info
Product vs. Process
Someone asked, Jason, which one do we start with? Is it better to start with process or product? I really think it depends. I think it depends on what that journal entry shows. I think it depends on what your mentor has asked you about lately. I think it depends on what book is next in the queue that you're reading because some of those materials, those thoughts, those conversations are gonna fall on the process side, how do we do what we do, while others are gonna fall on the product side, what are we doing? So, for a moment, let me just talk about strategic thinking and process. I like to answer the question as a group. What will we do? I'm sorry, how will we do what we do? How do we play? What are the rules of engagement? On a very basic level, for those of you who are working on projects that are process oriented, for those of you working on projects where collaboration is necessary, when we call for a meeting with the team, how do we meet? Do meetings start on time? Do we have fud...
ge time? Do they always have an agenda? Do they sometimes have an agenda? Do we sometimes have meetings virtually? Do we sometimes have meetings... These questions on the front side just give us the rules, how will we engage? I'm all for changing rules, I love changing rules as long as everybody knows the rule has been changed. Every now and then I get invited to talk about one of our productivity workshops. I teach time management, productivity, organization, and sometimes I'll walk into an office or an organization and someone will say hey, are you gonna teach us to start meetings on time from now on? This happened recently. I was working for a company that was founded in the 1880s, and I looked up, I said you have been running meetings starting late for about 130 years. I'm not gonna change that in a three-hour workshop. How are we gonna play while we're playing together? It's a great question to ask. Wanna make a note here about the concept of algebra in all of my programs. That is, I think everything that we're gonna do today is gonna build on each other. So, if we go back just about 15, 20 minutes when you wrote down your definition of the word strategic, now we take that definition and we add in how will we play while we're being strategic? What are we going to point that strategy or that strategic thinking toward? That next piece, this idea of defining, designing, deciding on the product that we're working on. What is it that we are working toward? What will it look like when we get there? One of my favorite coaching stories actually came from someone who coached me. I was coaching her and then she turned around and coached me, but I got to work with an Olympic swimmer, someone who won a gold medal in the Sydney Olympics when we competed there, and I was telling this swimmer about a swim exercise that I do in the pool. And for those of you who are swimmers in the room, for those of you who are swimmers online, there's an exercise we do where we have a belt around us. We're in the pool, and that belt is attached to a bungee cord, an actual bungee, and... Any swimmers in the room? Anybody ever... Who's ever been in a pool? Just trying to include the group here, that's okay. So, if you can imagine this here. I'm in the pool, the bungee cord is attached to my belt, it's actually locked on this side of the pool, and I swim against the stress of that bungee cord. It's a exercise in strength and the depth of pull and the balance and all those things. And so, I'm telling this athlete about my experience. I said I got to the second bungee. She said, yeah, that's cute, and then she told me a story of when she was swimming, they had a different exercise. In that exercise, a belt, but it wasn't a bungee cord, it was a rope, and the rope actually pulled the athletes across the pool. Now, us novice swimmers, we think of that and go cheater. No, anyone wanna guess what speed they pulled the athletes across the pool at with that rope? The most recent world record, and I got it fast. See, until someone has swum at world record pace, until they've seen the line go under their face, until they've heard the water pass their ears, before they've felt the water go that fast, how on earth would they ever know what it would be like to swim at world record pace? And that same analogy is good for any goal you have. When I was writing the book Your Best Just Got Better, I got a advanced copy of the postcard that the publisher had made, I had glued that postcard to the front of a hardback book, I would go to a bookstore, and I would put that on the shelf. I took it with me when I left, but I would put it on the shelf and I would sit there and I would look so that I knew what it would feel like before I felt it. Where do you point your thinking, and how will you know when you're there, and what can you... What's that saying? Fake 'til you make. How do I step into what this could feel like because I'm that close.
Class Materials
Think and Work Strategically Worksheet
Adobe Stock Get Started Download
Ratings and Reviews
Fantastic class! Highly recommend- Jason has such positive energy and enthusiasm, all his courses have been fun to watch and very informative.
A lot of inspirational exercises in a short time! Enjoyed it a lot and got few interesting insights.
Student Work