The Design Process: Understand Your Content
Sarah Doody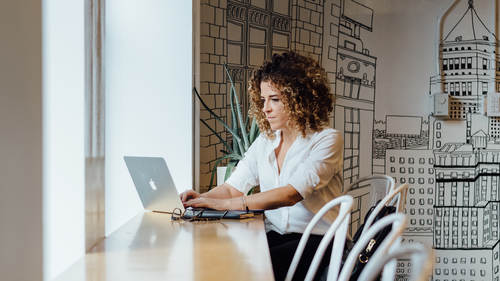 The Design Process: Understand Your Content
Sarah Doody
Lesson Info
6. The Design Process: Understand Your Content
What are the dangers of designing without understanding your content first? Sarah cautions with real life examples of what can go wrong and what questions to ask to ensure your insight on content is clear.
Lesson Info
The Design Process: Understand Your Content
I don't know where this quote came from. I think many people have claimed it's there's but content is King. Now it's mine (laughs). So content is king and it's true and anything you design, what the message is that matters the most. There's many ways to present that message, but if the core message is off then all the design is really not going to help it. So I wanted to tell you a story about a project I worked on. So, part of what I do as a user experience designer is kind of making wire frames which are similar to a blueprint for an architect. So before we go in code, not me. Before the developer goes and codes anything, I work with the client to figure out okay, what it the blueprint of what we want the developer to go make? That's all you need to know about that. So, I was working with a client and it was a big online magazine news site for women. That's all you need to know. And the project was to redesign their article detail page. So when you see an article on the homepage and ...
click in, that page that you're reading on. For many reasons, they wanted to try and increase viewing of I think there was photo galleries. Obviously advertising revenue love it or hate it and things like that. So, my first question to them was, okay, let's talk about what's going on on the article detail page. What's working well, what's not working well? And also can I have some examples of what I should use as the content to make this new and wonderful version of this article detail page? Because it wasn't a matter of taking the existing one and just rearranging things. It was a lot of new information and things like that. And they said, oh we don't know. We don't know what the content is. Just take what we have right now and take what you've heard us talk about in our meetings and give it your best shot. Famous last words (laughs). So, I knew from my experience that I had two options. I could go down the path of using my collective knowledge of article detail pages and do what I think might work for them, or try and pull teeth and get content from them for four weeks. So I went with my team and we made a few different versions of this article detail page. This is not it. This is from unsplash.com (laughs). So I presented these article detail pages to them. I think there was four or five initial ones that we did and they said, "It looks awesome but we need to add..." and what did they need to add? Oh all these things. We need to add the photo of the author, we need to add maybe a link to their Twitter, we need to add a link over to more things the author has written, we need to be able to have photo galleries, videos, pull quotes, all these things many of which were not on the website already. Many of which they didn't tell me about and many other things I didn't list here. And that, I knew this would happen (laughs), but I wanted to share this with you because this is what happens when you don't get clear on the content in the beginning. So the result of this was that I was left to guess and I used my best guest 'cause I designed a lot of article detail pages before, but what happens is the project will always be late and it will be over budget because I had to go back and redo many things and I'm not kidding you, this project was meant to take three months, it dragged out for six months because the team was not clear on their content. They kept changing their mind over and over and over. And so that's why I am such a stickler to confirm your content before you hire a designer or at least have it 50% there. Have an idea of what you want. Don't just say to them oh give it your best shot. Don't be like these people. Blow your budget, blow your timeline. I honestly don't even know if that new version of that page ever launched because it took them so so long and after six months many other things in their business changed so half of what was done was obsolete. So we need to know our content and we need to know our users, our people that we are designing for. So, think about things that maybe you have designed in your own life. Have you ever maybe started to work on a presentation, or started to work on a resume or something and maybe, I like Keynote. You ever opened up Keynote and maybe you choose a template or something and then you're in a screen like this and you start writing a headline, maybe you add a few more slides and then you go back and delete some slides and your kind of, I just say messing around in Keynote and next thing you know you're tinkering and an hour goes by, two hours go by and you delete the whole thing and you start over and why is that? It's because you didn't have the content. You didn't know what you were really designing so you were just playing and you didn't have the content which is like a lighthouse kind of. It's your starting point and you need that to be able to go design something. So most of the time you just delete it and you start over. And I've used this analogy before in other classes I teach but I always say, you don't start writing an essay without a thesis. You don't start writing an essay without an outline. So we don't start designing things until we know the content and outline. Even for a business card, you would be amazed but I think a lot of times business cards have way to much information 'cause we've not considered the person. We'd not considered the content and which content is really relevant to a business card. I have some family that's in the movie business and they don't start filming the movie until there's a script right? That would be ridiculous. So in the same way we don't design anything unless we understand our content. So, content, this is a great quote, content really precedes design. 'Cause design in the absence of content isn't design, it's just decoration. And so we do not want to be just designing decorations. We want to be designing things that really make our work lives better. Make our personal lives better. We want our colleagues, we want to make their lives easier. We want to be giving them documents that help them do their jobs better. We don't want to make our colleagues think. There is a great book related to my industry but very applicable to everyone. It's called Don't Make Me Think and it's a great book that goes through how poorly designed so many things are and we don't want to making people have to work too hard to think about our designs and try and decipher that spread sheet or if you send your resume off you don't want someone to try and have to hunt around for where your education was or where your phone number is or email address or something like that. So, be ensuring that we're focused on content first, and jumping into design, we can make sure that we're not just designing pretty decorative things and that we are making things that are gonna be really helpful to whomever we are designing for. So, we're going to get into a lot of these principles so that we can make sure we're not just designing pretty things and if we're worried that maybe we're not a designer, maybe I still didn't convinced you yet, we're gonna see a lot of these starting points and how we can use them to help us get off the ground and not kind of be intimidated by this process regardless of what we are designing or what software we are using. As I said there are a lot of great starting points for you today and I think a lot of people don't even know about these starting points because if they did we would see a lot less poorly designed things in the world and also I think sometimes there is a stigma attached to using a template or buying a template and I will admit as a designer, it kind of used to really annoy me that people would go off and just use a template instead of hiring a designer (laughs). But I have come full circle (laughs) and I am happy for people to use templates as starting points because honestly, I use them in my life as well. So, I put together a list of various starting points for you to go get templates that could be for a Keynote presentation, PowerPoint presentations, business cards, resumes, social media posts, Facebook ads, what else is there? Okay websites. Websites are huge and we're not here to talk about websites today but I know you can apply a lot of these principles to website design. So we've included a couple of website resources. One is called wix.com and another is Instapage where you can make landing pages or simple little websites. And some of these places also have free trials and things like that. So that's noted in the links as well. But hopefully this will make you aware of a lot of these options that you have today and you can also Google and find many other ones but I promise you, it's great because you can read the reviews of other people. It's very structured so you know the quality of what you're getting so that it is aesthetically pleasing but also usable and you don't ask the person for a refund. And also, I've mentioned some studies and things like that and so I put together a reading list in case you're curious. Maybe you're working at your company and you have a boss or a colleague who doesn't want to invest in design and so some of these articles might be helpful as helping to start a discussion on your team in order to kind of make a case for here's why we should invest in design. Look, these 16 companies outperformed SNP by 228%, maybe they're up to something. Or if you even think of, think of Airbnb. We've probably stayed at or we know someone who's stayed at an Airbnb. Well that hasn't existed, I think for more than 10 or 12 years. Don't quote me on that, but what's helped them a lot? I think it's design. And somewhat a side note but in the beginning, design matters a little bit. But also in the beginning it's important to just get that first version of whatever you're designing out there so you can get feedback. So, whether it's a homepage for your website, or your resume, just get that first version done so you can test it out on friends or whomever and get that feedback so you can make it better. And then also in the reading list, it's also kind of a watch list too 'cause there are some really great videos related to the doors that I told you about in the beginning. There's an excellent video to watch, which you should just go watch it. And then also the link to the video about Ido and you can learn more about their process and also that whole emergency room thing they did to understand their people.
Class Materials
Visual Design Reading List
Visual Design Resources List
Get Started with Adobe Stock
Ratings and Reviews
I wish more people knew, appreciated, and respected the content Sarah covers in this course. Design is such a critical piece of the functionality of the tools we use every day but its often disregarded as "fluff" or just "aesthetic". Sarah does an outstanding job of establishing the importance and methodology of design for beginners. I would recommend this course to literally everyone.
Definitely recommend! This course is aimed towards people who don't make a living as a designer but are exposed to it in everyday life—even if they're unaware. Your resume? Design. Your social media posts? Design. Your spreadsheets? Yep, design. Sarah does an awesome job giving an overview about what design is and actionable things you can do to improve. The "live design" portion is awesome and it's where she re-designs/improves documents, mostly on the fly. She goes through her thought process so viewers can learn to think like a visual designer. I would definitely enroll in another class, especially if she chose to focus more in-depth on a few design principles for the entire class.
Awesome Class! highly recommend.
Student Work