Turn Customers Into Fans in the First 100 Days
Joey Coleman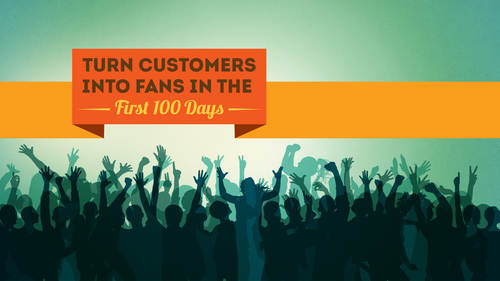 Turn Customers Into Fans in the First 100 Days
Joey Coleman
Class Description
Are you ready to design an unstoppable customer experience plan for your business? Join CreativeLive instructor Joey Coleman to learn how to strategically turn a new customer into a lifelong fan.
The first 100 days of your relationship with a customer are pivotal, and Joey will teach you how to maximize that time. You'll learn customer service best practices that consistently exceed customer expectations. You'll also learn how to track the lifecycles of your customers so that you can market to them more specifically. Joey will also outline how to apply these strategies not only to your new customers, but to your existing customer base as well.
Whether you're just starting out as an entrepreneur or you're a long-time business owner tired of one-time customers, this course will give you the tools you need to transform customers into powerful advocates for your brand.
Class Materials
CL-F100-AudienceEmotionMapping.pdf
CL-F100-AudienceEmotionsCatalog.pdf
CL-F100-AudienceGoalTracking.pdf
CL-F100-AudienceInfoTrack.pdf
CL-F100-AudienceJournal.pdf
CL-F100-AudiencePersonas.pdf
CL-F100-AudienceSegmenting.pdf
CL-F100-CurrentInteractions.pdf
CL-F100-CurrentTouchpointMapping.pdf
CL-F100-FutureInteractions.pdf
CL-F100-FutureTouchpointMapping.pdf
Calendar and Checklist.pdf
Ratings and Reviews
If you're looking for speakers discussing marketing and sales, I'd suggest taking a time out and watching this lesson. While you can pour time and cash into marketing and sales, if your not keeping your customers happy, then what has it all been for? If you really want to take your marketing and sales to the next level, start with the client experience. Happy customers who become fans will provide better marketing than you could every write for yourself (plus other people will believe it, because it isn't you talking about how great you are, it's someone else talking about how great you are!) And those fans generate referrals by the boatload. And all you have to do is be great at what you do, and make sure your clients' or customers' expectations are managed well, and then exceeded. Joey will teach you how to do this. As a side note, we've made this course part of our onboarding process, so every new hire watches this complete lesson within the first two weeks of their tenure with us, it's that much a core part of our philosophy. Godspeed!
I watched a replay of this course in November, 2017. It's incredible it's still such a current and updated course, even though the lessons were shot in 2013. Very deep content, told in a very light, fun and assertive way. Wonderful examples that inspire action and hands-on tips that you can apply immediately for every kind of businesses. Best in-studio audience ever.
Wow...just WOW! What a fantastic course. Joey over-delivers, practicing exactly what he preaches in this truly insightful workshop. I honestly can't think of anyone I wouldn't recommend this course for. Such a small investment for such tremendous value. Get this course NOW! You'll be so glad you did.
Student Work