Midjourney, Your 10x Graphic Designer
Mark Hinkle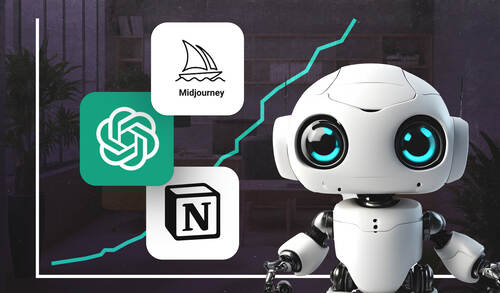 Midjourney, Your 10x Graphic Designer
Mark Hinkle
Lesson Info
9. Midjourney, Your 10x Graphic Designer
Meet Midjourney, the AI-driven graphic designer. Understand its capabilities and how it can revolutionize your visual content creation process and learn how to make blog headers, social media posts, and mock-ups to help graphic designers optimize images to your specifications.
Lesson Info
Midjourney, Your 10x Graphic Designer
We've learned about ChatGPT to create text. But now, we're gonna talk about Midjourney. And this is your 10X graphic designer. So, Midjourney is a generative AI program used to create images just like ChatGPT was a generative AI program that we used to create text. And I used Midjourney to create all sorts of unique and interesting images for web, for social media. It's very, very flexible and it provides a very high quality image that I feel like is unique and allows me to reflect what I want for my brand. But not only can you create images, you can blend two images together. You can actually use it to identify and describe an image and then create prompts from those descriptions. But today, what we're gonna focus on is, primarily, creating images for your marketing assets. I won't go into all the details of how to set up Midjourney because the documentation is pretty good at docs.midjourney.com. And the way we're gonna interact with Midjourney today is similar to the way that you wou...
ld interact with a chat server like Slack at work. Let's talk about the anatomy of a Midjourney prompt. So, when you start to work with Midjourney, you will initially start with the command Imagine prompt. You'll provide a description and then you can add attributes. For the purposes of today, we're only gonna add two attributes. One is stylized, which indicates creativity, and one is aspect ratio. So, depending on the aspect that you need for an Instagram post or a blog header, you may want to change your aspect ratio. Now, because of the fact that it takes a while for these images to render, I've went through and created some of these images already. And in this case, I put in a marketing meeting in a conference room in a modern office. I used the S and the 1000 indicates the maximum stylize or creativity. And I did the aspect ratio of 16:9. And the reason I did 16: is that's the aspect that I like to use for the top of my blog. It's long and thin. What Midjourney did was it created four images for me. And because I did a lot of creativity, it did come up with some funky stuff. So, I'm not sure that most marketing conference rooms have a terrarium in the center, but for whatever reason, Midjourney thought that was a good idea. The one that it didn't get creative on was actually this one in the upper left hand corner and that's the one I'm gonna use. So, I already looked at these four images and decided that's what I wanted to use. And I have used the upscale, which is the U1 here to make that image a little bit higher resolution so I could use it. And this is the finished product. I also use this tool quite a bit. And from everything for social media posts, blog posts to assets and eBooks and white papers. So, I'm gonna do one that I've done in the past. And this is for an Instagram post for a travel blog. And I have an old English sheep dog and I like to camp. And so, I needed a image of a dog in front of a camper. And what I did was I described what I wanted right here and I knew that Martin Parr was a documentary photographer and he had a certain style which was sort of this head-on style. And I added all these details about it. So, there's a campsite around the van and evoking freedom and joy. And then I set down the stylized to 500. So, I wanted some creativity but I didn't want it to go wild. So, I wanted the image result to be very close to what the prompt is. And so, that's what I did and I got these four images. Now, because I didn't use the aspect ratio, they are 1: which was the default post for Instagram. And that is what I got. So, I could manipulate those images, but in the end, I chose the one in the upper left hand corner and that's what I posted for Instagram. Let's go to another example. And in this example, we're gonna create a blog header. And every week for my blog, the Artificially Intelligent Enterprise, I create headers and they're very, very diverse. Everything from illustrations to photorealistic to sort of this sci-fi Blade Runner look. And if I go into Midjourney, we can see some examples here of how detailed these prompts can be. And this one, I wanted a background image that indicated AI in a desktop application. I wrote out this long prompt and I have a shortcut for that later, so stay tuned. And this is what I got. It was super funky, it was super interesting. It provided the same kind of style that was consistent with my blog and my brand. And I used some of the same parameters I used in others. Then, once I got that image, I could vary it, I could zoom in and out But I liked it as is, so I downloaded it and I used it in my sub stack blog. Another example is creating mockups. And this is one of those times where the output is not generally what I would use for the end product but I'm using the output to inform a conversation between me and a graphic designer. So, for these images that you see here, they're limited in the the resolution, they're limited in certain sizes and aspects but they can be used to inform how a designer would come up with a illustration in vector format for print or for large scale graphics. So, I know I have an illustration right here in my history and this, my chat, just like in ChatGPT is searchable. So, I'm gonna go for some illustrations. I'm gonna look. And here's an example of an illustration. So, I'm gonna go back to this chat that I had yesterday. I'm gonna jump to it. And for this example, I wanted to get a illustration of a company shipping truck that they could put a logo on and talk about logistics on a website. So, rather than set that S to a for a lot of creativity, I set it to 1. So, it almost verbatim did what I wanted it to do. And I described company shipping goods via tractor trailers from a distribution hub and it gave me three that actually showed a distribution hub. This one was a little bit more, on the lower right, creative or didn't exactly match the prompt. So, I have three of those. Now, I have a starting point where I can say, I like image number three, I can provide that to a graphic designer on Fiverr who can actually create a vector graphic that looks like that without me having to describe it and losing something in the translation. So, that example is not necessarily creating for the end use but creating to help facilitate communication. Now, here's the the sort of secret to my prompts. If you look, this is a very, very detailed prompt. It's a long, long paragraph of text. It has a lot of detail. I didn't actually write this prompt. What I did was I used one of my super prompts. And I have a super prompt that I use, called Midjourney prompt creator and it's super long. It has a lot of detail. It tells to look for what kind of lighting to choose a photographer that's famous. So, maybe, Ansel Adams if I wanted a landscape portrait in a photorealistic sense. It may use another kind of a photographer, Annie Leibovitz, if it was doing a portrait. It's not actually a parameter of Midjourney, it's a parameter of the AI knowing what styles famous photographers, painters, et cetera. You could say, I want a image in the style of starry night and it would do the starry night treatment to your image. But this is where I took my super prompt. And we're going to copy that prompt. We're gonna go over here, we're gonna open ChatGPT. I'm gonna do a new chat. I'm gonna do GPT-4. I'm gonna do plugins. So, it can actually search and come up with some stuff from the web. I'm gonna paste all of that. All right. Now, remember, earlier on, I talked about using those brackets for my variables. So, in my prompt, it's all pretty much fixed except for my initial concept. And this prompt will actually generate 10 Midjourney prompts. So, my initial concept is going to be- Let's call it the end of the world. Just because that would create some, you know, open-ended creativity. And ChatGPT is creating prompts. Now, in my prompt, it says, whenever we brainstorm, we're gonna do 10. So, each prompt is numbered. And the first one is this prompt right here. And we're gonna go back to Midjourney. And let's go here. We're gonna use that Imagine which is the way to start image creation. And then we're gonna do prompt. And then I'm gonna cut and paste in there. Now, if I wanted it to be a different aspect ratio, I would change it. But I don't. I'm actually just gonna say, let's make a highly stylized square image. I'm gonna hit Enter. And this is probably one of the most things you have to be cognizant of is because Midjourney is a subscription service that doesn't have a quality of service guarantee. Sometimes it's really fast, sometimes it's really slow. So, today, we're filming this on a Tuesday and it's probably in the middle of the workday where a lot of people are using Midjourney. So, it may take a little lit bit longer for that prompt to run. So, while we're doing that, I'm gonna just go and show you a couple other examples of these more complex prompts. The thing I like about them is you can give it enough detail to convey almost any concept without having to go sort through stock photos. You also can give it some direction so that it can mimic some of the look and feel of your brand. So, if look and feel of your brand has a blue hue, you can say, add a blue hue. If the look and feel of your brand is very cartoony, you can say, make this cartoon in the style of in your favorite cartoonist.
Ratings and Reviews
Student Work