Translucency and the Dance of Space
Amy Wynne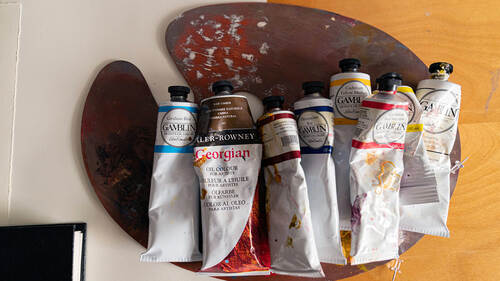 Translucency and the Dance of Space
Amy Wynne
Lesson Info
4. Translucency and the Dance of Space
Learn about translucent paint and how to incorporate it in your daily practice. We'll also explore how overlapping shapes and experimenting with scale and depth can give new life to your craft.
Lesson Info
Translucency and the Dance of Space
So depending on the type of paint you choose to use, you can get different kinds of abstract effects. Something I really enjoy working with. I actually love working with transparent effects. And I also really enjoy working with opaque effects. So I want to show you possibilities between those two and in doing so, you know, possibly give you some options to choose from. And many of those options have to do with the effects you're trying to make with the illusion you're trying to create. So this is a painting, a small reproduction of actually a very large painting that I did of birds some time ago where I was really working with color mixing to create this pattern of this illusion of transparency um through where colors come together and the new color that would emerge from that. So that leads me to showing you these two examples on the side here. So if you aren't super familiar with color mixing, then you might explore a little bit of color theory. Look up a color wheel, perhaps even li...
ke make a color wheel. Um and these are some resources that will be available to you in this course that you can look up if you'd like to have a guide for that. But basically what you might experience is that depending on the type of paint you're using or how much water you're putting into the paint, you may get an illusion of transparency or an effective transparency or an illusion of opacity. So yellow and blue. Make green. This green right here was created by I painted in and I'm gonna show you this in a second. I painted in the blue circle and then I painted in the yellow circle on top of it with transparent paint so that when the yellow came over the blue, it made green. This here was done in a different way, although it looks similar right? This one I painted in the moon shape of blue. I painted in the moon shape of yellow and these are opaque paints and then I mix them together to create the central color. So in that case these paints actually aren't transparent, but it gives the illusion of transparency. So we're gonna play around with that a little bit with in a couple different ways. So one of them. So what I did here is I took a little image of a magnolia blossom and I traced it a couple times in order to show the different effects. So in this area here I'm gonna be working with transparent ink and you can actually see as I made two swatches of that transparent ink, one light and then one dark and you can see how one lays over the other. Here, I used transparent water color similar to this here where I made a swatch of blue and then a swatch of transparent yellow which created a little bit of green in between. And then here I used some blue, some yellow and then I mixed them together with opaque paints and made the green in the center. So I'm gonna complete these three paintings with ink, a second layer of ink, um a layer of yellow to make a green and then show you the opaque technique and you might find one of them to be more appealing than the other. If you really like the ink effect, you might say I really want to go out and buy some ink and try that out. If you like the water color, you could try that. And then if you like the opaque paint, opaque paint you can find um like squash is an opaque paint. Flash paint. I use a lot. It's an opaque paint. So if you go to the art store and you say I really want some opaque paint, they could certainly direct you towards that. All right. I have a couple different sizes of brushes. I also have some water and a paper towel on the side because when I'm doing this kind of color mixing and painting, I want to make sure that um I don't drag one color into another to keep it clean. Alright, so let's see what sort of effects this could possibly make. So first I'm gonna put just another layer of this transparent blue on top of this one here. So it's gonna show where these two um flowers would overlap each other. I'm gonna come in and it's it's this is transparent ink so it's not really strong. But I'm thinking it's gonna be just strong enough to make it have this illusion of transparency. I'm using a round brush, a round brush tends to hold the pigment nicely. And because I traced these drawings in a staggered fashion as one lays over the other. This is the area that I'm highlighting and enhancing to show this illusion of transparency. So that sort of gives this transparent illusion with ink and I really like that effect and then you let it dry and if you say, oh you know, I want it to be a little darker, you could do that. But for the most part, I think this is kind of a beautiful subtle possibility to show transparency. So now I'm gonna wash off my brush because I'm about to put it into yellow and this next one is water color and the water color. You know, you could use you can use water color in different ways. I actually just took some out of a tube and mixed it with a little water to create more of an ink like solution. You could also have a watercolor palette where you make you mix and you make dilutions uh that way. But for the sake of this demonstration, I just prepared some in advance and I'm going to actually just give it a little swirl because it's been sitting for a little bit just to get. So the pigment, the more water you put in, the more transparent, it's going to be in terms of watercolor. Uh so I wanna and I'm just gonna give a little trial here. Yeah, that's pretty nice. So now I'm going to paint the yellow over the blue in the area where there's this illusion of them overlapping and see if it gives us a bit of a green color. All right, here we go. So we know that yellow and blue make green. And as I so this is transparent. As I paint this transparent yellow over the blue, you can see what's emerging here is the colors mingle. The blue is showing through the yellow and it's it's really color magic, right? It's really color magic. It's where there's these possibilities of creating transparency by the illusion of paint mixing. So that's pure yellow over pure blue. But because the colors are transparent, they're creating this green. And then finally, I want to show you. So, these are two transparent techniques which are fun to try and again, I'm showing you this as possibilities for your abstract painting. I'm gonna take this opaque green. Now, I made this green out of opaque paint and I mixed yellow and blue together to create this green. I mixed actually this yellow and this exact blue together to create this green in the hopes that if I paint in this remaining shape, that it would actually almost give the optical illusion of transparency, even though it's actually an opaque situation. So let's see what happens. So I'm gonna come in with this green and I'm gonna just paint up to the edge here. So if you used a different yellow and a different blue, it wouldn't have the same potential illusion because you would be having different pigments. It wouldn't really feel, you know, as realistic. So you want to just use the same ones. All right, So this has, you know, it's showing some brushstrokes right now, which is not really a problem. But if you wanted it to have a flatter effect, you might add a little more pain or you might let it dry a little bit and just sort of see if there's a little bit less texture going on. I don't mind the texture. I think it's kind of beautiful. So we have, oh, I like the way this dried actually. Sometimes when things dry, they actually look a little bit different too. So we have the transparent ink layers that show a sense of um like a see through kind of illusion. We have the transparent watercolor which you could experiment with a lot of pairings of colors to see what colors they become. And then we have the possibility of even working with this illusion of transparency or with opaque paint. So depending on what looks interesting to you with this demo, depending on what you have, depending on some of the illusions that you might want to create, You'll be choosing your materials based on that. So I invite you to experiment with different kinds of paint, Play a little bit around with the possibility of transparency, because it can really create an illusion of depth, an illusion of space that has some softness, and it can really create a dance across your image. So give it a try, see where your preferences are, and enjoy the process.
Class Materials
Abstract Painting Color Wheel
Color Wheel Template with Neutrals
Abstract Painting Materials
Ratings and Reviews
Loved the class! I loved seeing all the different techniques!
Student Work