Recording Your First Action
Ben Willmore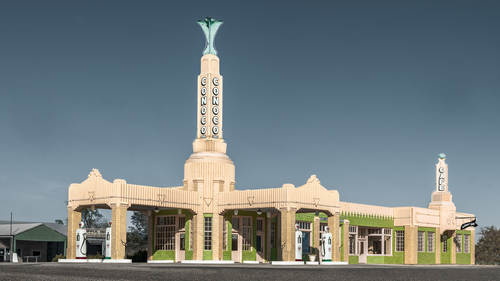 Recording Your First Action
Ben Willmore
Lesson Info
2. Recording Your First Action
Lesson Info
Recording Your First Action
So let's jump in and learn how to create and use actions. Actions were introduced in Photoshop version four, not CS four but four, meaning eons ago but I find that there's just not enough people using them 'cause you could save so much time. So let's make our first action. So first if you go to the window menu, that's where you're gonna find the actions panel that we'll need to use. When you choose that, you might find it show up as kind of a little pop out panel. It all depends how your panels are organized but if it is like a little pop up panel like this, it's actual icon will look like a play button, like a little triangle. If I click that, you'll collapse it down, click it again and it'll pop open. If it's not organized like this, it might be like one of the other panels that are here where you just see it there all the time but just so you know, mine's set up like this. Now in here, you see a bunch of folders in mine and you're not gonna have all those folders. You're probably go...
nna just have one if you've never made an action before and that would be the one called default actions. So if you're gonna start learning actions right now we might as well start off by creating a folder to put our actions in. So at the bottom of the actions panel is a folder icon. I'm gonna click on that folder and I'm gonna name mine CreativeLive so I remember where I created these. Now you can see a new folder at the bottom of the list and it's empty. There's a little triangle next to it, I could click on that triangle to expand a folder and I could see its contents inside so that's just a way of organizing all the actions you have. So if you have more than a dozen of them, it makes sense to organize them into folders so then you can expand and collapse each section to see what's inside. I just made this one down at the bottom called CreativeLive. Now, let's make an action. Now to make an action, you go to the lower right of the Actions panel just to the left of that trash can icon is an icon for a new action. When you click on it, it will ask ya to name your action and I'm gonna call this Emboss Me, you can name it whatever you want. And right here where it has the word set, that means what folder are you gonna put these in but for some reason Adobe can't say that that's a folder so they have to call it a set. So this happened to auto populate with the one that we just created and that's because this was selected at the time I made my action but if default actions up here was highlighted, it would've said that here. So I just need to double check that this is where I want it to be so this list is just a copy of the exact same list we're currently seeing in the actions panel. Then below that, we have some other settings that we might explore later on if we have time but they're not critical. It's pretty much you can add a color so that it looks red in the actions panel or something and you could assign a keyboard shortcut, usually the F keys at the top of your keyboard. Alright, I'm gonna click record and at this point, you'll see at the bottom of the actions panel there's a red circle, that's supposed to look like the red circle you'd find on a tape deck from the 1970s but now young 'uns have no idea what the heck that means. But it used to be that a red circle meant record. So I need to be very careful for as long as that circle is red because it's paying attention to everything I do to my image and it's gonna record that and if I do things that are inefficient, then my action will be inefficient and that means that if I ever try to apply that then it would. If I ever try to apply that it would make my action slower so if I'm going to apply it to 1,000 images then that might not be all that great, right, so I wanna be efficient about what I do. Therefore, it's best if you practice whatever technique you're about to do first just to make sure you get all the steps in order and then you can do that. Alright, so what I'm gonna do here is I'm going to emboss this picture. So here we go, there's many different ways I can emboss but if I go to the filter menu, there's a choice in here, I've got all sorts of different ones and if you ever don't know where a filter is by the way, at least on the Mac you can go to the help menu right here and just a moment you hover over it, you see a search field, just start typing in what it is you want until it finds it. If you mouse down, it will show you exactly where it is and if you choose it right here, it's the same as choosing the menu item, I often do that these days with the filter menu because I can't remember what subcategories some filter is that I need to use. Although I can remember emboss, filter, stylize, emboss, especially when the help system just reminded me. So there's emboss, we'll grab that and I'm going to choose a setting that I might like for this particular image. I'll click OK and the problem is when you emboss an image is you get all this gray and I don't want the gray, I want the color from the original image but I want it to look like it has a little bit more dimension where things have been embossed. So now the next thing I'm going to do is make it so it takes our end result that's here and applies it to the original image in a different way, a way where the areas that are 50% gray just disappear, and you see the original picture there. But wherever it's brighter than 50% gray, it'll brighten the picture and wherever it's darker than 50% gray, it'll darken the picture. Therefore, we'll still get this kind of 3D dimensional embossed look but the gray just won't be there. The way I'm gonna do that is because this was done directly to the layer that contains the original picture. I'm gonna go up to the edit menu and choose fade. Fade acts as if whatever I did here was done to a duplicate layer. Imagine if I had duplicated my layer first and then I applied the emboss filter. If that was the case at the top of your layers panel, wouldn't you have two choices? You'd have opacity and then there'd be a pop up menu that's known as your blending mode. Well if you ever forget to duplicate a layer before doing something and you realize you applied it directly to the layer that contains your picture, then choose fade instead and it gives you the same choices and it acts as if it was on a separate layer. I'm gonna set this to a choice called hard light and I'll click OK and now my image has that kind of embossed look. So at this point I'm going to hit the stop button, that's the one that looks like a square. Now we've made our first action. If you look at the steps in the action, here we have the name, it's called Emboss Me and just below that I can see that it's going to apply the emboss filter then it's gonna apply fade. If you look at each one of the steps, you'll find there's a little disclosure triangle to the left of it and if I click on that it'll expand to tell me the settings that I used for each one of those commands and therefore, I can remember. If a year later I come back and inspect this action. So after creating an action the next thing that I do is I test my action and so just to ensure that this works, I'm gonna revert my file. Whenever you choose revert, it means act as if I closed the file, did not save any changes and just reopened it. So give it a fresh version of the image. Then I'll click on the name of the action in my actions panel and I'll click the triangle, that's the play button. Do you see the image change? So it seemed to work. Now ideally, I would test this on more than one picture and I would test it in a lot of different conditions. I can tell you this action will not work on some images. What if I opened a picture and that picture already has layers within it and the layer that happens to be active is text, you can't apply a filter on a layer that contains text without doing other steps. You could either turn that text into what's known as a smart object, we had a class on that during Photoshop week that I taught, or you can do something known as rasterizing the text which it makes act as if it was scanned, where you can no longer change the text. So those would be our options but we need to modify this particular action to make it work on that kind of image. Does it make sense why you wanna test it? Some of the things that I do when testing is I try it on different sized pictures, like if I made this on a small image from the internet but then I'm gonna apply it later on on really high res big pictures, I might wanna have a few of those images around to test it on. Make sure it looks good on all of those. Let's say that was the case here, I end up creating this for an image that was sized whatever size this happens to be and if I zoom up on this, I can see I'm doing this at only 20.5% magnification so if I bring that up to 100, I'd actually see our true results. To me, that setting looks a little high for that. So let's say how can I change my action because what if I created it and right after doing so I applied it to maybe five other images and I realize the settings we used were just too high. Well, here's what you can do. If one of the steps in your action actually included settings where a little screen came up, a window came up asking you for settings and we got that when I did both emboss and fade, in your action you can double click on the step and if you double click on the step, it will bring up that particular screen again. And watch, here's the setting I had which is 11, that's what was recorded in the action. I can now bring it down let's say I only need it to be five. I click OK and now if I were to expand that step, it would update so you can see that it used to be and now it's five, so all I did is double click on any step that involved a window appearing where I'd enter information and I could change the setting but when you do that it's not smart enough to kinda undo what woulda already been done to this picture and intelligently reapply it. No, it just embossed it again so I might test it. Now, I'm gonna choose revert to get back to the original picture and now I'll click on the name of that action and hit play and now if I zoom up on the image, it's nowhere near as extreme.
Ratings and Reviews
Very good course. I have learned many new concepts. Ben is a good teacher. He explained well and it was easy for me to follow.
Precise, to-the-point and informative. Ben explains the process of creating actions in PS in a very simplified and step-by-step manner, easy to understand and follow. Definitely a great purchase.
Student Work